Comparing 15 vendors in PU and PU Foam Manufacturers across 23 criteria.
POWERED BY
MARKETSANDMARKETS
Jun 04, 2023
360 Quadrants produces a list of "Top 15 PU and PU Foam Companies, Worldwide 2023", in partnership with MarketsandMarkets. The report recognizes the standouts in the PU and PU Foam market ranging from mid-sized enterprises to Fortune 500 companies existing in the market. The polyurethane foam vendor evaluation was conducted on over 80 companies of which the top 15 companies were categorized and recognized as the new economic quadrant leaders.
Key Highlights included in 360 Quadrants:
The polyurethane (PU) foam market is expected to grow from USD 42.8 billion in 2022 to USD 61.5 billion by 2026, at a CAGR of 7.5% from 2022 to 2026. This growth of the market is majorly driven by the rising demand for polyurethane foam across various end-use industries.
The polyurethane foam market is part of a consolidated global market that is witnessing moderate growth. It is expected to witness growth in regions such as Asia Pacific and South America. Growth in Asia-Pacific is attributed to the rising demand for PU Foams from the construction and automotive industries.
Europe was the second-largest market for polyurethane foams in 2022. The polyurethane foam market in this region is projected to reach 2,981 kilotons by 2026, and it is expected to grow at a CAGR of 3.9% from 2022 to 2026.
The key players operating in the global polyurethane foam market have a strong customer base and diversified geographic presence. Major companies like Covestro AG, BASF SE, Wanhua Chemical Group, Dow Inc., Sekisui Chemical, Huntsman Corporation, and Lanxess AG account for nearly 70% share of the market. The market is now witnessing the emergence of several new entities.
Due to stringent government regulations, the polyurethane foam industry is witnessing a shift from the conventional polyols used in manufacturing PU foams towards using bio-based polyols such as soy-based polyols. These bio-based polyols offer significant benefits over conventional polyols and resolve toxicity associated with isocyanates and other raw materials. In September 2022, Covestro AG, one of Germany's largest producers of PU foam, introduced more sustainable polyether polyols based on bio-circular raw materials. While Wanhua Chemical successfully started a rigid polyurethane (PU) foam recycling pilot plant, a milestone for its efforts to implement PU recycling and reuse.
Key market players are now exploring geographic diversification to grow their businesses. For instance, Wanhua Chemical, a China-based company, is focusing on its business in Japan, while Huntsman is adopting various strategies to enhance its polyurethane downstream business in North America and Asia Pacific. Covestro has a strong market presence in the Asia Pacific region.
The Full List
| Logo | Company | Headquarters | Year Founded | Holding Type |
| --- | --- | --- | --- | --- |
| | BASF | Ludwigshafen, Germany | 1865 | Public |
| | Carpenter | Richmond, USA | 1948 | Private |
| | Covestro | Leverkusen, Germany | 2015 | Private |
| | Dow | Midland, USA | 1897 | Public |
| | DuPont | Wilmington, USA | 1802 | Public |
| | Eurofoam | Vienna, Austria | 1982 | Private |
| | Huntsman | The Woodlands, USA | 1970 | Public |
| | INOAC | Nagoya, Japan | 1926 | Private |
| | LANXESS | Cologne, Germany | 2004 | Public |
| | Saint-Gobain | Courbevoie, France | 1665 | Public |
| | Sekisui Chemical | Tokyo, Japan | 1947 | Public |
| | Tosoh | Tokyo, Japan | 1935 | Private |
| | UFP Technologies | Georgetown, USA | 1963 | Public |
| | Wanhua Chemical | Yantai, China | 1998 | Public |
| | Woodbridge | Mississauga, Canada | 1978 | Private |
Frequently Asked Questions (FAQs)
Polyurethane foam is a type of material that is made by mixing together two chemical parts that react and harden into a foam. It can be hard or soft, and it is often used in buildings, refrigerators, and freezers as insulation.
Polyurethane foam is made by a process called polymerization. In this process, polyols and isocyanates, which are two of the most important chemicals, are mixed with a catalyst and some other ingredients. Most of the time, polyols and isocyanates are mixed in a chamber, and then the mixture is poured into a mold or sprayed on a surface. The catalyst and additives help control the reaction and the properties of the foam, such as its density, hardness, and flexibility. As the reaction goes on, the mixture gets bigger and forms a foam. Depending on how the polyols, isocyanates, and additives used in the process are mixed, the foam can be either hard or soft. Once the foam has hardened, it can be cut or shaped into whatever shape is needed for its purposes, such as insulation, padding, or packaging.
Polyurethane foam is a versatile material that can be used for many different things because of its unique qualities, such as being light, insulating, and cushioning. It is often used in building as insulation for roofs, walls, floors, and buildings. It is used to make seats, headrests, and other parts for the inside of cars because it is comfortable and durable. Polyurethane foam is also used in furniture, mattresses, and pillows to make them more comfortable. Due to its ability to absorb shock, it is also used for packaging and shipping materials. It is so good at giving support and comfort that it is even used in shoes, sports gear, and medical devices.
When used as intended and in conformity with the legislation and guidelines, polyurethane foam is generally regarded as safe. Polyurethane foam, though, may raise some possible health and safety issues. First off, the production of polyurethane foam uses chemicals that, if not handled carefully, could be dangerous. Exposure to these substances during manufacture, installation, or disposal may be harmful to one's health, particularly if the appropriate safety precautions are not implemented. Second, some varieties of polyurethane foam have flame retardants, which have been connected to possible health hazards like cancer and hormone disruption. Nonetheless, many businesses are already making foam without flame retardants or switching to less dangerous options. Finally, when polyurethane foam off-gasses, especially when it is young, it can emit volatile organic compounds (VOCs). These VOCs can irritate the eyes, nose, and throat, as well as give people headaches, nausea, and dizziness. Yet, when polyurethane foam cures and releases gases over time, the amount of VOCs in the foam tends to decline. The usage of polyurethane foam is generally regarded as safe, but it is crucial to adopt the correct safety measures throughout production, installation, and use to reduce any potential health hazards.
Many advantages of polyurethane foam make it a popular option for a variety of applications. It is perfect for use in building, refrigeration, and other industries that require thermal insulation since it is a great insulator with outstanding thermal resistance. Polyurethane foam is very lightweight, making it simple to handle and transport. It is a versatile material that, depending on the intended usage, can be manufactured to be either rigid or flexible. Furthermore resilient and moisture-resistant, polyurethane foam is appropriate for usage in tough situations. It is a favoured solution for many applications since it is a cost-effective option that offers outstanding performance and longevity.
Polyurethane foam comes in two primary varieties: rigid and flexible. For insulation purposes, rigid polyurethane foam is frequently utilised in refrigeration systems, appliances, and structures. It is thin, strong in compression, and has superior thermal insulation capabilities. By applying a blowing agent to form a closed-cell foam structure, stiff foam is produced, which is then solidified and rigidized. On the other hand, flexible polyurethane foam is frequently utilised in furniture, beds, and cushions. It is manufactured using a different blowing agent that produces an open-cell foam structure, making the final product softer and more flexible than rigid foam. Also, there are specialist polyurethane foam formulations created for certain uses, such as high-density foam for supporting structures or low-density foam for buoyancy.
Insulation made of polyurethane foam works by forming a thermal barrier that lessens the transfer of heat between the inside and exterior of a structure or appliance. Two chemicals are combined to create the foam, which reacts to swiftly solidify and set in place. The foam expands during this process, filling in any openings or crevices in the area being insulated to produce a continuous layer of insulation. The thermal resistance of polyurethane foam insulation is measured by its high R-value. Thus, it efficiently resists the flow of heat, assisting in the maintenance of a constant temperature and lowering the amount of energy required for heating or cooling. The foam's closed-cell structure also aids in preventing moisture and air infiltration, which can further diminish energy efficiency.
Polyurethane foam's lifespan is determined by several factors, including the type of foam, the quality of the installation, and the conditions under which it is used. Rigid polyurethane foam insulation, in general, can last for decades or even centuries, whereas flexible foam used for cushions or bedding may need to be replaced more frequently due to wear and tear. Polyurethane foam's lifespan can be extended by proper installation and maintenance.
Because of the potential environmental impact, disposing of polyurethane foam requires careful consideration. One option is to recycle the foam, which specialised foam recycling companies can do. Another option is to dispose of the foam in a landfill, but this must be done in accordance with local laws and regulations. It should be noted that burning polyurethane foam emits toxic gases and should never be attempted. When disposing of polyurethane foam, it is best to consult with local waste management authorities.
Yes, polyurethane foam can be recycled; however, specialised equipment and processes are required. The recycled foam can be used to make a variety of products such as carpet padding, insulation, and foam cushioning. However, not all recycling facilities accept polyurethane foam, so check with your local recycling centre to see if they have the necessary recycling equipment and processes in place. Furthermore, polyurethane foam that has been contaminated with chemicals or other materials may not be recyclable.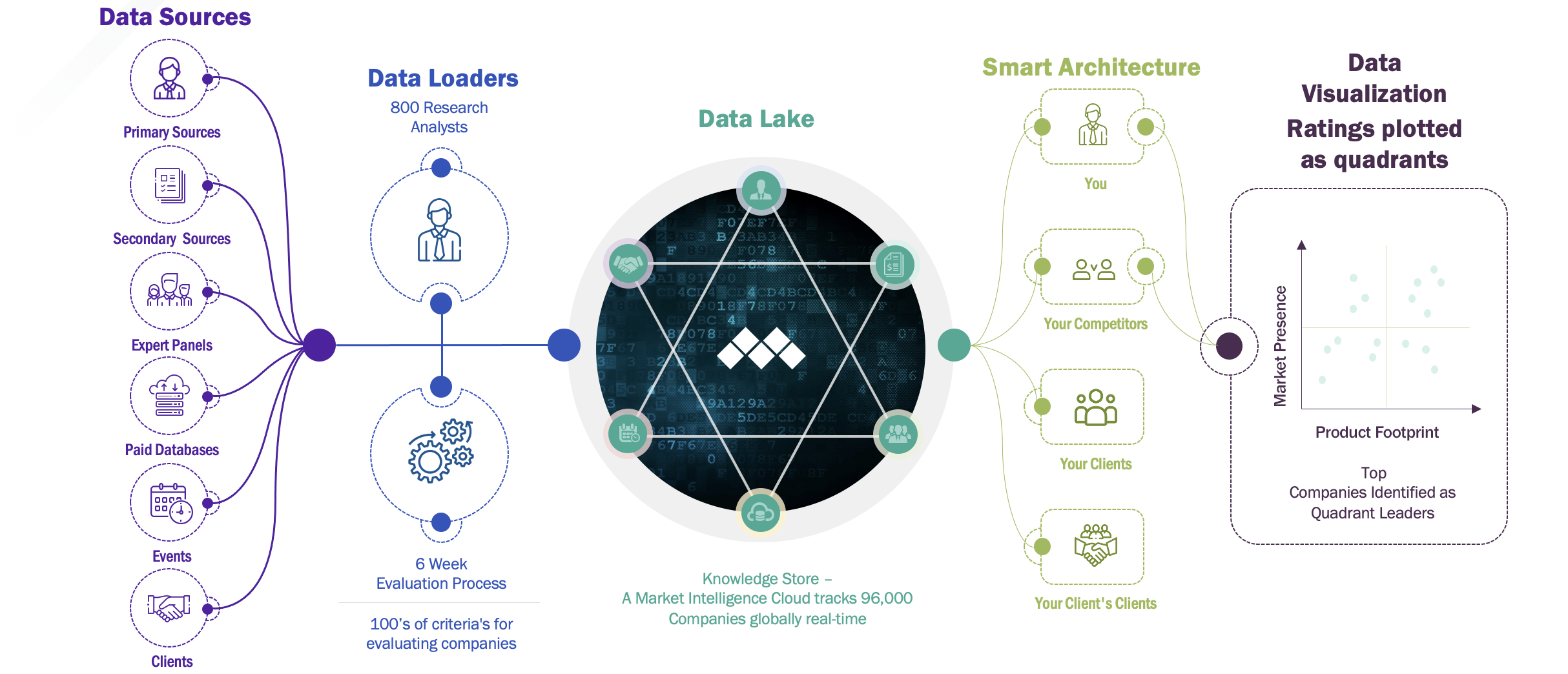 If your company is recognised in this Quadrant, Leverage this ranking using our Marketing Kit.
If your company is recognised in this Quadrant, Leverage this ranking using our Marketing Kit.