Comparing 20 vendors in Hydrogen Generation across 0 criteria.
POWERED BY
MARKETSANDMARKETS
May 29, 2023
360 Quadrants releases a list of "Top 20 Hydrogen Generation Companies, worldwide 2023" in partnership with MarketsandMarkets. The report recognizes standouts in the Hydrogen Generation market, ranging from mid-sized enterprises to Fortune 500 companies. The vendor evaluation was conducted on over 100 companies of which the top 20 were categorized and recognized as the new economic quadrant leaders.
The global hydrogen generation market is expected to grow at a CAGR of 10.5% from 2022 to 2027, from an estimated USD 160,068 million in 2022.
Due to stringent emission regulations, the hydrogen generation market is expected to experience substantial growth in North America, Europe, and the Asia Pacific region. The Asia Pacific region is anticipated to grow the lead in the global market, driven by the enthusiasm of its countries to reduce their carbon footprint and explore renewable energy applications. With a share of 37.3%, Asia Pacific currently holds the largest portion of the hydrogen generation market.
The hydrogen generating market is dominated by the top players such as Linde, Air Liquide, and Air Products. In terms of client base, diverse service portfolio, technological capabilities, and established regional presence, the companies are comparable.
To safeguard their market shares, existing players in the hydrogen generation market have consistently pursued growth strategies. These players commonly employ a range of techniques to ensure market domination, including making investments and expanding their operations, entering into contracts and agreements, and launching new products.
For instance, Linde plc announced in February 2022 their plans to construct, design, and operate a new hydrogen production plant in Chalampe, France. This facility will supply hydrogen and steam to BASF under a long-term arrangement, solidifying their partnership.
The hydrogen generation market has been experiencing significant growth and evolving trends in recent years. Hydrogen is considered a clean and versatile energy carrier, and its production is crucial for various applications such as fuel cells, industrial processes, and transportation. Here are some key trends and an overview of the hydrogen generation market:
Green Hydrogen Demand: Green Hydrogen is gaining popularity due to its zero-carbon emissions. Green hydrogen is produced through electrolysis using renewable energy sources. Green hydrogen is becoming increasingly important to governments, companies, and investors as a vital alternative for decarbonizing sectors such as transportation and industry.
Increasing Government Support: Governments all around the world are enacting laws and legislation to encourage hydrogen generation and use. To speed the development of hydrogen infrastructure and attract private investment, financial incentives, tax credits, research funding, and favourable legislation are being implemented.
Technological Advances in Electrolysis: Electrolysis is the principal method for creating hydrogen through water splitting. Electrolysis technologies are becoming more efficient, cost-effective, and scalable because of technological breakthroughs. Because of their great efficiency and versatility, proton exchange membrane (PEM) electrolysis and solid oxide electrolysis cells (SOEC) are gaining popularity.
Expanding Hydrogen Infrastructure: A strong hydrogen infrastructure is essential for the widespread adoption of hydrogen as an energy carrier. Countries are investing in the construction of hydrogen refuelling stations, storage facilities, and transportation networks to meet the increasing demand for hydrogen-powered automobiles and industrial applications.
Industry Collaborations and Partnerships: Companies from a variety of industries, including the automotive, energy, and chemical sectors, are working together to create hydrogen projects and leverage their knowledge to expedite market growth. To share expertise, invest in infrastructure, and develop global hydrogen supply chains, joint ventures, partnerships, and consortiums are being formed.
Technological Innovations: Research and development activities are focusing on advancing hydrogen generating methods, such as photoelectrochemical and biological approaches, to improve efficiency, lower prices, and lessen environmental consequences.
Several companies are actively participating in the hydrogen generation sector, investing in innovation, and creating market plans. Here are a few noteworthy examples:
Air Products and Chemicals, Inc.: Air Products is a world leader in the manufacturing and distribution of hydrogen. The corporation has made investments in renewable hydrogen projects and is working on large-scale electrolysis plants. They are also developing hydrogen infrastructure and working with multiple stakeholders to construct hydrogen supply chains.
Linde plc: Linde is one of the world's major industrial gas companies, with a strong position in the hydrogen sector. They are active in hydrogen generation, distribution, and storage. Linde invests in cutting-edge technologies such as hydrogen liquefaction and is actively involved in the development of hydrogen infrastructure, such as refuelling stations.
Many countries have implemented strategies to encourage the expansion of the hydrogen generation market in terms of government rules and subsidies. As an example:
The European Union's Hydrogen Strategy seeks to construct a comprehensive hydrogen value chain, encourage investment in hydrogen technologies, and create a hydrogen market.
The United States has allocated financing for hydrogen research and development through projects such as the Department of Energy's Hydrogen and Fuel Cell Technologies Office. They also offer tax breaks and grants to help fund hydrogen projects.
Japan has established the Basic Hydrogen Strategy, which establishes targets for hydrogen use in several industries and supports hydrogen research, development, and deployment.
These instances demonstrate governments' dedication and companies' active participation in promoting innovation, investment, and future market plans for hydrogen generation.
The Full List
| Logo | Company | Headquarters | Year Founded | Holding Type |
| --- | --- | --- | --- | --- |
| | Air Liquide | Paris, France | 1902 | Public |
| | Air Products | Allentown, USA | 1940 | Public |
| | BP | London, UK | 1909 | Public |
| | BayoTech | Albuquerque, New Mexico | 2015 | Private |
| | ENGIE | Paris, France | 2008 | Private |
| | Electrochaea | Planegg, Germany | 2014 | Public |
| | Equinor | Stavanger, Norway | 1972 | Public |
| | ExxonMobil | Texas, USA | 1999 | Public |
| | Hiringa | New Plymouth, New Zealand | 2017 | Private |
| | Iberdrola | Bilbao, Spain | 1992 | Public |
| | Iwatani Corporation | Osaka, Japan | 1930 | Public |
| | Linde | Dublin, Ireland | 1879 | Public |
| | Messer Group | Bad Soden, Germany | 1898 | Private |
| | Orsted | Fredericia, Denmark | 2006 | Public |
| | Shell | London, UK | 1907 | Public |
| | Siemens | Munich, Germany | 1847 | Public |
| | Starfire Energy | Denver, USA | 2007 | Public |
| | Topsoe | Lyngby, Denmark | 1940 | Public |
| | Uniper | Dusseldorf, Germany | 2016 | Public |
| | Xebec Adsorption | Quebec, Canada | 1967 | Private |
Frequently Asked Questions (FAQs)
Hydrogen production is the process of making hydrogen gas. There are many ways to do this, such as steam methane reforming, electrolysis, biomass gasification, andmore.
Hydrogen appears of as a clean and flexible source of energy that can be used in many areas, including transportation, industry, and power production. The production of hydrogen is a key part of making hydrogen a widely used and safe energy source.
Steam methane reforming (SMR), electrolysis (both alkaline and proton exchange membrane), biomass gasification, coal gasification, and, more recently, sophisticated technologies such as solid oxide electrolysis are the main ways of hydrogen generation.
Hydrogen produced in various ways can be utilised for a variety of applications, including fuel cell cars, electricity generation, industrial processes including refining and chemical manufacture, and energy storage.
Several factors are driving the growth of the hydrogen generation market, including an increased emphasis on decarbonization and the transition to clean energy sources, government initiatives and support, advancements in hydrogen production technologies, and rising demand for hydrogen in various industries.
The high cost of hydrogen production in comparison to conventional fuels, the necessity for infrastructure development to store and distribute hydrogen, assuring a sustainable and low-carbon hydrogen supply, and addressing safety concerns related with hydrogen handling and storage are some of the obstacles.
Several regions, including Europe, Asia-Pacific (particularly Japan and South Korea), and North America, are taking substantial measures to take the lead in the hydrogen generation business. These areas have aggressive hydrogen plans and are investing in infrastructure and technological development.
The most obvious benefit of hydrogen is that there is no need to wait for the automobile to charge. You can refill the tank as rapidly as you can get petrol. The ability to refill fast makes hydrogen cars superior than electric vehicles for long-distance driving. It also makes them more convenient to own.
The hydrogen generation market is expected to expand significantly in the future years. The growing use of hydrogen in industries such as transportation, industry, and power generation, combined with favourable government regulations and technological breakthroughs, are projected to drive market expansion. The global hydrogen generation market was worth USD 160,68 million in 2022 and is predicted to increase at a compound annual growth rate (CAGR) of 10.5% between 2023 and 2030.
Yes, various new trends and technologies are emerging in the hydrogen generation market. Green hydrogen production using renewable energy, developments in electrolysis technologies, the integration of hydrogen with other renewable energy systems, and the research of hydrogen generation from alternate sources such as ammonia are among these.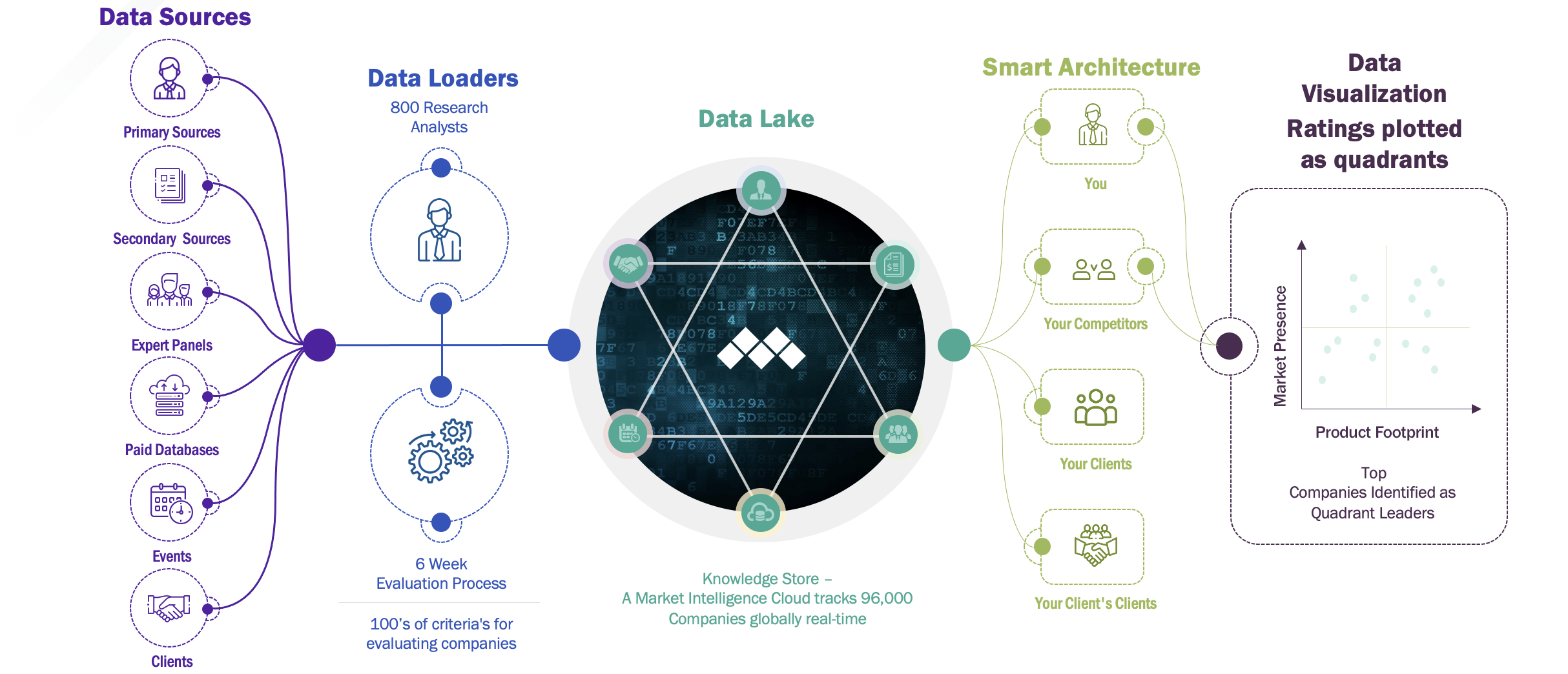 If your company is recognised in this Quadrant, Leverage this ranking using our Marketing Kit.
If your company is recognised in this Quadrant, Leverage this ranking using our Marketing Kit.