Learn more about Surface Disinfectant
Best Surface Disinfectants
Surface disinfectants s are used to prevent microbial cross-contamination and transmission of microbial infections through surfaces in hospitals, pathology labs, and other patient-related areas. They are also used in research laboratories and pharmaceutical and biotechnology companies where human cells are handled and maintained for the purpose of research and development. These surface disinfectants are used to clean walls/floors, and other surfaces in hospitals and are also used in the disinfection of medical devices and instruments.
Top 10 Surface Disinfectant Companies
Johnson & Johnson
Sealed Air Corporation
Reckitt Benckiser
Cantel Medical Corporation
The Clorox Company
The 3M Company
Procter & Gamble
Steris Corporation
Ecolab
Contec Inc
Market Overview
The surface disinfectant market is expected to reach USD 1,251.6 million by 2024 from USD 836.7 million in 2019, at a CAGR of 8.4% from 2019 to 2024. The growth of this market is mainly driven by the presence of stringent regulations governing their application and usage. Technological advancements in disinfectant types and techniques have also ensured their overall demand among end-users.
The growth of the end-user base for disinfectants in developing nations will present significant opportunities for companies in this market, in the coming years. However, the development of alternatives to surface disinfectants, although currently expensive, may challenge market growth post their commercialization.
COMPETITIVE LEADERSHIP MAPPING TERMINOLOGY
The competitive leadership mapping showcased provides information for Surface Disinfectant. Vendor evaluations are based on two broad categories: product maturity and company maturity. Each category carries various criteria, based on which vendors have been evaluated. The evaluation criteria considered under product maturity include the breadth of offering, delivery (based on industries that the vendors cater to, deployment models, and subscriptions), features/functionality, delivery, product quality and reliability, and product differentiation. The evaluation criteria considered under the company maturity include geographic footprint (on the basis of geographic presence), channel strategy and fit, vision alignment, and effectiveness of growth (on the basis of innovations, partnerships, collaborations, and acquisitions).
VISIONARY LEADERS
Visionary leaders are the leading market players in terms of new developments such as product launches, innovative technologies, and the adoption of growth strategies. These players have a broad product offering that caters to most of the regions globally. Visionary leaders primarily focus on acquiring the leading market position through their strong financial capabilities and their well-established brand equity.
DYNAMIC DIFFERENTIATORS
Dynamic Differentiators are established players with very strong business strategies. However, they have a weaker product portfolio compared to the visionary leaders. They generally focus only on a specific type of technology related to the product.
INNOVATORS
Innovators in the competitive leadership mapping are vendors that have demonstrated substantial product innovations as compared to their competitors. The companies have focused on product portfolios. However, they do not have very strong growth strategies for their overall business, when compared with the visionary leaders.
EMERGING COMPANIES
Emerging companies have niche product and service offerings. Their business strategies are not as strong as that of the established vendors. The emerging vendors include the new entrants in the market, emerging in terms of product portfolio and geographic reach, and require time to gain significant traction in the market.
What's driving the market?
1. Stringent regulations for the use of surface disinfectants
Regulatory guidelines for the use of surface disinfectants are very stringent in most developed countries. In the US, the Environmental Protection Agency (EPA) and the Occupational Safety and Health Administration (OSHA) regulate disinfectants and sterilants used on environmental surfaces, while those used in critical or semi-critical medical devices are regulated by the FDA. Chemical germicides formulated as sanitizers, disinfectants, or sterilants are regulated in interstate commerce by the Antimicrobials Division, Office of Pesticides Program, EPA, under the authority of the Federal Insecticide, Fungicide, and Rodenticide Act (FIFRA) of 1947 (amended). These guidelines focus on the strengthening and streamlining of proper selection and maintenance of infrastructure, selection & training of manpower, development and implementation of suitable cleaning methods in the form of protocols/SOP's, and the development of suitable policies for housekeeping services among other activities with an organizational structure, which puts a premium on good housekeeping and sanitation. Such regulatory guidelines will help in improving the regular usage of surface disinfectants across healthcare settings.
2. High Prevalence of HAIs
Hospital-acquired infections (HAIs) are nosocomial infections that occur during a patient's stay at hospitals and related facilities and are not observed at the time of admission. These infections include central line-associated bloodstream infections, surgical site infections, catheter-associated urinary tract infections, hospital-acquired pneumonia, ventilator-associated pneumonia, and Clostridium difficile infections. The regular use of different types of disinfectants for hospital surface cleaning and medical device disinfection will be a must in order to decrease the incidence rates of these diseases further.
3. Technological improvements in disinfectants
Newer types of surface disinfectants have been developed in the last few years in a bid to reduce overall water usage, combat microbial resistance, and enhance disinfection efficacy. Some of these technologies include hydrogen peroxide liquid disinfectants, per-acetic acid, and hydrogen peroxide combinations, and accelerated hydrogen peroxide formulations. Single-use surface disinfectant wipes are increasingly being used as they avoid cross-contamination. This includes Clorox disinfecting wipes, which can rapidly kill a range of bacteria and viruses in less than two minutes. Newer methods for applying disinfectants are also being developed, such as microfiber cloths or mops as well as ultra-micro fiber cloths, which have shown increased efficacy as compared to standard cotton mops.
What are the different types of surface disinfectants?
1. Liquids
Liquid disinfectants are widely used for sanitizing hospital surfaces and equipment (such as cystoscopes, catheters, and thermometers). They are typically used in concentrated or diluted forms. High volumes of liquid disinfectants are employed to clean floors, walls, and surfaces post-surgery and sterilize instruments for recurrent use. Their wide usage, especially in emerging and under-developed nations due to their availability and low cost (as compared to wipes) has contributed to market growth in this segment.
Liquid disinfectants have a dwell time of 5 to 10 minutes. Their use is restricted due to their high water content and chances of cross-contamination. This has restricted its market growth to an extent. The key players in this market are 3M Company (US), Procter and Gamble (US), and Reckitt Benckiser (UK), among others.
2. Wipes
Single-use disinfectant wipes form the fastest-growing segment in the surface disinfectant market. Wipes offer several advantages—zero water consumption, lesser chances of cross-contamination compared to liquids, and ease of use. They are predominantly used for medical device disinfection, especially in the case of devices with irregular surfaces wherein the use of liquids or sprays is unfeasible. Due to their high cost, adoption is currently restricted to developed nations only; increasing awareness and the implementation of favorable regulations will support the adoption of wipes in emerging countries.
CaviWipes by Metrex Research Corporation (US) and 3M Surface Disinfectant Cleaning Wipes by 3M (US) are some commonly used disinfectant wipes.
Quaternary ammonium compound-based wipes
Quaternary ammonium compound-based disinfectant wipes are used in clinical facilities for preoperative disinfection, disinfection of non-critical instruments, hard-surface cleaning, and deodorization & disinfection of medical equipment. These compounds with low toxicity are used for ordinary environmental sanitation of noncritical surfaces such as floors, furniture, and walls. Although these compounds are active in both acidic and alkaline forms, the alkaline is considered more effective. These compounds are compatible with cationic surfactants, but not ionic and amphoteric ones. Moreover, quaternary ammonium compound-based wipes have superior germicidal activity, are low foaming, and have a high tolerance to protein loads and hard water.
Quaternary ammonium compound-based disinfection wipes are very effective on both gram-positive and gram-negative bacteria and enveloped viruses. However, they are ineffective on non-enveloped viruses, fungi, and bacterial spores. These wipes have the broadest spectrum of any microbial agent, having shown efficacy against viruses, protozoa, fungus, bacteria, and algae commonly found in the healthcare environment. These wipes have the ability to mitigate pathogens such as Chlamydia psittaci (15 days), Acinetobacter spp. (3 days to 5 months), Shigella spp. (2 days to 5 months), MRSA (7 days to 7 months), Adenovirus (7 days to 3 months), and Candida Albicans (1–120 days).
The Carroll Company and Reckitt Benckiser (Dettol Wipes) are among the major players offering quaternary ammonium compound-based disinfectant wipes.
Alcohols (mainly comprising ethyl alcohol and isopropyl alcohol) wipes are used to disinfect the surfaces of medical equipment. Alcohols are bactericidal, tuberculocidal, fungicidal, and virucidal against enveloped viruses. However, they are not effective against bacterial spores and have limited effectiveness against non-enveloped viruses.
The use of alcohol-based disinfectant wipes can damage the shellac mountings of lensed instruments, cause rubber and certain plastic tubing to swell and harden following prolonged and repeated use, and bleach rubber and plastic tiles. Alcohols are flammable and consequently must be stored in a cool, well-ventilated area. They also evaporate rapidly, which makes extended exposure time difficult to achieve unless items are immersed. Moreover, they irritate skin tissues and are generally expensive for general use as a surface disinfectant. These disadvantages are expected to restrain the growth of this market segment.
Ecolab (US) and Reckitt Benckiser Group plc (UK) are the major players that offer alcohol-based surface disinfection wipes.
This includes sporicidal wipes, which possess powerful oxidizing properties and kill spores by the oxidation of proteins and other key cellular components. Sporicidal wipes come in a combination of two different compounds, such as quaternary ammonium compound & chlorine dioxide, peracetic acid & hydrogen peroxide, and quaternary ammonium compound & biguanide. Hypochlorite is effectively used for surface purification, bleaching, odour removal, and water disinfection. Hydrogen peroxide is used for sterilization and high-level disinfection in healthcare settings. Sporicidal disinfectant wipes that contain both peracetic acid and hydrogen peroxide have been shown to reduce bacterial levels on surfaces to a greater degree as compared to quaternary ammonium compound-based wipes.
According to the MHRA, sporicidal wipes should be used as a disinfectant during a standard operating procedure (SOP). The MHRA statement states— "before transfer to the manufacturing room, a sanitization step using a wiping technique including a sporicidal agent designed to inactivate bacterial and fungal spores must be carried out." According to the NHS guidelines, the use of sporicidal wipes is mandatory for all aseptic units in their transfer process. This mandate is expected to increase the adoption of sporicidal wipes.
3. Sprays
Sprays are used to a lesser extent in surface disinfection. Sprays are suitable for both hard and soft surfaces in healthcare facilities and are used to clean toilet seats, bathrooms, glass panes, desks, and bedsprings. Disinfectant sprays are also used in fogging for antimicrobial control in hospital rooms and operation theatres. Sprays have low water content and can be used on floors and wall disinfection; however, they can cause cross-contamination.
What are the key applications of Surface disinfectants?
1. In-house Surfaces
In-house areas such as living environments and hospital wards, operation theatres, receptions, and clinics are home to a wide range of germs and bacteria, which necessitates the need for effectively disinfecting bathrooms, walls, and furniture. These regions have vast surface areas and thus require a very high amount of disinfectants for cleaning. As these areas are closely associated with patient movements, the risk of contracting hospital-acquired infections is very high. A study published in the American Journal of Infection Control by the Case Western Reserve University School of Medicine in Cleveland, Ohio, suggests that the floor may be an overlooked source of healthcare-associated infection and may help to spread pathogens such as Clostridium difficile and MRSA through contact with high-touch objects.
The increasing incidence of HAIs is a key factor driving the demand for surface disinfectants. Liquids and wipes are commonly used to clean and disinfect in-house surfaces. Some of the major players in this market are Reckitt Benckiser Group plc, The Clorox Company, Johnson & Johnson, and The Procter & Gamble Company.
2. Instrument Disinfection
Instruments used in hospital care, such as endoscopes, probes, catheters, and ventilators, can be a key cause of HAIs and need to be effectively disinfected before use. Analytical instruments used in laboratories for analysis and detection purposes also must be disinfected to avoid contamination and possible infections. Bactericidal, fungicidal, or virucidal surface disinfectants are used to disinfect instruments. These are ready to use, non-toxic, and appropriate for surfaces like stainless steel, chrome, glass, plastic, and plexiglass.
Formaldehyde, peracetic acid, and quaternary ammonium compounds are most commonly used for instrument disinfection. With the changing demands for greener solutions for surface disinfection, non-corrosive and non-toxic compounds such as hydrogen peroxide are increasingly being adopted for instrument disinfection. Moreover, single-use wipes, which are easy to use and avoid cross-contamination, are increasingly being used for instrument disinfection.
The major players operating in this market are Diversey (US), Steris Corporation (US), and The Clorox Company (US).
3. Other applications
Other applications include the disinfection of medical equipment such as gloves, stethoscopes, and blood pressure cuffs. In healthcare settings, infections can be spread through these surfaces due to their frequent use. Alcohol-based surface disinfectants are commonly used to disinfect such medical equipment.
End-users of Surface disinfectant
1. Hospital Settings
The rising prevalence of lifestyle diseases such as diabetes and CVD, among other ailments, has been a key contributor to the increase in the number of surgeries conducted globally. Most surgeries are conducted in hospital in-patient settings, which highlights the need for ensuring that effective sterilization and disinfection procedures are followed. This also helps combat the incidence of HAIs, such as nosocomial infections or HAIs and infections that contain antimicrobial resistance.
According to the US Centers for Disease Control and Prevention, there were 687,000 cases of HAIs in US acute care hospitals in 2015; ~72,000 patients with HAIs died during hospitalization. According to the Healthcare-Associated Infections in North Carolina (US) Report of June 2018 published by the NC Department of Health and Human Services, HAIs in North Carolina cost between USD 124 and 348 million each year in direct expenditure. The high incidence of HAIs and the resulting cost burden on the stakeholders have driven the adoption of infection control products such as surface disinfectants in hospital settings.
2. Diagnostic Laboratories
Diagnostic laboratories test a variety of patient samples, such as blood, sera, and urine. Handling such samples carries its own risks, such as the possibility of contamination and infection, and thus such laboratories require clean environments for operations. Both the laboratory surfaces and the instruments used for testing and other operations must be disinfected regularly. This ensures a steady demand for surface disinfectants in diagnostic laboratories.
Ethanol or isopropanol (70%), sodium hypochlorite (10%), and phenolic compounds are commonly used as surface disinfectants in laboratories. Alcohols are used to disinfect the surfaces of laboratory workstations, biosafety cabinets, and laboratory consumables and instruments. The demand for these disinfectants has grown with an increase in the number of diagnostic laboratories, worldwide. India itself has more than 100,000 laboratories, including pathology labs and radiology centers.
3. Pharmaceutical and Biotechnology Companies
Pharma and biotech companies' aseptic conditions to reduce the chances of direct or cross-contamination and ensure sterile environments for research and manufacturing. Disinfectants such as quaternary ammonium compounds, phenolic compounds, and alcohols are majorly used in the pharmaceutical industry for nonporous surfaces, such as objects made of plastics or stainless steel; glass worktops; and walls and floors.
An overall increase in activity in these industries will correspondingly drive demand for disinfectants, and thereby ensure market growth. In this regard, the amount of funding and investment directed toward pharma & biotech activity has risen in recent years. Global venture funding into the biotech sector touched USD 13.5 billion in 2018, up from USD 11 billion in 2017. This will drive product development and expansion activity, thereby contributing to the need for and use of surface disinfectants in this end-user segment.
4. Research Laboratories
These laboratories are involved in carrying out basic research activities, such as strain development, cell line maintenance, cell culturing activities, and plant cell research. Laboratories involved in the development of animal and plant cell lines require environments that are free of microbes and infectious agents that might interfere with the quality of work. This drives the use of surface disinfectants and other cleaning methods.
Best Surface Disinfectant
Comparing 25 vendors in Surface Disinfectant across 38 criteria.
Frequently Asked Questions (FAQs)
Surface Disinfectant is a chemical that helps in avoiding the transmission of microbial infections through surfaces in hospitals, pathology labs, and other patient associated areas.
The global Surface Disinfectant market is projected to reach $1.25 billion by 2024 which was valued at $0.83 billion in 2019 at a CAGR of 8.4% during the forecast period.
The North American region will most likely be the fastest growing region, due to high occurrence of Hospital-Acquired Infections, growing number of patients and also due to rigorous sterilization and fumigation regulations.
The following areas typically require Surface Disinfection: Food processing industry, Pharmaceutical industry, Labs, Healthcare amenities, Household and Veterinary applications.
The general view about the use of chemical disinfectants is negative amongst the users. Since, most of the chemical disinfectants possess toxic properties. The inappropriate usage of these disinfectants can result in environmental threats and also prove to be injurious to patients exposed to them.
Send your Business Requirement to Multiple Vendors in one go.
Requirements from other buyers (1)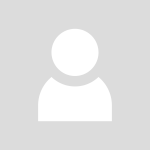 Buyer
Suneet Mahajan's requirement
30/09/2022
"Looking for Disinfectants distribution of a good company for cities of Amritsar, Jalandhar etc in Punjab. Presently prmoting MICROGEN range of disinfectants in Amritsar, Jalandhar etc in Punjab. Want to change because of the Non Professional attitude of the company & its staff."
500+ Surface Disinfectant buyers negotiating "Group Buying Deal" through 360Quadrants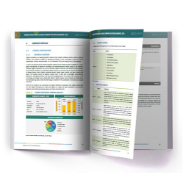 Surface disinfectants are mainly used to prevent microbial cross-contamination and avert microbial infection spread through the hospital, pathology lab surfaces, other patient proximity, and contact areas. The global surface disinfectant market is projected to reach USD 1 billion by 2024. Growing microbial resistance is driving a major shift in the market towards the adoption of hydrogen peroxide and peracetic acid formulations. Opportunities exist in developing countries where demand for surface disinfectants is increasing due to regulations.
Technological improvements in disinfectants is a key driver of this market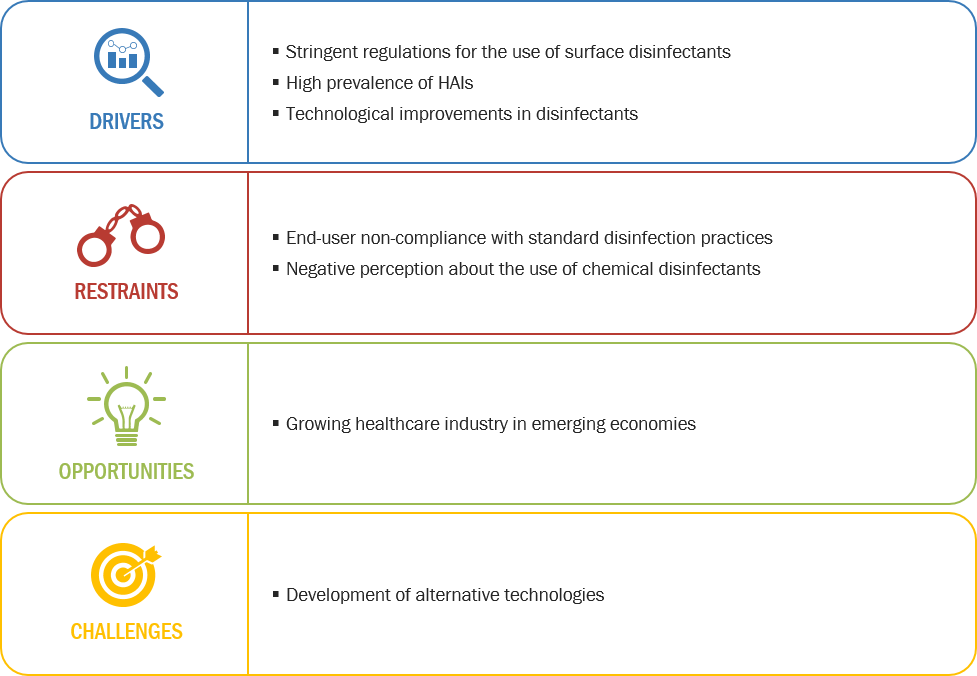 Surface disinfectant quadrant report identifies and benchmarks Top surface Disinfectant Companies such as 3M Company (US), Procter and Gamble (US), Reckitt Benckiser Group plc. (UK), Clorox Company (US), and Ecolab (US), and evaluates them on the basis of business strategy excellence and strength of product portfolio within the Surface disinfectant ecosystem, combining inputs from various industry experts, buyers, and vendors, and extensive secondary research including annual reports, company press releases, investor presentations, free and paid company databases. surface disinfectant leaders are rated and positioned on a 2x2 matrix, called as 'Company Evaluation Quadrant', and identified as Visionary Leaders ( Best Surface Disinfectant Companies ), Dynamic Differentiators, Innovators, or Emerging companies. This report also identifies and benchmarks the top surface disinfectant start-ups, positioned on the 2x2 matrix, and identified as Progressive Companies, Starting Blocks, Responsive Companies, or Dynamic Companies.
The report includes market-specific company profiles of 13 Best Surface Disinfectant Companies and assesses the recent developments that shape the competitive landscape of this highly fragmented market.
Surface disinfectant quadrant report identifies and benchmarks top Surface disinfectant companies such as 3M Company (US), Procter and Gamble (US), Reckitt Benckiser Group plc. (UK), Clorox Company (US), and Ecolab (US), and evaluates them on the basis of business strategy excellence and strength of product portfolio within the Surface Disinfectant ecosystem, combining inputs from various industry experts, buyers, and vendors, and extensive secondary research including annual reports, company press releases, investor presentations, free and paid company databases. They are rated and positioned on 2x2 matrix, called 'Company Evaluation Quadrant', and identified as Visionary Leaders ( Best Surface Disinfectant Companies ), Dynamic Differentiators, Innovators, or Emerging companies.
SAMPLES: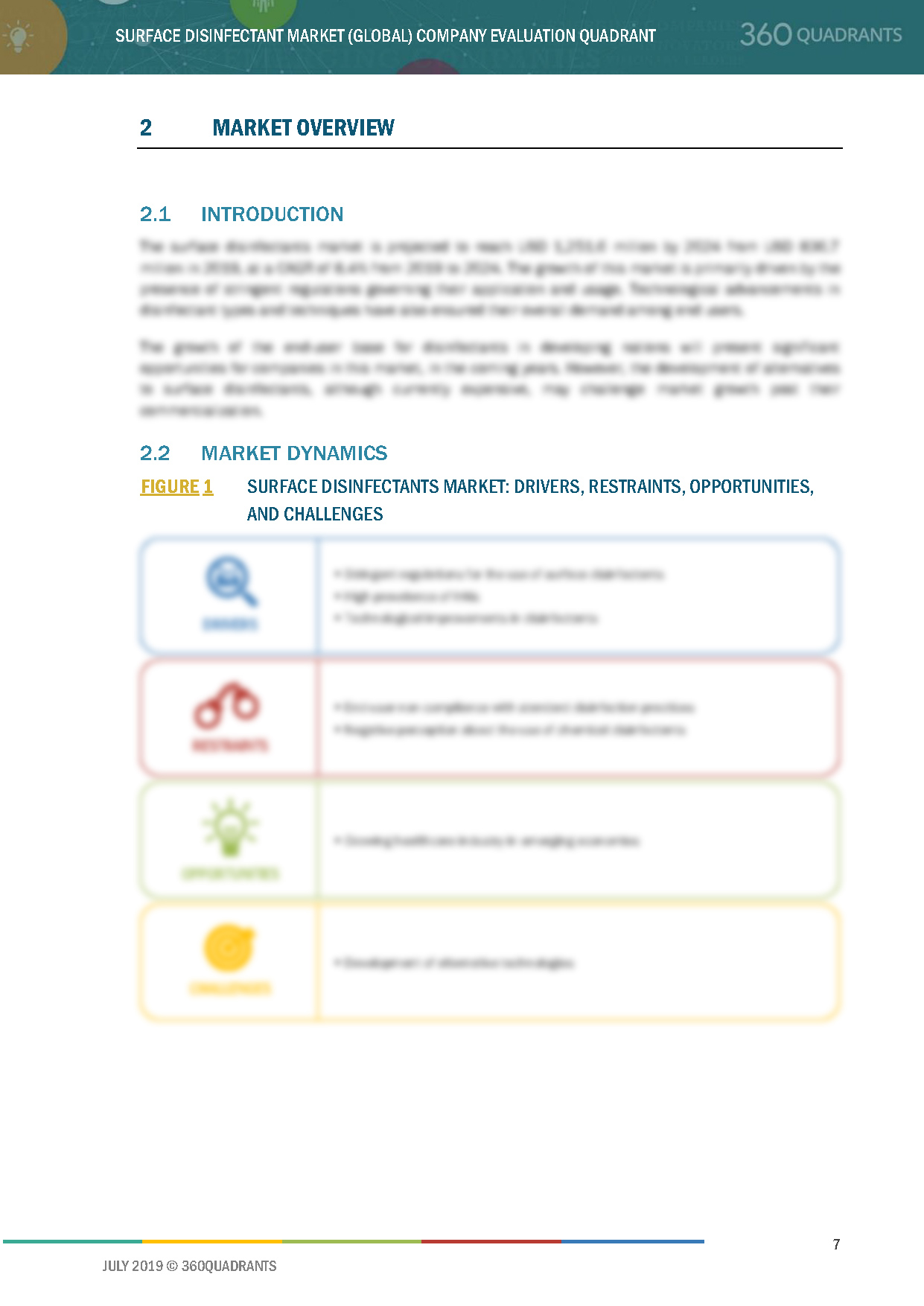 ---
---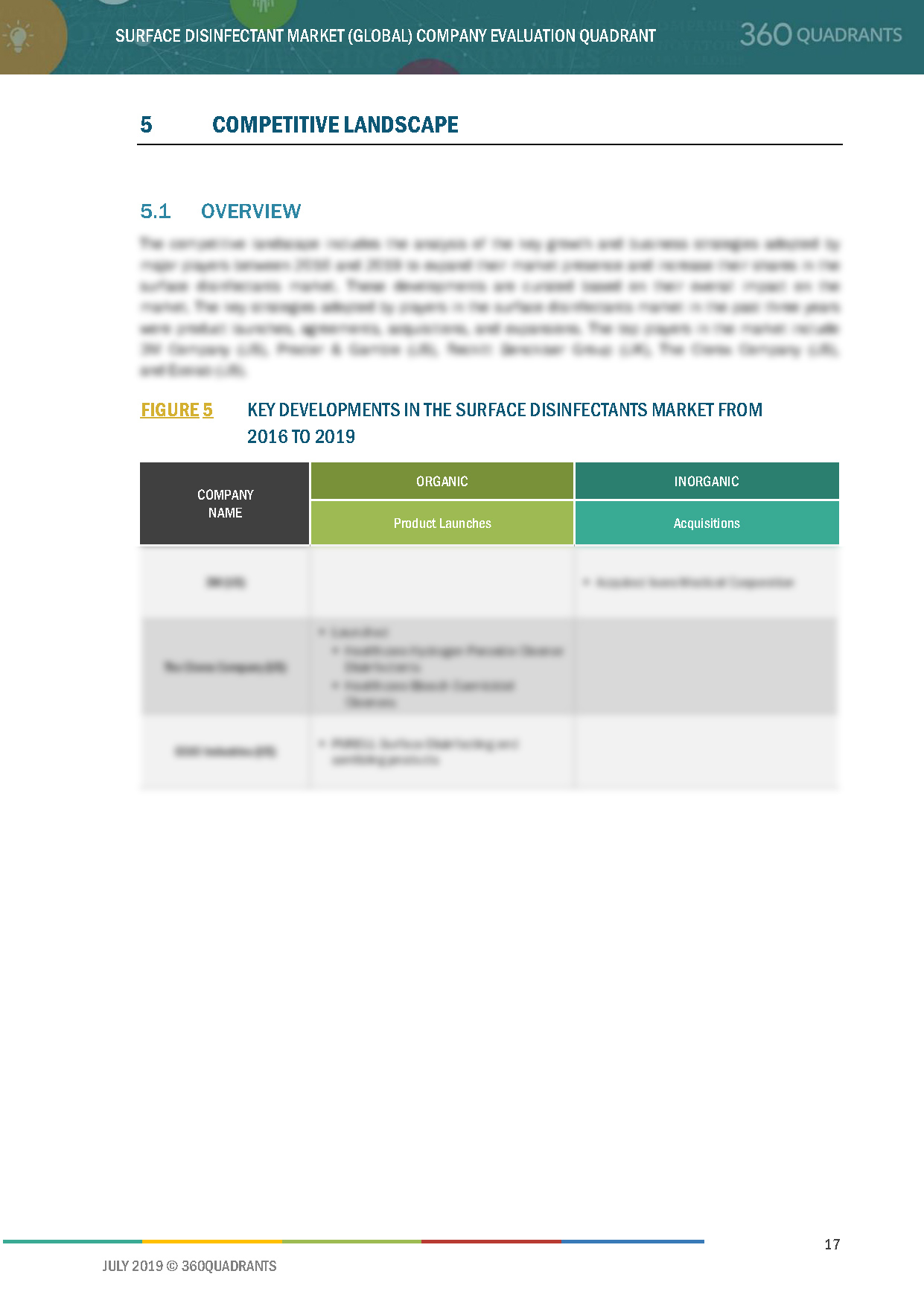 ---
---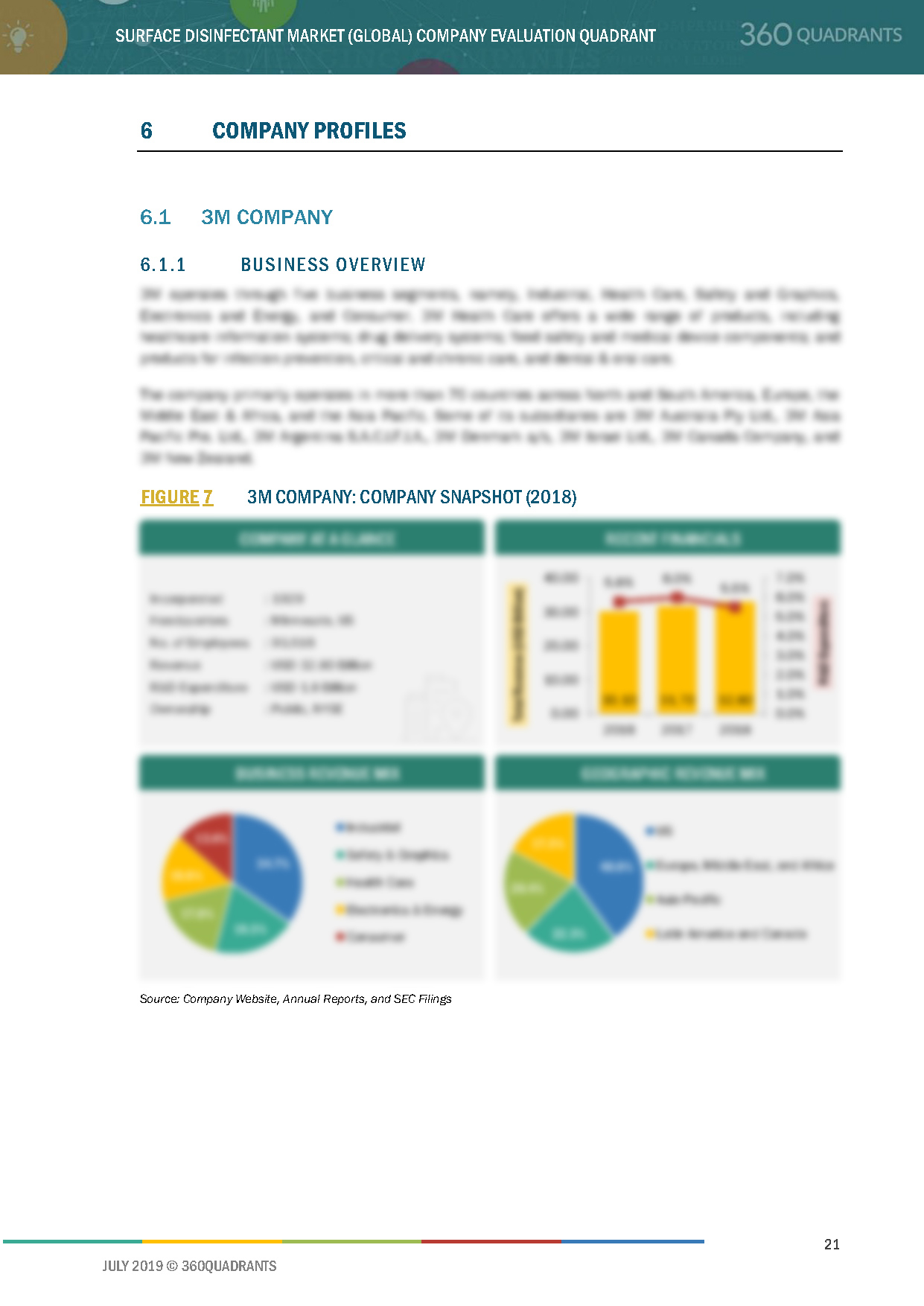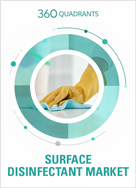 Request Free Sample Report
Personalize Your Research Requirement
Updated version of this Quadrant
Different Company Evaluation Quadrant
'Startup Only' Company Evaluation Quadrant
Region or Country specific evaluation
Application or Industry specific evaluation

..Read More
Analyst Briefing & Inquiry
Submit a Briefing Request
Question about our published research
Request for evaluation of your organization for specific market
Request for re-evaluation of Company Evaluation Quadrant

..Read More