Comparing 19 vendors in Flexible Paper Packaging Market across 79 criteria.
POWERED BY
MARKETSANDMARKETS
Jun 01, 2023
The Full List
| Logo | Company | Headquarters | Year Founded | Holding Type |
| --- | --- | --- | --- | --- |
| | Amcor | Southbank, Australia | 1896 | Public |
| | C-P Flexible Packaging | York, USA | 1958 | Private |
| | D&W Fine Pack | Wood Dale, USA | 2010 | Private |
| | DS Smith | London, UK | 1940 | Public |
| | Dart | Mason, USA | 1960 | Private |
| | Graham Packaging | Lancaster, USA | 1970 | Private |
| | Huhtamaki | Espoo, Finland | 1920 | Public |
| | Jujo Thermal | Kauttua, Finland | 1990 | Private |
| | Mondi | Weybridge, UK | 1967 | Public |
| | PakPlast | Smithfield, Australia | 1982 | Private |
| | Sabert | Sayreville, USA | 1983 | Private |
| | Sappi | Rosebank, South Africa | 1936 | Public |
| | Sealed Air | Charlotte, USA | 1960 | Public |
| | Silgan | Stamford, USA | 1987 | Public |
| | Sonoco | Hartsville, USA | 1899 | Public |
| | TC Transcontinental | Montreal, Canada | 1976 | Public |
| | Tupperware | Orlando, USA | 1946 | Public |
| | Visy | Melbourne, Australia | 1948 | Private |
| | Wihuri | Helsinki, Finland | 1901 | Private |
Frequently Asked Questions (FAQs)
Flexible paper packaging is a type of packaging that combines paper with flexible materials like plastic films or laminates to make a lightweight and eco-friendly packaging solution. It is often used in a wide range of products, such as food, drinks, and items for personal care. Flexible paper packaging has a lot of benefits, like being recyclable, biodegradable, and able to be composted. It's also affordable and can be changed to fit different packaging needs. Overall, flexible paper packaging is an eco-friendly and flexible alternative to traditional packaging materials that can help reduce the impact on the environment while keeping the quality and safety of the product.
Flexible paper packaging offers several benefits over traditional packaging materials, including: a. Sustainability: Flexible paper packaging is made from renewable resources and can be recycled, biodegraded, and composted. This makes it a better choice for the environment than many other types of packaging. b. Cost-effective: Because it uses less material and is easier to transport, flexible paper packaging is frequently less expensive than other types of packaging. c. Customizability: With options for different sizes, shapes, and printing designs, flexible paper packaging can be easily customized to meet the needs of specific products and brands. d. Lightweight: Flexible paper packaging is lightweight and requires less space for storage and transportation, which can reduce shipping costs and carbon emissions. e. Protection: Flexible paper packaging acts as a barrier against moisture, light, and oxygen, allowing products to retain their quality and freshness for longer periods of time. f. Convenience: Flexible paper packaging is frequently simple to open and reseal, making it an appealing option for consumers. Overall, the benefits of flexible paper packaging make it an attractive option for companies looking to reduce their environmental impact, improve cost-efficiency, and provide high-quality packaging for their products.
Some of the common types of paper used in packaging and their characteristics include: a. Kraft paper: It is made from unbleached wood pulp, which makes it strong and long-lasting. It is often used to package heavy items like hardware and industrial parts. b. Coated paper: It is coated with a layer of material, such as plastic or wax, to add protection and barrier properties. It is frequently used in the packaging of food and beverage products. c. Corrugated cardboard: This is a type of paperboard that has a fluted layer sandwiched between two flat layers. It is commonly used for shipping boxes and other heavy-duty packaging applications because it provides excellent cushioning and protection for products. d. Recycled paper: It is made from recycled materials, such as post-consumer waste or waste from manufacturing processes. It is a long-term solution that can help reduce the environmental impact of packaging. e. Specialty paper: It includes a wide variety of papers with distinct properties, such as water-resistant paper, tear-resistant paper, and thermal paper. They are frequently used in specialty packaging applications such as food service and healthcare. Overall, the best paper for packaging will depend on the specific needs and requirements of the product being packaged, as well as the desired sustainability profile of the packaging.
There are many types of paper packaging available, each with its own unique features and benefits. Some of the most common types of paper packaging include: a. Corrugated boxes: These are strong and durable boxes made from corrugated cardboard. They are commonly used for shipping and storing goods, as they provide excellent protection against damage during transit. b. Folding cartons: These are lightweight paperboard boxes that can be folded into a variety of shapes and sizes. They are frequently used in retail packaging for items such as cosmetics, pharmaceuticals, and food. c. Paper bags: The paper bags are made of various materials such as kraft paper, recycled paper, and coated paper. They are commonly used for transporting groceries, retail products, and food. d. Paperboard tubes: The paperboard cylindrical tubes are used for packaging products such as cosmetics, food, and industrial goods. e. Wrapping paper: It is used to wrap gifts, products, or other items for decorative or protective purposes.
The price of paper packaging can change depending on things like the type of paper, how it's made, how much there is, and how it's designed. In general, paper packaging may cost more than plastic packaging because the raw materials and production costs are higher. The petrochemicals that are used to make plastic packaging are cheaper and easier to get than the natural resources that are used to make paper. But you can cut down on the cost of paper packaging by using recycled materials or other fibers like bamboo or bagasse. In some cases, the environmental benefits of paper packaging, like being biodegradable and recyclable, may be enough to make up for the cost of the packaging. Overall, comparing the costs of paper and plastic packaging depends on a number of factors and can change based on the application and market conditions.
When it comes to eco-friendly flexible paper packaging, there are several options to consider, including: FSC-certified paper: It is certified by the Forest Stewardship Council, which makes sure that the paper comes from forests that are well taken care of. Flexible packaging made of FSC-certified paper is sustainable and good for the environment. Recycled paper: It is made from post-consumer or pre-consumer waste generated during manufacturing processes. Using recycled paper reduces the demand for virgin materials while also helping to reduce landfill waste. Compostable paper: In a composting environment, it is designed to degrade into natural components. Compostable paper is a sustainable option for flexible packaging that can help reduce waste and promote the principles of the circular economy. Biodegradable paper: It is intended to degrade naturally over time, leaving no harmful residues. Biodegradable paper is a sustainable flexible packaging option that can help reduce waste and promote a circular economy. Overall, the most environmentally friendly type of paper for flexible packaging will be determined by a number of factors, including the intended use, the level of sustainability required, and the company or organization's specific environmental goals.
Paper is often thought to be better than plastic because it is better for the environment. Paper breaks down over time, can be recycled, and comes from a resource that can be used again and again. Plastic, on the other hand, takes hundreds of years to break down and is not biodegradable. Most of the time, it takes less energy to make paper than it does to make plastic, and paper can often be made with fewer harmful chemicals. Also, paper is usually easier to recycle than plastic because many communities already have programs in place to recycle paper products. Overall, picking paper over plastic can help cut down on waste, save resources, and support efforts to make the world more sustainable.
Plant-based materials such as bamboo, hemp, or bagasse could be used as a sustainable alternative to paper. These are renewable resources that can be grown quickly and sustainably without the use of hazardous chemicals or fertilizers. They are also biodegradable and compostable, which reduces waste and promotes circular economy principles. Furthermore, some businesses are looking into the use of reusable and washable materials like fabric or silicone as an alternative to single-use paper products. These environmentally friendly alternatives to paper can help reduce the environmental impact of paper production while still providing functional and effective packaging and other products.
Several things can be done to make paper eco-friendly. First, using recycled paper reduces the need for new materials and the amount of trash that ends up in landfills. Second, choose paper products made from sustainably managed forests or alternative fibers like bamboo, hemp, or bagasse, which are renewable and often require less water and fewer chemicals than traditional paper production. Third, not using harmful chemicals like chlorine or bleach to make paper. Instead, they should use eco-friendly chemicals like hydrogen peroxide. Fourth, we can use less paper by printing on both sides of the page, using digital documents, and recycling paper products. Lastly, composting paper products made from unbleached or untreated paper can help reduce waste and support a circular economy.
Several factors have contributed to the increase in flexible paper-based packaging demand over the past few years. The growing emphasis on sustainability and environmental issues is one of the key motivators. Flexible paper-based packaging is thought to be a more environmentally friendly option to plastic packaging, which has been associated with problems including pollution and waste. Moreover, flexible paper-based packaging fits the trend of consumers searching for goods made of sustainable materials. The expansion of e-commerce and home delivery services is another factor influencing demand for flexible paper-based packaging. Packaging that can shield goods during shipment and handling is required as more people purchase online. Flexible paper-based packaging is a good choice for this because it can be made to protect and cushion products. Overall, it is anticipated that demand for flexible paper-based packaging will increase over the next years due to concerns about sustainability and the expansion of e-commerce.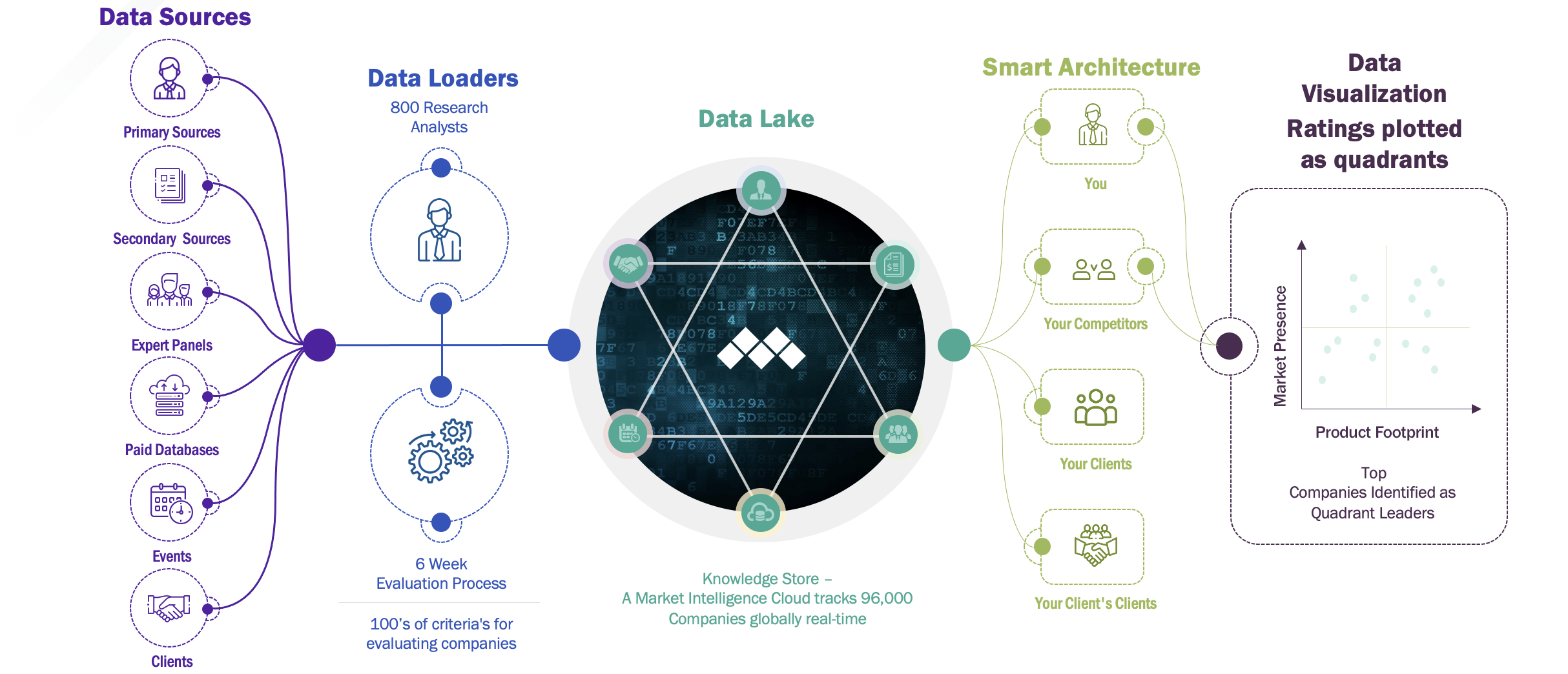 If your company is recognised in this Quadrant, Leverage this ranking using our Marketing Kit.
If your company is recognised in this Quadrant, Leverage this ranking using our Marketing Kit.