Learn more about Battery Technology
Battery Technology
Battery is a device which uses different combinations of chemicals and materials to generate electricity. Typically, it is made up from positive and negative electrodes, a separator and an electrolyte. The material of the electrodes and electrolyte plays a vital role in deciding the health of a battery which includes charging, discharging time, and life of the battery. Currently, Li-ion is the most widely used battery technology. It encompasses a wide range of applications ranging from small wearables such smart watch to electrical grid level energy storage.
The battery technology is becoming an essential part of the constantly evolving automotive, consumer electronics, renewable energy infrastructure and the automation industry. Developing a new battery technology is a complex process, scientists are constantly working on alternatives such as developing solid state batteries and are studying alternative chemical compounds. The top manufactures in the area of battery technology are:
Top Manufacturers in the Battery Technology
GS Yuasa
Clarios
Panasonic Corporation
Samsung SDI
Chaowei Power
Contemporary Amperex Technology
Enersys
LG Chem
BYD Company
Hitachi Chemical
Toshiba Corporation
Saft Groupe
Exide Industries
Lithium Werks
BAK Group
Exide Technologies
Varta Storage
Duracell
East Penn Manufacturing
Market Overview
The battery technology market comprises entities which offer batteries based on different technologies. The present battery technology market uses the materials such as lead-acid, lithium-ion, nickel-metal hydride and sodium-based batteries and other technologies which include alkaline, zinc-based, sodium based and flow batteries.
The top battery technology companies are implementing different strategies in order to make a strong foothold in the market. The global battery technology market is expected to grow from USD 92.0 billion in 2020 to USD 152.3 billion by 2025, at a CAGR of 10.6%. It is evident that the technology will witness a high growth rate, majorly driven by the increased usage of electric and hybrid vehicles and demand for renewable energy storage systems.
The APAC region consists of developing economies such as China and India which hold a huge market for potential technology application areas, it is therefore predicted that the APAC will lead the battery technology market globally. Further, the growing awareness of the sustainable resources and the stringent norms adopted by the US government are few of the reasons why the country is the key contributor in the North America. The US is the largest contributor of the battery technology market in the North America.
With the rising awareness about the sustainability, companies across the globe are realising the potentials of the battery technology. Applications such as electric and hybrid vehicles, portable electronic devices and renewable energy applications will foster the growth of battery technology market.
VISIONARY LEADERS
Visionary leaders are the battery technology vendors which are leading the market with their strong product portfolio, huge market presence and effective business strategies. With the robust product portfolio these companies cater services globally. The vendors listed under the visionary leaders primarily focus on acquiring the top positions in the market through their strong financial capabilities and well-established brand.


Top Entities in Battery Technology Market
BYD Company Ltd.
BYD is one of the leading manufacturers of rechargeable batteries globally. The company's service portfolio includes Lithium-ion batteries and nickel batteries, used majorly in portable electronic devices. The company caters its services to leading handset, electric power tools, and portable electronic equipment manufacturers. The company along with Changan Automobile manufactures batteries for electric vehicles. The company's BYD Energy Storage System (ESS) technology offers a customizable, modular, flexible design and has catered to systems ranging from kW sized to GW sized.
BYD has become of prominent players in the energy and transportation sector due to its zero-emissions Energy Ecosystem which consists of solar power generation, energy storage and cutting-edge electrified transportation. The new energy solutions are used for generation, storage and utilization of electricity, which includes solar power stations, energy storage stations, electric forklifts, and LEDs.
CATL
CATL is a one of global leaders in Li-ion battery development and manufacturing. It caters its services for passenger vehicles, commercial application, energy storage system, and battery recycling. The company employs Cell to Pack technology, Cell to Chassis technology, High-nickel technology and High-voltage technology amongst other technologies. BYD's research in the battery technology is based on its three essential platforms namely, Material Innovation Platform, Product Innovation Platform, and Intelligent Innovation Platform.
Chaowei Power
Chaowei Power is another leading battery manufacturer in the battery technology market. The company majorly focuses on li-ion batteries, lead-acid batteries and related products for automotive sector. It supplies sealed lead acid batteries and Li-ion batteries for electric vehicles and solar powered and wind powered energy systems.
Clarios
Formerly known as Johnson Controls Power Solutions, Clarios is an energy storage solutions company. It offers Lead-Acid and Lithium-ion batteries. Clarios's absorbent glass mat (AGM) batteries are designed for handling higher electrical loads while achieving sustainability.
EnerSys
EnerSys provides stored energy systems and technology for industrial applications. The company employs Thin Plate Pure Lead technology and adds carbon to the plates to increase energy throughput by three times. Its product portfolio includes services such as batteries, chargers, power equipment, battery accessories and other maintenance and planning services. The company caters services to several industries such as automotive, telecommunication, utilities, medical, aerospace and defence systems among other such industries.
DYNAMIC DIFFERENTIATORS
Dynamic Differentiators are having strong business strategies and are established in the market. However, these players have a weak service portfolio and usually are focused on a product specific type of component or technology.
East Penn Manufacturing
East Penn Manufacturing is one of the leading battery manufacturers globally. It is also one of the largest providers of Starting, Lighting and Ignition (SLI) batteries across North America. The company offers battery solutions for transportation applications which include Automotive, Marine, Trucks, Buses and Equipment, Power Sports, Lawn and Garden, Recreational Vehicles, Golf Car/EV, Agricultural, Floor Care Equipment, and Mobility. East Penn uses its Advanced-Cubed (A3) technology with Power-Perform Plates to improves its dependability in quality and performance. The company's automotive battery portfolio consists of Intimidator AGM Batteries, Deka Ultimate Battery Series, Deka EN Exact Fit Series, Deka Gold Battery Series, AUX AGM Batteries, and Deka Series.
Energizer Holdings INC
Energizer Holdings is a leading manufacturer of primary batteries and portable lighting products. The company also designs and markets auto care products. It's battery specific portfolio includes batteries from companies like EVEREADY, Rayovac and Varta, and Energizer. The products include Rayovac - Hearing Aid Batteries, Speciality Batteries, Energizer – Energizer Max, Energizer Ultimate Lithium and Energizer Recharge, and Eveready – Eveready Gold, Eveready Super Heavy Duty, and Eveready Rechargeable. The batteries offered by Energizer include both alkaline batteries and lithium batteries.
Showa Denko (SDK)
SDK is a producer of chemical products and industrial materials. The company operates in five divisions namely, petrochemicals, aluminium, electronics, chemicals and inorganic materials. In 2019 SDK acquired Hitachi Chemical to scale up its lithium-ion battery and advanced materials businesses. The company produces packaging materials which include VGCF carbon nanofibers and fuel battery materials, Pouch LiB and SPALF. It uses technologies such as Coating technology, Lamination technology, Molding technology and Carbon Coated Foil Technology.
Toshiba Corporation
Toshiba is one of the prominent companies in the battery technology space. Its business domains are focused on energy, social infrastructure, electronic devices and digital solutions and other modern essential life support services. The company manufactures SCiB Rechargeable battery using lithium titanium oxide (LTO) to manage the characteristics of a durable and safe battery. SCiB are used for several applications such as hybrid and plug-in electric vehicles, automotive starter battery, cranes, ships, hybrid trucks and buses, railways, AGVs and AMRs.
INNOVATORS
Innovators are the battery technology vendors which focus more on product innovations and solutions using advanced technologies. However, these companies do not have robust growth strategies for their overall business. These innovating companies make a prominent contribution in the development of the battery technology.
Montana Tech Components
It is an industrial company which focuses on the selected key technologies of the market. The company operates in various technology sectors through various companies. In 2007, it acquired VARTA Microbattery to develop and produces micro batteries, lithium-ion battery packs and stationary energy storage systems. The company offers batteries in the healthcare and entertainment as well as power and energy through Varta AG. The product solutions include lithium-ion button cells, hearing aid batteries, lithium-ion battery packs, energy storage systems, and individual battery solutions.
SAFT GROUPE SA
Saft, a wholly owned subsidiary of TotalEnergies offers Li-Ion, Ni-MH, and Ni-Cd batteries. It caters its solutions to medical, buildings and industries, aerospace or transportation, telecom and networks, oil and gas, health and energy utilities. Some of the products offered by the company includes Intensium® Max 20 High Energy (LFP), Arrok Low Voltage battery, and VRNM Ni-Cd battery.
EMERGING COMPANIES
Emerging companies in the quadrant offer niche products and are gradually building up their position in the battery technology market. However, the growth strategies adopted by these companies are not effective as compared to the leading players of the market. Such companies may need some time to build its strong presence in the market.
DURACELL
Duracell is one of the largest producers of alkaline batteries. It's product portfolio includes alkaline batteries, rechargeable and chargers, specialty batteries and coin or button batteries. The company uses rechargeable technology and charger technology to improve the performance of the batteries. Duracell offers its batteries for several applications such as home accessories, health care products, beauty and grooming products amongst other applications.
EXIDE INDUSTRIES
Exide, an Indian multinational storage battery manufacturer offers a wide range of lead-acid batteries. The company offers automotive, industrial, solar, inverter, genset, submarine, and home UPS batteries. It uses its special patented alloy and thicker cast high-performance plates to address challenges of extreme weather conditions. Exide technically collaborates with some of the world's leading lead-acid battery manufacturers such as Furukawa battery Co. Ltd for automotive and motorcycle batteries and East Penn Mfg. Co. Inc. and Moura Batteries.
EXIDE TECHNOLOGIES
Exide Technologies, another leading battery storage solutions provider for automotive and industrial applications. The company operates as Exide Batteries in the USA and Canada and Exide Technologies in Europe, Middle East, Africa, Asia-Pacific. Exide Batteries in the offer batteries in the automotive, LTV and commercial, electric vehicle and golf cart, marine and RV, powersports, solar, industrial, household and electronics. While in the other geographies it offers batteries for automotive applications.
Lithium Werks
Lithium Werks manufactures lithium iron phosphate batteries for applications including in the medical, motive, marine, industrial and material handling, military and government, energy storage and UPS sectors. It uses its Nanophosphate Lithium-ion battery technology to offer improved thermal-stable chemistry, faster charging and reduced costs. The company products include Lithium-ion Power Cells namely, 18650 and 26650 power cells.
Market Dynamics
This section provides an overview of the drivers, restraints, opportunities, and challenges for the companies in the battery technology market. This market dynamics will help the players to decide the strategies and devise their plan of action accordingly.
Drivers
The main factors contributing to the rising demand for battery technologies can be understood from the points mentioned below:
The growing use of electric and hybrid electric vehicles
The number of electric vehicles is constantly increasing due to the development of advanced battery technologies. It is expected that with proper battery technology in place there will be lesser vehicle engine maintenance needs, reduced usage of hazardous oil, and lesser pollution caused by the fuel combustion engines. Currently, Li-ion batteries are witnessing a surge in the automobile industry and transportation system. Companies such as Toyota and Samsung are researching over developing of solid-state batteries for EVs. Such advancements will further fuel the usage of EVs, resulting in high demand for sustainable battery technologies.
Rising adoption of battery technology in renewable energy in industries
Batteries play a vital role in decarbonizing energy systems. With the ongoing climate crisis in the world, there arises a dire need for robust energy storage techniques to tap the potential of power generation sources such as wind and solar. Even though batteries have been used for energy storage purposes for a long, it is now witnessing exponential growth in the renewable energy industry. The plausible reasons for this surge can be attributed to the revised policies by the government bodies and the announcement of several regulations for clean and sustainable energy. Additionally, rising awareness about climate change has also fuelled the need for advanced battery technology. It is evident that to shift the existing fossil fuel dependency towards a renewable source, the usage of advanced battery technologies will be fundamental.
Surging demand for automation and battery-operated material handling equipment in the industries
The companies in the material handling market are now more focused on reducing downtime and increasing energy efficiency and productivity. With such changing dynamics in the industry, a surge in electric and automated vehicles will be evident. The automated material handling and lifting equipment such as elevating equipment, forklifts, industrial trucks and other such equipment are now shifting from traditional IC engines to battery-operated systems. Batteries such as lead-acid, and Li-ion are the most widely used materials for designing batteries in automated guided vehicles, electric forklifts, trucks etc.
Major companies like Toyota and Linde have adopted the Li-ion technology over the lead-acid batteries since Li-ion offers considerably high energy density in small spaces and lesser charging cycles as compared to lead-acid batteries. It is also expected that such battery-operated electric trucks and other material handling equipment will reduce the CO2 emissions and support achieving the sustainability goals as well. Such factors and advancements in battery technologies are driving the need for more viable battery options.
Restraints
Safety concerns
The exponential increasing demands of energy storage devices boost the designing of advanced battery technologies, however, while doing so, there arise safety concerns. These include thermal runaway which causes failure of the entire battery, ultimately leading to disastrous effects in the electric vehicles or battery-operated devices. Another prominent safety concern arises because of the improper storage of spent batteries. Since spent batteries consist of residual charge, they can cause serious damage. Therefore, it is advisable that the storage and transportation of the batteries are well regulated by the respective governments.
Opportunities
Storage requirements in data centres
The data centres not only require an enormous amount of power but also need a 100% uptime for their smooth operations. They usually run on the diesel-based generators during power outages, however, there is a major shifting trend observed towards cost-effective and energy-efficient energy storage alternatives for uninterruptible power supplies. Data centres are looking for options to reduce their operational costs and optimize the physical infrastructure. Thus, it can be expected that such growing needs will create a huge opportunity for battery technology.
Most of the data centres use valve-regulated lead-acid cell batteries to power the UPS system which needs to be replaced within 3-5 years. Such limitations further propel the need for research in the areas of battery technology.
Advancements in wearable electronic devices to fuel growth opportunities for batteries
Wearable electronics are being intensively used in the areas of consumer electronics, medical devices, healthcare monitoring equipment and other industries. The most used batteries in these wearable devices are alkaline, nickel-metal-hybrid lithium-ion and lithium-ion polymer. The manufacturers are trying to optimize space utilization while offering high energy density in the electronic devices through thin-film batteries. These wearables will witness a major spike with the integration of wireless technology and further will rise due to seamless transmission after the deployment of 5G technology, thereby generating a huge opportunity for the battery technology manufacturers to research and bloom in areas of wearable devices.
Threats/Challenges
Alternative technologies to suffice high power demands
Even though battery technology is a sustainable option, it is expensive and fails to support the high power demands of the applications such as aerospace, transport infrastructure and oil and gas. This provokes the need to check on alternative energy sources. Users are focusing more on options such as compressed air and pumped hydro technology. These technologies are a viable option and economical option for large scale usage, however, these are still not widely adopted and have not gained momentum due to difficulties in deployment and technical insufficiencies.
High cost of battery-operated industrial vehicles
The installation and maintenance charges are high in the case of industrial vehicles, which restricts the market for battery-operated vehicles. These battery-operated vehicles have still not penetrated the markets completely, leading to higher manufacturing costs for the battery manufacturers.
Battery Technology Market – By Technology
The battery technology market is divided into four categories based on the type of material used. Various battery manufacturers cater to different sizes and types of batteries for applications ranging from wearable devices to industrial and automotive applications.
The market is witnessing high demand for Li-ion batteries, due to an increase in EVs, higher demands for portable electronics and rising awareness of CO2 emissions. It is observed that Li-ion batteries amongst all other types of batteries are being used intensively.
Lithium-ion Battery
Lithium-ion batteries are rechargeable batteries which have low energy densities and can resist higher currents. Li-ion batteries find applications in the automotive industry, consumer electronics, portable devices, and other industrial applications. The Li-ion batteries can be divided into Lithium-nickel manganese cobalt (Li-NMC), Lithium-iron Phosphate (LFP), and Lithium-cobalt Oxide (LCO), Lithium-titanate Oxide (LTO), Lithium Manganese Oxide (LMO), and Lithium-nickel Cobalt aluminium oxide (NCA). The power capacity and voltage values differ in these batteries based on these compositions, making them suitable for various applications.
Due to their high density, LCO batteries are the best-suited power source in consumer electronics, accounting for a major share of the overall battery market. The Li-NMC batteries can be customized for usage in power or energy cells and usually are used in e-bikes, medical equipment, powertrains and energy storage systems. For applications which have high charging and discharging rates, Lithium-iron phosphate batteries can be used. The nanoscale phosphate cathode material offers high electrochemical performance, which makes the LFP batteries the most widely used in high power devices used in transportation, medical, industrial and power and utility sectors. However, it suffers from self-discharging issues, creating a balancing problem.
LTO batteries are completely carbon-free and have higher energy and power density. These batteries have higher levels of security and have the potential to handle overheating issues. A surge in demand for these batteries can be expected owing to the growing number of EVs and renewable energy storage systems. The LMO batteries are a three-dimensional spinel structure, due to which the batteries have lower internal resistance which aids the cells to charge and discharge at a high current rate. This quality makes it suitable for applications such as power tools, hybrid and electric vehicles and power tools. Further, the combinational battery made up of LMO and NMC has increased life cycle and high energy density, making it the preferred choice for EV batteries.
The NCA battery is made up of a combination of nickel, cobalt and aluminium. Even though these batteries have a high energy density, they are not cost-effective and have lower thermal stability as compared to the other Li-ion combinations.
Lead Acid Battery
The lead-Acid battery is a type of rechargeable battery which consists of two electrodes submerged in an electrolyte usually sulfuric acid. These batteries undergo a reversible chemical reaction and store energy through this process. Based on the technology the battery is categorized as basic lead-acid and advanced lead-acid batteries. The lead-acid batteries also cater to a vast area of applications which include consumer electronics, telecom, transportation, medical, data centres, power and utilities, and commercial and residential sectors. Even though lead-acid batteries have lower energy density as compared to Li-ion batteries, they have a longer lifetime and are cost-efficient. Thereby catering for a majority of the market as compared to the Li-ion batteries.
Based on the presence of an electrolyte in the battery, the lead-acid battery can be further categorised into flooded, and valve-regulated lead-acid (VRLA) batteries. While flooded batteries are used in applications which need backup power supplies, VRLA batteries are used in motive applications such as battery-powered vehicles, SLI applications and other such applications.
Nickel Metal Hydride Battery
Another type of rechargeable battery commonly finds application in consumer electronics devices, automobiles, and backup equipment. These batteries are being successfully utilized in hybrid electric vehicles and are expected to make a positive contribution to the battery market. However, these batteries might also be replaced because of the ongoing advancements in the Li-ion batteries.
Other Battery Technology Type
One of the major contributors which propel the growth of batteries is the surge in consumer electronics and electric vehicles in the market. The other battery technologies are the result of this growth and include sodium-based, zinc-based, vanadium redox flow and other such technologies. These batteries find applications in wireless communication, wearable devices, consumer electronics and other applications.
Zinc-based batteries power applications such as consumer electronic devices such as drones, cameras, flashlights, toys etc., and electric vehicles. Through several ongoing research, scientists are claiming that Zinc-based batteries hold huge potential and can be a feasible alternative to Li-ion batteries.
The Vanadium Redox flow batteries are used in large-scale energy storage applications such as energy grids. These batteries exploit vanadium's ability to exist in four different oxidation states, which enables the use of single electroactive elements instead of two in the battery. Due to such architecture, it offers unlimited energy capacity and is inherently safe and non-flammable and therefore finds application in grid energy storage applications.
Flow batteries are also being extensively used in the power and energy industry. With their growing popularity, it is expected to make a signification penetration in the market.
Battery Technology Market – By Application
The battery technology finds its applications in power and utilities, transportation, industrial, commercial and residential, consumer electronics and medical sectors. Consumer electronics and transportation are the sectors which are currently witnessing a surge in battery demand. The battery technology market based on the applications was valued at USD 85.9 billion in 2019 and is expected to reach USD 152.3 billion by 2025, at a CAGR of 10.6% during the forecast period. The battery manufacturers are adopting several technologies and are strategizing ways to improve battery efficiency for various applications.
Battery Technology in Transportation
Battery technology finds numerous applications in the transportation industry. Application areas include hybrid and electric vehicles, material handling vehicles, marine and air transportation systems and others. These use cases needed low-cost, recyclable and readily available power sources such as batteries. Lead-acid batteries have been since long the most widely used batteries in the transportation sector. However, with rising demands for electric vehicles and reduced CO2 emission norms by the governments, alternative batteries such as Li-ion and Ni-Mh batteries are being considered and are used widely. Further, the need for a cost-effective and sustainable transportation system will fuel the growth of the battery technology market.
Battery Technology in Power and Utilities
The concept of renewable energy has become critical in the power and utility sector. It uses smart grid technology to manage energy storage and to ensure its effective use of it. Batteries with features such as low self-discharge rate and low costs are the driving factors for the adoption of battery technology in the smart grid and energy storage systems.
Li-ion battery technology is the most widely used technology in the power and utility sector, accounting for the majority stake. It is expected that the demand for renewable energy storage applications will drive the growth of the segment. Further, smart grid policies by respective governments in their geographies will fuel the need for Li-ion batteries.
Battery Technology in Industrial Applications
Batteries find a massive usage in the data centres, telecom networks, material handling equipment vehicles and oil and gas industries where a constant power source is required. Batteries with high energy density and longer backups are required for these applications. These requirements foster the growth of the battery technology market. Lead-acid batteries have been a popular choice for these applications, however, with the technological advancements in the batteries, Li-ion has made a significant mark in the market and is being used extensively mainly because it facilitates lower downtime and lesser carbon emissions.
Battery Technology in Medical
Powered by IoT technology, battery-operated medical equipment has boosted the battery technology market. The applications include medical tools, hearing aids, implantable, medical handheld equipment, medical mobility vehicles and others. These battery-operated medical devices require an uninterrupted power supply to monitor the conditions in real-time. Li-ion batteries are widely used in this sector since, they are lightweight, have fast charging cycles and have high energy density. Such features are boosting the usage of Li-ion batteries in medical applications.
Battery Technology in Consumer Electronics
The consumer electronics sector contributes a major stake in the battery technology market. Continuous development in electronic devices such as laptops, smartphones, and wearable devices, are triggering the advancements in battery technology. These products are highly dependent on portable and low recharging power sources for better performance. Li-ion batteries address these needs efficiently.
The miniaturization of electronic products and the rising demand for flexible portable electronics devices foster innovations in battery technology. Companies are researching thin-film batteries and solid-state batteries to offer maximum throughput in these devices with minimum recharging time.
Battery Technology
Comparing 20 vendors in Battery Technology across 96 criteria.
Frequently Asked Questions (FAQs)
A battery is made up of at least two electrochemical cells. When connected to an electrical circuit through which an electrical current can flow, these electrochemical cells store energy in the form of chemical energy, which is turned into electrical energy.
The market is being driven by the expanding usage of electric and hybrid electric cars, as well as the rising adoption of battery technology in the renewable energy industry.
With a market share of 32.5 percent in 2021, China's CATL was the biggest lithium-ion battery manufacturer. With a market share of 21.5 percent, LG Chem came in second, followed by Panasonic with a market share of 14.7 percent.
Lithium-ion batteries, lead-acid batteries, and nickel-metal hydride batteries are among the most common technologies. By 2025, there will be a market opportunity of USD 152.3 billion.
Lithium-ion batteries, often known as li-ion batteries, are the most common and widely used batteries in today's globe.
Energy density, power density, charging time, longevity, cost, and sustainability are the most significant concerns in battery design. Researchers, developers, and designers can solve these issues using Multiphysics simulation.
A battery management system is essential for lithium-ion battery applications ranging from phones to electric cars. Without a battery management system, one of the many units could be overcharged, leading it to fail or even catch fire. Fundamental physics and chemistry are the battery's ultimate limits, which are more difficult to overcome than management-system software issues. As a result, batteries continue to be more significant than battery management systems.
Engineers at The University of Texas at Austin have developed a sodium-sulphur battery that overcomes one of the most significant barriers to the technology being a commercially viable alternative to the ubiquitous lithium-ion batteries that power everything from smartphones to electric vehicles.
Send your Business Requirement to Multiple Vendors in one go.
Requirements from other buyers
Start sharing your business requirements
Get Vendors & Expert responses to each requirement within hours.
500+ Battery Technology buyers negotiating "Group Buying Deal" through 360Quadrants
This report identifies and benchmarks the world's best Battery Technology vendors, such as Clarios (US), Panasonic Corporation (Japan), Samsung SDI (South Korea), Chaowei Power (China), Contemporary Amperex Technology (China) and evaluates them on the basis of business strategy excellence and strength of product portfolio within the Battery Technology ecosystem, combining inputs from various industry experts, buyers, and vendors, and extensive secondary research including annual reports, company press releases, investor presentations, free and paid company databases. They are rated and positioned on a 2x2 matrix, called as 'Company Evaluation Quadrant,' and identified as Visionary Leaders, Dynamic Differentiators, Innovators, or Emerging companies.
The report includes market-specific company profiles of 20 top battery technology companies in the Battery Technology ecosystem. It assesses the recent developments that shape the competitive landscape of this highly fragmented market.
The growing use of Hybrid and Electric-Hybrid Vehicles to drive the growth of the Battery Technology Market
A battery is an energy storage device that is used extensively in transportation, consumer electronics, and power & utility applications, and for industrial, commercial & residential, and medical purposes. Currently, available battery technology is based on the materials used, such as the lead-acid battery, lithium-ion battery, nickel-metal hydride battery, and sodium-based battery. However, several chemistries and innovative technologies are being developed to counter the limitations of available battery technology, including the high cost, raw material sourcing problems, and overheating.
The global Battery Technology market is expected to grow to USD 152 billion by 2025. Major factors driving the growth of this market include the growing use of electric and hybrid electric vehicles, rising adoption of battery technology in the renewable energy industry, surging demand for automation and battery-operated material-handling equipment in industries, and increasing deployment of batteries in the utility sector.
BATTERY TECHNOLOGY: MARKET DYNAMICS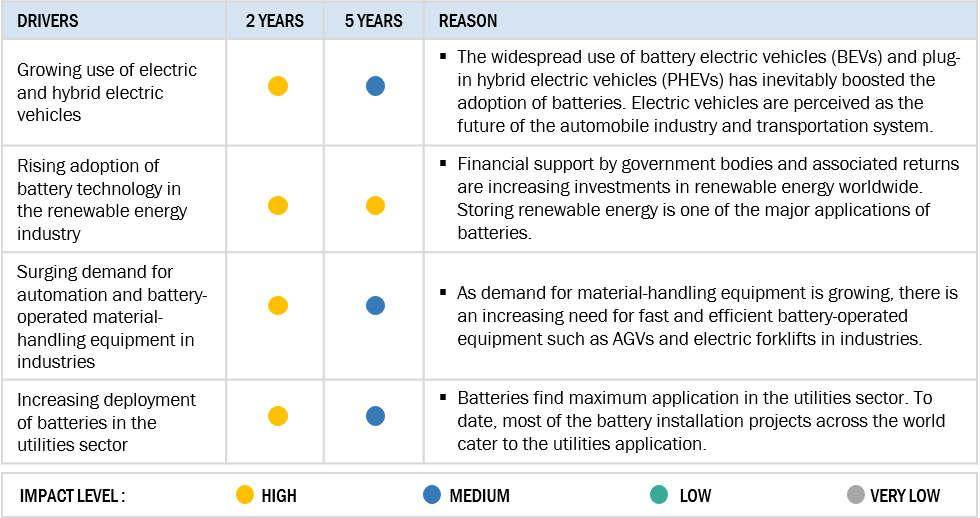 ---
List of 20 top companies in the Battery Technology market evaluated and profiled in the report:
BAK GROUP
BYD COMPANY
CHAOWEI POWER
CLARIOS
CONTEMPORARY AMPEREX TECHNOLOGY CO. LIMITED
DURACELL
EAST PENN MANUFACTURING
ENERGIZER HOLDINGS
ENERSYS
EXIDE INDUSTRIES
EXIDE TECHNOLOGIES
GS YUASA
HITACHI CHEMICAL
LG CHEM
LITHIUM WERKS
PANASONIC CORPORATION
SAFT GROUPE
SAMSUNG SDI
TOSHIBA CORPORATION
VARTA STORAGE
This report identifies and benchmarks the Battery Technology market leaders such as Clarios (US), Panasonic Corporation (Japan), Samsung SDI (South Korea), Chaowei Power (China), Contemporary Amperex Technology (China) and evaluates them on the basis of business strategy excellence and strength of product portfolio within the Battery Technology market ecosystem, combining inputs from various industry experts, buyers, and vendors, and extensive secondary research including annual reports, company press releases, investor presentations, free and paid company databases. They are rated and positioned on a 2x2 matrix, called as 'Company Evaluation Quadrant,' and identified as Visionary Leaders, Dynamic Differentiators, Innovators, or Emerging companies.
SAMPLES: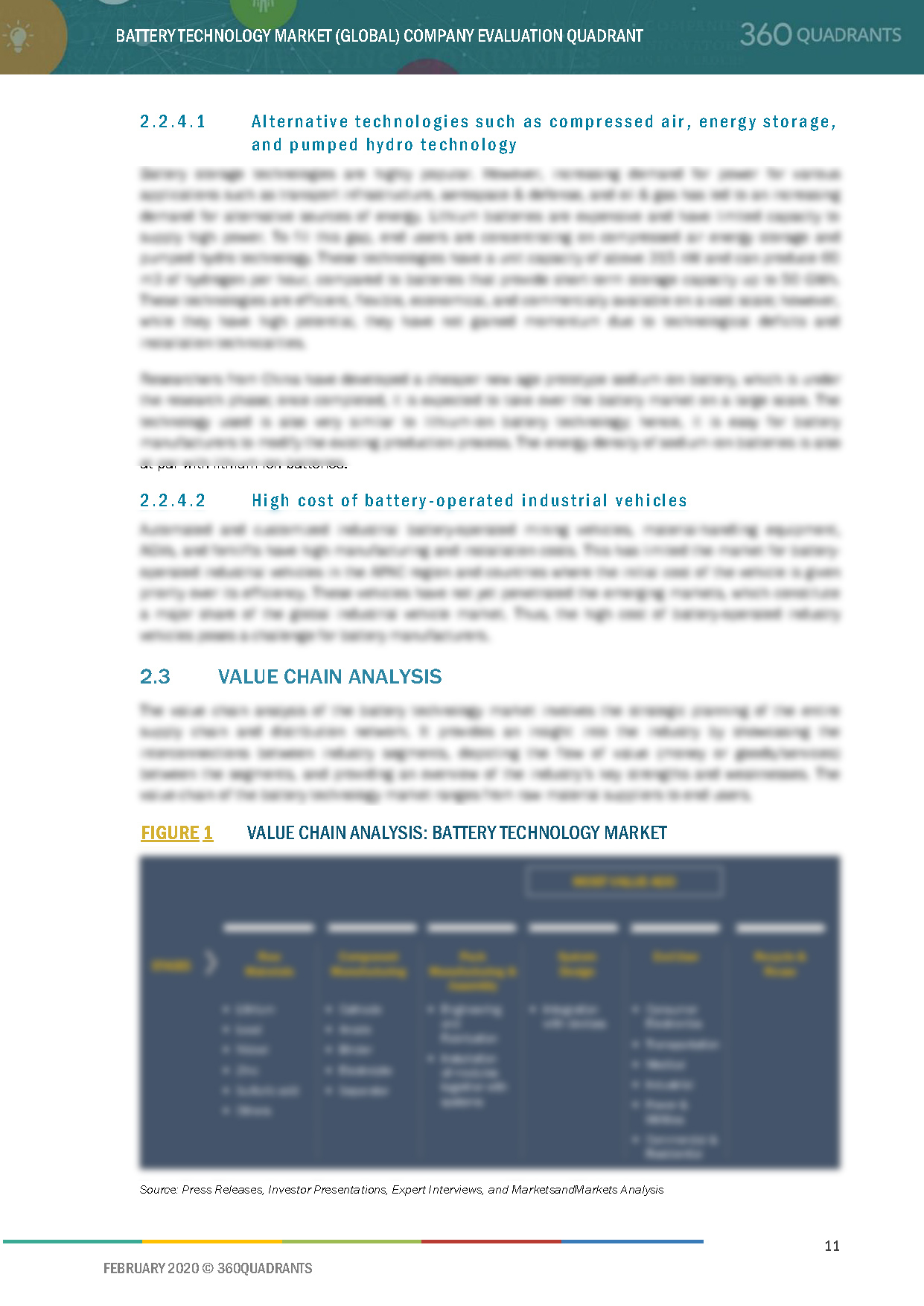 ---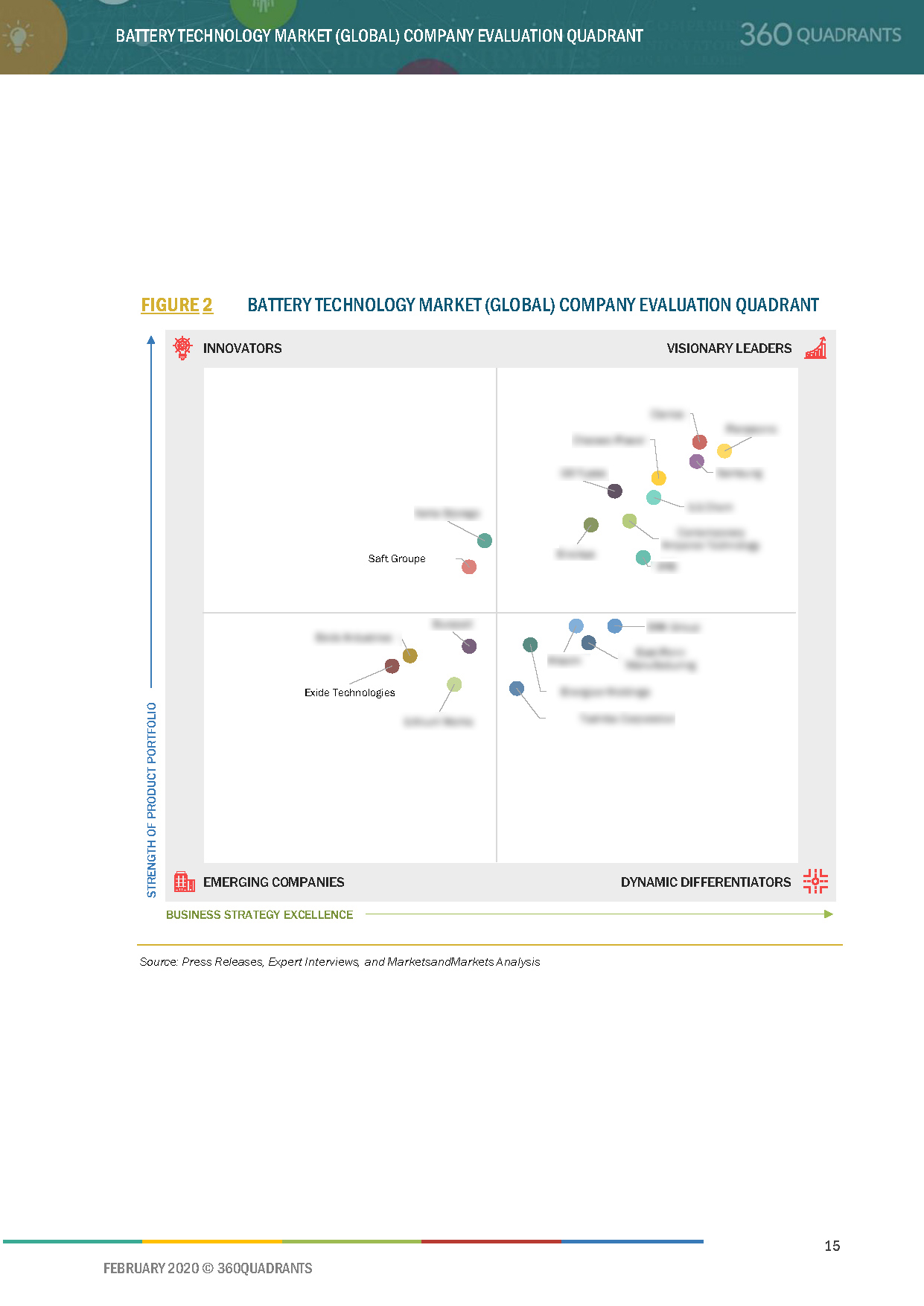 ---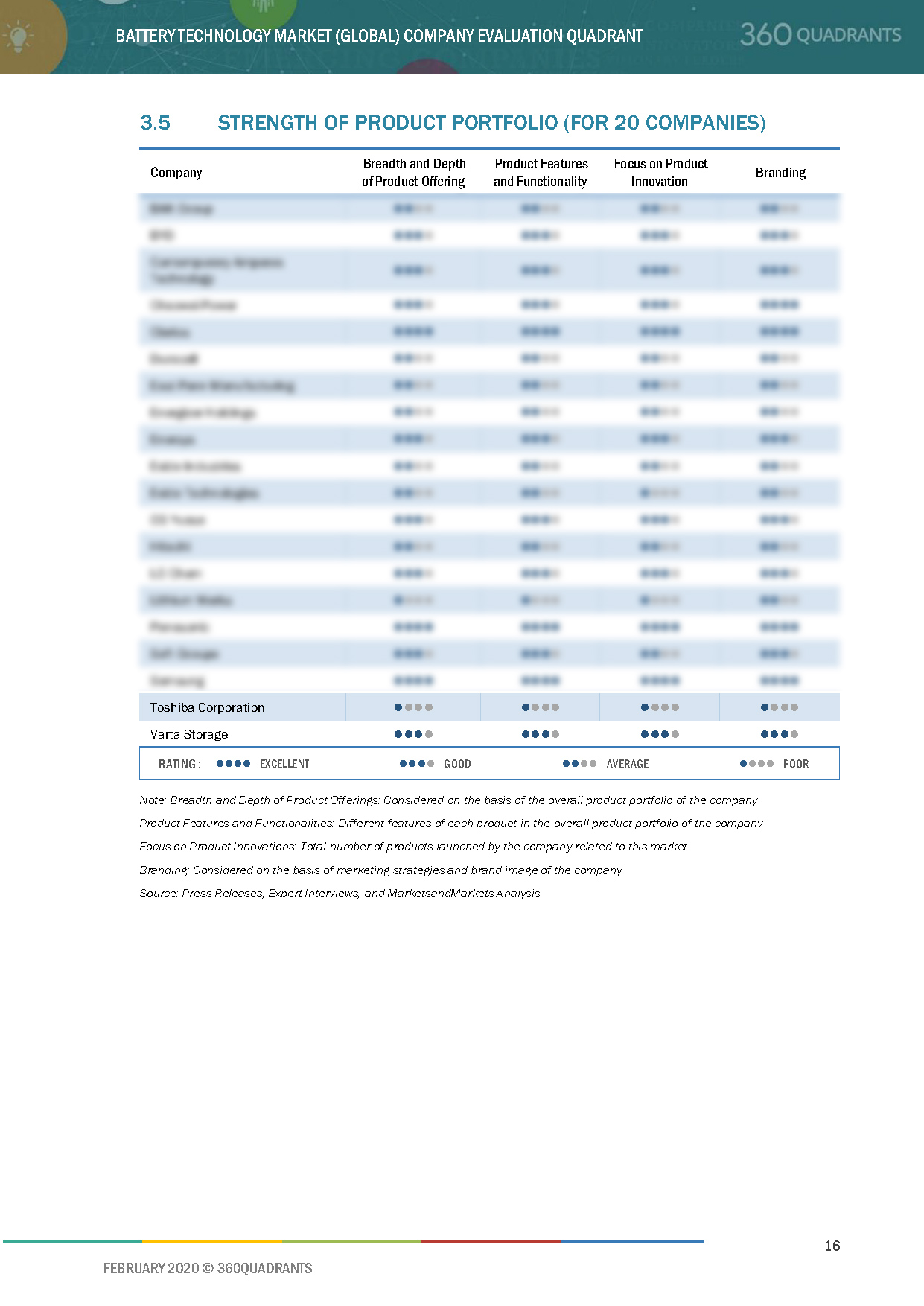 ---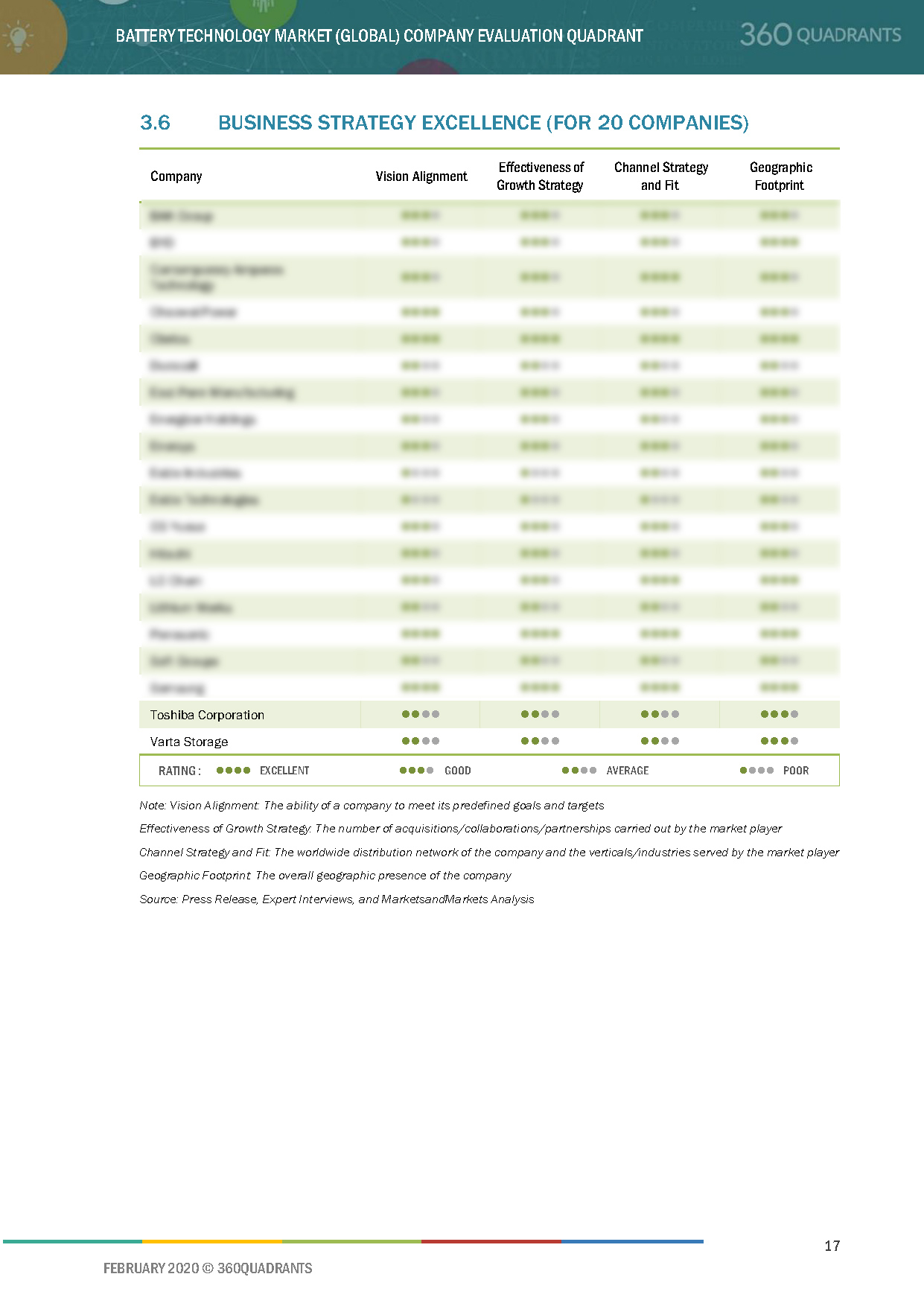 ---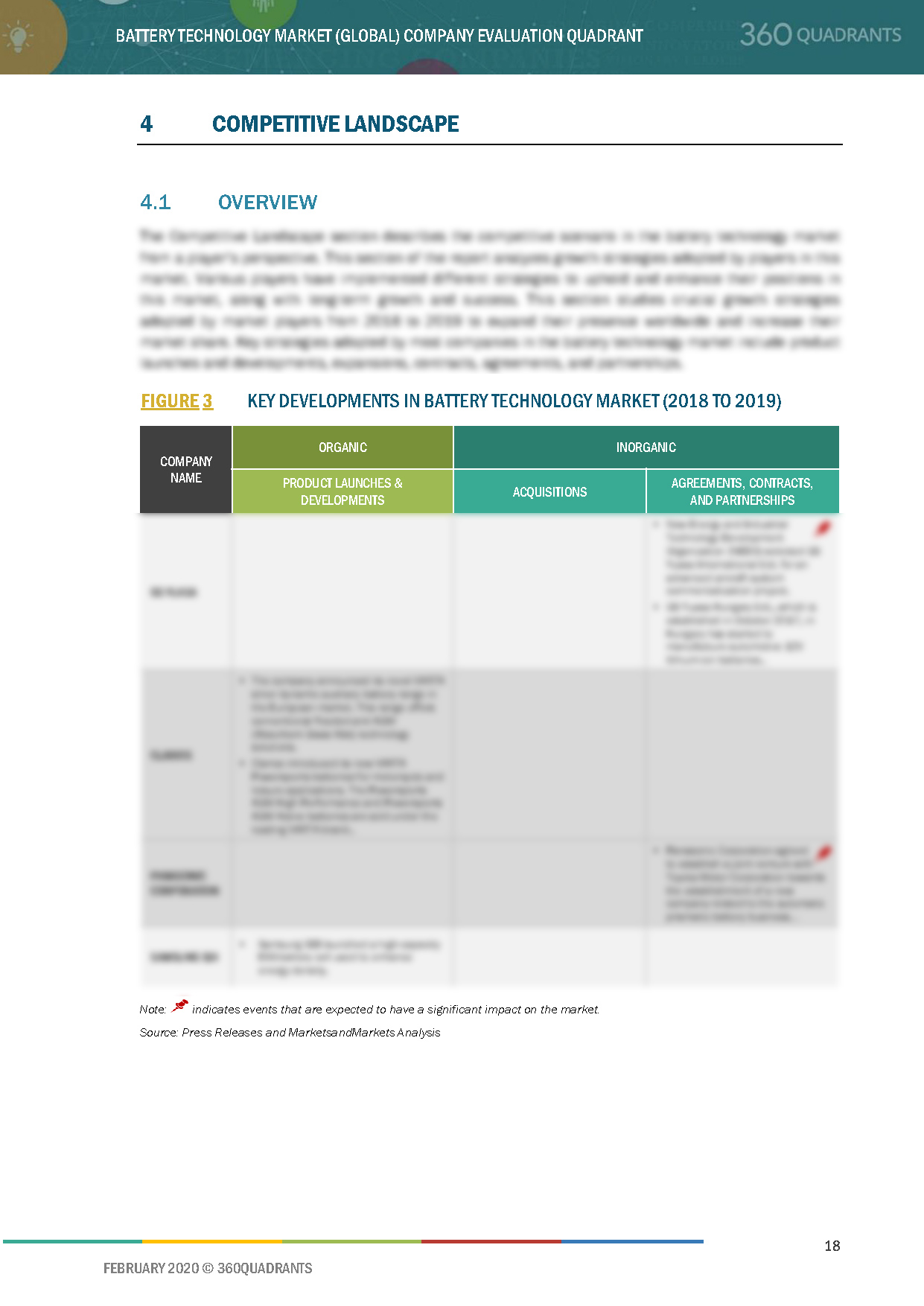 ---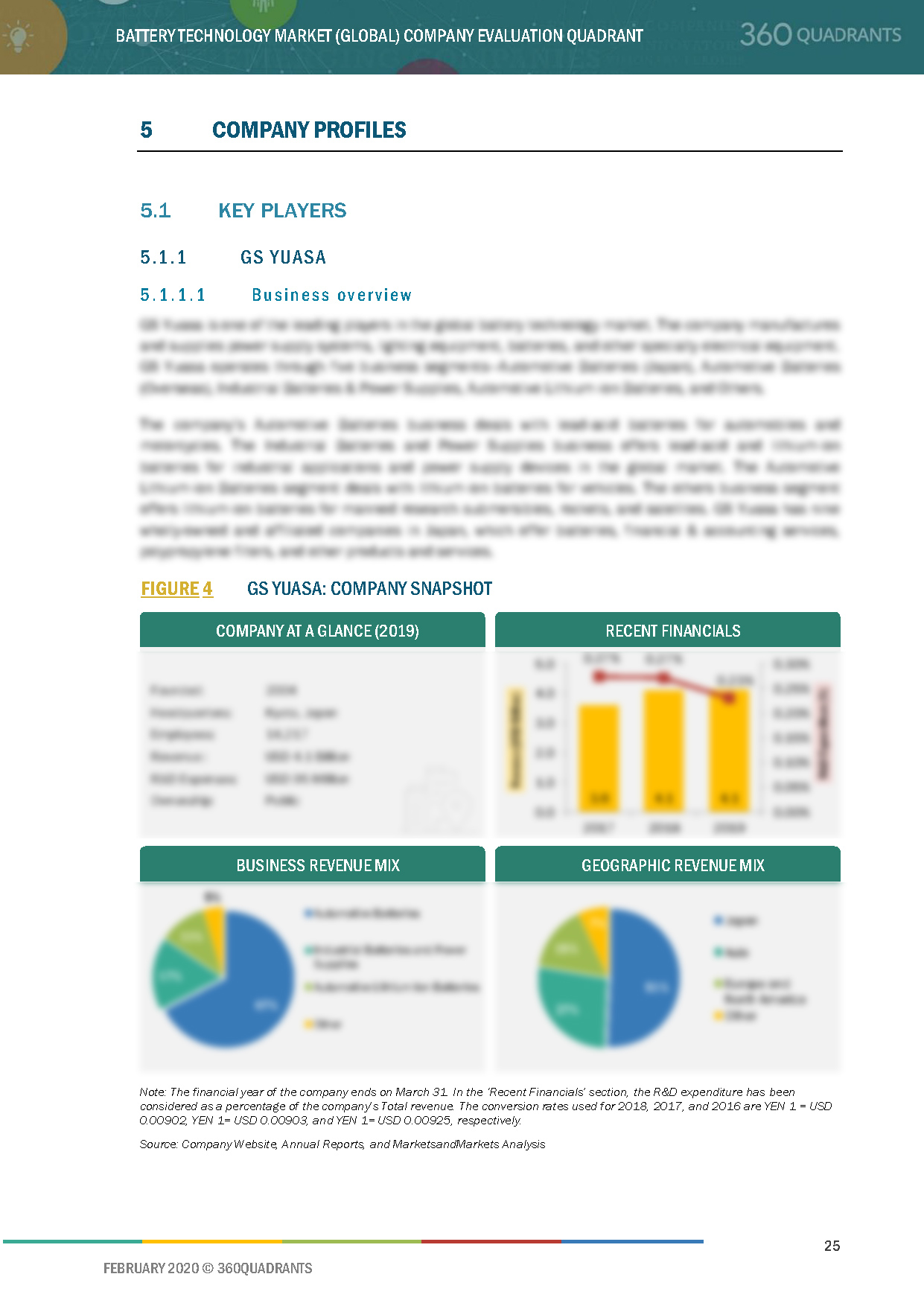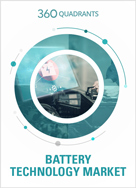 Request Free Sample Report
Personalize Your Research Requirement
Updated version of this Quadrant
Different Company Evaluation Quadrant
'Startup Only' Company Evaluation Quadrant
Region or Country specific evaluation
Application or Industry specific evaluation

..Read More
Analyst Briefing & Inquiry
Submit a Briefing Request
Question about our published research
Request for evaluation of your organization for specific market
Request for re-evaluation of Company Evaluation Quadrant

..Read More