Best Building Management System
The building management system (BMS) refers to the central management system which is responsible for the management, supervision, visualization, configuration, and performance monitoring of the building subsystems. The systems provide an ancillary oversight of the building automation system (BAS) with various management functions. It enables monitoring and managing various mechanical, electrical, and electromechanical services in a facility. Going further, we have covered various aspects regarding Building Management System for any user to decide on the best Building Management System to use in different applications. We will also learn about the best Building Management System providers, their applications, features and factors to be considered while choosing best Building Management System.
Top 10 Building Management system
Johnson Controls
Honeywell International
Siemens
Schneider Electric
United Technologies
IBM
Ingersoll-Rand
Delta Controls
Crestron Electronics
BuildingIQ
Metasys by Johnson Controls helps integrate commercial HVAC, ventilation, surveillance, and defence systems, allowing them to collaborate on a common interface and provide the knowledge required to help conserve energy and provide the building inhabitants with comfort and health. Its segment Building Efficiency designs, manufactures, markets, and installs BMS, Integrated HVAC systems, controls, and mechanical and security equipment. Read more
IBM Tririga offers intelligent building solutions for smart metering, grid operations, network security, and network communications. This provides service customers insightful network applications. IBM provides its smart building technology systems that can be combined with the BMS and data collection devices. The data were also used to enhance energy management and efficiency, to maintain infrastructure and to reduce running costs. Read More
Honeywell has been one of the BMS's biggest suppliers. The company works in an invention powered competitive climate. The organization has a dedicated market division which involves different types of management software and services for its home and building solutions. The company is promoting its success by extending the technical and strategic leadership of the organization, and by diversifying operations into different markets and regions. Read More
Siemens
offers digital services and automation solutions for clean, stable, and effective buildings and infrastructures. The business provides fire-safety, defence, building automation, HVAC, and energy management goods, technologies, services and applications. The organization provides on the European sector design automation and control systems called "Desigo".
Read More
Market Overview
The best Building Management System (BMS) provides various management functions with an ancillary supervision of the building automation system (BAS). It allows monitoring and management of various mechanical, electrical and electromechanical services in an installation. Micro-markets are described in the study as the additional segments and sub-segments of the market for building management systems. Companies' core competencies are taken into account in terms of their key developments and key strategies to sustain their position in the market.
The dramatic increase in awareness of excessive energy use and environment concerns has fueled the demand for cost-effective technologies. Energy efficiency is becoming a part of the building management, facilities management, and operation strategy. The smart home concept is now making momentous inroads into the domestic residential sector. The smart buildings will directly contribute to the global goal of reducing energy usage and emissions.
The building technology has been evolving globally, making the buildings smarter and more connected. The building managers or owners are automating the systems installed in the buildings to ease the control and monitoring of the processes. The building owners benefit due to substantial monetary savings resulting from the energy savings and reduced maintenance expenditures. Governments across the globe have taken due cognizance of the benefits of effective management of the buildings and their potential savings. They have been incremental in bringing forward various legislations and initiatives to drive the development and adoption of best building management system (BMS) technologies.
Significant cost benefits to the industrial, commercial, and residential users boost the demand for BMS. Traditionally, operating cost was one of the major concerns for building owners as they had to incur huge expense in the maintenance of the building because of the lack of advanced technology. A simple business consideration for using BMS is being more energy-efficient. As reducing the energy consumption directly transcends into reduced spending on energy, saving power provides a good financial opportunity for businesses and helps improve their profitability. Ensuring that the BMS in the buildings are operating in peak conditions will enable users to not only improve system efficiency but also reduce operating costs.
Other significant factors driving the growth of the building management system market include simplified building operation and maintenance, increasing demand for energy-efficient and eco-friendly building, and growing integration of IoT. The convergence of the IoT systems with building automation system (BAS) would help drive the growth of the building management market based on software. The smart devices that are integrated for the purpose of building automation and management are expected to be more self-governing and intelligent in terms of sharing data with BAS and with the cloud.
However, the lack of technically skilled workers and high initial implementation costs pose a restraining block in the building management system market. The deployment of BMS requires certain conditions and technical requirements to be met, and these conditions could be internal, operational, or external such as understanding of computer software, networking, and applications; designing; and testing the system. Internal obstacles include inadequate technological skills or knowledge, and the lack of awareness in operating sophisticated software and equipment. Maintenance and servicing require trained and skilled personnel to ensure that the BMS runs smoothly and has a longer lifespan. In the absence of these conditions, the implementation of a building management system and services becomes difficult.
Data analytics can significantly transform the building management system market. Industrial, commercial, and residential building facilities generate huge volumes of data from millions of sensors, meters, thermostats, relays, network switches and gateways, and actuators. This data generated by the buildings on a daily basis can be used by owners, managers, and operators enabling a new paradigm of facility management with greater awareness and insight to significantly reduce costs and improve performance.
COMPETITIVE LEADERSHIP MAPPING TERMINOLOGY
The competitive leadership mapping showcased provides information for Building Management System. Vendor evaluations are based on two broad categories: product offering and business strategy. Each category carries various criteria, based on which vendors have been evaluated. The evaluation criteria considered under product offerings include the breadth of offering, delivery (based on industries that the vendors cater to, deployment models, and subscriptions), features/functionality, delivery, product quality and reliability, and product differentiation. The evaluation criteria considered under business strategy include geographic footprint (on the basis of geographic presence), channel strategy and fit, vision alignment, and effectiveness of growth (on the basis of innovations, partnerships, collaborations, and acquisitions).
VISIONARY LEADERS
Visionary leaders are the leading market players in terms of new developments such as product launches, innovative technologies, and the adoption of growth strategies. These players have a broad product offering that caters to most of the regions globally. Visionary leaders primarily focus on acquiring the leading market position through their strong financial capabilities and their well-established brand equity.
DYNAMIC DIFFERENTIATORS
Dynamic Differentiators are established players with very strong business strategies. However, they have a weaker product portfolio compared to the visionary leaders. They generally focus only on a specific type of technology related to the product.
INNOVATORS
Innovators in the competitive leadership mapping are vendors that have demonstrated substantial product innovations as compared to their competitors. The companies have focused on product portfolios. However, they do not have very strong growth strategies for their overall business, when compared with the visionary leaders.
EMERGING COMPANIES
Emerging companies have niche product and service offerings. Their business strategies are not as strong as that of the established vendors. The emerging vendors include the new entrants in the market, emerging in terms of product portfolio and geographic reach, and require time to gain significant traction in the market.
Market Dynamics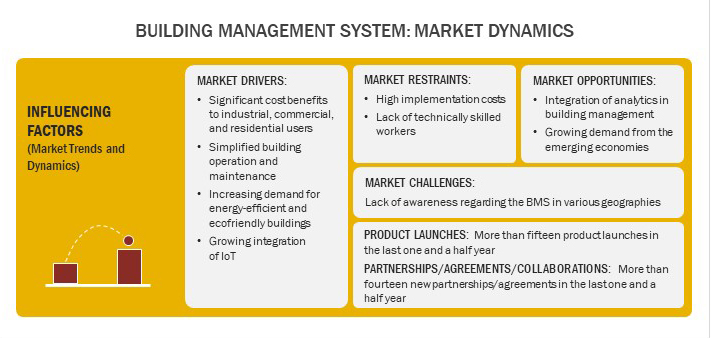 Major Drivers
Significant cost benefits to industrial, commercial, and residential users
Effectively designed and managed BMS enable abundant opportunities for improvements in energy efficiency by enabling building operators and managers in providing an optimal working environment consistent with maintaining a building's energy efficiency rating; enabling early identification of equipment failure; identifying unusual patterns of energy usage; monitoring the effectiveness of energy management plans; and so on. Availability of a complete set of information about building enables the building manager to rectify issues through consultation or engineering solutions. Similarly, it also extends the operational life of equipment and systems in the building through reducing loads and operating hours, which results in the reduced maintenance and capital costs with less consumption of embedded energy through equipment replacement and upgrades.
Simplified building operation and maintenance
The best building management system automates various systems in the building as managing these systems manually becomes cumbersome. The centralized workstation and user-friendly software make the routine operations of the building convenient. The building management system software provides the operator or user with optimum communication between different automation systems at a centralized deck. It takes advantage of centralized monitoring and control to manage facility targeting the entire system.
An automation system consists of a large number of building components such as fire detection controllers, incident response systems, security systems, HVAC systems, and lighting systems. Various systems such as HVAC systems and surveillance systems can be controlled and monitored using BMS-integrated systems. This approach of integration also enables remote monitoring of systems, further easing maintenance of the building. BMS-advanced automation also benefits the building maintenance companies, and operators and managers enabling them to detect and diagnose problems more easily and schedule maintenance activities.
Building managers benefit from better convenience, improved productivity, better management, and more effective monitoring and control of energy consumption, resources, and services in the building. The building occupants have better control over their internal comfort and receive a quick response to their complaints, providing a desirable control to the owners and managers over the overall operations. Thus, the simplified building operation along with convenience is boosting the adoption of BMS.
Increasing demand for energy-efficient and eco-friendly buildings
The buildings sector is one of the largest energy-consuming sectors and accounts for more than one-third of the total energy consumption globally. It is an equally important source of carbon dioxide (CO2) emissions. According to the International Energy Agency (IEA), energy use in buildings represents as much as 80% of total energy use across certain regions in the world which is highly dependent on traditional biomass.
This is directly raising the amount of energy wastage and CO2 emission, which leads to an urgent need for sustainable and efficient usage of energy. It is essential to efficiently use energy to reduce the overall emission of CO2. The growing awareness of energy saving and the popularity of green building concept is helping the BMS market evolve steadily as it helps minimize energy consumption. The green buildings use less energy, water, and natural resources; generate less quantity of waste, and are healthier for the occupants compared to a standard building.
Growing integration of IoT
The evolution of IoT has enabled the exchange of information between different electronic devices without the need for direct human intervention. The convergence of IoT system with best building management system drives the growth of building management system market based on software. The smart devices that are integrated for the purpose of building automation and management are expected to become more self-governing and intelligent in terms of sharing data with BAS and with the cloud.
The cloud provides a convenient administrative user interface, and the data analytics functions can analyze weather forecast, the building's lighting control, access information, and utility data as well as data related to historical heating and cooling loads. For instance, IoT can enable the automatic adjustment of the temperature of occupied and unoccupied conference rooms on the basis of the information provided by the sensors and the data received from the server about the meeting schedules. This would help the facility managers in decision-making for reducing energy as well as operating costs. The building management system software providers make use of IoT devices to offer innovative products and provide full connectivity across different building services in a more efficient and cost-effective manner.
Restraints
High implementation costs
Best Building Management System helps in saving energy and cutting operational as well as maintenance cost; however, the end-user and building owners hesitate to implement BAS due to the high cost of deployment. They are unaware of the fact that the cost is primarily based on the complexity of integration pertaining to a specific application. The installed BMS can vary ranging from a virtual time clock (a device which turns equipment on and off) to a highly sophisticated and flexible management tool. The additional software cost of a high-level system is not substantial. The high cost of BMS systems are mainly attributed to a high computer and data storage requirements, a large number of sensing and monitoring points involved, increased networking requirements, more graphics pages, configuration of external access and reporting, and analytics and reporting systems.
For BMS project, an upfront investment is required at the initial stage of conceptualization. However, the returns in the form of a reduction in energy usage and operational bills are actuated over a span of three to eight years. Many prospective consumers, though interested, are concerned about the ROI. The highly cost-driven consumers struggle to quantify the benefits of these systems. The concern lies in the extensive and long payback periods that make these systems seem unfeasible. Hence, the majority perceives the BMS as an expensive investment resulting in low conversion rates.
Lack of technically skilled workers
The BMS help in the management of the lighting, HVAC, security and access, and other infrastructure systems present within the building premises, thus reducing human intervention in maintaining and controlling these systems. Deployment of best building management system needs to be according to certain conditions and technical requirements, and these conditions could be internal, operational, or external such as understanding of computer software, networking, and applications; designing; and testing the system. The implementation of building management system and services becomes difficult in the absence of these conditions.
Internal obstacles include inadequate technological skills or knowledge, and the lack of training in operating sophisticated software and equipment. Trained and skilled personnel are required for the maintenance and service to ensure the smooth working of BAS, with a longer lifespan. Trained experts are also needed to monitor and upgrade the systems infrastructure within the building. Moreover, proprietary building automation software solutions also create problems for users as these systems can be serviced only by the service technicians belonging to the system vendors. Owing to the lack of availability of such experts for handling emergency situations, building owners tend to hesitate in adopting BAS, which restricts the growth of the market. The lack of specialized professionals/skilled manpower is a major issue to address. Since this industry is currently in the growth stage, learned and skilled professionals are required to deal with the industry demands.
Opportunities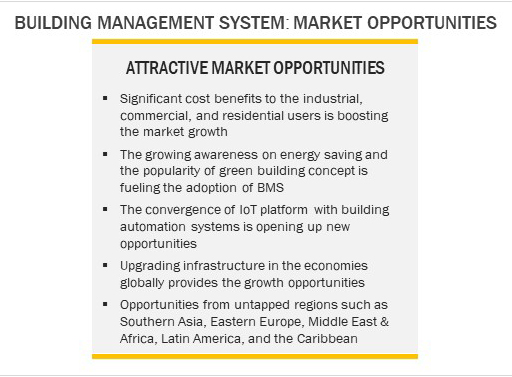 Integration of analytics in best building management system
Data analytics can significantly transform the building management system market. Industrial, commercial, and residential building facilities generate huge volumes of data from a huge number of sensors, meters, thermostats, relays, network switches and gateways, and actuators. This data generated on a daily basis can be used by owners, managers, and operators of the buildings, enabling a new paradigm of facility management with greater awareness and insights for significant cost reduction and performance improvement.
To gain a competitive edge, the solution providers need to come up with superior data analytical techniques and accurate predictive analysis models. Providing intelligent solutions that can predict equipment failure, and the behavioural patterns of the end-users based on the historical data and usage patterns is the most complex challenge faced by the building technology providers. Managing and analyzing the data is also becoming a challenge with more and more data generating at a fast pace.
Growing demand from the emerging economies
A large proportion of the world population is currently living in developing countries such as India and China. With the rural population migrating to the urban places, existing urban infrastructures are under tremendous pressure to accommodate and facilitate the ever-increasing population. Urban areas are witnessing huge growth in the number of residential complexes, hospitals, IT parks, educational institutions, laboratories, airports, corporate offices, and government buildings. This is putting enormous pressure on the demand for resources such as energy, water, and materials, and their costs. Given the current need for efficient energy consumption and preservation, there is a high demand for smarter and more sustainable commercial as well as residential buildings. As cities grow and expand their services to match the exploding resident population, the management and governance across the entire building infrastructure become increasingly complex.
China, India, and other Southeast Asian countries have a greater demand for smart building management system due to rapid urbanization. Economic developments and increased income levels due to an increase in IT and manufacturing segment have resulted in high living standards. The best building management system can help significantly in meeting the challenges of energy management and environment protection posed by urbanization in these developing economies.
Challenges
Lack of awareness regarding the BMS in various geographies
The building managers and users hesitate to use BMS in their buildings as they are not aware of the use and benefits, and fail to understand the basis of the high cost of implementation. Building managers, operators, and residents expect the results from BMS on the day one itself. However, BMS takes time to show its benefits and can take three to eight years for a complete ROI, and is thus beneficial in the long run. Hence, consumers cannot perceive the actual worth of buying the BMS. This has been one of the biggest challenges as educating consumers about the benefits of an intelligent building and convincing them for adoption has been critical.
Business Strategies Adopted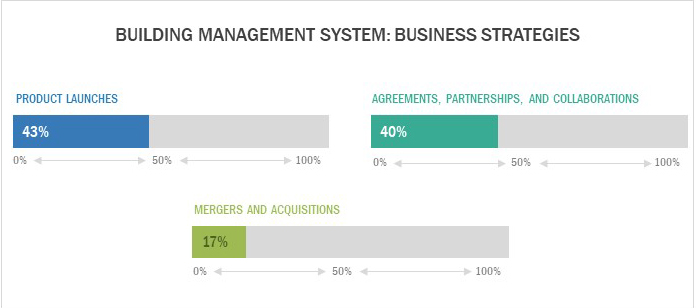 Vendor Evaluation Framework
Building Management System – By Software
Building management system software is a centralized system used for controlling and monitoring the entire building facility. The building management system software is divided into different types based on the system to be managed. While the software for managing different types of systems can be different, many times multiple systems can be controlled from a single software solution. It supports the building end-users reduce cost, increase security, reduce energy consumption, and improve emergency response time by enabling a robust communication channel layer. Different types of software include facility management, security management, energy management, emergency management, and infrastructure management.
Facility Management
Facility management process deals with the management of facilities in the building. It includes operation management and maintenance of various systems such as HVAC and lighting. The further segmentation of facility management systems is mainly based on the prime consumer of energy in a building, i.e., lighting and HVAC control systems. Lack of optimization regarding the use of HVAC and lighting systems leads to the large wastage of energy. Thus the need for energy saving while using HVAC and lighting systems led to the evolution of the building management system.
Lighting Control: Lighting controls is an important aspect of building management system. The advent of superior energy-efficient lighting technologies such as LED has helped the lighting systems consume less energy than the HVAC systems; however, the automation and management of these systems become necessary as they are installed in large numbers. Lighting management software solutions allow facility managers to configure and maintain the lighting systems of their facilities. Lighting control systems comprise centralized lighting control systems, wireless lighting control systems, and hybrid lighting control systems.
HVAC Control: HVAC control system programs the heating and cooling setpoint according to the actual needs of buildings. HVAC systems are the major energy consumers in commercial or residential buildings. Thus the effective management of the HVAC systems in the building becomes very important to reduce the energy consumption. The software monitors and controls the superior airflow distribution, energy-efficient automation, energy-saving programming, infrared temperature monitors, and room-based temperature sensors. The software systems support various switches, sensors, thermostats, and controllers to work efficiently and help in maintaining temperature based on environmental needs.
Security Management
Security is one of the most important aspects of end-users worldwide. Business protection through advanced security management forms a basis of sustained competitiveness and business continuity. Security and access control systems have become an integral part of the safety and security of the buildings and their occupants. This has revolutionized the building security and has removed the human interventions. Advanced security systems consist of a real-time web-based control system connected with multiple building components. The security management software incorporates video surveillance system software and access control system software.
Video Surveillance: Video surveillance software enables building authorities to keep a watch on the building premises to avoid any unwanted occurrence. It features unlimited network connectivity, analytics, smart video modules, robust user rights management, and complex event solution. The system consisting of hardware and software are installed in buildings to increase the security level, monitor the activities, and keep a record of people entering and exiting the buildings. Several businesses make use of these systems for the protection of assets, staff, and information, and to monitor the activities as well as control the access to the building. Video analytics solutions can monitor cameras and also alert the concerned personnel about unusual or suspicious events. The governments worldwide are also investing heavily in the development of reliable and robust security systems to safeguard citizens from terrorist attacks. Similarly, the demand for home security solutions is also growing at a rapid pace because of factors such as technological advancements, the rise in crime rates, need for medical assistance to the senior citizens at home, and monitoring the children at home.
Access Control: Access control software systems also play an important role in building an intelligent security system that blocks unauthorized access to the system or building. Biometric systems are designed for the automated access control and to minimize the manual checking and recording of a person for granting access to a particular place or device. These systems use behavioural and biological characteristics of individuals for recognition. Several types of biometric systems are available in the market.
Energy Management
The growing prices of energy and various energy efficiency policies have made it crucial to check the energy consumption level in buildings. Building energy management software helps the building operator or house owners to analyze the energy consumption data obtained from various data sources in the building. It connects all the assets and appliances of a building by facilitating the continuous collection of energy consumption data. The platform is designed for logging data from data concentrator, data logger, and individual instruments used in the building. It collects data from all the energy sources and standardizes it. It has the ability to control multiple sites with remote monitoring system through mobile devices in which notification is popped if any problem occurs in the building systems. This significantly improves the overall management and performance of buildings, endorsing a holistic approach to control and optimize the building energy performance.
Emergency Management
Emergency management software is based on strong algorithms for solving real-time threat related problems. Since it is hard to predict threats, hazards, and emergency situations, with the right knowledge about the severity of the emergency, appropriate actions can be taken to minimize or even avoid the damages. Emergency management systems include emergency response management systems, disaster warning systems, and disaster surveillance systems. The emergency management systems included in this study comprise web-based emergency management systems, monitoring software tools, backup/disaster recovery and data management solutions, incident warning systems, automated emergency notification service, and incident evacuation simulation and management systems. The software solutions provide real-time analytics for faster response and safe transit.
Infrastructure Management
Infrastructure management systems manage and control the essential operational components such as network infrastructure, parking facility, water and waste management, and elevators and escalators. The infrastructure management software segment comprises software for network infrastructure, parking management system, smart water management software, and elevators and escalators management system.
Value Chain

Components of Building Management Systems
Best Building Management System is a systemic framework which usually consists of five components: sensors, controllers, output devices, protocols of communication, and terminal or user interface.
Sensors: These instruments measure temperature, moisture, the number of people at a time, the degree of illumination and other values. The sensors transfer this knowledge on to main controllers.
Controllers: Function as a Building Management System Brain. It gathers sensor information and then submits orders to operating systems such as HVAC equipment, lighting systems, security detectors and other wired areas of the house.
Output devices: When a signal is sent out by the computer, actuators and relays go into motion to fulfil the specifications. Users might, for example, minimize or raise lighting in a certain section of the city, dim lights in empty offices or switch on air conditioning when people get to work.
Network protocols: The Best Building Management System uses a specific syntax to modify configurations or perform actions which is understood by the specific elements of the system. The most frequently used solutions in network topologies are BACnet and mode.
Console GUI: Building and facilities administrators utilize a console or software interface to communicate with the Building Management Program. This displays details in a manner that helps a person to track building condition and chose to manually change settings.
Building Management System - By Geography
Applications of Building Management System
The building management system (BMS) is used in different types of buildings. Different types of buildings have various systems and have different system management and energy management requirements. Building management systems help enhance the security in buildings by reducing the costs of energy, maintenance, and administration; and improve space management of the building. The building management system market based on application is segmented into three categories: residential, commercial, and industrial. The commercial application has the largest share in the market. It has been further segmented into office buildings, retail and public assembly buildings, educational institutes, hospitals and healthcare facilities, airport and railways, and others.
Residential
With the advent of the Internet of Things (IoT) and smart connected homes, there is a surge in the management of the residential premises. Large residential complexes have been frontrunners in adopting the building management system. Building management system ease the management of various resources in the building and enable intelligent management of infrastructure facilities such as parking premises, water management areas, and waste management areas. Installation of the best building management system also enables improved safety and security to the building managers along with the overall energy savings.
Commercial
Commercial building segment includes office buildings, retail and public assembly buildings, educational institutes, hospitals and healthcare facilities, airport and railways, others which include nonmanufacturing commercial buildings.
Office Buildings: Office buildings are among the prominent end-users of the building management system in the commercial sector. Building management system in office buildings mainly includes HVAC control systems, lighting control systems, and security and access control systems. These are also the sources of high power consumption, and managing these sources helps in cutting down the critical operational expenditures.
Retail and Public Buildings: Retail buildings include retail outlets, grocery stores, and large shopping malls. Public buildings include government-owned public administration buildings, municipalities, water and electricity grid utility buildings, sports facilities, and auditoriums. The retail businesses have to deal with many challenges related to security such as theft and inventory losses that hamper the stores' profits. Thus, security and access control systems are crucial in this sector. Moreover, the installation of HVAC control systems and security systems in shopping malls and grocery stores has become a standard norm for the security and comfort of the buyers. They also help reduce the costs of energy utilized in these buildings. Similarly, public infrastructure facilities are primarily utilized for providing quality and cost-effective services to the citizens. Managing these huge facilities can be eased with the use of a building management system.
Educational Institutes: Educational institutes such as schools, colleges, and university campuses are often very large in sizes, consisting of several buildings spread over several acres of land. Managing various systems across these buildings can be a cumbersome task. As a result, the institutes are incorporating building management system for energy management, automation, HVAC systems, access control, video surveillance, fire systems, security systems, and visitor management applications, among others.
Hospitals and Healthcare Facilities: Hospitals are complex and energy-intensive buildings as they have to be operational 24/7 without interruption. The healthcare facilities have to meet the unique needs of patients, staff, and visitors in the form of customized solutions to ensure the safety and comfort of patients, staff, and visitors while maximizing energy and operational efficiency to help meet the hospital's green building and financial goals. The continuous use of HVAC systems, lighting systems, and security systems in hospitals provides a large opportunity for energy savings. Owing to these reasons, building management systems are being adopted to optimize energy use to minimize costs.
Airport and railways: Airport and railways, the continually functional facilities, require a regular supply of energy to provide uninterrupted service to the customers. These large buildings and complexes require the continuous functioning of HVAC and lighting systems providing a lot of scope for efficient management and energy savings. As a result, the governments encourage the installation of BAS at public transport stations. Similarly, security at airports and railways has become a priority to tackle crime, and terrorism and related activities as these areas are very much prone to it. Building management systems help manage all the security in the area with continuous video monitoring and access control systems.
Industrial
Industrial facilities include factories, production plants, distribution facilities, warehouses, and other infrastructure buildings which support manufacturing and production functions. The segment is expected to adopt smart building solutions to attain energy and cost savings, higher productivity, enhanced identity and access management, and optimized surveillance. Manufacturing and industrial buildings have their own set of requirements for different manufacturing processes and storage purposes. They are equipped with solutions based on highly sophisticated technology ranging from air-conditioning units to controlled ventilation and smart lighting systems, which contributes highly to the overall energy consumption. Reducing energy expenditures is very critical for industrial and manufacturing facilities as they directly contribute to the operational and capital expenditures of the company and can affect the profitability. This has driven the demand for the management systems to manage and curb down the expenditures effectively.
Benefits of Building Management Systems
The advantages of implementing best building management system include:
Price reduction — Blind and shutter power inclusion in the building management plan to handle energy delivery to rooms to reduce heating and cooling costs. Sub-metering incorporation and study of a building's energy signature to determine opportunities for optimisation.
Sustainability — Seeking out how to minimize the use of your facility is not just safer for the ecosystem but will also help you obtain or retain LEED certification.
Smarter growth — While preparing for an extension or a new facility entirely, getting details from the process lines will allow you to accurately evaluate potential predictions. However, understanding the details behind the collection will help you schedule potential usage and secure favourable service prices.
Maintenance — Monitoring information and events have the potential that can help you recognize when you're about to maintain or replace a system or equipment before it affects the production. Maintenance management is often safer than reactive maintenance, sometimes requiring costly downtimes.
Building Tenant Safety — If the fire is observed, the automated opening of shutters allows building entry for responders, and enables alternate escape routes. The redirection of CCTV cameras to the fire detector position helps decide a suitable plan for fire fighting before entering the field. Monitoring and immediately converting escalators and elevators to escape mode in case of a fire.
Some of the additional benefits are:
Possibility of individual room control

Increased staff productivity

Effective monitoring and targeting of energy consumption

Improved plant reliability and life

An effective response to HVAC-related complaints

Save time and money during the maintenance

Occupancy sensors allow automatic setback override during unoccupied periods as well as adaptive occupancy scheduling.

Lighting controls reduce unnecessary artificial lighting via motion sensors and schedules as well as by controlling daylight harvesting louvres
Factors to be considered
While the aim of pooling different components into an interconnected unified construction network sounds straightforward, what occurs behind the scenes is much more complex, and building owners need to weigh certain crucial considerations before choosing to incorporate the Building management system. Buildings are often equipped with systems which provide the building manager with limited information, making it difficult to optimize for energy savings or cost reduction. Although a completely updated device can entail substantial expenditure, owners may reduce this expense with the use of a retrofitted device.
Selecting a BMS interface
One of the most crucial components of the BMS system is the terminal or user functionality because facility managers use this as a way of communicating appropriate information to track issues and shortfalls. A badly built user interface could not have the necessary research or data resources for building administrators to determine when and what improvements to make.
Building owners can aim for a new visual data overlay that offers feedback on a routine Building Management Program in a user-friendly manner that may view the data in different forms including a quantitative study of comfort and energy savings. That style of the program helps administrators to make fast improvements to the Building management system on real-time analytics. A strong user experience allows building teams to assess choices that decrease efforts and costs as required but still preserve convenience for the occupants.
Minimize vendor lock-in
Providing an interconnected infrastructure in a building is normal for a single company, so incorporating additional technologies requires keeping to the same environment. Proprietary upgrades, however, don't always offer all the functionalities a building manager requires and may lack the versatility in what could be done. Although this obstacle can be solved by retrofit or overlaid program, it is also important that facilities and building administrators, owners and other stakeholders work collectively to define both short- and long-term priorities for the BMS. Two significant factors to understand are which services should be updated in the future and where the maximum expense can be reduced.
Maximize future-proofing
Building owners need to make the system's future-ready in every possible way they can. One of BMS's key problems is that it will not become outdated. The pace at which technology these days is evolving makes it possible for technologies to become redundant within a decade of deployment. Building administrators need to stay up-to-date with the industry's related technological developments and create a plan that over time updates the building needs. Revisiting and analyzing what is occurring with the Best Building Management System and the proptech market at large will be a focus, so that the BMS will keep up to date.
Best Building Management System
Comparing 18 vendors in Building Management System across 77 criteria.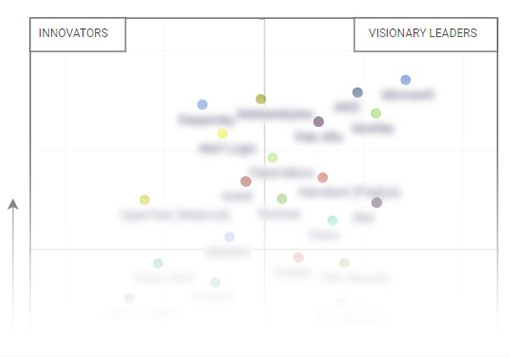 360Quadrant For Building Management System, Q2 2022
The 20 Companies That Matter Most And How They Stack Up
599,864 professionals have used our research since 2010
All vendors(18)
Building Management System Related Articles
VIEW ALL ARTICLES
Frequently Asked Questions (FAQs)
A Building Management System (BMS) relates to a facility-fitted computer-based device that manages and regulates the electrical and mechanical infrastructure of the structure, such as the illumination, ventilation, and protection systems. BMS is focused on the temperature, carbon dioxide, and humidity regulation and monitoring within the house. BMS is specifically configured to track and handle the following operations, including lighting management, electrical distribution panels, air conditioning systems, elevators, UPS, water use, supervision of the CCTV network, fire alarm & fire prevention, parking entry and intruder detection, and elevators.
In October 2018, Honeywell announced its plan to acquire Transnorm, leading provider of warehouse automation solutions. In April 2018, Johnson Controls acquired the assets of Triatek, a leading manufacturer of innovative airflow solutions for critical environments across the globe. In March 2018, Schneider Electric and AVEVA created a joint venture to form a global leader in engineering and industrial software with scale and relevance in key markets as well as an unmatched set of solutions covering all aspects of digital asset management from process simulation to design, construction and manufacturing operations management and optimization.
The major audiences or end-users targeted are: Raw material suppliers, BMS designers, developers, and suppliers, BAS equipment integrators, suppliers, and service providers, Application software providers, Government bodies such as regulating authorities and policy makers, BMS-related associations, organizations, forums, and alliances, Research institutes and organizations, Market research and consulting firms
Lack of technologically trained staff and high initial deployment costs present a controlling barrier in the demand for construction management program. BMS implementation involves the fulfillment of certain specifications and technological criteria, and such specifications may be internal, organizational or external, such as computer program awareness, networking, and applications; designing; and reviewing the framework. Maintenance and servicing need qualified and professional personnel to ensure BASs are working properly and have a longer lifespan. The introduction of building administration systems and facilities is challenging in the absence of certain factors.
The key players in the building management system market are Honeywell International Inc. (US), Siemens AG (Germany), Johnson Controls International PLC (Ireland), Schneider Electric SE (France), United Technologies Corp. (US), IBM Corporation (US), Ingersoll-Rand Plc (Ireland), and Delta Controls (Canada).