Learn more about Lighting Control System
Lighting Control Systems
The lighting control systems are made up of a combination of sensors, control units, and lamps or luminaries. The lights can be turned on and off or dimmed based on time, occupancy, event, or alarm. These systems are designed as stand-alone or as integrated lighting control systems. The best lighting control systems solutions are mainly used for intelligent switching, daylight saving lighting, sensor-based lighting, and mood lighting. These systems are highly energy-efficient since they are used to provide the right amount of lighting as and when needed, either automatically or manually.
Top 10 Lighting Control Systems
Philips
Legrand
Eaton
General Electric
Osram Licht
Acuity Brands
Lutron
Schneider
Honeywell
Ideal
Market Overview
The best lighting control solution system ensure energy-efficient lighting. They are network-controlled and make use of different types of wired and wireless communication technology protocols. The lighting control solutions operate with the help various sensors, gateways, relays and programmed LED drivers and ballasts, and various other light switches, depending on the function. The lighting control systems comprise automated controls through which the lighting can be adjusted based on occupancy and daylight. The lighting control solutions enable the owners to switch the lights on and off or dim it based on time, occupancy, events, alarms, or manual override. The light switches or other lighting control products are controlled by the lighting control software controls like control wire, wireless, or by multiplexing signals through the electrical system of the home.
The global lighting control systems market is poised to grow from USD 16.8 billion in 2018 to USD 39.0 billion by 2024, growing at a CAGR of 14.8% from 2019 to 2024. The need for high efficiency wired lighting controls is most critical factor boosting the market growth. This need comes from the increased awareness to reduce energy consumption. The rising demand for intelligent solutions for lighting systems, upcoming smart city projects in developing economies, growing adoption and decreasing cost of LEDs, consumer and government awareness regarding the importance of energy-saving, and modernization and infrastructure development are the major factors responsible for the growth of lighting control system market.
On the other hand, high initial cost of deployment, security and privacy issues in connected lighting control systems, and the lack of standardized regulatory frameworks in the energy sector are the major factors causing hindrances in growth of the lighting control systems market. However, rapid transition from traditional lighting to connected lighting, the ongoing developments in the internet of things (IoT) technology in the field of the lighting control systems, advancements in wireless communication technologies, and rising government initiatives for electricity savings are the expected to offer lucrative opportunities for the growth of the lighting control system market. However, the market players are facing a major challenge due to the interoperability issues between different network components.
The prominent players in the lighting control systems market have adopted different strategies such as product launches and developments, agreements, partnerships, collaborations, contracts, and joint ventures to increase their foothold in the lighting control systems market. For example, in December 2018, Legrand S.A. (France) acquired Kenall (US), which is one of the leading manufacturers of innovative, energy-efficient, and sustainable specification-grade lighting and control solutions. This acquisition is expected to enhance the company's ability to compete in the lighting market because of its strong product offering line-up. Moreover, Lutron Electronics Co. Inc (US), introduced connected in-wall sensors for its Vive Wireless System in February 2019.
COMPETITIVE LEADERSHIP MAPPING TERMINOLOGY
This section talks about the mapping of the top 25 players operating in the best lighting control systems space. These companies have been ranked based on two major factors—business strategy excellence and strength of product portfolio.
Under the category, business strategy excellence, we describe the way players are expanding their market presence. The companies are rated on the basis of their performance within each factor considered in this section, which are geographic footprint, the effectiveness of growth strategies, and vision alignment.
Under the category, strength of the product portfolio, we analyze the approach of the market players toward launching new lighting control offerings in the market and carrying out innovations related to the products. These companies are rated on basis of their performance within each factor considered, which are the focus on product innovations and the breadth of product offerings.
VISIONARY LEADERS
Signify (Philips Lighting), Legrand S.A., Eaton Corporation PLC, General Electric, and OSRAM Licht are the companies positioned as visionary leaders in the lighting control systems market space as they have a strong product portfolio and are adopting different organic and inorganic strategies to maintain their foothold on the market
DYNAMIC DIFFERENTIATORS
The companies such as Lutron Electronics, Leviton Manufacturing Company, Acuity Brands, Ideal Industries, Inc., Honeywell International, Hubbell Incorporated, Dialight PLC, Zumtobel Group, and Schneider Electric have been identified as dynamic differentiators.
INNOVATORS
RAB Lighting, LightwaveRF PLC, Synapse Wireless, Inc., Panasonic, and Adesto Technologies (Echelon Corporation) have been recognized as the leading innovators in the lighting control solution space.
EMERGING COMPANIES
Enlighted (Siemens), LSI Industries, Inc., Futronix Ltd, Helvar, Rako Controls, and NexLight have been positioned as the emerging companies in the best lighting control systems space, since they offer highly niche and solutions best suited and tailored to your needs.
Market Dynamics
This section covers various factors such as drivers, restraints, opportunities, and challenges impacting the growth of the lighting control systems market. The market players design strategies and devise action plans to grow and improve their performance in the market based on these factors.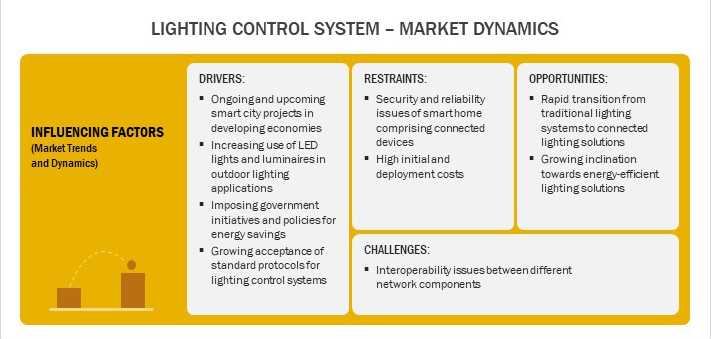 Drivers
Ongoing and upcoming smart city projects in developing economies
Currently, several smart city projects are being carried out across the world, which is likely to offer a huge growth opportunity for technology companies, technology service providers, utility providers, and consulting companies. The concept of smart cities has started to become synonymous to smart lighting. The major focus of the smart city infrastructure is to use electricity minimally and more efficiently. The smart cities are being seen as the driving factors for the sustainable economic growth of a country, which are further being fueled by the rapid urbanization. The trend of the transformation of cities in smart cities is picking up pace. The power consumption, renewable energy, and emerging technologies are contributing to the introduction of the idea of intelligent and automated cities. The smart lighting application is expected to play a vital role in achieving sustainability and saving energy. The smart cities are expected to offer lucrative opportunities for lighting solutions, since the smart city revolution is spreading rapidly. The cities which have adopted the intelligent lighting technology and are reaping its benefits have been willingly recommending other cities on how to implement a smart city strategy that would be beneficial in the coming years in terms of increasing energy efficiency and reducing energy cost, maintenance cost, and carbon emissions.
Urbanization is taking place at a faster rate in APAC; both developed and developing countries in the region are looking to adopt smart city technologies. The Middle Eastern countries, as well as India and China, are particularly adopting the concept of smart lighting for developing smart cities. Lighting accounts for a major portion of the total energy consumption across lighting applications. Lighting is a critical concern for public authorities in developing countries because of its strategic importance for economic and social stability. Inefficient lighting solutions waste significant financial resources each year, and poor lighting creates unsafe conditions. To overcome these issues, various countries are planning or implementing smart lighting projects. For instance, Jakarta, Indonesia, has plans of replacing over 90,000 lights with LED lighting systems, thereby targeting to achieve about 70% energy savings. Moreover, in March 2019, Shanghai Municipality partnered with Signify (Philips Lighting) (Netherlands) to illuminate the Bund in Shanghai with tunable white LEDs, which would help Chinese cities to develop more eco-friendly business and tourist landmarks by using connected LED lighting to reduce energy use and minimize operating costs.
Increasing use of LED lights and luminaries in outdoor lighting applications
One of the key reasons for installing LEDs over conventional lights is energy and cost savings. LEDs are replacing conventional light sources such as fluorescent, high-intensity discharge (HID), incandescent, and high-pressure sodium lamps in outdoor lighting applications. Outdoor lighting applications, primarily include highways, roadways, public places, and stadiums. LED lights and luminaries are more energy more efficient than the conventional lighting sources. Therefore, increasing use of LED lights would lead to decreased energy consumption, thereby reducing energy requirements. According to the US Department of Energy (DOE), LED lighting would represent 86% of all lighting sales by 2035 due to the benefits offered by LED lights over its conventional counterparts.
Although LED light sources are energy efficient, over 30% of lighting energy consumption would be wasted if the appropriate controls are not used. Best lighting control systems combined with LEDs would increase the life span of an LED light source, which would minimize the maintenance costs, thereby further reducing the duration of payback periods. Hence, LED lighting solutions equipped with a dynamic lighting control solution would reduce the amount of lighting energy consumed. All these advantages have encouraged construction enterprises associated with building highways and stadiums to deploy LED lighting systems.
Government initiatives and policies for energy savings
Increasing use of energy sources is resulting in the rising level of energy dissipation and carbon emissions, which creates the need for sustainable and efficient use of energy. Power production accounts for nearly a quarter of the greenhouse gases. Rising concerns over global warming and ozone depletion have accelerated the efforts by the governments of developed and developing nations to control their carbon footprint. Governments from all over the world are imposing strict regulations to limit the carbon release. According to the Electric Power Research Institute (EPRI), the integration of renewable energy sources in smart grids could reduce the greenhouse gas (GHG) emissions by 19–37 million metric tons (MMT) Co2e/year by 2030. Therefore, rising concerns to reduce GHG emissions have driven the transformation of traditional utility grids into smart grids, which make use of renewable sources of energy generation.
Several laws and regulations across the world aimed at reducing energy consumption and spreading awareness regarding energy conservation has been enacted by regional governments across the world. These regulations and policies surge the demand for energy-efficient best lighting control systems in industrial, commercial, and residential applications. For instance, the U.S. The 2005 Energy Policy Act provides several incentives: the federal tax credit for those involved in making energy efficiency improvements to their homes or utilizing appliances that are designed to boost the energy efficiency; a loan guaranty for innovative technologies that avoid greenhouse gases; the tax credit for builders for constructing energy-efficient homes and tax deductions to building owners for establishing energy-efficient buildings. Additionally, market-based certification programs such as United States' Superior Energy Performance program, BREEAM in Europe, and LEED in US have been introduced, which enable companies to seek third-party certification for achieving energy performance improvements and other program requirements.
Growing acceptance of standard protocols for the best lighting control systems
The standard protocol defines the methods for data representation, signalling, authentication, and error detection to ensure control or allow linkage, communications and information transfer among endpoints of computers or controls. Digital protocols may be either one-way or two-way. Two-way (bi-directional) protocols allow the luminaire or device to exchange data for effective communications. At present, ZigBee and DALI are the predominantly installed protocols in lighting solutions. The adoption of standard protocols, such as KNX and DALI, for controlling applications has improved the operational efficiency of lighting systems.
The new generation standard protocols are formed after converging them with previous generation standards such as the European Home Systems Protocol (EHS), BatiBUS, and the European Installation (EIB or Instabus). The lighting systems can collaborate with one another with established standards and facilitate interconnection with other smart devices. Standard protocols facilitate better compatibility among devices, and the simplification of the entire installation process, thereby making smart lighting installation even more convenient. Established standards aim at making components compatible with the control system. This compatibility would lead to the integration of these components into smart lighting systems. Moreover, setting standard protocols helps reduce installation cost. Wi-Fi is also considered a big contender in the wireless lighting control systems area.
Restraints
Security and reliability issues with smart homes
In connected lighting, wireless networks are used to connect various network components included in the best lighting control systems. Usually, connected or smart lighting products are connected through the internet, which can be exploiting areas for hackers. This may have severe consequences, such as a hacker can have remote access to the wireless network, generating the possibility of messing with smart lighting control solution, door unlocking systems, security camera systems, etc. Thus, security and privacy are the main areas of concern for such systems. These connected lights are a sophisticated array of LED fixtures with built-in sensors and cameras connected to a wireless network. All the data and information is stored on the cloud so that one can access everything from anywhere.
Further, in wireless lighting solutions, communication between 2 devices is less reliable as the number of obstacles and the distance between the source and destination devices increases. Therefore, these issues affect the throughput, which is the volume of data transmitted from one device to another. In a connected lighting network, each connected luminaire communicates with the nearest connected luminaire to create a mesh nodal network. In such cases, the data transfer rate is not much affected; however, when a large number of wireless sensors are deployed in a connected lighting system, there would be an increase in the data loss owing to the obstacles and interference caused by a number of unlicensed signals that may interfere with wireless communication.
High Initial and Deployment Costs
Though lighting control solutions are energy-efficient lighting solutions that can save costs in the long run, the initial cost is high due to the cost of the equipment, as well as the cost of the integration and installation services. Smart lighting systems comprise various hardware components such as dimmers, switches, sensors, control systems, and software. Hence, the installation cost of smart lighting is much high than that of the conventional lighting systems. This is primarily due to the requirement for highly expensive software, control systems, and LED light sources for smart lighting solutions. This factor hampers the adoption of smart lighting control systems. However, factors such as falling prices of LEDs and high cost and energy savings by installing energy-efficient best lighting control systems are expected to minimize the impact of this restraint in the near future.
Opportunities
Rapid transition from traditional lighting systems to connected lighting solutions
Currently, there has been a rapid shift from traditional lighting systems to connected lighting systems due to various advantages offered by connected lighting solutions, such as increased energy efficiency, improved ambience at the workplace, along with cost savings. Connected lighting devices are well known for their energy efficiency. These devices consume less power and have a long life span, thereby helping in reducing maintenance and replacement costs. Most of the connected lighting solutions consist of wireless sensors and switches that provide flexibility in lighting control operations, whereas conventional lighting (wired) solutions do not have these features.
The introduction of wireless lighting controls has boosted the market for retrofit lighting systems, which, in turn, surged the demand for best lighting control systems. Wireless lighting control solutions have not only reduced the usage of wires but also helped avoid reconstruction of the existing buildings. Also, connected or smart lighting solutions are capable of communicating wirelessly with various networks, collecting varieties of data, including nearby foot traffic and reducing crime rates, which cannot be achieved using traditional lighting systems.In recent years, there has been a decline in the adoption of traditional lighting controls due to their complex configuration, high cost, and limited interoperability among devices. However, connected lighting controls can be adopted at a higher rate owing to their easy configuration and seamless interoperability.
Growing inclination toward energy-efficient lighting solutions
Utility operators, building and industry energy managers are inclined toward using energy-efficient lighting solutions due to various reasons, such as the increasing price of energy, growing focus on reduction of carbon footprint, and rising demand from customers for energy-efficient lighting products.
Increasing use of energy sources is resulting in the rising level of energy dissipation and carbon emissions, which is likely to increase the demand for energy-efficient lighting solutions, thereby driving the lighting control systems market growth. Streetlighting and lighting in commercial and industrial buildings consume substantial energy. Therefore, energy-efficient lighting solutions would play a pivotal role in commercial spaces such as offices, shopping malls, educational institutes, and hotels where even an increment/decrement of 1–2% can lead to profit/loss of millions of dollars annually. Hence, smart lighting control solutions are deployed to decrease expenditure on electricity bills.
The decline in consumption is primarily because of the use of energy-efficient lighting systems. Thus, the major advantage of lighting controls is that they reduce energy consumption and, therefore, the electricity bills. Thus, the rising requirement of energy-efficient systems would result in high demand for best lighting control systems.
Challenges
Interoperability issues between different network components
At present, the biggest concern in the lighting control systems market is the availability of solutions with multiple interoperable technologies under the same roof. End-users need to choose a suitable lighting control solution from a wider range of available solutions; however, the lack of uniform standards makes it difficult to integrate the available solutions. Incompatibility of various components and lack of interoperability create problems for end-users. Traditional lighting control systems usually consist of hardware and software manufactured by the same manufacturer, whereas in connected lighting solutions, controls are developed by different manufacturers. Therefore, this would create interoperability issues as it would cause problems for communication between different network components included in the lighting system. Hence, there is a need for establishing standard protocols to develop compatible products. Several organizations such as The Connected Lighting Alliance (TCLA) and the Zigbee Alliance are trying to standardize the protocols used in connected lighting technology so that luminaires could be used to collect and share data for the analytics purpose.
Value Chain Analysis
The lighting control systems value chain comprises many participants, such as lighting component suppliers, light and luminaire manufacturers, along with applications of these lighting control systems. Manufacturers often establish partnerships with distributors, across various regions, having expertise in products and services concerned with lighting control systems. These distributors are the key points of contact for professional and custom installers.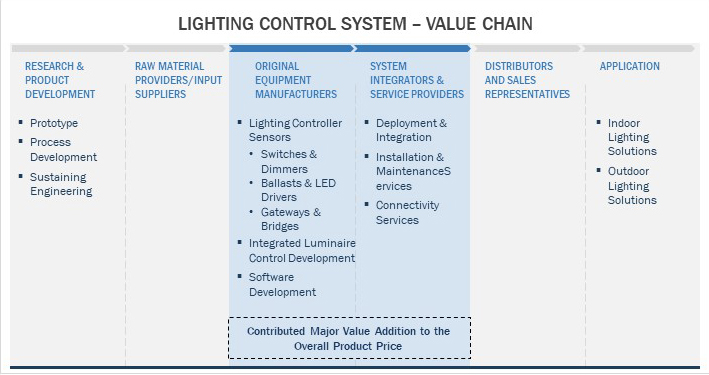 Market Segmentation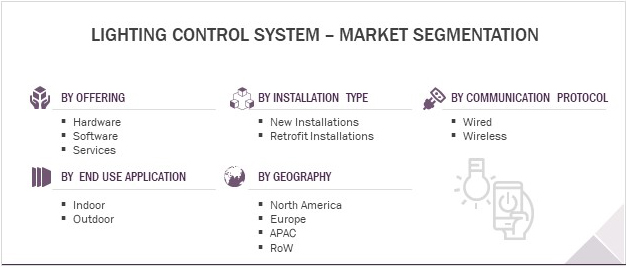 Lighting Control Systems, By Installation Type
Lighting control systems solutions are gaining demand across various industries due to the rise in the awareness of economic costs and the environmental consequences of electric energy used in buildings. Lighting control systems play a crucial role in providing energy-efficient and sustainable lighting systems. This section provides a description of the types of installations that are mainly used in the best lighting control systems. The installation types are new Installations and retrofit installations.
New Installations
New installations refer to the installation of completely new lighting control systems, which include new generation LED drivers and ballasts, sensors, switches, dimmers, and gateways. Unlike retrofit installations, which refer to the partial replacement of lighting control systems, a new installation completely replaces a traditional lighting systems after fully phasing out the lights and their assorted controls and fixtures with new lights and their associated controls and fixtures.
In recent years, there have been technological advancements in the lighting industry, owing to the demand for energy-efficient solutions and changes in the lifestyle of the population across the world. With these rising demands, advanced lighting control systems solutions are adopted in various building systems for reducing energy consumption. Advanced lighting control systems are new generation control systems having the capability of communicating wirelessly with various networks, detecting and operating according to the pre-defined conditions of a system. These lighting control systems are gaining demand for new installations, due to the increase in modernization and infrastructure development in emerging countries as it forms a part of their modernization plan.
Retrofit Installations
Retrofitting is the renovation of old lighting control systems that improves the lighting output and temperature of lights and at the same time ensures they emit less heat and save energy. In retrofitting, the existing lighting fixtures and traditional light sources are partially replaced with LED lamps and non-integrated luminaires and controls such as LED drivers, dimmers, sensors, switches, and gateways. In retrofitting, there is no need to get new poles or buy new lamps (or fixtures). There are certain kits that would fit into the existing lighting structure. Currently, LED retrofitting is one of the biggest lighting upgrades done by customers.
Lighting Control Systems, By Offering
Best Lighting control systems provide advanced lighting functionalities with standard protocols and distributed control systems. The demand for energy-efficient solutions enhanced security, and convenience is a few of the major factors that have led to the growth of the lighting control systems space. Best lighting control systems has the capability to control and adjust lights automatically. For this purpose, these systems require different components, which are broadly classified into hardware, software, and services. The hardware component includes LED drivers and ballasts, sensors, switches, dimmers, relay units, gateways. The software includes local/Web-based and cloud-based software. Services include professional services, installation, and maintenance services.

Hardware
Hardware components in lighting products are LED drivers and ballasts, sensors, switches, dimmers, relay units, and gateways. These hardware lighting control components enable intelligence in the best lighting control systems.

LED Drivers and Ballasts - LED drivers & ballasts are important components of lighting control systems. An LED driver is a device used to control the electrical supply to the LED. An LED driver, also known as an "electronic control gear", is an electronic device located between the power supply and one or more LED lamps or LED modules to provide them an appropriate voltage or current. It may include additional functionalities of dimming, power-factor correction, or radio interference suppression. There are two basic types of drivers such as constant current drivers and constant voltage drivers. Constant current drivers maintain a constant output current for the LED, while constant voltage drivers maintain a constant output voltage for the LED. Maintaining the internal rise in temperature during the operation of an LED, which is caused due to the rise in current, is one of the tasks performed by a driver. Ballasts control the amount of current from the supply line voltage while maintaining the necessary electrical conditions for proper lamp start and operation. Ballasts vary in design complexity. Older, simplistic magnetic models minimally include inductors, capacitors, and a series resistor. Gas discharge lamps such as fluorescent lamps and high-intensity discharge (HID) lamps require a ballast to operate. LED drivers & ballasts provide lamps with the required electric voltage and current for starting and operating. These boost voltage at the start-up and help to maintain a constant current during the lighting operation.
Sensors - Currently, sensors are the most common lighting controls used in homes. There are three types of sensors used in lighting controls, namely—occupancy, vacancy, and photo-sensors. Sensors in a lighting control system is a control device that detects the occupancy of a certain area or space and automatically turns the lights on or off. It uses infrared or ultrasonic technology for the detection of occupancy. Occupancy sensors were originally designed to be utilized in security systems but have now been refined and improved to control lighting and HVAC in commercial and residential spaces. Occupancy sensors are predominantly used to save energy; they offer automatic control and comply with the building codes. These sensors sense the presence of people and turn the lights on and off accordingly. These sensors are mainly being used where the spaces are often unoccupied, such as offices, warehouses, restrooms, loading docks, corridors, stairwells, lounges, and conference rooms. In outdoor lighting, streetlights can be made intelligent by placing cameras or sensors on them, which enable them to detect movement.
Switches - Switches are one of the most common interfaces between the lighting system and the occupant. They are mainly used to operate and control an electric light. A switch can be permanently connected or can be installed on electrical outlets, depending on its application or use. New switches offer a wide range of control, such as full-range dimming, a delayed fade from on to off, and dimmer switches that remember a range of preset settings. A switch is used for different purposes and provides lighting that is more flexible. It saves energy and helps in extending the lifespan of the lighting source.
Dimmers - Dimmers control the brightness, wattage, and output of light lamps and luminaries. The dimming requirements of a lighting source depend on its individual characteristics. A dimmer is used for different purposes and provides more flexibility for users. It saves energy and helps in extending the lifespan of the lighting source.
Relay Units - Relay units include relays and smart controllable breakers. A relay is a switch, which is activated by an electric current. By using this electricity, it operates as a switch to turn the lights on or off in the lighting control systems. Controllable breakers combine the protective features of conventional circuit breakers with the switching functions of a contractor or a switch. This eliminates the need for separate relays or contractors and the associated enclosures and wiring.
Gateways - Gateways or bridges are devices that act as interfaces for controllers in various networks using different protocols. Gateways act as protocol translators to ensure proper system interoperability. Gateways work as a communication channel between the network components of the lighting control systems. Gateways are used in the lighting control systems to provide remote lighting control for all components of a lighting network.
Software
Lighting control systems not only include fixtures and smart bulbs, but they also require the respective software support for their proper functioning. The feature of any lighting control systems software is its ability to control the light. The best lighting control systems software is used for data analytics purposes to improve the efficiency of the lighting control systems.
The lighting control systems solutions are further segmented into local/web-based software and cloud-based software. The local/web-based model includes software that is installed locally and could be considered as a static approach of using the software. On the other hand, the cloud-based delivery model is dynamic and includes software, which one could use according to their requirements. Moreover, no physical infrastructure, such as servers and cables, is required in the cloud-based delivery model.
Local/Web-based Software - Increasing demand for the advanced lighting control solution is driving the growth of lighting control systems software. The best lighting control systems allow users to design, configure, commission, and manage their facility's lighting control systems through an intuitive web-based user interface that can be securely accessed from any computing device connected to the lighting control network. The web-based lighting control systems software could be integrated with sensors such as occupancy or vacancy sensors to provide automatic dimming or turning on/off of electric lights in response to occupancy of a space by people or the level of available daylight. Web-based lighting control systems have a built-in Web server, which eliminates the need to install any software on computing devices. This built-in feature allows the user to monitor, control, and configure the entire lighting automation system through a web-based page. This web-based page could be accessed through a standard Web browser from any computer, which has access to the building's IT network. The software allows customers to maximize the energy efficiency of the systems through lighting control, flexible scheduling to manage lighting devices, adjustment of light intensity depending on the specific needs of each area, and the generation of energy reports and temperature reports.
Cloud-Based Software - Cloud-based software is an internet-based computing model that provides shared processing of resources and data to users on demand. This software system enables on-demand and real-time availability and access to the shared pool of data. In this model, customers do not need any physical infrastructure for storing and processing data. In cloud-based software, a user can collect data from various machines and systems in a central location and analyze it. Also, it gives the freedom for users to control, monitor, and configure the best lighting control systems by using multiple access (via smartphones, tablets, or computers). The cloud-based lighting control software is at the nascent stage but is poised to grow faster compared with web-based software.
Services
Advances in technology in the lighting industry offered a link to the Internet of Things (IoT), while lighting infrastructure met the expectations for digital networks; it provides fresh ways for lighting suppliers to negotiate with conventional networking companies while still setting up their own market lines.
The lighting service model is defined broadly as third-party management of lighting systems, which may include additional technical, maintenance, financial, or other services. With the aim of reducing installation costs, light service providers are using this in retrofitting buildings and other outdoor facilities with LED light. Services in lighting are further segmented into— professional services, installation, and maintenance services.
Professional Services - Professional services for lighting include auditing, designing, and consulting services. Auditing services evaluate the customer's lighting products need based on the calculations of how much energy is used by the customer's lighting products, how much the customer is spending on it, and its environmental impact. Designing services rely on the data evaluated at the time of assessing the organization, facility or project. Consulting services offer advice on energy savings and procedures to achieve those savings by creating a lighting solution that meets the customer's needs and adds sustainable value to their business. These services help to enhance the performance of the lighting infrastructure. The lighting experts from companies analyze the efficiency of the lighting infrastructure, determine how it can be improved, and report what could be gained from an upgrade or refurbishment. Moreover, these experts evaluate how much savings could be gained through an upgrade or refurbishment, and how lighting could be used to deliver value beyond functional illumination.
Installation and Maintenance Services - Installation services include the installation of best lighting control systems; whereas maintenance services play a major role after the installation of lighting control solutions. These services comprise lifecycle maintenance services, system optimization services, and data analytics services. Lifecycle maintenance services extend the life of the lighting installation and safeguard the customer's investment. They comprise of software licenses, helpdesk support, and service ticketing. Lifecycle maintenance services include labor and materials (spare parts and functional product replacements) in the case of failures. System optimization is a type of maintenance service that assists in reducing the overall performance of lighting systems. Data analytic services in lighting consist of capturing the relevant data from different lighting sources and translating this data into actionable information to improve lighting control systems.
Lighting Control System, By End-Use Application
Lighting is an important factor in energy consumption, which is gaining recognition as the most efficient strategy for energy savings among various end-users. best Lighting control systems used in lighting solutions to eliminate electricity wastages, reduce energy consumption, and save cost. This section describes various end-use applications of lighting control systems. The best lighting control systems space has been segmented on the basis of end-use application into indoor and outdoor lighting.

Indoor Applications
The best lighting control systems for the indoor application has been segmented into lighting for residential, commercial, industrial, and others. The major manufacturers of lighting control systems for the indoor application are Signify (Philips Lighting) (Netherlands), General Electric Company (US), Hubbell Incorporated (US), Leviton Manufacturing Company, Inc. (US), and Acuity Brands, Inc. (US) among others.
Residential - Lighting control solutions for residential buildings are expected to have a huge potential in the future. With the advancements in technology, rising awareness about energy-efficient solutions, and government policies; this application is expected to witness a high growth rate. However, the high installation cost is a major restriction for the indoor application of lighting control systems. Moreover, lighting control systems are more expensive than conventional lighting products, which would make it difficult for individual buyers to purchase these products. However, countries with a high per capita income would implement lighting control solutions for residential applications.
Commercial - Commercial end-users include offices, retail shops and malls, and hospitality. Reducing energy consumption has become a major objective for building owners, governments, utilities, and many other stakeholders. Replacing existing lights with more energy-efficient lighting sources (such as an LED) is one of the ways to reduce this massive pool of energy use but it is a small-scale solution. Energy reduction on a large scale can be achieved by turning off the lights when not required, optimizing light levels to worker needs, and reducing the overall demand for the lighting energy. Adding lighting control systems in lighting is the way to ensure that the lighting energy is automatically reduced as much as possible. Controls and connectivity mean that lighting can be personalized and used for internal wayfinding, while at the same time reducing energy use, optimizing spaces, and lowering maintenance costs.
Industrial - The industrial indoor application includes lighting in production halls, warehouses, offices, representative rooms, corridors, and outdoor areas. In industrial settings safety is a primary concern and proper lighting and adequate illumination is a key factor in maintaining high worker productivity. The improper application of lighting can result in excessive lighting, leading to energy wastage. Industrial end-users can save on lighting expenses and conserve energy by implementing controlled lighting using an intelligent lighting control systems. In spaces such as warehouses, energy-efficient lighting solutions play a pivotal role. At such industrial spaces, the consumption of the lighting energy is at a higher level to provide proper lighting and adequate illumination for the proper functioning of production floors and storage units in warehouses, therefore lighting is often a large consumer of energy apart from process equipment.
Others - In other indoor applications, public and government buildings are considered as important applications of the lighting control systems space. The growth of this application is expected to be consistent as these projects are funded by the government. Each lighting control project in public and government buildings need to meet a specific requirement. As different types of spaces in public and government buildings need different control strategies, many projects need multiple solutions to take full advantage of the energy savings. Scheduling, occupancy, and daylight harvesting are the most important light control strategies used in these application areas. As the lighting control systems projects for public and government buildings are funded by the government, these projects require adherence to a number of provisions including energy codes, sustainable building rating systems, and specific legislations according to different countries.
Outdoor Applications
The end-users considered under the outdoor lighting application include lighting for highways, roadways, bridges and tunnels, railway stations, airports, and in public places such as stadiums and parks. The major manufacturers of outdoor lighting control systems are Signify (Philips Lighting) (Netherlands), Zumtobel Group (Austria), Dialight PLC (UK), and Hubbell Incorporated (US) among others.
Highways & Roadways Lighting - and traffic lights are major end-users of lights. In the outdoor application, the segment of the highway accounted for the highest energy consumption compared with roadways lighting. There are different types of light sources used for lighting applications in highways and roadways, hence these light sources need different lighting control systems as well. Every lighting control project in lights requires specific solutions that are suitable for a particular . As different types of roads such as streets, main roads, and highways need different control strategies, many projects need multiple solutions to take full advantage of energy savings. Scheduling, occupancy, and daylight harvesting are the most prominent light control strategies used in these application areas. As the lighting systems for and traffic lights are government-funded, these projects are required to adhere to several provisions, including energy codes, sustainable building rating systems, and specifically enacted legislation that varies across countries.
Architectural Lighting - Architectural lighting uses light to shape public buildings at nights, animate heritage buildings or architectural and historical buildings, and contemporary architectural landmarks, structures, and overall skyline. It uses the artificial movement of light, which creates shapes and effects that add to the beauty of the building. There are different ways to illuminate frontages, arches, windows, structures or columns of a building. The right architectural lighting can put the focus on landmarks, buildings, and monuments by enhancing their structures and materials in an exciting and inspirational way.
Lighting for Public Places -Lighting for public places includes outdoor public places such as perimeters, parking structures, stadiums and area floodlighting, entertainment, and parks.In parking structures, lighting systems are essential as they improve uniform visibility and reduce shadows in the garage and help citizens to feel safer, however, at such spaces usually lighting systems are turned on even if the space is unoccupied, hence in to save energy and light in such spaces smartly, there would be a need for connected lighting control systems. These lighting controls system solutions illuminate such spaces based on the occupancy and vacancy of people. An average game becomes a truly exciting event with proper management of the lighting system. Glare-free lighting helps cameras capture the action and gives spectators a clear view of the activities on the field. Intelligent control systems reduces costs and improve operational efficiency. Best lighting control systems makes stadiums more energy efficient, increase the number of events, save money, and accomplish a unique and innovative multi-purpose sports and entertainment venue. Lighting control solutions are also used for various entertainment purposes such as the production of theater, dance, opera, and other performing arts. In to create proper ambiance and viewing experience, there is a need for advanced lighting control systems.
Lighting Control Systems, By Communication Protocol
The lighting control system is an intelligent network based on a lighting control solution that incorporates communication between various system inputs and outputs related to lighting control with the use of one or more central computing devices. A communication protocol is a set of standard rules—syntax, semantics, and synchronization—for communicating over a computer network or a lighting control systems or both. The protocol defines the methods for data representation, signalling, authentication, and error detection to ensure control or enables the connection, communication, and data transfer between computing or control endpoints. The introduction of communication protocol has led to the growth of the best lighting control systems space. Currently, wireless communication technologies have started gaining momentum in the lighting control systems market as they reduce the usage of wires, thereby offering convenience to the end-users.
The growth of the lighting control systems market is largely governed by the availability of specialized solutions to address the varied requirements of different end-users. Each of the aforementioned industry segments has varied bandwidth requirements depending on the amount of data to be transmitted, the coverage area, and the data load. Thus, it is essential to explore different technologies available and ensure the effective utilization of relevant technology for specific applications in a cost-effective manner.

Wired
The wired communication protocol of the lighting control systems space includes Digital Addressable Lighting Interface (DALI), Powerline Communication (PLC), Power over Ethernet (PoE), various wired hybrid protocols, and others, which include various company-specific proprietary protocols.
Digital Addressable Lighting Interface (DALI) - DALI provides centralized control daylighting and occupant control capabilities, enables application flexibility, and provides significant energy savings.DALI can be used for scene selection and for getting feedback regarding faulty light sources, which makes this protocol useful in cases, where remote supervising is required. A DALI system could be as small as a single luminaire but is scalable to multiple systems across a building or more, where DALI systems can be connected using lighting hubs/routers. DALI facilitates interchangeability between products of different vendors and enables consistent performance across manufacturers. DALI uses a distributed system, in which each controller operates as a master and controls communication on the control line; and the ballasts and drivers are slaves, which react at the request of the DALI control device.
Powerline Communication (PLC) - Powerline Communication (PLC) is a wired technology that uses electric power for data transmission. In PLC, the signal transmitted via a coupler is incorporated into a transmitting device and then into a power cable. The receiving device or the PLC modem then converts and receives the data signal, thereby establishing the communication. PLC uses a conductor to carry the data, which is used simultaneously for the transmission of AC electric power. A PLC adapter extracts the data signal on the division of overlapping signals. PLC technology transforms wall power outlets into information outlets, thus enabling the convenient building of a universal in-home networking system.
Power over Ethernet (PoE) - Power over Ethernet is a technology, which enables the power required for operating devices such as lighting, VoIP phones, wireless access points, and IP cameras to be supplied through data cables instead of power cables. The use of POE with lighting systems offers several benefits such as it removes the need for connecting lighting devices with separate cables, and it provides flexibility in the design of the best lighting control systems where it makes the systems portable. With the rise in the adoption of LED luminaries and lights due to their capabilities of offering higher efficiencies than traditional lighting and also, they require less power, which thereby, drive the demand for PoE lighting control systems.
Hybrid -Wired hybrid protocols refer to those protocols that combine the advantages of proactive and reactive routing of data and instructions. The routing is initialized using proactively determined routes and is then satisfied with the help of reactive flooding, based on the demand from the activated nodes.
KNX and LonWorks - Konnex (KNX) is a worldwide communication standard for home and building controls. The use of KNX lighting control applications helps to control energy usage in residential and commercial buildings. The use of KNX for lighting control helps to reduce energy usage and also helps to control the carbon footprint.LonWorks protocol has its major application for devices used in building automation, HVAC and lighting. This protocol can also be used for outdoor lighting applications. LonWorks allows many manufacturers to produce high-end hardware as well as software products.
Wireless
Wireless communication protocols are needed for communication between the evolving technologies. This section includes wireless protocols such as ZigBee, Bluetooth, EnOcean, Wi-Fi, and 6LoWPAN. The lighting control systems market is flourishing, which has attracted other wireless technology vendors.
ZigBee - ZigBee is the language of connected lighting in homes and businesses. It provides consumers with an easy-to-use control over all their LED fixtures, light bulbs, and remotes and switches. Products based on ZigBee wireless protocols allow consumers to change lighting remotely to reflect ambience, task or season while managing the energy use and making their homes greener.
Bluetooth - Bluetooth is the third-generation networking technology that eliminates disturbing cables that limit the mobility of a user. It aims to make daily lives more comfortable, safer, and more energy-efficient by focusing on infrastructure-based applications such as automation, control, security, and energy management. The Bluetooth network protocol strikes a balance between range, power consumption, reliability, bandwidth, and cost. It ensures interoperability and increases consumer confidence, creates value for both the end-user and the service aggregator.
EnOcean - EnOcean wireless technology uses a combination of energy harvesting and very low power wireless communications, which enables virtually indefinite communications to be maintained without the need for recharging. EnOcean modules combine micro energy converters with ultra-low-power electronics and facilitate wireless communication between wireless sensors, switches, controllers, and gateways. This wireless technology eliminates the need to install wires between the switch and controlled devices. EnOcean technology is a simple, fast, and value-added alternative to cabling, breaking, and other time-consuming and expensive renovation activities. It allows a quick installation of lighting control and management systems and helps promote wireless solutions in building services and other sectors.
Wi-Fi - Wi-Fi enables devices to connect directly to each other or to broader networks to deliver information, thus proving to be a key technology that drives the lighting control and management systems. It operates in the frequency of 2.4 GHz and has five channels (there are slight modifications in operating frequencies and standards in various countries). Wi-Fi can be accessed through various devices such as video-game consoles, smart appliances, and a few types of digital cameras, personal computers, tablet computers, and digital audio players. These devices can connect to the Internet through a wireless access point.
6LoWPAN - 6LoWPAN is an acronym for all IPv6 protocols that cover Low Power Wireless Personal Area Networks. 6LoWPAN protocols have pre-defined mechanisms for encapsulation and header compression, which allow for sending and receiving of IPv6 packets over IEEE 802.15.4-based networks.
Hybrid - Wireless hybrid protocols are similar to wired hybrid protocols in the process that combines the advantages of proactive and reactive routing of data and instructions. The routing is initialized using proactively determined routes and is then satisfied with the help of reactive flooding according to the demand from the activated nodes.
Frequently Asked Questions
What is Connected Lighting?

Any lighting hardware such as LED lights which has a communication aspect or knowledge with it is recognized as connected lighting. To take lighting past illumination, it fills the divide amongst LED lighting and information technology. In addition, its ability to gather and share data transforms the way we perceive lights. It helps build pleasant, comfortable, effective and successful spaces like never before.

What are Smart Lighting Controls?

As the term implies, these are smart lighting solutions which use the connected lighting technologies to enhance the users' lighting usage. They could be used to track and modify the luminaires according to the specifications. Some intelligent lighting controls also retrieve critical information on items such as space usage, energy usage, ambient light data in order to ensure productivity.

What are the Advantages of Using Intelligent Lighting Controls?

Intelligent lighting controls in the lighting industry have launched a modern development and all credit goes to their various advantages. Here is a compilation of some of the benefits of smart lighting controls which will enable you to activate them immediately. Enable carbon consumption absolute, Reduce people 's dependence on managing the sun, Increase the life of lighting systems by reducing back on runtime, Save money to live up to carbon efficiency, Adapt light according to need to improve employee loyalty and productivity, Improves health , security and convenience, Improves space use, May interact with IoT to concentrate on observations centered on the data

What are the trends prevalent in the Lighting Control System market?

Networked lighting controller has several advantages, including centralized intelligence, comprehensive control classification, data creation, and coding. Utilities and energy efficient firms are centered on the introduction of networked lighting controls as these technologies provide modern, versatile and cost-effective lighting space management solutions. The Energy Department (DoE) encourages the usage of networked lighting controls and collaborates with different businesses to achieve energy quality.

What are the Best Places Where Intelligent Lighting Controls Can Be Utilized?

In several aspects, intelligent lighting controls can be used, from the commercial to major industries. Among many other areas they can be used are office buildings, residences, cinemas, healthcare facilities, highways, industries, storage facilities. Brands such as Wipro Lighting offer an amazing array of intelligent lighting controls that can help users get the most out of this future technology.
Best Lighting Control Systems
Comparing 26 vendors in Lighting Control System across 87 criteria.
4 Experts are advising
57 buyers