Best Video Surveillance Systems makes use of cameras for monitoring activities and behavior of people for managing, influencing, directing, and protecting them. It is an extremely valuable and effective method for ensuring the safety of people, buildings, and valuables as well as for catching offenders in case of a crime. Mobile video surveillance is a system that captures and records the data from a mobile platform, such as a vehicle, a marine vessel, or an aerial drone.

Surveillance cameras help in catching intruders or thieves. The main purpose of installing video surveillance systems tools is to act as a deterrence to robbers, criminals, petty thieves, and corrupt elements from indulging in theft, illicit, and criminal activities. Going further, we will learn in detail about the video surveillance systems tools providers, major drivers, types, different hardware components and applications in different industries.
video surveillance systems are used mainly in the engineering, finance, and financial services, as well as the logistics and retail sectors. Due to the heavy reliance on protection services, several companies have begun utilizing video surveillance systems implementations. In March 2020, Axis communications have added a new product to its AXIS M30 Network Camera Series with forensic WDR and Lightfinder systems, offering 360-degree panoramic images without blind spots.
In January 2020, ScanSource signed a contract to sell Honeywell's industrial safety devices. The partnership would enable ScanSource to expand its video surveillance systems tools, access management, and intruder protection devices and services portfolio, thus enabling customers to exclusively buy the industrial security technologies from Honeywell via them.
In the same month January 2020, Bosch also introduced the IP 3000i range that is suitable for indoor and outdoor usage in the micro dome, mini-dome, bullet, and turret. The better camera set provides full versatility of regular tracking for high impact tolerance in independent exterior camera configurations, which can endure demanding climatic conditions. The lenses deliver regular advanced video surveillance tools and are engineered for high-quality output and simple to use.
Best Video Surveillance Systems
Hikvision

Dahua

Axis Communications

Bosch

Hanwha Techwin

Eagle Eye Networks

Arlo Technologies

Google Nest

Hikvision – Hikvision, a market leader in the security camera space, offers a large no. of options, making the procedure of choosing a surveillance system both more comprehensive and more complicated. A few of its most popular security camera models are the DS-2CD4656F-IZH 2.8-12MM and DS-2CD2132F-I-2.8MM. Read more
Dahua - Dahua, one of the major players in video surveillance systems is committed to offering innovative technologies and products, such as multi-sensor panoramic cameras, ePoE for 800m power, and data transmission over Ethernet cable, and Smart Codec to enhance encoding efficiency and save bandwidth. Read more
Axis Communications - Axis Communications one of the pioneers in security solutions offer a wide range of surveillance cameras that suit your needs. It offers robust outdoor cameras to unnoticeable products for sensitive environments. Read more
Bosch Security and Safety Systems - Bosch provides a comprehensive range of safety, security, and communication products and systems. It offers a whole range of advanced video security solutions that has the highest security demands of today and deliver clear business returns beyond security. Read more
Hanwha Techwin - Hanwha Techwin, a major player in video surveillance market offers advanced optical design, manufacturing, and image-processing technology. Wisenet7 camera device by Hanwha provides a clear and vivid image in resolutions of up to 4K apt for forensic search applications. Read more
Eagle Eye Networks - Eagle Eye Networks offers next-generation technology designed for secure, remote access. Eagle Eye Cloud Video Surveillance is intended for the cyber-security conscious clients looking for maximum flexibility in their choices of cameras and locations. Read more
Arlo Technologies - Arlo Technologies provides advanced wireless camera systems for indoor, outdoor, and business purposes as well. Arlo Ultra offers crystal clear 4K, HDR Video, which is the best security system with the best image quality. It also allows you to view your recordings in super sharp, 4K HDR with its high-performance lens. Read more
Google Nest- The Google Nest Cam Outdoor comes with a magnetic mount that makes it easy to install that can be hooked onto just about any surface on the outside of your house. This camera is technically wireless, but it doesn't mean you don't have to connect it to your internet router with an Ethernet cable. Read more
Market Overview
Video Surveillance Systems use video cameras for monitoring behavior and activities of people for influencing, managing, directing, or protecting them. These systems are also used for monitoring facilities or places from a distance. Video surveillance systems is an extremely useful and economical method to ensure the security of people, buildings, and valuables.
Growing worries about public safety and refuge, rising acceptance of IP cameras, and increasing mandate for wireless and spy cameras are the aspects driving the growth of the video surveillance market. However, a damage of privacy is a main limitation. Increasing government and stakeholder backing for developing smart cities and using city surveillance solutions, rising demand for VSaaS services, continuing technological progressions in Big Data, IoT, and cloud-based services, and increasing trends of artificial intelligence and deep learning will offer opportunities to players in the video surveillance systems market during the forecast period. The requirement for high-capacity storage systems and higher bandwidth will pose a challenge to video surveillance market players.
Video analytics enhance video surveillance systems by performing the tasks of real-time event detection, post-event analysis, and extraction of statistical data while saving manpower costs and increasing the effectiveness of the surveillance system operation. Expansions connected to technological progressions such as AI and deep learning have augmented the need for introducing new and innovative products to tackle the security disaster at every level. AI and deep learning are being accepted in numerous end-use applications such as crowd management, retail management, and license plate recognition, thus providing opportunities for the video surveillance systems market.
COMPETITIVE LEADERSHIP MAPPING TERMINOLOGY
Vendor evaluations are based on two broad categories: product offering and business strategy. Each category carries various criteria, based on which vendors have been evaluated. The evaluation criteria considered under product offerings include the breadth of offering, delivery (based on industries that the vendors cater to, deployment models, and subscriptions), features/functionality, delivery, product quality and reliability, and product differentiation.

The evaluation criteria considered under business strategy include geographic footprint (based on geographic presence), channel strategy and fit, vision alignment, and effectiveness of growth (based on innovations, partnerships, collaborations, and acquisitions).
VISIONARY LEADERS
Hikvision, Dahua, Axis Communications, Bosch Security and Safety Systems, and Hanwha Techwin have been recognized as the visionary leaders in the video surveillance systems market. They offer a strong portfolio of solutions and services to their commercial clients. The products and solutions of these companies are highly scalable and can be customized as per the requirements of the clients.

These companies are said to be investing significantly in R&D to introduce innovations in the video surveillance tools. Moreover, these companies have also undertaken various organic and inorganic strategies to achieve consistent and advanced growth in the video surveillance systems market.
DYNAMIC DIFFERENTIATORS
FLIR Systems, Panasonic, Pelco, VIVOTEK, and NEC have been recognized as the dynamic differentiators in the best video surveillance systems market. These companies have a significant network of channel partners and resellers to increase the deployment of their solutions across a multitude of verticals. The dynamic vendors have been consistently generating positive revenue growth and their market position has heightened by their organic and inorganic ventures.
INNOVATORS
Eagle Eye Networks, Arlo Technologies, and Google Nest have been recognized as innovators in the video surveillance market. These companies offer innovative solutions for the video surveillance systems. They also have a strong breadth and depth of product offerings. The innovators have been at the top in implementing their solutions for niche and custom software needs of the clients.
EMERGING COMPANIES
Qognify, Agent Video Intelligence, and iCetana have been recognized as the emerging companies in the video surveillance systems market. The emerging players are specialized in offering highly niche and tailor-made solutions and services to their clients. These companies devise new ways of working to drive business results in the market.
Market Dynamics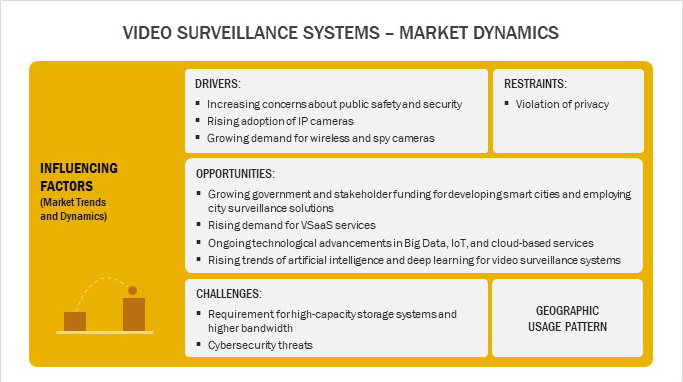 Major Drivers
Increasing concerns about public safety and security
Governments in various countries have mandated the implementation of best video surveillance systems for the protection of public places and critical infrastructure owing to the increasing focus on security issues. For instance, in September 2019, the government of South Wales (UK), as per the High Court's statement, sent out a notice for the acceptance of facial recognition technology integrated with CCTV cameras for crime prevention and monitoring solutions. The South Wales police have partnered with NEC to implement advanced and AI integrated cameras for reliable and efficient video monitoring. The increasing cases of thefts, terrorist attacks, and other crimes are necessitating effective video surveillance systems to ensure public safety and security.
Rising adoption of IP cameras
An Internet Protocol (IP) camera is a networked digital video camera that sends signals to the main server or computer screen through the internet or a network link. An IP camera can be easily installed and connected, using a single coaxial cable for each camera, to the existing data network, with minimal efforts. Due to their high resolution, IP cameras can provide high-quality and extremely detailed images. They also support two-way communication and can send customized alerts if any suspicious activity occurs. IP cameras are faster and more reliable than analog closed-circuit cameras and can be accessed from any location.
Growing demand for wireless and spy cameras
The rise of wireless and spy cameras across commercial and residential applications is one of the important drivers of the video surveillance systems market. Wireless cameras provide convenient and flexible security solutions due to the absence of wires. These wireless cameras can be connected to Wi-Fi solutions and cloud storage for further data analysis. Some of the important players across the wireless camera market are Arlo, Wyze Labs, Canary Connect, Amazon, Reolink, and Nest. Wireless security camera systems also use high-grade encryption techniques for digital data, which makes the video feed safe from cybercriminals.
Market Segmentation of Video Surveillance Tools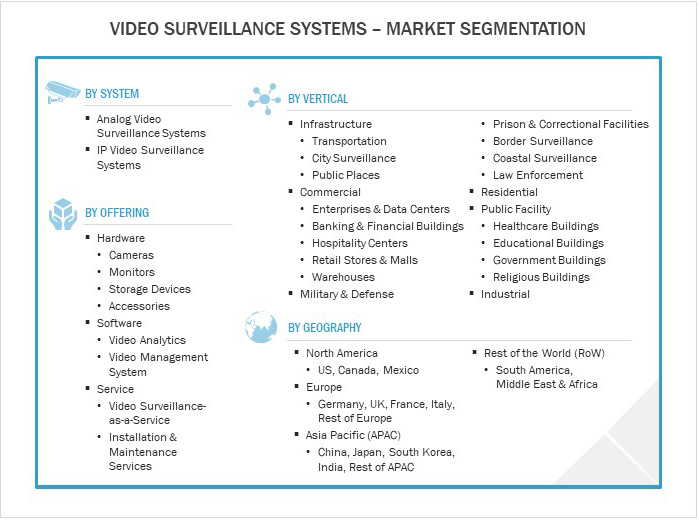 Video Surveillance Systems - By hardware components
The video surveillance systems market by hardware is segmented into cameras, monitors, storage devices, and accessories. Video surveillance tools are used for security, monitoring, and analyzing. Technological developments have lead to highly specialized surveillance cameras that can be programmed to zoom-in scan items such as harmful equipment. Technological advancements resulted in the availability of a variety of surveillance cameras.
Camera
Video Surveillance systems tools are used for security, monitoring, and analyzing. The video surveillance solutions primarily consists of hardware products such as cameras, monitors, and storage units, and accessories. Of the most recent trends in the video surveillance systems industry, high-definition (HD) cameras, wireless cameras, PTZ, panoramic, spy cameras, and IP cameras are the most attractive.
Cameras are utilized to capture video footage of places under surveillance and can range from robust outdoor cameras for harsh climates to discreet products for sensitive environments. Cameras with various capabilities are available in the market, including high definition (HD), wide dynamic range (WDR), infrared (IR), and light finder, which ensures clear video, even in difficult lighting conditions. Cutting-edge cameras based on innovative technologies and with advanced video analytics features such as motion detection, audio detection, and tempering alarm have also been launched in the market.
Surveillance cameras are broadly divided into analog and IP cameras. An internet protocol camera or IP camera is a type of digital video camera commonly deployed for surveillance and which, unlike analog (CCTV) cameras, can send and receive data through a computer network.
The basic stationary camera is appropriate for fixed indoor and fixed location observation applications. The selection of components, such as an imager and a processor, determines the quality of the video data. The imager consists of semiconductor charge-coupled devices (CCDs) or active-coupled or active pixel sensors in Complementary Metal-Oxide-Semiconductor (CMOS) to detect and convey the information that constitutes an image by converting the variable attenuation of light waves into electrical signals that process imagery information. The imager digitizes the image data and transmits the information on high-speed serial links to the processor. The processor provides all the storage, communication, and control functions necessary for viewing details that cannot be seen with the human eye. The audio input can provide audio signals for the monitored video. The control processor acts as a controlling device for all the interfaces connected. Random-access memory (RAM) is used to access memory quickly, and flash memory chips are used to store the video data. The monitoring device is used to monitor activities on a screen.
Monitor
Monitors are one of the important components of the video surveillance systems. A monitor is always part of the video surveillance tools, whether analog or IP because it is the only component that analyzes security-related threats related to property or humans. Currently available monitors have the ability to endure 24/7 usage and produce highly detailed images necessary for making security-related decisions.
With advancements in the display technology, monitors have also undergone technological improvisation. Earlier, in the conventional CCTV setup, operators could view footage from a central location on a monitor, very much like a TV, but with higher resolution for better picture quality. Over time, monitors have changed from Cathode Ray Tube (CRT) to Liquid–Crystal Display (LCD) and from LCD to Light Emitting Diode (LED) displays. LCD and LED monitors offer lower power consumption, lower cost, lower weight, and are smaller in size.
Monitors used in the video surveillance tools can be categorized based on their screen size into up to 20 inches and more than 20 inches.
Factors that must be considered for video surveillance systems tools monitors are size, aspect ratio, viewing angle, resolution, imaging performance, brightness, and contrast.
Storage Device
Storage devices have been segmented on the basis of type into Digital Video Recorder (DVR), Network Video Recorder (NVR), Direct-Attached Storage (DAS), Network-Attached Storage (NAS), and IP Storage Area Networks (IP SAN).
Video surveillance systems generate large volumes of critical and sensitive data. As a result, capturing, protecting, and mobilizing this data is essential for the regular IT framework. White box video servers and storage solutions, including DAS, NVR, SAN, NAS, are not designed for write-intensive 24/7 IP video surveillance workloads.
Digital Video Recorders
Digital video recorders (DVRs) are used as storage devices for recording surveillance data. They convert the analog video file to digital and also allow users to stream a video over a network for remote viewing from different locations. DVRs use hard disk drives (HDDs) or solid-state drives (SSDs) to store the data from cameras. These devices generally do not offer scalability and flexibility in terms of storage space and provide limited connectivity to cameras. DVRs are considered to be cost-effective storage solutions, and they mostly work with analog cameras. With the rising use of IP cameras, new-generation DVRs provide recording over the IP, but they fail to match the operating performance of NVRs.
Network Video Recorders
A network video recorder (NVR) is an IP-based recording solution that can record from multiple cameras over a centralized network. NVRs can be connected to all cameras in the local area network (LAN), wide area network (WAN), or through the internet, thereby providing more flexibility than any other recording solutions available. They can be accessed and managed remotely through web-based systems. NVRs are categorized into box appliance NVRs and PC-based NVRs.
Hybrid Video Recorders
The hybrid recorder is becoming more popular because of its versatility. Hybrid video recorders are well-suited with both standard analog cameras and IP/network cameras. Some important features of HVRs are as follows:
Accommodate both analog and IP technology

Offer easy migration to IP for analog users

Manage available bandwidth based on the application

Offer prompt setup and configuration due to the moderate change in technology
IP Storage Area Network
An IP storage area network (IP SAN) is a special-purpose network or dedicated sub-network that allows multiple heterogeneous hosts to share storage sub-systems. IP SANs run parallel to main networks and connect different special-purpose storage devices and storage arrays. These SANs also facilitate remote connectivity with high speed and are traditionally based on fiber channels. The SAN technology is implemented in the fiber channel (FC) configuration, but with newer technology innovations, SANs are becoming popular on the internet small computer systems interface (iSCSI) and on fiber channels over Ethernets (FCoE). Storage Area networks are commonly used in big enterprises and government organizations for recording and storing video surveillance tools data.
Direct-attached storage devices
Direct-attached storage (DAS) devices are attached to the server through a direct communication path between the server and the storage device. It is the simplest storage system that is directly connected to the server or workstation. The DAS bypasses the necessity to connect through the switch networks, thereby providing the attached computer exclusive access to the storage device. These storage systems are simple, single storage disks, or an array of multiple storage devices that are connected to the host or server through two methodologies: internal connectivity and external connectivity. Currently available DAS devices are used in applications requiring exceptional storage flexibility and input-output IO performance.
DAS is ideal for small businesses that only need to share data locally, have a defined budget and limited IT support to maintain a complex system
There are two types of DAS: internal DAS and external DAS. Internal DAS features an array of storage devices or single disks that are connected to the system internally. They are embedded in the server or host servers and provide exclusive access to the system for storage. Companies such as Seagate, Western Digital, and EMC Corporation are the major players providing internal DAS.
External DAS comprises dedicated storage devices that are attached to the server or the host. These external storage devices are not connected to any kind of network or Network-Attached Storage (NAS) but are externally connected to the system. They are typically used when internal drives are exhausted. These external storage systems provide flexibility and portability and can be easily attached to other systems.
Network-attached storage devices
Network-attached storage (NAS) devices have multiple racks of storage media and are set up onto a dedicated network for storing surveillance data. These storage devices are attached to the LAN and are provided with an IP address, which enables direct recording from the cameras. NAS devices have their own file storage systems and are configured using their own operating systems. They include an array of HDDs or SSDs and provide scalability and flexibility, with options for expanding the storage media.
The advantages of NAS include easy installation and usage, ability to connect to many wireless devices for data transfer, and ability to connect and deliver all types of data/content across devices such as computers, smartphones, and tablets. Network-attached storage systems offer the ideal mixture of scalability, usability, and affordability for video storage.
Video Surveillance Systems- By Camera Type
Dome cameras
In a dome camera, the camera unit is mounted inside a transparent dome. Fixed and PTZ cameras are also available in dome housings and are known as fixed dome and PTZ dome cameras. Dome cameras can be IP dome security cameras or analog dome security cameras, and some of them offer IR night vision or other advanced technologies like pan-tilt-zoom features, motion sensors, or thermal sensors.
A fixed dome network camera is a camera placed inside a dome-shaped housing. This type of camera is designed to be unobtrusive but observable and is widely used in retail applications to continuously cover certain areas. The camera either has a fixed lens or a varifocal lens built into the base of the dome. The number of lenses that can be attached to these cameras is limited based on the dome size. Dome cameras cannot be controlled manually. The cameras can be mounted on a ceiling, wall, or pole. A fixed dome with a wide-angle lens and a megapixel sensor that provides a 360° field of view is often known as a panoramic or 360° camera. These cameras can constantly move between specific positions (which are already stored) to monitor multiple angles/areas one by one in a definite sequence.
Pan, tilt, and zoom (PTZ) cameras
PTZ refers to pan, tilt, and zoom. A PTZ camera provides both wide-area coverage and a detailed view of the surveillance target. Great image quality and the ability to zoom in make it possible for such cameras to detect security threats. The outcome is increased protection and decreased costs.
The camera can tilt up and down, pan side to side (left or right), and zoom in and out (lens closer or farther). In general, PTZ security cameras need to be manually zoomed in and out. Such cameras are relegated to surveillance situations where there is an actual surveillance specialist monitoring the images. An operator can, for instance, follow specific individuals, objects, or activities in larger areas by rotating the camera up, down, and sideways, or by zooming in or out as required.
However, some PTZ cameras have automated pan/tilt/zoom functionality where the camera moves on a timed basis.
Box and Bullet cameras
Box cameras
Box cameras are larger in size, reminding people that they're being monitored and reducing the chance of theft; they have internal components and lenses that can sometimes be replaced. They usually offer better optical performance and longer service life and can be mounted in virtually any location and the environment with the right housing.
Bullet cameras
A bullet camera is a box camera sealed inside its own housing, shaped like a rifle bullet shell or a lipstick case. Bullet cameras come in fixed and variable focal lens varieties. For night-vision capabilities, these cameras come with infrared capabilities. Like dome cameras, bullet cameras are not serviceable and come with permanently attached lenses and housings. Bullet cameras can easily be mounted to ceilings or walls because most of them use a tri-axis type of mount. The images captured by bullet cameras may have slightly cut-off corners because the camera shape and design can interfere with the actions of the camera lens and filter.
Panoramic, fisheye, and body-worn cameras
Panoramic cameras
A panoramic camera offers a wide, unbroken view in all directions. The panoramic view can be accomplished using a single sensor or a range of sensors (or cameras). Single-sensor 360-degree or fisheye cameras have been used for many years. Initially, the panoramic cameras lacked in resolution capabilities due to the wide panoramic-viewing angle. The latest high-resolution and multi-sensor cameras provide much better resolution. They can be used in standard surveillance applications and for situational awareness.
Panoramic cameras provide a continuous 180-degree or 360-degree view of surroundings. They are excellent for situational awareness because a user can see everything in an area. Panoramic cameras need special software to de-warp the video. Multi-sensor panoramic cameras offer greater resolution and offer enough resolution to identify a person's face at a longer distance than allowed by single-sensor cameras. While multi-directional IP cameras use multiple sensors, they don't stitch all the views together.
Fisheye cameras
Traditional video surveillance cameras have inherent flaws like blind spots. For instance, if a fixed field of view camera is pointing toward the left direction, and an incident occurs on the right, then the camera is useless. While the solution might be to increase the number of cameras, this would increase the overall cost of the system. An effective solution is to use a fisheye camera, which is a single-sensor camera that offers a 360-degree panoramic view. The strength of this camera can reduce the number of cameras required to cover the same surveillance area. Unlike conventional CCTV cameras, newer CCTV surveillance cameras have built-in on-camera de-warping software that allows instant access to single PTZ, quad view, and panorama view.
Body-worn cameras
Body-worn cameras are in the form of a closed circuit. These cameras are video recording systems that are typically used by law enforcement officers to record their communications with the public or to gather video evidence at crime scenes. These cameras also referred to as spy cameras, can record a video of actions that the user wishes to document.
In the case of spy cameras, it is possible that people may not be aware that they are being recorded or that the actions of an innocent spectator may also be captured. The cameras can be fixed into commonly used objects such as television sets, smoke detectors, pens, clock radios, motion detectors, ball caps, watches, shirt buttons, glasses or spectacles, plants, and mobile phones. These cameras are also used for commercial and industrial surveillance. The low cost of video recording devices has led to an increase in the use of these cameras for legitimate surveillance requirements, entertainment, and other purposes.
Body-worn and spy cameras can be attached to a person in motion, and are also known as mobile surveillance cameras; they are a part of mobile video surveillance systems. These cameras can also be inbuilt in cars to prevent accidents.
Video Surveillance Systems - By Software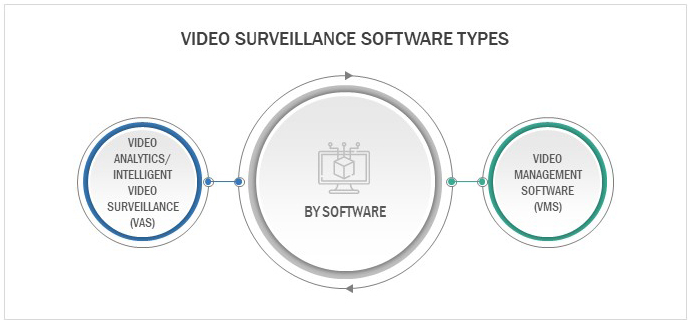 The video surveillance systems market for software is broadly classified into video management software (VMS) and video analytics or intelligent video surveillance (IVS). The video management software (VMS) is an essential part of any surveillance system. VMS allows the operator to manage the camera and recording settings, view multiple cameras feeds, and set alerts for tampering and motion detection. The increasing application areas of video surveillance systems are boosting the market for video management systems software. For city surveillance cameras are often placed in remote locations, with wireless technology increasingly used to transmit the video. This, in turn, provides an opportunity for VMS vendors.
Video Analytics Software
Video analytics software for security cameras is available in several forms; it can be installed on a camera, on an NVR, or used as a third party software. The video surveillance systems market exists since the 1960s and is constantly growing. However, security personnel is increasingly becoming aware of the fact that with the growing number of cameras, the effectiveness of monitoring is in danger of being lowered. Cameras can provide a wide-ranging view, but they add very little value in analyzing the activities. To address this problem, the Video Content Analysis (VCA) solution was developed. This solution is today referred to as video analytics and is primarily used in corporate or government systems, requiring powerful servers to run each application, along with high-end infrastructure.
Video analytics improves the video surveillance systems by executing the tasks of real-time event detection, post-event analysis, and mining of statistical data while saving manpower costs and increasing the effectiveness of the surveillance system operation. Video analytics algorithms may be implemented to analyze recorded video, a task that is challenging and time-consuming for a human operator, especially in cases where several videos must be reviewed. Through the rapid analysis of a recorded video, video analytics can pinpoint an event in the recorded video and retrieve the relevant video segment from the stored video.
Video analytics can be used for motion detection, facial recognition, license plate recognition, people counting and dwell time monitoring, and recognizing long checkout lines, as well as for sending alerts.
Video Management Software
Video management software (VMS), also known as video management system or video management server, acts as a base for video monitoring, recording, and analyzing. Various types of software are available depending on the requirement of customers.
Video management software runs on Windows or Unix/Linux and offers live viewing, storing, and retrieving of video from multiple cameras. The system installed at multisite, and multi-locations must be synchronized. Memory allocation is done automatically, and if the storage capacity is full, an alert message is sent through an e-mail. The system works with minimal external assistance, thus reducing the operational cost.
VMS is used in applications requiring several cameras to be monitored at the same time. IP-based video surveillance systems were adopted prior to the development of the VMS software. In an IP (network video) system, cameras are connected to the standard computer Ethernet network such as LAN, WAN, or the internet. The video is stored on a central computer server/PC or network-attached storage (NAS) unit. Therefore, a VMS is required to access and handle the videos. The VMS software can be installed on a separate PC or on the same PC. As today's cameras feature inbuilt VMS software, users only need smartphone/tablet apps to view live and recorded videos.
Video Surveillance - Types
Analog Video Surveillance
Analog best video surveillance systems typically require a combination of analog cameras, monitors, DVRs, routers/firewalls, modems, internet access, remotely accessible PCs, and other devices. The camera captures the analog video signal and transfers it over the coaxial cable to the digital video recorder (DVR). The DVR converts the analog signal into a digital signal, compresses it, and then stores the signal on the hard drive or hard disk for later retrieval. The monitor is provided so that one can monitor the movements captured by the camera.
Analog Camera Components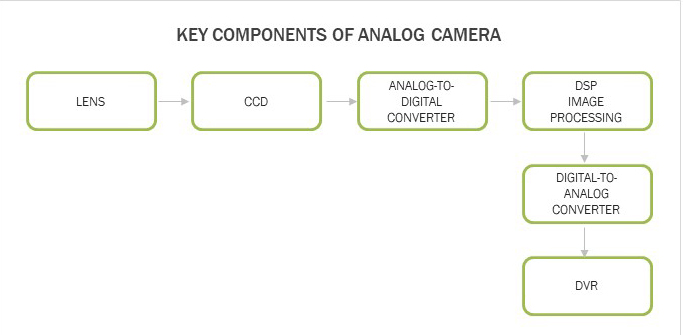 IP Video Surveillance
IP video surveillance tools are digitized versions of analog video surveillance systems; they can send and receive data over an IP network, such as LAN, RF, or Wi-Fi network. Over the past few years, the trend of converting analog systems into digital systems has increased.
IP Surveillance Camera - Block Diagram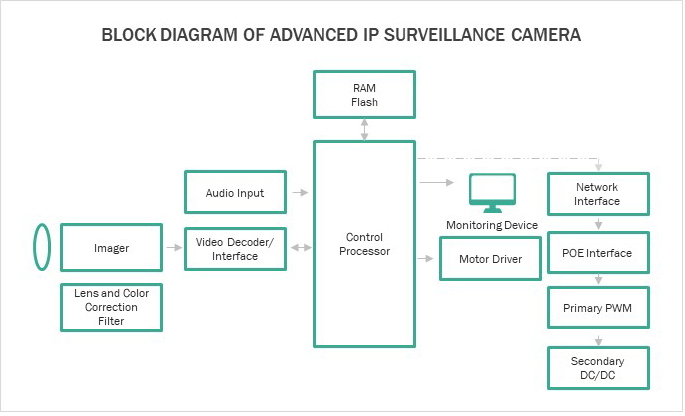 Video surveillance - By Industry
Commercial
In this segment, various commercial areas such as enterprises and data centers, banking and finance buildings, hospitality centers, retail stores and malls, and warehouses are considered. The commercial vertical is the largest in the video surveillance systems market. The rising demand for best video surveillance in the retail and banking sectors is driving the growth of this market.
Infrastructure
The infrastructure vertical mainly includes applications such as transportation and city surveillance, public places, and utilities. Transportation and city surveillance application areas further include airports, train and bus stations, public transport vehicles, ports, subways, roads, parking places, garages, city areas, and petrol stations. Public places include stadiums, amusement parks, public recreation areas, events, exhibitions, and halls, while utilities include water facilities, oil and gas pipelines, and telecommunication sites.
Military & Defense
In the defense sector, security and safety are major concerns. Video surveillance tools are widely used in the military and aerospace industry for applications such as patrolling national borders (border security) and search and rescue missions. In addition, Video surveillance systems tools control the entry of refugees in crucial areas, such as military base camps and border areas, monitor peace treaties, provide security parameters around base camps and embassies (perimeter security), and ensure resource exploration and target tracking. The use of fixed and PTZ cameras, fence sensors, and motion sensors, among other technologies, helps ensure the security of military bases.
Public Facility
Safety is a crucial component to consider in public parks, communities and neighborhoods, and other municipal districts. Public facilities include healthcare, education, religious, and government buildings.
Industrial
The industrial sector includes automotive, chemical, metal, engineering, mining, pharmaceutical, oil & gas manufacturing facilities, along with energy production sites. The increase in terror threats and the rise in the theft of raw materials has propelled the need for the video surveillance systems. The installation of CCTV cameras at manufacturing facilities improves business operations, monitors plant machinery and production process, and ensures the safety of personnel.
What are the major challenges in Video Surveillance Systems?
The necessity for high-capacity storage systems and higher bandwidth
The total bandwidth used by a video surveillance systems tools depends on the number of cameras, frame rate, image resolution, and compression ratio. The more the number of cameras, the more is the bandwidth used for a network. The continuous streaming of video data from network cameras causes bandwidth issues.
Cybersecurity threats
As the video surveillance systems tools continue to grow exponentially, millions of cameras are deployed to help keep people, properties, and organizations secure. IP networks permit for more intelligence for surveillance than conventional analog networks. The increasing use of cloud-based services can lead to cybersecurity threats for the data that is uploaded to the cloud platform. The rising deployment of IP and Power over Ethernet (PoE)-based network devices provides several opportunities for cyberattacks, thereby causing cybersecurity threats.
Best Video Surveillance Systems
Comparing 28 vendors in Video Surveillance Systems across 97 criteria.
All vendors(28)
Video Surveillance Systems Related Articles
VIEW ALL ARTICLES
Frequently Asked Questions (FAQs)
IP denotes Internet Protocol. An IP camera refers to a digital video system that can transmit data over a network. These systems can work with mobile devices to view your security feed from anywhere with an Internet connection. IP cameras are also known as network cameras or webcams.
Benefits of Video Surveillance systems- • Burglary Prevention - A security camera on premises can prevent burglars. For instance, no one wants to break into a business where the crime will be caught on camera and, if a burglary does occur, the criminal can be easily described, evidence can be collected, and the offender is more likely to be identified and detained. • Personal and Property Protection – Other than preventing theft and burglary, surveillance cameras help in reducing graffiti and vandalism damage. Wherever security cameras are installed, crime is reduced. • View Live or Recorded Data from Any Location - By installing a technology, it becomes convenient to watch surveillance camera feeds on TVs and computers. Moreover, the data can be easily accessed from any location. • Peace of Mind - A security system provides peace of mind and helps in keeping businesses more secure. In addition, to improve security, they also make employees feel safer.
Closed circuit television (CCTV) cameras are a conventional analog system of using cameras that use a DVR to record video. They're reliable, relatively low-priced, and easy to install. However, they don't offer you the same flexibility, high resolution, and higher security that IP cameras do.
The maintenance is very low. The camera, lens, DVR and monitors must be kept clean for better video.
An auto iris lens offers a reliable video image in areas where light levels vary. This is significant for maintaining a viewable stream in both high and low light conditions.