Smart Home Systems

Smart homes incorporate advanced automation systems that enable people to monitor and control the functions of the building. For example, owner can control lights, heating, ventilation, and air conditioning (HVAC); security alarms, and secure software enabled household devices and other household devices remotely through their devices like smartphones, tablets, or computers in smart home systems. They make use of wired and wireless communication technologies, such as Wi-Fi, Bluetooth, Universal Powerline Bus (UPB), INSTEON, Z-Wave, and ZigBee for providing intelligent feedback and information by monitoring various aspects of the smart homes. Based on the owner's preferences, Internet of Things (IoT), smart home solutions, and devices mostly operate together, allowing to share consumer usage data among themselves and automating actions.
Top 10 Smart Home Systems Companies
Siemens

United Technologies Corporation

GE

Schneider Electric

Honeywell

Ingersoll Rand Inc

Johnson Control Inc

ABB Ltd

Legrand

Samsung
Market Overview
The global smart home market is predicted to grow from USD 78.3 billion in 2020 to USD 135.3 billion by 2025, growing at a CAGR of 11.6% during the forecast period, owing to the rising sense and need of comfort, safety, and convenience they provide. Among regions, North America is expected to be the major market for smart home during the forecast period. Moreover, the region is home to various major market players. The growth of the smart home systems in North America can be attributed to the rising need for safety, increased awareness about smart home products, and better product offerings.

Smart home systems enable to automate the entire home with a high-tech system. With this, users can use the internet-connected devices for monitoring and controlling the house. It also provides a digital assistant who manages the home and controls the working of doors, alarms, lighting, or any other device that relates to the smart home system. Users can get the smart home system based on their requirements and flexibility. The system is installed in the home and the entire control of it is given on one centralized user interface or any mobile phone that is connected to the internet. The major trends in smart home systems to look for include home zoning, security system, hubs & controllers, home surveillance, temperature control, and smart kitchen.
A smart home, which is also known as a connected or an automated home, is basically a dwelling unit, where some or all functions can be controlled remotely or manually by integrating electronic devices and specialized software.
A smart home ecosystem involves offerings such as electronic devices, software, and communication media. The best smart home systems involve automation of home activities through intelligent terminals for controlling home appliances and equipment. The benefits of an automated home are the reduced energy spending, security from theft, and protection from unauthorized access to homes.
The growing number of internet users, increasing disposable incomes in developing economies, growing importance of home monitoring in remote locations, need for energy-saving and low carbon emission-oriented solutions, proliferation of smartphones and smart gadgets, development of smart home product portfolio by several companies, concerns regarding safety, security, and convenience among the common population are the major factors responsible for the growth of the global market.

smart homes become more common, you need to add cybersecurity to the list of deterrents. Common cyber security threats and attacks against smart home devices include: Man-in-the-middle, Data and identity theft, and Device hijacking. and that will take care of by top cybersecurity vendors.
COMPETITIVE LEADERSHIP MAPPING TERMINOLOGY
The Micro Quadrant matrix provides information about the best Smart home systems. It showcases the findings and analysis of how the vendors in each market is performing within the predefined Micro Quadrant criteria. We base the vendor evaluations on two broad categories: product portfolio strength and business strategy excellence.
Each category involves different criteria, based on which the vendors are evaluated. The evaluation criteria considered for the product portfolio strength include breadth and depth of product offering (on the basis of industries that the vendors cater to and their solution and service offerings), product feature and functionality, focus on product innovation, and product quality and reliability. The evaluation criteria considered under the business strategy excellence include the geographic footprint (based on geographic presence), vision alignment, breadth of application served and coverage, channel strategy and fit, and mergers and acquisitions (M&A) strategy.
VISIONARY LEADERS
Siemens AG, United Technologies Corporation, GE, Schneider Electric, Honeywell, Ingersoll Rand Inc, Johnson Controls Inc, ABB Ltd, Legrand, and Samsung have been positioned as the visionary leaders in the smart home systems space since they have a strong portfolio of solutions and services to offer to their commercial clients. These companies have highly scalable solutions and can be customized as per the client's requirements.

These companies are said to be actively investing in R&D to bring out innovations in smart home systems. Moreover, they have also adopted different organic and inorganic strategies for achieving steady and advanced growth in the smart home systems market.
DYNAMIC DIFFERENTIATORS
Philips, LG, and Panasonic Corporation have been named as the dynamic differentiators in the best smart home systems space. These companies have an impressive network of channel partners and resellers for deploying their solutions across a multitude of verticals. These dynamic vendors have been successful in consistently generating positive revenue growth in this space and their market position has heightened because of their organic and inorganic ventures.
INNOVATORS
Secom Co Ltd, Acuity Brands Inc, Leviton Manufacturing Company Inc, Crestron Electronics Inc, Control4 Corporation, and Lutron Electronics Co Inc., have been positioned as innovators among the best smart home systems, since they offer innovative solutions in this space. They also have a strong breadth and depth of product offerings. These innovators have been at the forefront when it comes to deploying their solutions for niche and custom software requirements of the clients.
EMERGING COMPANIES
Whirlpool Corporation, Nest Labs Inc, Lifx, Vivint Smart Home, Switchmate Inc, and Select Comfort Corp have been listed as the emerging companies among the best smart home systems market. These emerging companies offer highly niche and tailor-made solutions and services best suited to their clients' needs and mostly devise new ways of working to drive better business results in the market.
Evolution of Smart Home Systems

Key Smart Home Industry Trends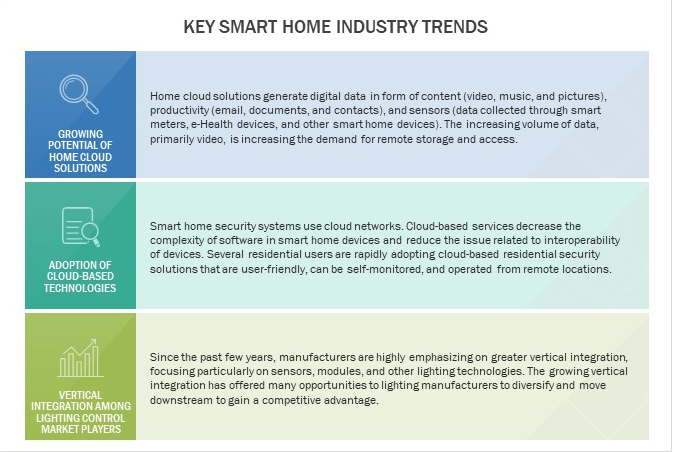 Smart Home Systems- Market Dynamics

Major Drivers
The growing number of internet users and increasing adoption of smart devices
Internet of Things (IoT) has garnered immense popularity among residential consumers mainly because of the benefits achieved by connecting household products to the Internet. It enables smooth flow of data and helps take decisions in real-time by connecting products, software algorithms, services, and end-users. It is more efficient and enhances the quality and consistency of automation systems. Various large-scale, mid-scale, and small-scale companies across the globe are actively investing in the IoT industry nowadays.
With many businesses shifting their traditional practices toward IoT, its applications areas are expected to grow even more, such as lighting, HVAC, security, healthcare, and entertainment.
The growth of the best smart home systems space is being majorly boosted by the increased consumer preference for video doorbells, voice-assisted technologies such as Google Home and Alexa, and surveillance systems. The increase adoption of consumer IoT is attributed to the rising internet penetration, smartphone usage, and expanding social network platforms. The continuous rise in the number of Internet users worldwide is expected to further strengthen the overall market for IoT owing to the growth in Internet-enabled smart devices like radio frequency identification (RFID), barcode scanners, and mobile computers.
Over the past decades, the internet penetration rate has increased to a great extent, and is high in developed regions such as North America and Europe. According to the InternetWorld Stats, as of December 2017, the penetration rate of the internet in North America and Europe was 95.0% and 85.2%, respectively; however, Asia and Africa registered the growth rates of 48.1% and 35.2%, respectively.
Growing awareness about fitness and increase in disposable incomes in developing economies
The increasing per capita income and disposable incomes of people in developing economies is leading to a significant shift in spending habits pertaining to fitness and lifestyle. According to the World Bank, the per capita income in China increased to USD 8,826.0 million in 2017 from USD 8,117.3 million in 2016. Further, the per capita income in India increased to USD 1,939.6 million in 2017 from USD 1,717.5 million in 2016.
The demand for fitness technology products such as fitness trackers and smartwatches has increased in the developing countries with the rising disposable incomes and an exponential increase awareness regarding health among consumers. The countries with increasing disposable incomes will continue to be the major factors driving the best smart home systems market.
The increasing importance of home monitoring in remote locations
The best smart home systems not only perform the basic functions such as turning off lights, dimming lights, and closing curtains but also perform some complex functions like automatically lighting up the exit routes in case a fire breaks out. The connectivity is now considered as a high-end novelty among a wide range of home devices, including security cameras, utility meters, and thermostats. It is likely to become a more pervasive trend in the near future to the extent of being an embedded as standard in every household device and equipment virtually. Along with being able to access home products from remote locations, users can also switch off the lights in their house if left on. It also enables them to keep a watch on all the activities taking place within the house through video surveillance systems.
For instance, Honeywell launched Lyric Gateway in November 2016, which was a new addition to its Lyric Security and Home Control platform that allows people to control home security and automated systems through their personal devices. They can receive notifications through smart locks in case any abnormal activity takes place in or around the house. The homeowners can also remotely set the temperature of the room as well as switch the HVAC and other electrical appliances on and off according to their requirements.
The combination of data analytics software and solutions and home automation systems helps people to determine the efficiency of electric equipment and achieve the targeted energy usage goals. This further helps the residents in identifying the areas that need improvement and energy efficiency upgrades. These improved features and convenience of monitoring homes from remote locations are the major factors expected to continue boosting the growth of the best smart home systems in the coming years.
Rising need for energy-saving and low carbon emission-oriented solutions
Energy saving is one of the major factors expected to fuel the growth of the smart home systems market during the forecast period. The lighting controllers have an edge over conventional lighting and switching systems. The lighting controllers will automatically switch off lights if any particular area is unoccupied, thus helping to save power. The following table shows average energy saved after the installation of lighting control systems, such as dimming, daylight harvesting, occupancy, and multiple systems.
One of the major benefits of dimming systems is that the intensity of light can be adjusted as per the requirements, which reduces energy consumption, electricity bills, and emission of greenhouse gases. Devices such as smart meters help in reducing power consumption by up to 5%. A 1.1% year-on-year increase in the global carbon emission is expected until 2035 due to fossil fuel domination in the global energy mix.
On the other hand, several governments are taking initiatives to curb emissions; however, reduction in carbon emission is expected to be a challenge in the non-OCED (i.e., Organization for Economic Co-operation and Development) countries due to the increasing economic activities. There is an increase in the demand for smart home products and it is likely to remain high in the future as well, owing to the rising concerns related to excess consumption of energy and high carbon emissions worldwide.
Cost reduction measures enabled by smart home systems
A smart home involves automated products, which can be operated on a timely basis from remote locations. Smart home products such as smart meters and smart thermostats measure the electric energy consumed by electrically powered devices in home. The electricity consumption is calibrated in billing units (kilowatt/hour), wherein periodic readings of the electric meters generate billing cycles based on the energy used during a cycle.
Using a real-time approach for energy metering, residents can clearly understand the past, immediate, and projected energy usage. This enables them to optimize their energy usage, thereby reducing the associated costs. Lighting controls enable residents to use artificial lights depending on their requirements. Though artificial lighting systems consume less amount of electricity, using lighting control products help in further saving certain units of electricity.
Automated HVAC products also help reduce electricity consumption to a considerable extent. Several service providers and homeowners testify that home automation systems deliver substantial gains, thereby reducing energy wastage and associated costs.
The rapid proliferation of smartphones and smart gadgets
The advent of high-speed Internet broadband, Wi-Fi, and Bluetooth has broadened the use of smartphones worldwide. Approximately, 2.1 billion people were using smartphones in 2016. By 2020, the percentage of global households with Internet access is expected to reach 69%, while global smartphone penetration is expected to reach 75%. Several companies have seen the potential of the successful adoption of best smart home systems technologies. Hence, they have developed smart devices enabling home automation. The increased penetration of smartphones has facilitated the use of smart home devices with the push of a button. Nest Labs, acquired by Google, Inc. in 2014, is a company that develops smart devices for automation and offers smartphone-enabled home automation. Further, with the growth in the number of smartphone users worldwide, the smart home systems market is expected to witness a major boost during the forecast period.
Many manufacturers expanding their smart home product portfolios
The value chain of the smart home systems industry includes a large number of components, devices, and system manufacturers worldwide. The industry also has a considerable number of software algorithms and service providers. Samsung SmartThings, Amazon Echo, Google Home, and Apple HomeKit are a few of the product innovations that have been recently introduced by tech giants for the smart home market.
In April 2016, Johnson Controls launched a new residential touchscreen thermostat through the YORK brand, which keeps homeowners seamlessly connected to their home comfort systems, irrespective of being at home and away from home, through their smartphones, tablets, or computers. Homeowners have started adopting home automation solutions on a large scale owing to the advantages offered by these solutions, which mainly include convenience, energy efficiency, and cost reduction.
With the high penetration rate of lighting controls (such as dimmers, timers, and occupancy sensors), HVAC controls (such as smart thermostats, sensors, and control valves), and security and access products (such as security cameras and smart locks) in North America and Europe, the manufacturers of smart home products are expanding their product portfolios to cater to different application areas within a household, with electricity energy conservation, water conservation, security, entertainment, healthcare, and household appliances being the major application areas.
Rising concern about safety, security, and, convenience among people
The best smart home systems involves automating the entire home environment by means of a combined in-built monitoring system. It is also capable of controlling electronic, electrical, and security appliances from a single interface. Convenience, efficiency, safety, and security are the major factors that impact the acceptance of any technology.
An automated (smart) home coordinates with security, temperatures, lighting, and audio/video systems automatically to ensure safety, energy savings, and convenience. Smart home products provide convenience as well as save time and effort required to perform household tasks. These systems are also more convenient than the existing manual systems. Connectivity has emerged as a high-end novelty across a wide range of home devices, including security cameras, utility meters, and thermostats. In the coming years, connectivity is poised to emerge as a more pervasive trend to the extent of being an embedded standard in every household device and equipment virtually. Security is a crucial aspect of best smart home systems.
Advanced smart security systems can notify users, who are away from their home, in case of intrusion; moreover, they provide room-by-room surveillance. The access control systems play an important role in providing security to residential areas. These systems have evolved since their inception to provide efficient and user-friendly utilization. On the back of their capability to ensure high efficiency and sophistication, home automation and control systems are being deployed in smart homes to increase the level of security.
Opportunities in best Smart Home Systems market
Favorable government regulations to promote green buildings
A green building includes a structure using processes that are environmentally friendly, and resource-efficient throughout a building's lifecycle, from siting to design, construction, operation, maintenance, renovation, and demolition. Major steps involved in designing sustainable buildings include specifying green building materials from local sources, reducing loads, optimizing systems, and generating on-site renewable energy.
The design of any green building involves finding a balance between homebuilding and a sustainable environment. As it reduces the consumption of energy and proliferation of environmental wastes, governments around the globe have been supporting the concept of green buildings through various initiatives; for instance, under the direction of Energy Efficiency and Renewable Energy (EERE), the US government took an initiative to increase the use of renewable energy and energy-efficient technologies.
Moreover, Europe has been at the forefront of green building technology, fully backed by various government subsidiaries. The US Green Building Council (USGBC) and Indian Green Building Council (IGBC) are some of the government bodies that are focused on green buildings to reduce greenhouse gas emissions, increase energy efficiency, conserve water, reduce waste, and increase the use of environmentally responsible products and technologies. Implementing smart home systems technologies is likely to help in achieving the objective of green buildings as they are energy-efficient and in saving electricity, water, and natural gas, thereby reducing the strain on natural resources. Energy efficiency, to achieve reduced carbon emissions and energy consumption, has become one of the
major priorities for many countries. The governments in the US, Canada, and Mexico have always been promoting a green environment, which has resulted in a large number of best smart home systems in North America. Over the past few years, the governments of European countries have also been taking initiatives to adopt energy-efficient measures across the region.
The regulations stated by the governments in this region favor home automation systems. The governments in China, India, Japan, and South Korea are also supporting digitalization and eco-friendly measures to a considerable extent. The awareness regarding the adverse effects of global warming further drives the usage of automated home energy management systems. Hence, such government initiatives are expected to boost the penetration rate of smart home technologies during the forecast period.
Expected integration of lighting controllers with built-in data-connectivity technology
The lighting control market has seen considerable growth over the past few years. This market includes a considerable number of products such as dimmers, timers, occupancy sensors, daylight sensors, and relays. These products are used either independently or in an integrated form. They can be integrated with home automation systems through wired and wireless technologies. To allow their automated operations, lighting controllers must be externally integrated with communication protocols.
However, lighting control manufacturers are now manufacturing products with inbuilt data connectivity. These controllers can be operated directly, without external communication protocols and connectivity. This is expected to create a considerable demand for such products, thereby creating opportunities for the smart home systems industry players.
Incorporation of power line communication technology in home automation
A power line communication is the transfer of data through electrical power lines. This technology eliminates the need for different networks for power and data; the same lines that carry 110V/240V, 50Hz/60Hz signals are also used to carry data signals. This results in reduced retrofitting costs and installation time, and greater flexibility. The rapid proliferation of gadgets and smartphones, coupled with technological advancements in power line technology, is fueling the adoption of smart home products that are capable of operating at the push-of-a-button.
Advanced best smart home systems devices are available with enhanced and never-before features that make them suitable for a wide range of applications, including temperature control and lighting control. In addition, the advent of high-speed Internet broadband, Wi-Fi, and Bluetooth has widened the application areas for smart home devices. One of the biggest advantages of power line communication over other wired communication and wireless solutions is the preinstalled power line infrastructure.
A smart home systems entails the reliability of the preinstalled infrastructure of power line communication that essentially renders it as a situation-aware network of interconnected sensors and actuators. Hence, it effectively brings down installation costs. A power line communication system acts as a centralized system, with a central data collection and control station, which connects every household with meters and the common transformer station as access points and forms a network that can easily incorporate 300 access points at low voltage levels. Therefore, power line communications have the edge over other communication systems, in terms of infrastructure, accessibility, flexibility, and monitoring. The powerline communication technology is growing rapidly and is viewed as the future of communication technologies for smart home systems.
Smart Home Systems- Value Chain Analysis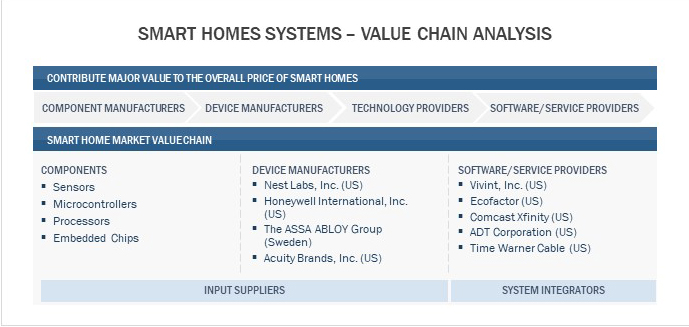 Smart Home Systems- Market Segmentation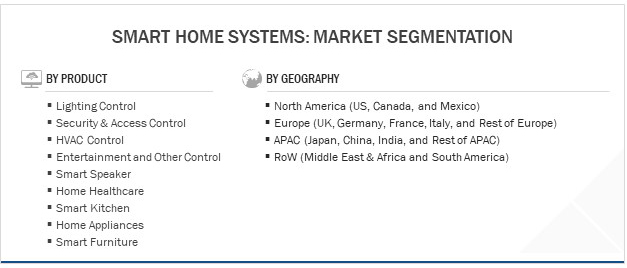 Smart Home Systems - By networking technologies
Cellular Network Technologies
Several networking technologies have been introduced to enhance the connectivity of Smart home systems devices. This section briefly describes the trending network technologies such as GSM/HSPA, CDMA, and LTE networks.
CDMA Networks
Code division multiple access (CDMA) network technology is used in Smart home systems for 3 purposes—home safety, home entertainment, and data connectivity. The CDMA technology allows users to remotely control the Smart home systems and appliances, including security systems, HVAC systems, lighting controls, and entertainment systems.
GSM/HSPA Networks
Global system for mobile communication (GSM)/high-speed packet access (HSPA) network technologies are widely used worldwide as these technologies allow homeowners to remotely manage their Smart home systems appliances. These technologies also allow homeowners to turn devices on or off through the transmission of a simple text message from their mobile phone.
LTE Networks
Long-term evolution (LTE) is a standard for wireless network technology that offers high-speed data for mobile phones and data terminals. The LTE network technology offers real-time access to Smart home systems; this differentiates it from GSM/HSPA and CDMA network technologies. Though LTE is not widely used, it is expected to have a high penetration due to its better spectral efficiency, network simplicity, and cost per unit.
Best Smart home systems - By protocols and standards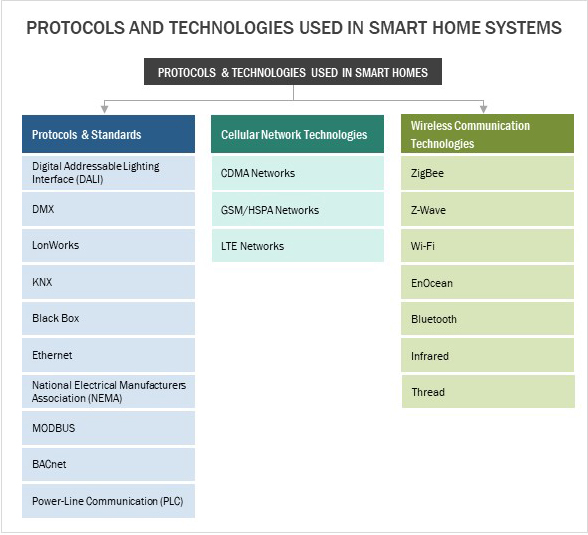 Communication protocols define rules to enable communication between the devices on a network. They define the structure of data packets that are transmitted on a network as well as other necessary information such as how individual devices are uniquely addressed, what signals the beginning and end of a data message, and how a receiving device checks for transmission error in each message.
Protocols may be either proprietary or open. Proprietary protocols are developed by vendors for use in their own systems, and for which, the application information is not made publicly available to other vendors. Open protocols are those for which all application information is in the public domain, permitting any vendor to develop devices and software using these protocols. Most open protocols that are used today have originated from specific vendors.
However, they have been made accessible by those vendors to increase the number of devices that are compatible with their Smart home systems, thereby making them more marketable. Protocols and standards integrate all the equipment in the Smart home systems by organizing the information and increasing users' convenience. Wireless technologies such as ZigBee are gaining momentum in the market as they do not require renovation or reconstruction of homes and minimize the use of wires.
Several major players in the protocol market of smart home systems include ZigBee Alliance (US), EnOcean (Germany), KNX Association (Belgium), Synapse (US), and EIB (South Africa). Companies such as Daintree Networks, Inc. (US), and Philips N.V (Netherlands) have established partnerships to promote the ZigBee standard and drive interoperability between products. DALI is the most prominently used technology among wired communication technologies.
Digital Addressable Lighting Interface (DALI)
Digital addressable lighting interface (DALI) protocol is a royalty-free, non-proprietary, two-way, open, and interoperable digital protocol and a standard in the US and Europe (European Standard 60929, NEMA 243-2004). DALI, an international standard, is specifically created for digital lighting control. It is a full-duplex system that brings digital technology into the lighting sector. This provides safety of supply from multiple sources to the planners, luminaire manufacturers, homeowners, installers, and end-users. It provides centralized control of daylighting and occupancy sensing systems, enables application flexibility, and ensures significant energy savings.
National Electrical Manufacturers Association (NEMA)
National Electrical Manufacturers Association (NEMA) is an open protocol for the digital lighting controls that standardizes all the necessary control devices needed to build a complete lighting system around the electronic ballasts. The association was founded in 1926 and has its headquarters in Rosslyn, Virginia. There are ~400 companies worldwide that follow NEMA standards and protocols, including ABB Ltd. (Switzerland), Cree Inc. (US), and Honeywell ASC (US). NEMA provides a single set of control commands and capabilities for all these devices, regardless of the manufacturers.
This standardization helps in the integration of different components such as relay systems, sensors, dimming switches, and others in lighting control devices. NEMA is fully addressable and configurable, and thus, the costs to retrofit are minimal. This makes NEMA a high-value addition to the smart home systems ecosystem.
KNX
KNX is an open standard for applications in smart home systems, ranging from lighting and shutter control to various security systems, heating, ventilation, air conditioning, monitoring, alarming, water control, energy management, smart metering, smart appliances, and audio-video systems. Over 125 member companies worldwide, from different application domains, have almost 7000 KNX-certified product groups in their catalogs. The KNX Association has partnership agreements with more than 30,000 installer companies in 80 countries. KNX supports five communication media—twisted-pair wiring, power line network, radio frequency, infrared, and Ethernet.
These can be used independently or in combination with one another and provide the opportunity to the manufacturers to choose the right combination for the market segment to be targeted. KNX is one of the most versatile protocols used in building automation to control entertainment, lighting, HVAC, access, security, windows, blinds, and a host of other devices. Intecho Ltd. (UK), Schneider Electric (France), and Auto Control Systems (Australia) are the major companies that use KNX protocol in their Smart home systems.
DMX
Digital Multiplexer (DMX) is used to distribute data to and fro over the communication line. The multiplexers are attached over the communication channel to transfer the data from one point to another. In the Smart home systems, they can control the lights by enabling communication and data transmission for lights. This standard is commonly used in the communication networks that are used to control lights and effects. It is one of the methods used to link the lighting consoles to dimmers, intelligent lights, architectural lights, color-changing LEDs, and other special machines.
DMX512-A is the present standard and is upheld by the Entertainment Services and Technology Association (ESTA). The DMX 512 signal is a set of 512 distinct intensity levels (control channels) per data link. Lutron Electronics Co., Inc. (US), Pangolin Laser Systems Inc. (US), Acclaim Lighting (US), and Pathway Connectivity (Canada) are the major organizations that use DMX protocol in their products and solutions.
LonWorks
LonWorks is a standard technology for several global standards organizations, including the American Society of Heating, Refrigeration, and Air-Conditioning Engineers (ASHRAE); Institute of Electrical and Electronics Engineers (IEEE); American National Standards Institute (ANSI); and Semiconductor Equipment and Materials International (SEMI). LonWorks is becoming a major network standard in home control.
A number of Smart home systems suppliers, including Siemens Building Systems (Switzerland) and Honeywell International, Inc. (US), are working toward standardizing LON. LonWorks was developed to overcome the limitations of traditional control networks, wherein the nodes had to be specifically designed to work together. It provides a way for devices to exchange information and cooperate with one another.
The standards of LonWorks enable the nodes to work together without any prior arrangement, whether they belong to the same companies and developers. The LonWorks protocol provides services at each layer of the OSI model. LonWorks can use twisted pair, Ethernet, and even a power line as its communication channel. During the installation of LonWorks, star or line cabling topologies can be chosen.
Ethernet
Ethernet is a ubiquitous solution that has established itself as the principal industrial network through the combination of high data rate and shelf infrastructure. Ethernet-based systems can be used in home entertainment systems or whole-house automation solutions. These solutions employ IEEE standard Ethernet Cat 5e cabling to accomplish hard-wired communication between a central controller and external components, such as slave controllers, touch panels, multi-channel amplifiers, and relays.
Power Ethernet Limited (London), Yoga Systems (Tallinn, Estonia), and Lantronix, Inc. (US) are a few of the leading Ethernet-based smart home systems and solutions providers worldwide.
Modbus
Modbus is an intermediary between devices connected to the same network, precisely, in the systems that measure temperature as well as humidity and communicate the results to a computer. It is generally used to link a supervisory computer with a remote terminal unit (RTU) in SCADA systems. Adapting itself to this new communication method, Modbus TCP allows Modbus-enabled devices to communicate with many Ethernet backbone devices. It has become the standard communication protocol in the industry, and is, now, the most commonly available means of connecting industrial electronic devices. It is used for serial communication applications in Smart home systems.
Wattmon (India), RaspLogic (Europe), Greenlogic Ltd (UK), and CoolAutomation Ltd. (UK) are among the major companies that offer smart home products enabled with Modbus.
Building automation and control network (BACnet)
Building automation and control network (BACnet) is a data communication protocol supported and maintained by ASHRAE (US). BACnet was introduced with the objective of developing a standard network model on which vendors can map their devices. It is an open protocol and has become a national standard in more than 30 countries in the Americas and Europe. It is also an ISO Global Standard (ISO-16484-5). BACnet has applications in HVAC control, fire detection and alarm, lighting control, security, smart elevators, and utility company interface.
The BACnet products that are currently available include workstations, controllers, gateways, routers, and diagnostic tools. Companies such as Johnson Controls, Inc. (US), Crestron Electronics, Inc. (US), and Automated Logic Corporation (US) utilize BACnet in their smart home systems products and solutions.
Black Box
Black box is a home automation and media center system that allows the integration of home devices into a common console. Black box allows control of security systems, HVAC systems, light control, access control, and entertainment systems. It comprehends dynamic content that permits home automation control, security and access control, media browsing, and video and music on-demand. Armorax, LLC (Chicago) and Home Automation (FE) PTE Ltd. (Singapore) are among the companies that offer black box systems for Smart home systems.
PLC
Power line communication (PLC) is a wired technology that uses electric power for data transmission. In PLC, the signal transmitted via a coupler is incorporated into the transmitting device and then into the power cable. The receiving device or the PLC modem then converts and receives the data signal, thereby establishing the communication. PLC uses a conductor to carry the data, which is simultaneously used for AC electric power transmission for smart home systems applications.
The PLC adapter extracts the data signal on the division of the overlapping signals. PLC technology transforms wall power outlets into information outlets, thereby enabling the convenient building of a universal in-home networking system. Broadband services can be made available to maximum users through the implementation of PLC technology as a medium for transporting digital audio, video, and data communication signals. This technology is expected to provide robust, fast, efficient, and cost-effective services for applications such as smart grids, broadband Internet, and TVs, and in case of smart appliances for homes and offices.
Best Smart home systems - By wireless technologies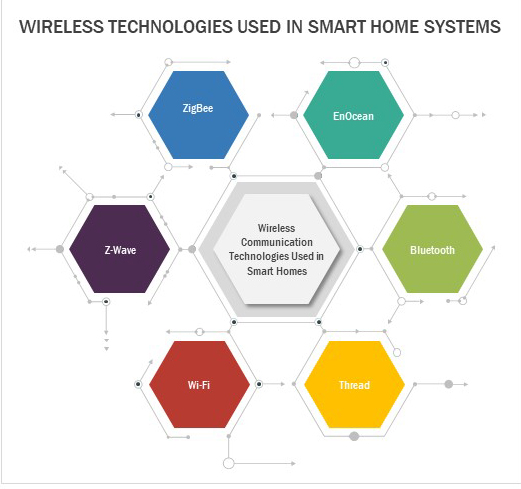 The objects in the smart home systems are connected through different forms of networks. This section focuses on wireless communication technologies such as ZigBee, Bluetooth, EnOcean, Z-Wave, and Wi-Fi, which were developed to meet the new challenges pertaining to building automation wherein information and communication systems would be seamlessly embedded in the surroundings. These technologies would have several applications in the modern era.
ZigBee
ZigBee is one of the most popular wireless networking standards used for monitoring and controlling devices and is based on the IEEE 802.15.4 standard. It specifies physical layers and media access control for low-rate WPANs. ZigBee is preferred for applications involving low data rate, long battery life, and secure networking.
The basic use of ZigBee in a smart home systems is to carry small amounts of data over a mid-range distance. Leading semiconductor companies such as Texas Instruments Inc. (US) have developed products such as CC2538. This product is the industry's first 3-in-1 network processor that offers ZigBee standards for one end user. ZigBee is used by more than 300 companies such as Honeywell Inc. (US), Phillips N.V. (Netherland), and Silicon Lab (US), which employ this technology in their automation products such as security cameras and automatic lighting systems.
Z-Wave
Z-Wave is one of the leading wireless communication technologies that provide large ecosystems for wireless residential control products and services. It uses low-power RF that is embedded into home electronics devices and systems, such as residential access control, lighting, household appliances, and entertainment systems. Z-Wave is a wireless networking standard specially designed for automation to remotely control devices and applications. Huge investments have been made in Z-Wave networking by more than 125 companies.
The advanced wireless technology of Z-Wave is gaining popularity owing to its reliability and high speed. In terms of technological features such as reception and security, Z-Wave leads the other compatible networks such as X-10.
Wi-Fi
Wi-Fi enables devices to connect directly to each other or to broader networks for delivering information. Hence, it is a key technology driving the concept of IoT in building automation. It operates in the frequency band of 2.4 GHz and comprises 5 channels (there are slight modifications in its operating frequencies and standards in various countries). Wi-Fi can be accessed through various devices such as video-game consoles, smartphones, digital cameras (only a few types), personal computers, tablet computers, and digital audio players. These devices can connect to the Internet through a wireless access point.
Bluetooth
Bluetooth is the third-generation networking technology that was introduced with the intent to eliminate the use of cables, which limit the mobility of users. It aims to enhance comfort and energy efficiency in daily activities by focusing on infrastructure-based applications such as automation, control, security, and energy management. The Bluetooth network protocol forms a balance between ranges, power consumption, reliability, bandwidth, and cost. It ensures interoperability and increases consumer confidence in smart data transfer, leading to more nodes per network and creating value for both end-users and service aggregators. The Bluetooth Special Interest Group (US) has taken measures to update the Bluetooth specifications to make it more appropriate for use in the smart home systems segment.
ENOCEAN
Prominent companies all over the world that are operating in the field of building infrastructure have united to form the EnOcean Alliance, intended at executing innovative RF solutions for sustainable building projects. EnOcean technology is an energy harvesting wireless technology primarily used in smart home systems. EnOcean modules combine micro-energy converters with ultralow-power electronics and facilitate wireless communication between wireless sensors, switches, controllers, and gateways. This wireless technology eliminates the need of installing wires between switches and controlled devices such as lights and sensors.
The EnOcean technology is a simple, fast, and value-added alternative to cabling, breaking, and other time-consuming and expensive renovation activities. It allows for fast development and marketing of new wireless solutions in the building services and other sectors. The open and interoperable standard of EnOcean helps drive the growth of wireless technologies as it allows users to rely on the principles of energy harvesting to power energy management devices, rather than running them on batteries.
Thread
Thread is an IPv6-based protocol developed by various leading companies for allowing smart home products to connect with each other, with the Internet, and with the cloud. Its installation is simple, and it is a highly secure and scalable network protocol for smart homes. Thread utilizes IEEE 802.15.4 wireless protocol with mesh communication. Thread protocol is used in various smart home applications such as lighting control, security, appliance control, and access control.
INFRARED
Smart home systems include various systems such as lighting controls, HVAC systems, security controls, entertainment systems, and access control systems. All these systems can be controlled wirelessly with the help of remote control, which sends a command signal to the desired device that has a built-in infrared receiver. This enables the easy integration of smart home devices, thereby enabling the homeowners to easily control and manage them.
What are the various Lighting Control Systems used in the Smart Home Systems?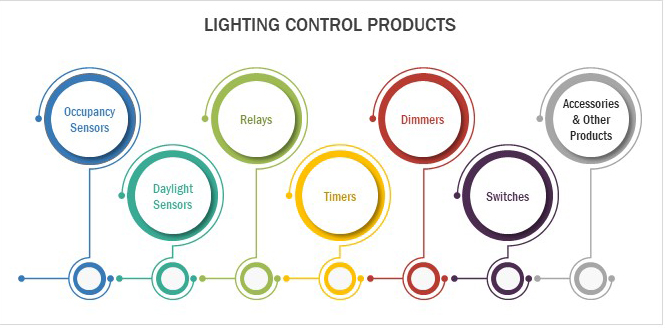 A lighting control system is an intelligent network-based control solution for lighting that involves communication between various system inputs and outputs related to lighting control, using one or more central computing devices. In a smart home systems, lighting controllers enable a lighting system to check the occupancy and natural light in an area. The system can determine these aspects and adjust its luminosity according to the amount of natural light present, or switches off automatically if the area is unoccupied.
Lighting controls are essential components of energy-efficient lighting systems, which combine sources of electric light with daylight to create a pleasant ambiance while saving energy and costs. Thus, it helps meet the demand for energy-saving and environmental sustainability.
Lighting controllers can be as simple as an on/off switch or can be a sophisticated, logic-based, microprocessor-controlled system. Lighting control decisions are based on a large number of factors such as the time of day, occupancy, light level, temperature, and individual requirements. Lighting control provides flexibility with respect to the lighting operation, which improves ambiance, interior decoration, and productivity.
Most of the lighting systems use LED systems that are controlled by a combination of conventional line-voltage load controls using typical wall stations and daylight sensors to reduce the use of electric lighting when it is not needed, thereby cutting down electricity bills and the overall household expenditure. Lighting systems are capable of reacting to the actual conditions in a space, such as the occupancy of the space or amount of natural light in a room, thereby providing only the required amount of artificial light.
Relays control lighting power supply by mechanically opening or closing it according to the signals sent from low-voltage rocker switches, time clocks, or computer-based energy management systems. Passive lighting control of relay systems is mainly used in large facilities with big rooms that do not require dimming. The passive lighting control system consists of an occupancy sensor, an electronic controller, and a controllable relay. A relay works as an on/off switch in this system. The occupancy sensors detect the physical presence of individuals to determine if there are occupants in the space. Based on this, a signal is sent to the controller; the controller then uses this signal to activate the relay to switch the lights on or off.
General Electric Company (US), Honeywell International Inc. (US), Schneider Electric SE (France), Lutron Electronics Co., Inc. (US), and Leviton Manufacturing Co., Inc. (US) are a few of the major relay providers for lighting control applications.
Occupancy Sensors
Occupancy sensors in Smart Home Systems use infrared (IR) or acoustic technology, or a combination of the two. These sensors are used to minimize energy consumption and improve usability and control. After detecting the presence of people in facilities, these sensors can switch lights on and off accordingly. These are widely used in places that are often unoccupied such as restrooms, storage rooms in homes corridors, stairwells, and parking areas.
A control system installed with occupancy sensors can detect the presence or absence of people in a particular space and accordingly send a signal to the relay to open or close the circuit. Though a lamp's shelf life may be somewhat shortened by the increased rate of switching due to occupancy sensors, the overall shelf life of lamps is usually extended by the reduced daily burn hours. Originally designed for use with security systems, occupancy sensors have been refined and enhanced to control lighting and HVAC in residential spaces as well.
Acuity Brands Lighting, Inc. (US), Lutron Electronics Co., Inc. (US), Schneider Electric SE (France), Siemens AG (Germany), and Honeywell International, Inc. (US) are a few of the major players providing occupancy sensors for smart home systems applications.
Daylight Sensors
A daylight sensor is a photosensor that measures natural light levels and can be used to dim or brighten the amount of artificial light supplied. It helps lower energy usage and costs in an abundance of natural light; it also reduces the amount of heat emitted by electric lights. The sensors thus save electricity within households. As the intensity of natural light decreases, the daylight sensors sense it, resulting in the automatic increase in the brightness and intensity of the artificial lighting systems, thereby optimizing the electricity usage during the day.
On the other hand, with the availability of ample daylight at noon, the intensity of artificial lighting is considerably reduced. Daylight sensors are used for daylight harvesting in building automation, so that electricity consumption is reduced on the basis of the intensity of daylight. Daylight sensors offer comfort and convenience by properly maintaining the light levels to ensure that space is never too dark or too bright.
Acuity Brands Lighting, Inc. (US), Lutron Electronics Co., Inc. (US), Schneider Electric SE (France), Siemens AG (Germany), Honeywell International, Inc. (US), etc., are several major players providing occupancy sensors for smart home systems applications.
Timers
The timer is a relay with an output that turns the circuit on or off after a pre-set time elapse when the electrical input is given. The timer can be operated in 4 ways—on-delay, off-delay, flicker, and start-delta. The use of a timer in lighting control reduces the unnecessary use of electricity in areas such as underground parking and staircases. Once the lights are switched on, they remain in the same state for a defined time period and are switched off automatically after the pre-specified time.
Timers are mainly used for timed on/off control of energy-consuming loads such as indoor and outdoor lighting, heat lamps, hot tubs, pool filters, and attic fans.
Acuity Brands Lighting, Inc. (US), Lutron Electronics Co., Inc. (US), and Intermatic Inc. (US) are a few of the major players offering timers for controlling the lighting used in the residential sector for smart home systems.
Dimmers
Dimmers are devices used to adjust the brightness of incandescent lamps, halogens, CFLs, and LEDs. The brightness is adjusted by changing the voltage waveform applied to the lamp. A dimmer can be used for various purposes, and it provides flexible lighting. It saves energy and also helps extend the life of the light source. An actuator is an important element of lighting systems that acts as per the information received from different sensor nodes distributed in an area. It is a motor for moving or controlling a system and uses a source of energy, usually an electric current, to function. In smart home systems lighting applications, these actuators serve purposes such as energy management and smart lighting control.
Dimming systems are usually employed to align the lighting levels with an individual's need to save energy. These systems are combined with light sensors that provide an automatic correction for lamp lumen based on the natural light present in an area. The light output from the dimming ballast is adjusted to maintain the desired level of illumination. Along with reducing energy consumption, the dimming systems help increase the lifespan of lamps.
Legrand (France), Lutron Electronics Co., Inc. (US), Leviton Manufacturing Co., Inc. (US), MDT Technologies GmbH (Germany), and so on, are several major companies providing dimmers for smart home systems.
Switches
A switch is a mechanical element used to turn a circuit on and off manually. Manual switches are used in rooms where different light levels are needed at different times. Switches can be either wall-mounted or can be used with wireless remote controls for greater convenience. Remote-controlled switches send signals to the controllers, which then activate various devices, such as lights and blinds. Remote-controlled switches are cabled in series to reduce cabling costs. These switches can be customized according to the users' requirements.
General Electric Company (US), Lutron Electronics Co., Inc. (US), Smartlabs, Inc. (US), and Leviton Manufacturing Co., Inc. (US) are a few of the major providers of switches for lighting control in smart home Systems.
How is the Security and Access Control managed in Smart home systems?
The market for home security solutions has been growing at a rapid pace for the past few years. The key factors contributing to the growth of this market include the rise in crime rates, ongoing technological advancements, increasing need for the detection of hazardous conditions such as fire and gas leaks, and ensuring the safety of children at home. The security and access control products in the best Smart Home Systems are broadly classified into video surveillance systems and access control systems.
The leading players in the market for this segment are Honeywell International Inc. (US), Siemens AG (Germany), ASSA ABLOY GROUP (Sweden), Bosch Security Systems (US), and United Technologies Corporation (US), among others.
In smart home systems, access control are used to enhance the security of homes. They allow access to an individual into a home only after the authentication process based on biometric technology or nonbiometric technologies, such as numeric codes. A few of the key players in the access control market are Aiphone Co., Ltd. (Japan), and BIO-Key International Inc. (US).
Security Cameras
Cameras are utilized to capture the video footage of the places under surveillance. Various types of cameras cater to a variety of application needs, from robust outdoor cameras for harsh climates to discreet products for sensitive environments. The HD, wide-dynamic-range, infrared, and light finder cameras, among others, ensure clear video even in difficult lighting conditions. Now, improvised cameras with advanced technologies and advanced video analytics features such as motion detection, audio detection, and tempering alarm are launched in the market.
The development of megapixel cameras is likely to increase the demand for network cameras in IP video surveillance systems. These cameras cover the area that is six times more than video graphics array (VGA) cameras. The installation cost of this camera is less with expandable bandwidth and storage space features. This camera is used in the defense and commercial sectors.
Axis Communications (Sweden), Bosch Security Systems (US), Aventure Technologies (US), Sesys (UK), and Canon (Japan) are the major players in the video surveillance system market for cameras for smart home systems applications.
Axis Communications invented network cameras, which facilitated the start of an era with full digital systems that can receive digital images and videos over a network and further record them on a hard-disk drive that can be retrieved in the future.
Storage devices
There has been significant growth in the use of video surveillance systems due to increasing threats and security concerns. This growth has led to a significant rise in the demand for the storage equipment to store the data generated by these systems. The magnetic tapes and disks were the conventionally used data storage devices; however, the deployment of IP-based surveillance storage systems and technologies increased with the introduction of IP cameras.
These systems and technologies include direct-attached storage (DAS) devices, network-attached storage (NAS) equipment, IP storage area network (SAN), network video recorders (NVRs), digital video recorders (DVRs), and unified or hybrid storage systems. These storage systems provide storage solutions over the network and are capable of connecting directly to the cameras or to the cloud. These storage systems use hard disk drive (HDD) and solid-state drive (SSD) as media to store the data. The systems are also capable of storing the data on the cloud and on the storage servers for smart home systems applications.
Some major players offering storage devices in this market are Seagate Technology (US), Axis Communications AB (Sweden), Cisco Systems (US), EMC (US), and Aventura Technologies (US).
Monitors
Monitors are one of the important components used in the video surveillance system for smart home systems applications. Monitors are always present in the video surveillance system, Irrespective of the type of camera (analogy or IP). The currently available monitors ensure the ability to withstand 24×7 usage and produce highly detailed images that are necessary for making security decisions. With the advancement in display technology, monitors have also undergone technological improvisation. Earlier in the conventional CCTV setup, operators could view footage from a central location on a monitor, very much like a TV but with higher lines of resolution for better picture quality.
Over the period, monitors have changed from Cathode Ray Tube (CRT) to Liquid Crystal Display (LCD) and today, from LCD to Light-Emitting Diode (LED) displays. The video surveillance system market for displays or monitors is rapidly transitioning from the customary CRT display devices to HD displays. The CRT monitors have considerable disadvantages over the HD monitors; they are not eco-friendly as they contain traces of lead and phosphorus; they are heavier and not convenient to install.
On the other hand, HD large-screen displays have witnessed significant traction, and these large screen devices are categorized into 3 types—plasma display panel (PDP), liquid crystal display (LCD), and digital light processing (DLP). HD screens are finding applications, mainly, in traffic management, railways, and power system management.
Bosch Security Systems (US), Eizo Corporation (Japan), Sony Corporation (Japan), and Panasonic Corporation (Japan) are the major players providing monitors for video surveillance systems for smart home systems applications.
Servers
Servers store, record, and play multiple streams of videos without any distortion in the video signal. The servers enable users and service providers to record and view earlier recordings simultaneously. The digital video recorder (DVR) servers typically have the provision for accepting input from multiple cameras. The network video recorder (NVR) servers are the successors of DVR servers, and their adoption is increasing with the shift in preference from analog cameras to IP cameras for video surveillance. The NVR servers can also accept multi-camera input and the encoders to convert analog camera inputs into network cameras. VSaaS servers offer H.264 compression technology to reduce the bandwidth and storage space required by video compression.
Axis Communications (Sweden), Cisco (US), DVTel (US), and Dedicated Micros (UK) are a few major players offering servers for video surveillance system for smart home systems.
Access Control
Access control systems are used to limit the entry to designated areas, thereby enhancing the security of those areas. These systems allow access to individuals only after accomplishing authentication through magnetic strips, proximity, smart cards, biometric readers, or a combination of these. Additionally, access controls simultaneously activate automation systems. For example, they can illuminate a pathway in a house, change the temperature settings of a thermostat, turn on the stereo and TV, send messages to family members, and so on. Access control products for smart home comprise door contacts, motion sensors, and touchscreens and keypads. The leading players in the smart home systems market for access control include Bosch Security Systems (Germany), Honeywell Security (US), Johnson Controls Inc. (US), and Siemens AG (Germany).
Biometric
The introduction of biometric technologies has enhanced the level of security in the smart home systems market. Biometrics technologies use person-specific traits such as fingerprints, face, and iris to identify and authenticate individuals. Biometric technologies are used widely in travel, immigration and transportation, government, banking and finance, consumer electronics, and healthcare applications.
Over the past few years, these systems have been the preferred option for residential applications. Biometric systems provide a high degree of security and convenience, which ensures the confidentiality of personal information. Biometric systems are superior to traditional passwords or personal identification numbers (PINs) that can be easily guessed, forgotten, or compromised and tokens that can be stolen or misplaced. These systems also prevent theft, as the information is stored in a digital form on the database, which makes it impossible to reconstruct, decrypt, or even manipulate information.
Matrix Systems Holdings, LLC (US), NEC Corporation (Japan), Honeywell International Inc. (US), Bosch Security Systems (Germany), Johnson Controls Inc. (US), and Siemens AG (Germany), among others, are several major companies offering biometric access control systems for smart home systems security.
Facial recognition
Biometric access control using face recognition technology measures and matches exclusive facial characteristics for authentication. Facial recognition software can detect faces in images with the help of a camera, compute their features, and then match them against stored patterns in a database of software. The facial biometric access control does not require physical contact with a camera.
Iris recognition
Iris recognition biometric access control measures the distinctive patterns in the colored circle around the pupil of the eye to identify and authenticate an individual. Iris recognition is an automatic technique of biometric access control, which utilizes mathematical pattern-recognition practices on video images of one or both irises of an individual, whose complex random patterns are a unique and stable trait of the individual.
Fingerprint recognition
Fingerprint scanning is the procedure of electronically procuring and digitally storing human fingerprints. Fingerprint access control identifies the pattern of the raised areas (ridges) and branches (bifurcations) in a human finger image. The most common fingerprint identification methods are optical, thermal, and tactile. Fingerprint analysis is done using visible light analysis, heat-emission analysis, and pressure analysis.
How is HVAC controlled in the Smart Home Systems?
Heating, ventilation, and air conditioning (HVAC) control systems control and regulate heating and cooling as well as air conditioning within the households and buildings, etc. An HVAC system is used as one of the best Smart home systems to control air temperature, humidity, and fresh air intake, and to conserve the air quality inside homes. HVAC control systems are the computerized control systems that regulate the operation of the HVAC equipment.
In a smart home, the owner can monitor the system performance and respond to system-generated alarms, both locally and remotely. The HVAC systems in the smart home systems can be optimized to a greater extent by utilizing various components such as smart thermostats, sensors, control valves, heating and cooling coils, dampers, actuators, pumps, and fans, and smart vents. These smart devices save energy, efficiently reduce costs, and control the action of HVAC with the help of technologies such as wireless communication, Internet connectivity, handheld devices, and cloud computing.
Several key players in the market for HVAC control products include Delta Controls, Inc. (Canada), Honeywell International Inc. (US), Johnson Controls Inc. (US), Schneider Electric SE (France), Siemens AG (Germany), and United Technologies Corporation (US).
Smart Thermostats
In HVAC system for smart home systems, thermostats sense the temperature inside a home to maintain the required temperature at a set-point. It periodically switches the HVAC systems on and off to maintain the required temperature. Thermostats are mainly of two types—programmable and non-programmable. Programmable thermostats can be programmed to automatically turn HVAC systems on or off according to the residents' requirements.
Programmable thermostats save energy by automatically adjusting the temperature on the basis of user inputs. These devices play an important role in achieving energy-efficiency in smart homes. A smart thermostat is the advanced version of thermostats used in smart homes. It helps reduce energy consumption by continuously changing the temperature level according to the requirement. Smart thermostats are Internet-enabled and can be monitored and managed over a wireless network. These thermostats are used to control the temperature of HVAC systems used in various applications. They are smart control devices that can be operated remotely using tablets, smartphones, and desktops, and also through voice signals.
Several smart thermostats, such as those offered by Nest Labs, Inc. (US), are also capable of learning and adapting to the behavior of end-users and operating accordingly. The Nest Learning Thermostat is equipped with a motion sensor and detects whether the home is empty, thereby determining the heating requirement of the house. eQ-3 Holding GmbH (Germany) is another leading smart thermostat vendor; the company's smartphone-controlled radiator thermostats are installed in more than 0.3 million homes in Europe.
Further, Honeywell International Inc. (US) offers Wi-Fi-enabled smart thermostats incorporated with voice-control features, which allow users to control the home temperature using a touchscreen device, voice commands, or smartphones/tablets. Siemens AG (Germany), Ingersoll-Rand PLC (Ireland), and Johnson Controls Inc. (US) are a few of the leading players in the smart thermostat market for smart home systems applications.
Sensors
Sensors are an essential component of HVAC control systems; they help in conditioning HVAC control efficiently. When a sensor is combined with an interfacing circuit, specifically with an actuator in HVAC controls, it is termed as a smart sensor. It is capable of performing logic functions such as making decisions and communicating with various other systems and controlled devices. A variety of sensors are used in HVAC systems, such as current, temperature, humidity, pressure, occupancy, and CO2 sensors.
Temperature sensors are used to sense the change in temperature. They benefit the users by improving the occupants' comfort, reducing energy consumption, facilitating ventilation for indoor air quality and temperature, and providing consistent indoor ventilation by modeling external flows. Humidity sensors are used in the best smart home systems to measure and regularly report the relative humidity in the air to the consumers. Current sensors are used in HVAC to monitor equipment with a modulating output to help prevent equipment damage.
Pressure sensors are used to measure the pressure in HVAC systems. Occupancy sensors in HVAC systems help prevent the thermostat from getting into the setback mode when a room is occupied.
Honeywell International Inc. (US), Johnson Controls Inc. (US), Schneider Electric SE (France), and Siemens AG (Germany) are a few of the key players in the HVAC sensor market.
Control Valves
Control valves are an important component of fluid distribution systems, which regulate the flow of fluids in various processes. Several types of valves, such as globe, ball, two-way, three-way, and butterfly valves, are used in HVAC systems. Valves are usually made of bronze, cast iron, or steel materials and are implemented in locations such as the outlet of the cooling or heating coils, thereby providing means to shut the valve to allow the servicing of HVAC systems. Various parameters that have to be considered before selecting a control valve include the fluid to be controlled, mode of control, valve style, fluid temperature, flow characteristic, the flow rate of the fluid, and pressure. Muller Industries, Inc. (US), Honeywell International Inc. (US), and Siemens AG (Germany) are a few of the key players in the market for HVAC control valves.
Heating and Cooling coils
Liquid-to-air and air-to-liquid are the 2 types of coil arrangements found in HVAC systems. These systems use such coils to maintain the temperature to warm or cold based on the requirement. The heating coil acts as a heat source in any heating system, whereas the cooling coil removes the heat from the refrigerant, allowing the vaporized refrigerant to condense into a liquid. Johnson Controls Inc. (US) and Ingersoll-Rand PLC (Ireland) are among the major manufacturers and suppliers of heating and cooling coils used in HVAC control for smart home systems.
Dampers
A damper is another control device used in HVAC systems, which is a plate or a valve that controls or regulates the flow of air inside the duct, air handler, or any other air handling equipment. It can be used to control heating or cooling by cutting off or regulating the flow of hot/cold air in a room. Various types of dampers available in different shapes and functionalities, such as low leakage, round, parallel, and opposed blade dampers. A damper is used to switch off the HVAC system in an unused room or to regulate it for room-by-room temperature and climate control. A damper may be manual or automatic.
Automatic dampers are used to control the airflow continuously; these dampers are operated by electric, pneumatic, or solenoid motors. A volume control damper (zone damper) is a prominently used type in HVAC systems to control the airflow.
Honeywell International Inc. (US), Johnson Controls Inc. (US), and Siemens AG (Germany) are a few of the leading manufacturers of dampers for HVAC systems.
Actuators
Actuators control the valves and dampers in an HVAC system. In an actuator, a diaphragm and returnspring move the damper and push the rod or valve stem in response to changes in branch line pressure. Actuators are the connecting interface between the control system and the mechanical system. These are critical components of HVAC systems for accurate control. They are used to drive final control elements.
Honeywell International Inc. (US), Siemens AG (Germany), Johnson Controls Inc. (US), and Schneider Electric SE (France) are a few of the major manufacturers of actuators for HVAC control.
Pumps and fans
In HVAC control systems for best smart home systems, fans are used to circulate supply air and return air, while pumps are used to circulate water through a water-cooled condenser. Pumps and fans are essential components of HVAC control systems. The heat pumps and exhaust fans in HVAC control are responsible for maintaining a comfortable temperature in buildings. Taco, Inc. (US) and Danfoss Group (Denmark) are a few of the key manufacturers of HVAC pumps and fans.
Smart vents
Smart vents can be programmed to open and close according to the room environment. Smart vents are connected to a wireless network, along with many other similar devices, which are linked together to a website. The users can log on, and control and monitor the ventilation actions of the room remotely under the best smart home systems. One major advantage of using smart vents over the overall modification in an HVAC system automation is its ease of installation; the implementation only requires the replacement of the existing vent by a smart vent without changing the entire HVAC system.
Keen Home, Inc. (US), Simx Ltd. (New Zealand), Ecovent Systems (US), and so on, are several key manufacturers of smart vent for smart home systems applications.
Best Smart Home Systems
Comparing 25 vendors in Smart Home Solutions across 84 criteria.
All vendors(25)
Smart Home Solutions Related Articles
VIEW ALL ARTICLES
Frequently Asked Questions (FAQs)
One of the major benefits of smart homes systems is comfort and security. The other benefits that the homeowner can enjoy are the convenience, remote access, savings, and peace of mind. A few smart homes systems have become much accessible and advanced, that the owners across are upgrading their homes.
Smart home technology is growing exponentially, Currently, 32.5% of homes have some or the other smart home gadgets, with expected growth up to 60.7% by 2021 (source). But even with its fast growth, many people are speculating if they really need to connect basic household objects like light bulbs to the Internet. But visualize life before smart televisions, if you wanted to watch YouTube, you had to plug in an HDMI cable from your laptop. Now, it's much more convenient to pull up Netflix, YouTube, music apps, and more all directly on the TV using its apps. Ultimately, smart home technology will be developed as normal as smart TVs are.
Basic smart homes systems enable us to transmit a command out and just believe that it is actioned. However, complex smart homes systems will initially send a command and then wait for a response. Various actions can be executed if a response is not approaching. Home automation systems are dependable but if you go in for the more complex devices and systems then the cost also gets higher along with the need for a skilled specialist for the installation process.
A smart home automation system lets technology take care of your home and business. With just few clicks, and every device connected to the home automation system can be controlled through a remote or an app installed on a smartphone or tablet that makes life very easy. For example – if you are going out, pressing "Away" button, all the activities programmed while in Away mode is made to control instantly – it locks the doors, turns off the lights and other devices that must be turned off, etc
Different security devices including, Security alarms, CCTVs help in protecting the owner's property from thieves. Technology has taken security to the next level – family can set up monitoring devices connected to the home automation system. This allows the property owners to take control and oversee the facilities when the trespasser tries to enter the owner's property even when they are away from home.