Learn more about Big Data Software
Big Data Software
Big data corresponds to the huge number of data — structured as well as unstructured — that populates an organization on a daily basis. However, it is not the quantity of information that is essential; it is what organizations do with the information that concerns. Big data will be examined for observations leading to stronger management strategies and proactive decisions. Big data software includes big data analytics, data discovery, data visualization, and data management solutions. Various organizations are deploying the best big data software to harness the power of big data by managing it efficiently and analyzing it to get actionable insights. The main drivers behind the success big data industry are the huge increase in data volumes and an increase in the number of smartphone applications and the Internet of Things (IoT) gadgets.
Top 10 Big Data Software
SPSS
MongoDB
Qlik Sense
Wolfram Mathematica
SAP HANA
MemSQL
Databricks
Performax
Collibra
Qubole
Market Overview
Big data is a term that refers to the large volume of data – structured, unstructured, or semi-structured. Big data software is gaining traction, and the technology has tremendous growth possibilities in the coming years. The companies have started deploying the best big data software to extract value from huge data sets. These data sets, when analyzed using big data analytical solutions, can provide actionable insights to organizations. These insights help organizations take quick decisions and provide customer-centric solutions. In the past few years, big data software has gained traction in the technological landscape. Moreover, the cost-effectiveness of the best big data solution and secure data assurance has led to the increased adoption of big data software.
Businesses across industry verticals are deploying the best big data software to harness the power of big data by managing it efficiently and analyzing it to get actionable insights. The massive growth of data and an increase in the number of mobile apps and IoT devices are the factors contributing to the growth of the big data market. Big data Solution is widely used in various industries, such as Banking, Financial Services, and Insurance (BFSI); government and defense; healthcare and life sciences; manufacturing; retail and consumer goods; media and entertainment; telecommunications and IT; transportation and logistics; and others (real estate, energy and utilities, travel and hospitality, and education and research).
Various factors such as plummeting technology costs and development of open source big data software frameworks, data connectivity through hybrid and multi-cloud environments, and incorporation of digital transformation in top-level strategies are expected to drive the adoption of big data software and services. Integration of AI, IoT, and blockchain with big data and strengthening regulatory landscape for data protection would provide opportunities for the growth of organizations in the market. However, the market faces restraints, such as lack of skilled workforce and complexity in insights extraction. The disconnect between consumers and businesses leading to increased privacy and security concerns is a challenge faced in the adoption of big data software.
Aspects, such as the internal architecture of big data tools, the distinction between real-time versus non-real-time processing, the precise characteristics of the analytics services, the need for data storage and modelling, the delivery over hybrid cloud models and several others, make the design of big data software complex. The value lies in the data, and not in the technology that is used to process it. Big data includes solutions, such as big data analytics, data discovery, data visualization, and data management.
Apart from creating numerous opportunities, globalization has introduced data-related vulnerabilities to enterprises. Therefore, enterprises are searching for solutions to mitigate the impact of such situations. Best Big data tools finds applications in business functions such as finance, marketing and sales, human resources, and operations. Using big data solution in these business functions helps business users determine sales patterns, evaluate internal processes, enhance operations, determine creditworthiness and market volatility perform precise buyer segmentation, and predict leadership needs.
The big data technology, when combined with other technologies such as IoT and blockchain, can allow banks and collaborators to share data across different countries, users and counter-parties. It has the potential to make data-driven services more powerful. Best Big data software help create a more flexible and agile business model to take care of the growing business needs. These solutions create an opportunity for bankers to connect with their customers directly.
COMPETITIVE LEADERSHIP MAPPING TERMINOLOGY
Competitive leadership mapping provides information about the major players in the big data market. It outlines the findings and analysis of how well each market vendor performs within the predefined competitive leadership mapping criteria. The vendor evaluations are based on two broad categories: strength of product offerings and business strategy excellence. The evaluation criteria considered under the strength of product offerings include the breadth and depth of product offering, product feature and functionality, and product differentiation and impact on customer value. The evaluation criteria considered under business strategy excellence include geographic footprint, breadth of applications served, channel strategy and fit, viability, and effectiveness of organic growth strategy.
VISIONARY LEADERS
Best Big Data Software providers in this category are: SPSS, Wolfram Mathematica, Qlik Sense and MangoDB
DYNAMIC DIFFERENTIATORS
Best Big Data Software providers in this category are: DataBricks and Performax
INNOVATORS
Best Big Data Software providers in this category are: SAP HANA and MemSQL
EMERGING COMPANIES
Best Big Data Software providers in this category are: Qubole and Collibra
Market Dynamics
Our research indicates that the big data market is of utmost importance for every firm and technology vendor. The big data market is expected to grow at a significant rate during the forecast period owing to various business drivers. Some of the factors driving the growth of the big data market include increased awareness and knowledge about data science and the growing adoption of social media applications and mobile and IoT devices. The drivers, restraints, opportunities, and challenges impacting the growth of the big data market are listed below:
Drivers
Increasing technology costs and development of open source big data software
SMEs often cannot enjoy economies of scale. A startup software company faces challenges in negotiating the price for cloud storage as compared to a global vendor. The large scale of the bigger companies enables them preferential pricing. This dynamic keeps many benefits out of reach for SMEs. The big data tools involved in the collection and processing massive quantities of diverse data have become more accessible both in terms of cost and their actual user interfaces; people with moderate technical skills can also afford and make the most of these tools. The costs of data storage and processors are declining, making it possible for SMEs to adopt big data solution easily.
Besides the drop in storage costs, another factor contributing to the easy adoption of big data has been the development of open source big data software frameworks. For instance, Apache Hadoop has become a standard software framework for distributed storage and processing. The high availability of such software frameworks in open sources has made it increasingly inexpensive to start big data projects in organizations. For SMEs, the free models are often sufficient for data management tools, until they develop enough data to license a paid account. The IT infrastructure can be quickly scaled up and down using cloud environments. These environments are also facilitating pay-as-you-go models. This means organizations that want to process huge quantities of data, and have large storage and processing requirements, do not need to invest in large quantities of IT infrastructure.
Incorporation of digital transformation in top-level strategies
Digital transformation has been a buzzword for some years, but its meaning is not clear to people. It refers to finding ways to sell the data that was being generated to create new revenue streams. Enterprises and users have started realizing that digital transformation is about taking a data-driven approach to every aspect of their business to create a competitive advantage. For example, for a retailer, the digital transformation might be about providing real-time best offers while customers are in physical stores or optimizing its inventory to provide a better online and in-store experience. Businesses are now identifying digital transformation as a means of investing in a data platform that replicates the state of the business and can support new business models as quickly as they emerge. The case for big data and organizations is like the scenario where an owner would not start a company without Enterprise Resource Planning (ERP) or Customer Relationship Management (CRM) systems.
Big data is largely driven by consumers and is consumer-oriented. Consumers generate the majority of the data in the world. Most people spend considerable time in a day consuming and generating data through a variety of devices and social applications. Every click, swipe, or message generates new data in a database somewhere around the world. With the rapid adoption of smartphones, the data creation sums up to incomprehensible amounts.
Restraints
Lack of skilled workforce and complexity in insights extraction
Significant technological advancements have taken place in the ICT domain. IoT, AI, ML, cloud, analytics, and big data are a few trends that have gained tremendous traction in the past few years. Big data is transforming businesses by providing actionable insights, but companies do face issues while extracting these insights. Organizations often fail to identify where they need to allocate their resources. This failure in allocating the resources results in not deriving the full potential of big data. Most organizations still cannot harness the complete benefits of the big data stored in the cloud due to the lack of awareness and professional expertise to utilize cloud-based big data software optimally.
Due to reasons such as shortage of skilled workforce or the complexity of big data solution, these organizations report trouble in extracting value from structured, unstructured, or semi-structured data. The complete life cycle of data analytics on the cloud goes through various processes, such as data discovery, data modeling, data mining, and visualization. This process makes big data analytics-related projects quite complex. Such complexities faced by business organizations across industries act as obstacles for big data solution vendors in the market.
Opportunities
Integration of AI, IoT, and blockchain with big data
Data and Business Intelligence (BI) are two aspects of the same coin. With advanced developments in storage, data processing, and evaluation processes, professionals can manage data with minimum database understanding and work with big data units to derive insights. Currently, the complexity of business operations is increasing with the rising amount of customer and other enterprise data, coupled with the rapidly evolving market landscape. Big data vendors are integrating advanced technologies such as AI, IoT, and blockchain to analyze data. For instance, Graph Blockchain is a Canada-based company, which offers blockchain solutions for data management, BI, and graph analytics, to deliver unparalleled processing speed and enhanced performance quality. AI-based big data software uses semantic technology that applies logical reasoning to make data smarter by algorithmically computing new properties into the data.
AI is made of multiple building block technologies, ML, deep learning, and natural language understanding, which develop algorithms that analyze data to find models. These models predict outcomes or understand the context with significant accuracy and improve existing data quality. AI-based big data software and services help the industry verticals with automation and early detection of fraudulent activities that can be avoided through predictive modelling. Moreover, the tools and services help automotive manufacturers detect road conditions and obstacles with the help of deep learning. They can also use IoT data to predict machine failures in real-time.
Strengthening the regulatory landscape for data protection
The regulatory landscape related to data privacy and security has strengthened over the past years. The regulations significantly impact the way data is processed and handled, as well as security and consumer profiling. Many organizations that sell their data to others are not in favour of these new regulations designed to protect consumer privacy. Trends of enhancing consumer privacy are not based on corporate profits, but on the desires of internet users to ensure their privacy.
Regulations such as the GDPR and CCPA are designed to place power back in the hands of the consumer. This has been accomplished by recognizing consumers as the owners of the information they create. Organizations must focus on applying privacy regulations rather than focusing on the short-term profits earned from sales of private information. This would save them from paying fines to a European country, or California, for breaking privacy regulations. Moreover, when they advertise their respect for privacy, they might gain the loyalty of their customer base.
Challenges
Disconnect between consumers and businesses giving rise to privacy and security concerns
The ever-growing data from various sources is becoming cumbersome for several IT teams. The inefficiency of managing exabytes and petabytes of data has raised the chances of security breaches and data loss. It may seem like big data is a threat to data privacy, but the actual threat is poorly managed data. Big data comes with three privacy risks: data breaches, data brokerage, and data discrimination. Data breaches occur when information is retrieved without consent. Such incidents can cost an organization a damaged reputation and a lot of money. Data breaches can be prevented by keeping software up-to-date, changing passwords often, and educating employees on best security practices.
Data brokerage refers to the sale of unprotected and incorrect data. Some companies gather and sell customer data, which contains false information that leads to faulty algorithms. Before buying data, organizations should do their research and ensure they are receiving data from a reputable provider that offers accurate data. Organizations should always have a detailed and precise representation of customers, account for biases, and put fairness above analytics.
There is a growing disconnect between how companies exploit the customer data and consumer expectations around how their data should be used and secured. According to RSA Data Privacy & Security Survey 2019, 2018 was host to countless high-profile data breaches that compromised millions of accounts. In these incidents, businesses suffered financial damages in the form of breach-related expenses and regulatory fines, and they also suffered a potentially severe loss of customer trust. The loss of trust represents one of the biggest unseen risks of digital transformation.
Data-sensitive industry verticals, such as BFSI, government and defense, healthcare and life sciences, are reluctant to move their data to the cloud, which further affects the growth potential of best big data software. Hence, privacy and security concerns act as a key challenge to the adoption of the best big data solution. As organizations store different types of sensitive data in larger amounts over longer periods of time, they will be under growing pressure to be transparent about what data they collect, how they analyze and use it, and why they need to keep it. The European Union's GDPR is a key example.
Best Big Data Software, By Component
Earlier, enterprises depended on data warehouses to store and transform data, but this has proved inefficient with today's business needs as organizations require speed, agility, security, and low storage cost and analysis. Today, businesses generate petabytes of data on a daily basis through clickstream data, server logs, social media, geolocation coordinates, and machines and sensors; however, the process of data collection, storage, and retrieval for this data are very slow. Big data adoption by the organization is transforming the way data is stored and analyzed. The complexity of analyzing big data is easily solved with the adoption of big data analytics tools, such as predictive analytics, ML, streaming analytics, and techniques that help businesses to uncover trends and generate new data insights for better business decisions.
The big data market is segmented based on components, into solutions and services. The solutions segment comprises big data analytics, data discovery, data visualization, and data management. These solutions can be applied to the data collected from various sources to derive meaningful insights and make data-based business decisions. The services segmentation included in this report includes managed services and professional services. The professional services segment is further broken down into consulting, support and maintenance, and deployment and integration.
Solutions
The demand for big data software is increasing globally to cope with the ever-increasing volumes of data and extract actionable real-time insights from it. The solutions segment is a key component in big data implementation to generate a high level of insights and low-cost storage of data. Best Big data software comprises big data analytics, data discovery, data visualization, and data management. Organizations are facing problems in managing this huge volume of data, which reduces business productivity and revenue. The proliferation of data amounting to big data has forced vendors to adopt best big data software and help data engineers to simplify and manage their decision-making process. Big data technologies adoption is in demand by organizations that help in analyzing data from various sources, such as unstructured data, huge file logs, data from various tables, and make business decisions. In addition, such integration of big data technologies helps an organization to improve customer experience and enhance operational efficiency.
Big Data Analytics - Today, most organizations are generating data every minute that can be of any shape, format, size, and structure. Enterprises have further realized the need for solutions that can access large volumes of data and empower data analysts to focus on data-driven objectives to gain data insights. Big data analytics solution is fit to leverage big quantities of data in a consistent way with algorithms to drive real-time results with streaming data. The modern big data analytics systems will provide speedy and efficient analytical procedures. This ability will allow businesses to work faster and achieve business goals.
Data Discovery - According to MicroStrategy, data discovery is the collection and analysis of data from various sources to gain insights from hidden patterns and trends. Organizations today, are facing huge problems in managing data with volume, variety, and velocity of data storage and management. Data discovery solutions deal with the identification of discovering patterns and trends through the collection of data from various data sets. Through the data discovery process, data is collected, combined, and analyzed to provide businesses with clearer insights regarding their customers, business, and industry. Data discovery enables organizations to unlock the value contained within the data. With the adoption of data discovery solutions, organizations can easily convert raw data into meaningful actionable insights and recommendations that can help data scientists to make daily and long-term strategic business decisions. Data discovery solutions exhibit capabilities such as preparing data, finding patterns in data sharing and operationalizing. These capabilities provide insights from advanced analytics to business users without requiring them to have traditional data scientist expertise.
Data Visualization - Data visualization is a very effective solution that enables the efficient monitoring and management of various systems by providing a graphical interface to catch flaws in the overall working of the system. The use of visual elements, such as charts, graphs, and maps data visualization tools provide an accessible way to see and understand trends, outliers, and patterns in data and help analysts to make faster business decisions. With the data visualization solution, any user can store their data in the original format, without having to first structure the data. It enables users to run different types of analytics from dashboards and visualizations to big data processing, real-time analytics, and ML to guide better decisions. Companies offering data visualization solutions for effective visualization can help users to analyze and show patterns or relationships in the data for one or more variables.
Data Management - Data management solutions include data integration, data migration, data warehousing, data governance, data quality, data security, master data management, data stewardship, data synchronization, and

metadata management software

. Companies are incorporating big data management solutions to ingest and manage large volumes of diverse data sets, which may be structured and unstructured data. Data management solutions adoption allows businesses to easily manage large data sets within and outside of an organization. It allows users to catalogue the data, leverage metadata, and support the ongoing process of ensuring data quality, data lineage, and automating workflows. This approach is gaining ground as the optimal solution for big data management.
Services
The volume of data that needs to be analyzed is growing day-by-day due to the increasing numbers of sources that generate data. The need for data insights is a major concern for organizations as they are facing several problems in managing data across fragmented environments. The adoption of data storage solutions, including big data, has become essential to manage data, its sources, and data access. Services form an integral part of the big data architecture and include product upgradation, maintenance, training, and consulting. Big data services help users build, assess, and leverage big data environments to avoid time wastage and effort on a failed implementation. Services that can be incorporated with big data software are managed services and professional services. Services such as IT outsourcing, application development, and Business Process Outsourcing (BPO) have not been included in the study.
The cost incurred in using managed services depends on the time and amount of usage. Professional services are obtained directly from the parent company without any mediator involved. These services can be provided in the form of support and maintenance, and consulting services. As the adoption of solutions surges, the demand for consulting services also increases. Support and maintenance services include the assistance provided during the installation of the solutions and maintenance activities.
Managed Services - Managed services specifically deal with client experiences. Enterprises cannot bargain on this variable, as it helps them maintain their market position. Sometimes, it becomes troublesome for companies to concentrate on their core business procedures and simultaneously handle these services. This leads to companies relying on third-parties for offering managed services. Every technological domain requires well-delivered managed services. The facilities being delivered would blend seamlessly with the context of the customer. Vendors must have the technical knowledge, quality, and reliability, irrespective of the customer's geographical position. Managed resources have all the expertise needed to manage and upgrade technologies that are of vital value in the Big Data world. The managed services team takes care of both the pre- and post-deployment issues and needs of consumers. In order to give consumers on-time delivery and improved experience, companies often outsource those services.
Professional Services - Professional services are categorized into three types: consulting services, support and maintenance, and deployment and integration. Professional services are mostly post-sales services that are delivered to customers after the purchase of the product. The customized, knowledge-based services offered to clients are considered within the ambit of professional services. Sometimes, new technology solutions must be merged with existing legacy IT infrastructure, so that critical applications can be upgraded and better ways can be implemented to manage and store data. Services play a major role in processes, such as solutions deployment, onboarding, training, and software handling and maintenance. Professional services include designing, planning, upgradation, and a host of consulting services that are offered to clients. Companies offering these services engage consultants, solutions experts, and dedicated project management teams that specialize in the design and delivery of critical decision-support solutions, and services. The growth of the professional services segment is mainly governed by the complexity of operations and the increasing deployment of BI solutions.
Best Big Data Software, By Deployment Mode
Data is an extremely valuable asset for formulating business strategies. Owing to this, organizations increasingly focus on channelizing and harmonizing critical reference data. Enterprises are constantly investing in maintaining their data in a central repository and complying with business policies and government regulations. Organizations opt for the deployment mode based on their requirements regarding the scalability and level of data security required. By deployment model, the big data market has been segmented into on-premises and cloud. The cloud deployment model holds a major portion of the market due to its easy availability and agility. However, security threats related to data storage on the cloud are expected to create opportunities for the on-premises deployment mode, especially among large enterprises.
On-Premises
The on-premises model of deployment is preferred by most of the organizations to manage risks, business processes, industry policies, and compliance management. Security and compliance are major concerns for businesses to manage the ever-increasing demand for big data. The adoption of on-premises big data software reduces the security risk of managing large volumes of data. The secure feature of on-premises leads to its adoption by various industry verticals, such as BFSI, healthcare, and telecommunications and IT.
Cloud
The cloud-based big data software deployment model is a cost-effective and efficient way of managing big data issues across organizations. Pay-per-use pricing of cloud solutions helps organizations to reduce their infrastructure cost. As end-user industries are growing, the demand for easy availability of best big data software and services is expected to increase. Cloud-based big data software offers a wide range of agile and cost-effective solutions and services for risk management, process management, audit management, and compliance management. Cloud-based big data software with the feature of easy backups and data recovery help organizations to discover trends for business decisions. Cloud-based solutions are deployed on pools of server, storage, and networking resources that improve the RoI on big data technologies and advanced analytics.
Big Data Software, By Business Function
Today, organizations are utilizing the power of big data software to increase their revenue and overall growth of the company. Many industries, new entrants, and established competitors use data-driven strategies to compete, capture, and innovate in the market. The adoption of best big data software can create new growth opportunities for enterprises. The big data market is gaining recognition worldwide due to the advantage of the storage of large varieties of data and helping organizations make critical business decisions based on the analysis. The world's leading players, such as Microsoft, IBM, Cloudera, and Oracle are offering big data solutions for various business functions to increase a company's RoI. Based on business functions, the big data market is segmented into marketing and sales, operations, finance, and human resources. Big data software are finding applications in the marketing business function for buyer segmentation and analysis of buyer needs.
Marketing and Sales
The adoption of big data software is changing the opportunity for marketing since the emergence of the internet and mobile technologies. Big data offers fundamental consequences for the marketing landscape due to the increasing trend of the digital world. Marketing and sales include other functions, such as customer support and after-sales service. Companies implement big data software to enhance customer experience and maintain future relationships with customers through customer support teams offering after-sales services to customers. Marketing big data is a hot trend right now as marketers discover that big data is excellent for making analytical correlations and predictions across multiple customer channels, which in turn leads to higher conversion rates in cross-selling. Marketing and sales organizations are interested in three types of big data: customer, financial, and operational data. Each type of data is obtained from different sources and is stored in different locations. The details about these data types are explained in the table below.
With the adoption of big data software, Chief Marketing Officers (CMOs) will be able to access large volumes of data that will help them analyze data and generate deeper insights. Marketers have started adopting AI and ML technologies offered by various big data companies to analyze huge amounts of data and draw conclusions. Using big data, marketers experience several benefits, such as wider marketing insights and customer data, seamless customer experience, business growth, and predictive analytics. Best Big data software help organizations monitor inventory across global retail outlets in real-time allowing them to rapidly replace fast-moving products to drive sales. Recognition of sales and market opportunities use cases of big data will be beneficial for organizations to gain profit in sales. Key big data use cases for marketing and sales include forecasting, customer analysis, predictive maintenance, fraud detection, IoT, and clickstream analytics.
Operations
Retailers, manufacturers, and Third-Party Logistics (3PL)/Fourth-Party Logistics (4PL) logistics providers are extracting data from ERP systems, merchandising systems, warehousing systems, and transportation systems to provide real-time global supply chain data. Operations business function includes other functions, such as IT, manufacturing, and supply chain. Many companies today are facing challenges in conducting operational management analysis. Today, almost every organization has started deploying big data technologies, such as IoT, ERP systems, cloud computing, and social media for operation management. Every organization has various functional units carrying in numerous activities, such as IT, manufacturing, supply chain, and logistics. The data generated by these units can be put to better use by sharing them indeterminately to other units. The growing responsibility of managing assets is driving IT teams to adopt big data analytics solutions.
Finance
Financial institutions are using big data software to determine the creditworthiness of customers, market volatility, fraud, management, risk management, and to manage stock options and investment portfolios. Every organization has specific units that only deal with finance-related processes. Finance business functions further include corporate finance, legal services, insurance services, accounting, and book-keeping functions for better data management. Industries such as BFSI are maintaining day-to-day operations of customer transactions. The adoption of predictive analytics solutions will help industries to maintain insurance services, such as setting premium plans and helping credit officers to make lending decisions. By creating a structured table with all real-time or traditional information, more information can be generated from that data, which can be put to better use. For example, every financial organization has customer data, bank details, and customized services, such as mutual funds details, mobile banking, and home banking. By storing the information using a single data set, the information can be easily retrieved, and a more customized service platform can be created for consumers.
Digitization in the finance industry has enabled technologies, such as advanced analytics, ML, AI, and cloud to penetrate and transform financial institutions to remain competitive in the market. Companies such as Talend offer end-to-end cloud-based platforms that help accelerate financial institutions' processes to generate data insights. Organizations have started implementing the Talend Data Fabric, which is a data integration platform that can easily integrate cloud and on-premises applications and data sources. Key big data use cases in finance operations include clickstream analytics, fraud detection, and customer analysis.
Human Resources
A growing number of companies are trying to apply a data-driven approach to managing staff. A massive collection of employee data is used as the foundation for all human resource analytics projects. Today, problems faced by human resource managers include the need to focus on investments for various human resources functions within organizations. Best Big data software are very useful for insight discovery rather than for analysis. The adoption of big data software helps human resource managers to improve employee retention and identify people outside the organization that can contribute to the growth of the company. Big data software help recognize the strengths and vulnerabilities of the workforce, predict leadership needs, employee sentiment analysis, assess risk on an organizational level, and analyze critical skills. Big data companies, such as Microsoft, Oracle, IBM, and SAP offer various tools, including predictive analysis, human resources analytics, and prescriptive analytics to help human resource teams improve their training and development programs, analyze candidates for the recruitment process, and analyze performances of each employee within an organization.
Big Data Software, By Industry Vertical
Enterprises across industry verticals generate significant volumes of data. This data needs to be managed properly to streamline business processes and achieve strategic goals. However, the data is scattered across the organization, exists in different formats, and needs to be managed at a central location. Enterprises are facing a problem in analyzing data that is of various styles. Big data software, such as big data management and data visualization help enterprises analyze data through dashboards, offering a statistical representation of the data to make faster business decisions. Big data software further help in real-time decision analytics and eliminate the need for data modelling at the time of ingestion, which helps companies store multi-structured data from diverse sources.
Data discovery solutions help industries to analyze patterns and discover current trends to remain competitive. Best Big data software are gaining acceptance among all industry verticals to improve profitability and reduce overall costs. The major industry verticals adopting big data software and services include BFSI, government and defense, healthcare and life sciences, manufacturing, retail and consumer goods, media and entertainment, telecommunications and IT, transportation and logistics, and others (real estate, energy and utilities, travel and hospitality, and education and research).
Banking, Financial Services, and Insurance
The BFSI industry vertical has been a highly regulated and competitive industry that focuses on delivering enhanced customer experiences. Banks face issues where traditional revenue sources, such as deposits, transaction processing fees, and interest rates on loans are becoming difficult to manage. Due to the increasing and changing customer expectations and growing competition of FinTech players, the financial services sector needs to focus on managing the huge volume of data that comes from various sources. Therefore, banks require robust big data software to compete with the analytically-driven new market entrants. Many banks have started leveraging big data architecture to eliminate the problem of data management. Banks further recognize the value of their data as they seek to personalize customer engagement, improve fraud detection, and mitigate risks. Big data enables banks to meet strategic digital banking priorities, such as establishing a real-time 360 customer view in real-time to drive revenue growth. Banking and financial services have been implemented in various use cases, such as anti-money-laundering, financial regulatory and compliance analytics, and risk management analysis. Regulations created by governments may restrict financial institutions to implement various data tools. The financial services sector has realized that it needs to improve operational efficiencies, reduce data management risk, and reduce customer churn. To accomplish these strategies, financial institutions are adopting the MapR Data Platform, which enables the banking industry to manage data irrespective of size, shapes, and infrastructure.
Government and Defense
Government agencies collect vast amounts of data every single day. To make the most out of this fast-growing volume of data, the adoption of big data solution enables agencies to gather data elements and then define a new structure of data for new use cases since the structure of the data is not pre-defined. Agencies have vast missions and for the longest time have built data siloes that are specific to each mission component. Therefore, to drive new levels of insight and gain deeper knowledge about any mission segments, agencies require more fusion of data sets. Government and defence agencies have adopted solutions for use cases, including fraud detection, tax evasion, and operational intelligence. Governments need to implement modern data platforms with enterprise-class security helping them to reduce data silos across the network.
Healthcare and Life Sciences
The healthcare and life sciences industry vertical is under constant pressure to enhance the services it delivers to patients. Unstructured data in the healthcare industry is growing exponentially. Access to unstructured data, such as output from medical devices, image reports, and lab reports is becoming invalid data to improve patient health. The adoption of best big data software helps this industry vertical to gather real-time data insights for improving patient health. Big data is a powerful architecture with the potential to transform the healthcare and life sciences industry vertical by providing a singular repository for structured, semi-structured, variable format, internal, and external data. Healthcare and life sciences big data use cases include patient experience and outcomes, healthcare billing analytics, real-time alerting, and telemedicine. Thousands of clinical records are scattered across medical organizations. It becomes extremely difficult to search the clinical record of every single patient. Many records are unstructured and consist of data of various sizes, shapes, and styles.
Manufacturing
The manufacturing industry vertical is increasing the adoption of IoT technologies to enhance their supply chain management processes. The amount of data required during a supply chain process is growing every day. Challenges faced by manufacturers include the analysis of the large volume of data to discover trends for operational improvements and support strategic decision making. Other challenges such as employee safety, incident management, regulatory requirements, policy violations, and IT and operational risks further reduce company growth. The adoption of big data software helps manufacturers optimize supply chain operations and improve product quality.
Retail and Consumer Goods
Cognitive computing, IoT, and ML technologies adoption is increasing the growth of the retail and consumer goods industry verticals. Retailers need to manage their customer data for enhancing customer experience. High quality and properly managed data are crucial for decision making across organizations. The ongoing transformations in the retail and consumer goods industry vertical create large volumes of data every year, which ultimately drives the need for efficient big data software. Retailers are now focusing on creating a 360-degree view of customers, which leads to customer satisfaction. Leading customer-centric retailers understand the increasing need to harness big data for understanding customers better and uncover trends that lead to new business opportunities. Big data visualization and data management solutions help retailers to increase their customer base. Big data can further help retailers to generate insights from customer behaviour data, which could be structured and unstructured to drive customer acquisition and loyalty. Retail and consumer goods big data use cases include product development, customer experience, customer lifetime value, in-store shopping experience, and streamlined back office experience.
Media and Entertainment
The media and entertainment industry vertical is growing at a rapid rate. The segment is driven by the need to increase revenue and reduce operational costs. A media and entertainment client requires a big data solution that can store massive volumes of digital data, perform complex computations, and deliver information to downstream applications. The need for self-service data discovery and data visualization solutions is also gaining importance over time. Media companies are one of the early adopters of big data technologies as it enables them to drive digital transformation, exploit more data that is available from both inside and outside the organization. Social media, blogs, and websites are the best source for the industry to analyze customer data and accordingly introduce various campaigns to gain better customer experiences. Data visualization solutions will help social media page handlers to create dashboards, offering a statistical and graphical representation of customer clicks, likes, and time spent on websites. This will help them to make strategic business decisions. The media and entertainment industry vertical includes various use cases in big data, such as ad targeting, content monetization and new product development, optimize the schedule of the media stream, and increase audience acquisitions.
Telecom and IT
Telecom companies generate massive volumes of information in the form of customer information, subscriber calling, messaging service information, financial and billing information, which are present across several departments. Companies have started investing in big data with Hadoop solutions that will help telecommunication companies to deliver high-quality services for its customers. Big data technologies, when combined with analytics capabilities enable telecommunication companies to uncover significant insights about infrastructure and customer preferences.
With the increasing adoption of big data software across various industry verticals, the IT industry is on the edge of adopting best big data software that will help IT departments to improve individual operations and manage a huge volume of databases across entire organizations. As companies are becoming more versatile, IT departments are facing challenges in the management of assets. This increases the responsibility of managing assets, which drives the IT industry to adopt big data analytics solutions. Best Big data software offers various tools, such as Spark and Hadoop that can be used to manage large data sets. With big data tools, IT engineers can assure that the data which is transferred and shared across silos is consistent and accurate. Telecommunication companies have various use cases in big data, such as optimizing network capacity, new product offerings, and operational intelligence.
Transportation and Logistics
ML has bought a revolution in the transportation and logistics industry vertical leading to the success of supply networks. Many organizations have realized that big data adoption will prove to be a game-changer for industries to gain better business growth. Data received from vehicular sensors can be turned into meaningful insights using big data. This enables companies to save a great amount of money and improve safety, eliminating unnecessary costs. Big data software include various use cases for transportation and logistics, such as route optimization in logistics and supply chain management, which can help manufacturers to find the cause for bottlenecks. Big data further enables the delivery of perishable goods with the help of sensors, such as temperature sensors and big data technologies. These goods can be delivered on time and with better quality. The adoption of big data helps improve customer service by enhancing supply chain and logistics operations, increasing customer satisfaction, and improving Business to Business (B2B) and Business to Customers (B2C) relationships.
Others
The other industry verticals include real estate, energy and utilities, travel and hospitality, and education and research. These industry verticals can deploy best big data software to tackle everyday challenges, thereby increasing the overall business efficiency.
Real estate is one of the emerging industry verticals in terms of the adoption of big data software and services. By using big data technologies, real estate agents can analyze and find a good location for building new houses from scratch.
Data volumes across the energy and utilities industry vertical have increased significantly over the years, due to the increased use of IoT. Organizations have huge databases, which are prepared from the data collected from worldwide locations, suppliers, and utility plants. The significance of big data in this industry vertical has grown, with enterprises experiencing an increasing need to extract meaningful insights from the acquired data to frame effective strategies in today's customer-centric business environment, while properly complying with industry regulations. Energy and utilities companies began realizing the transformational potential of analyzing the customer data delivered by smart meters and other assets but found them overwhelmed by big data. Best Big data software are increasingly being implemented by the utilities industry to reduce infrastructure costs, increase flexibility in terms of both usage and storage mechanisms, integrate data, and govern the data generated by assets.
Travel and hospitality, being one of the most competitive industry verticals, looks forward to the adoption of big data software, as the industry vertical deals with personal crucial data of its customers. This industry vertical suffers unprecedented challenges in terms of both external as well as internal shocks from risks. Similarly, internal risks, such as cybersecurity, pose a big threat that needs to be countered upon. A sound risk analytics solution is expected to help identify loopholes in the system, which would be instrumental in mitigating the overall risk experienced by the industry vertical.
In recent years, the value of big data in the education sector has become enormously apparent. Data related to student grades, attendance, and more can not only help failing students get back on track but also help predict potential issues even before they occur. Best big data software further help educational institutions streamline billing, improve fundraising, and more. Much of this data is vast and very raw; so, many times, institutions in the education sphere benefit best from the flexibility of big data.
Best Big Data Software
Comparing 23 vendors in Big Data Software across 87 criteria.
Send your Business Requirement to Multiple Vendors in one go.
Requirements from other buyers (13)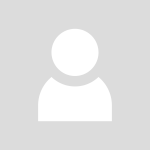 Buyer
24/05/2023
"use of ststistical approach for media optimization "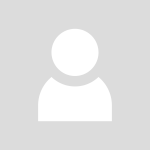 Buyer
Anthony Cacace, PhD's requirement
27/04/2023
"Wayne State university Individual License"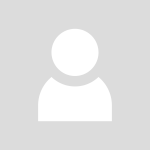 Buyer
Raman Pant 's requirement
08/04/2023
"Use it in Statistics lab to teach MSc students. "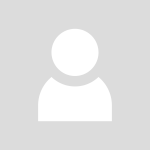 Buyer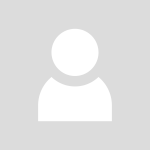 Buyer
Jasmine Nadja Pinugu's requirement
26/11/2022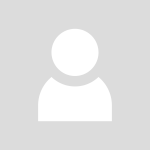 Buyer
Ismail Muhammad Musa's requirement
27/06/2022
"please, what is the price of Statistica for faculty use? "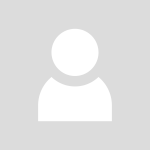 Buyer
14/03/2022
"Hi, May I get the licence price, please? Thanks Bruno"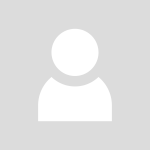 Buyer
Henrique Chaves's requirement
09/03/2022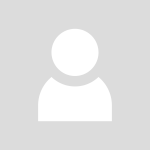 Buyer
Matcheri Keshavan's requirement
03/03/2022
"Data analysis for medical research"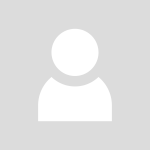 Buyer
Hayley Gillman's requirement
15/01/2022
"Hi there, we are a Training Provider that has Lean Six Sigma / Agile and Scrum as an offering. We would like to build into all our courses the price for license to Statistica per user for one year. We are looking for a discounted rate please ."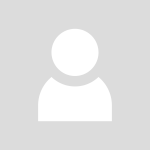 Buyer
30/12/2021
"I am requesting pricing at various levels. I look forward to your reply."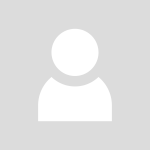 Buyer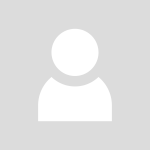 Buyer
Lipuo Rammoko's requirement
21/10/2021
"Statistical analysis and Data science"
500+ Big Data Software buyers negotiating "Group Buying Deal" through 360Quadrants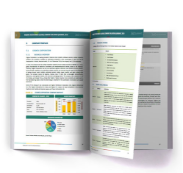 This report identifies and benchmarks the world's best Big Data companies, such as Microsoft (US), IBM (US), Teradata (US), Oracle (US), and Google (US) and evaluates them on the basis of business strategy excellence and strength of product portfolio within the Big Data market ecosystem, combining inputs from various industry experts, buyers, and vendors, and extensive secondary research including annual reports, company press releases, investor presentations, free and paid company databases. They are rated and positioned on a 2x2 matrix, called as 'Company Evaluation Quadrant,' and identified as Visionary Leaders, Dynamic Differentiators, Innovators, or Emerging companies.
The report includes market-specific company profiles of 28 top companies in the Big Data market and assesses the recent developments that shape the competitive landscape of this highly fragmented market.
Incorporation of digital transformation in top-level strategies to drive the growth of the Big Data Market
According to SAS Institute, big data refers to the large volume of data—both structured and unstructured—that inundates a business on a day-to-day basis. But it is not the amount of data that is important; it is what organizations do with the data that matters. Big data can be analyzed for insights that lead to better decisions and strategic business moves. Big data solutions include big data analytics, data discovery, data visualization, and data management solutions. Various organizations are deploying big data solutions to harness the power of big data by managing it efficiently and analyzing it to get actionable insights. The massive growth of data and an increase in the number of mobile apps and the Internet of Things (IoT) devices are the major factors driving the big data market.
The global Big Data market is expected to grow to USD 229 billion by 2025. Factors such as increasing awareness of the Internet of Things (IoT) devices among organizations, rising availability of data across organizations to gain deeper insights to remain competitive, and increasing government investment in various regions for enhancing digital technologies are expected to drive the growth of the Big Data market.
BIG DATA: MARKET DYNAMICS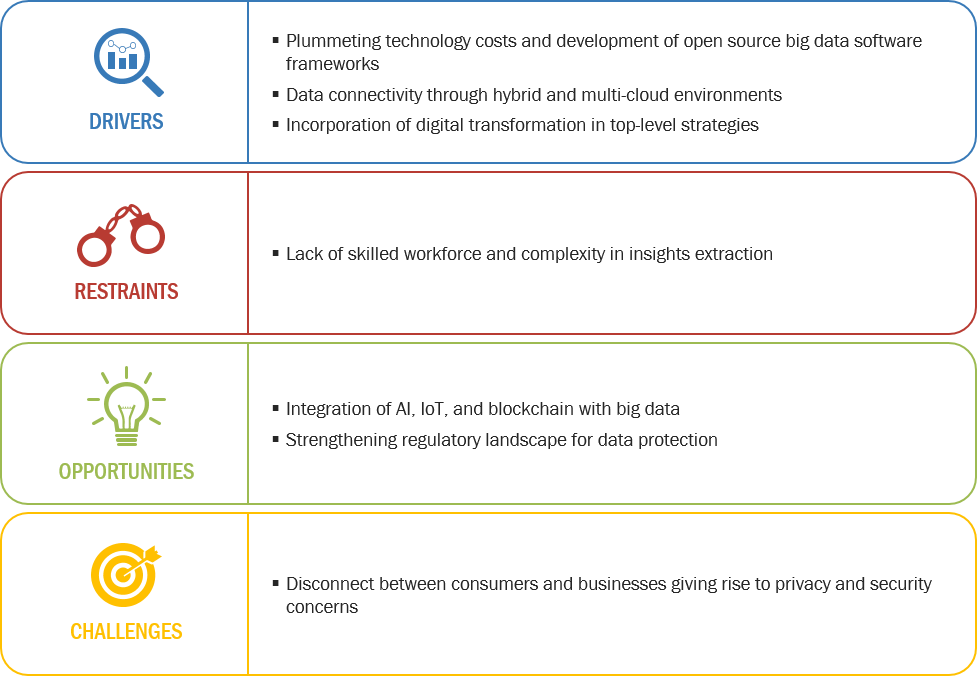 This report identifies and benchmarks the world's best Big Data companies, such as Microsoft (US), IBM (US), Teradata (US), Oracle (US), and Google (US) and evaluates them on the basis of business strategy excellence and strength of product portfolio within the Big Data market ecosystem, combining inputs from various industry experts, buyers, and vendors, and extensive secondary research including annual reports, company press releases, investor presentations, free and paid company databases. They are rated and positioned on a 2x2 matrix, called as 'Company Evaluation Quadrant,' and identified as Visionary Leaders, Dynamic Differentiators, Innovators, or Emerging companies.
SAMPLES: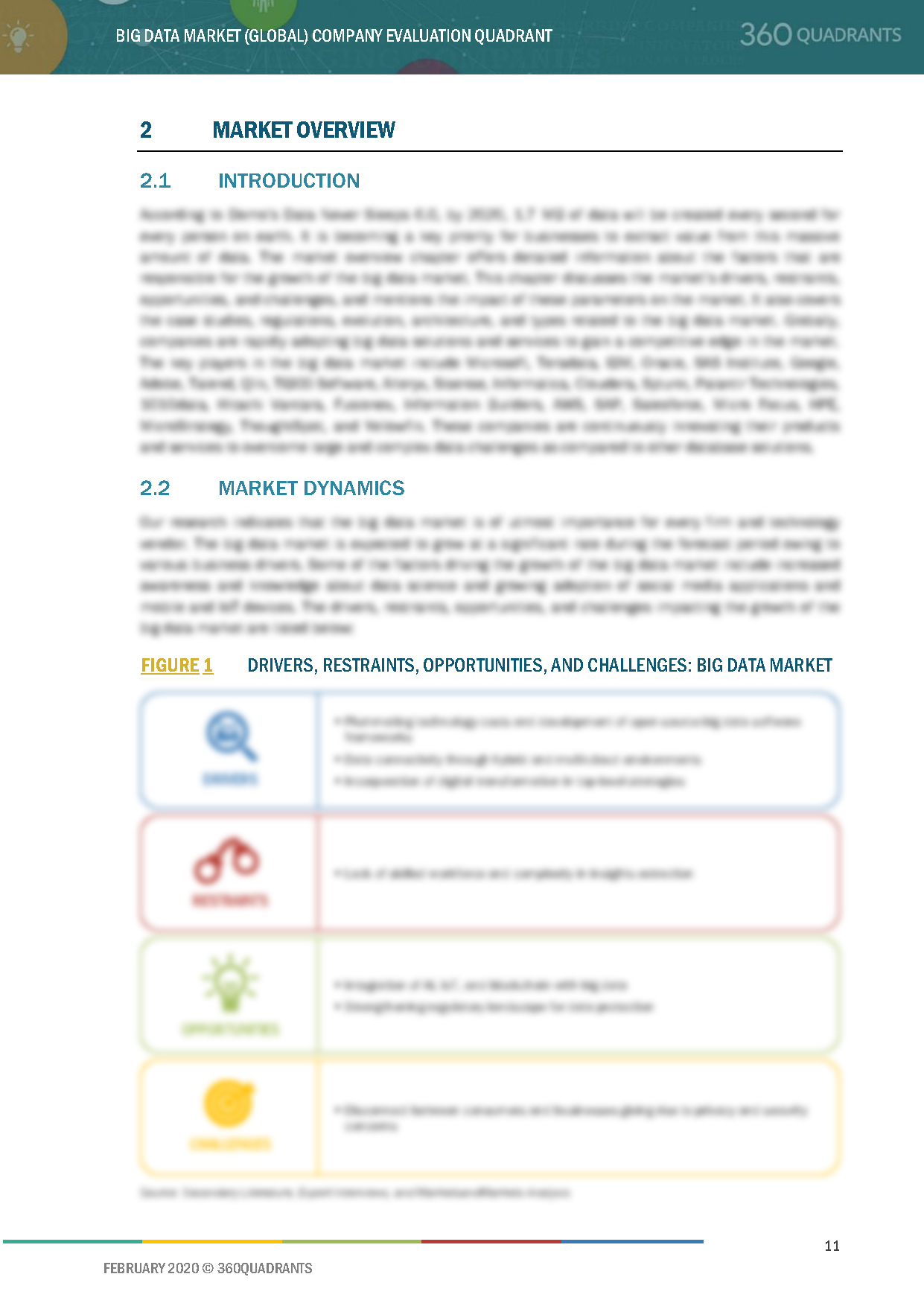 ---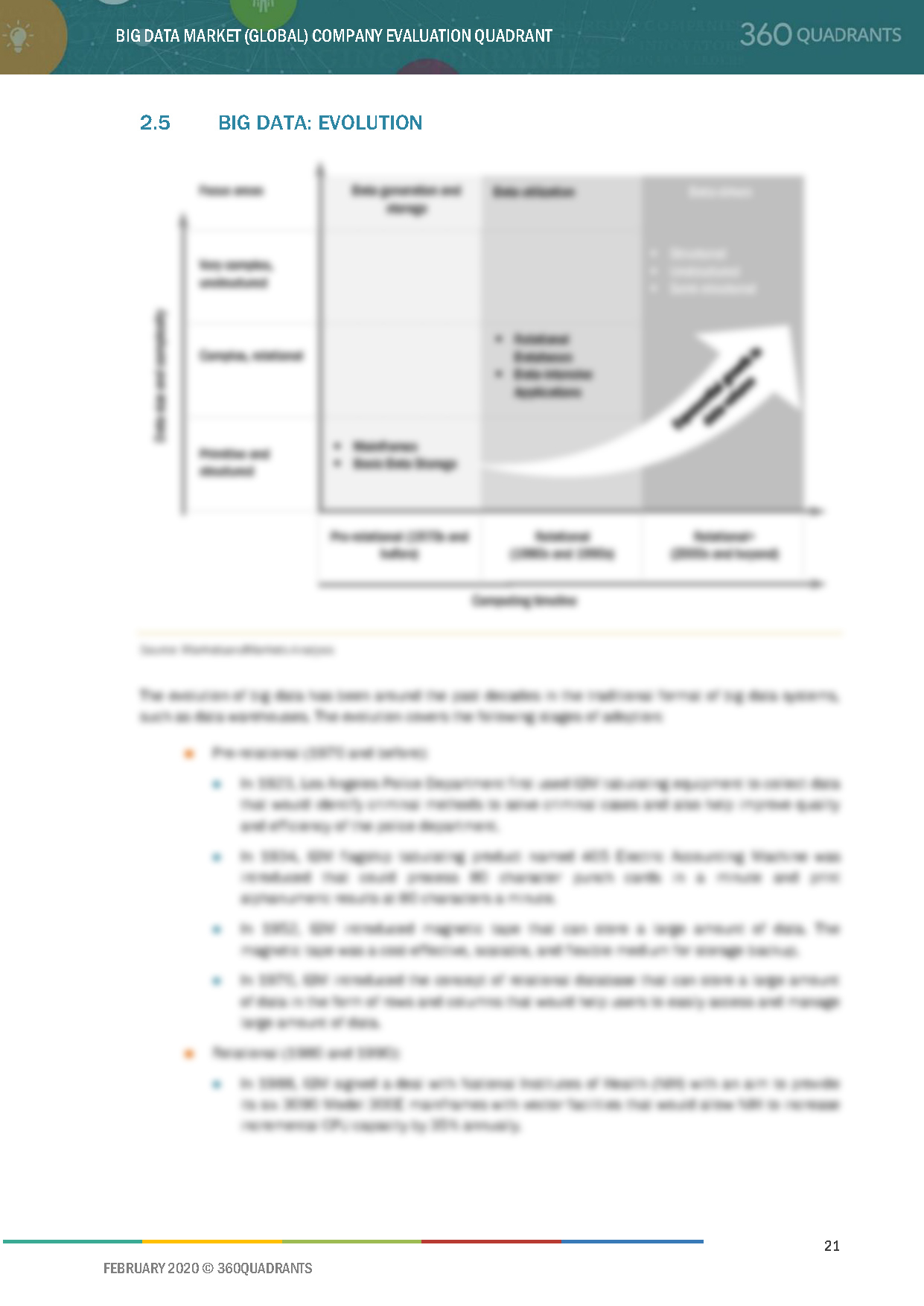 ---
---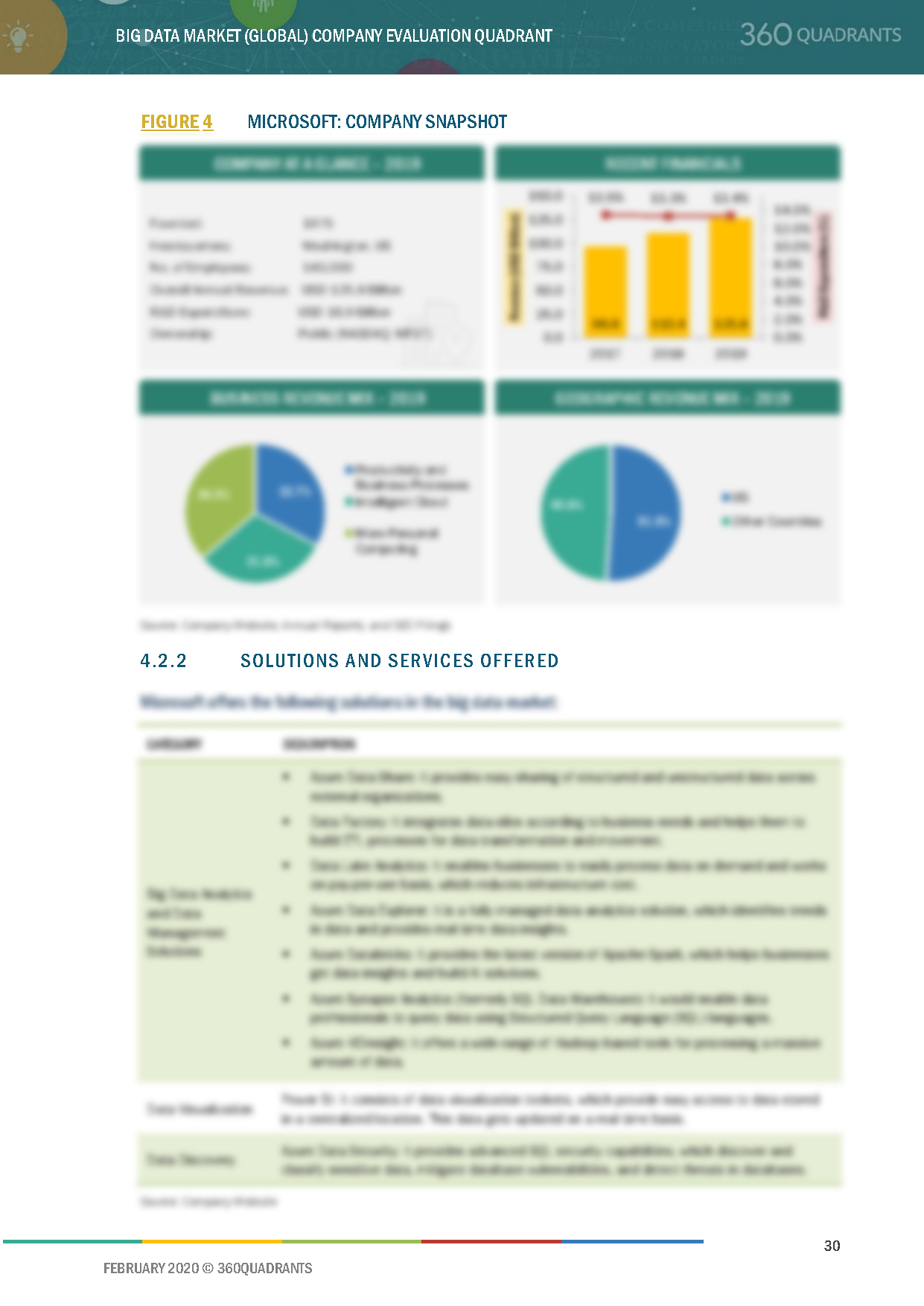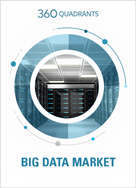 Request Free Sample Report
Personalize Your Research Requirement
Updated version of this Quadrant
Different Company Evaluation Quadrant
'Startup Only' Company Evaluation Quadrant
Region or Country specific evaluation
Application or Industry specific evaluation

..Read More
Analyst Briefing & Inquiry
Submit a Briefing Request
Question about our published research
Request for evaluation of your organization for specific market
Request for re-evaluation of Company Evaluation Quadrant

..Read More