Geofencing Software
Geofencing software is defined as generating a virtual boundary around a fixed or moving object, in which a device, individual, or asset can be tracked, monitored, and detected if the boundary is violated. Geofencing solutions create and track virtual boundaries. They use Global Positioning System (GPS), Radio Frequency Identification (RFID), and Wi-Fi technology, along with dedicated software to track equipment and people. The geofencing software market includes fixed and mobile geofencing users in various verticals. 360Quadrants has identified top 10 vendors in the Geofencing Market, below:
Top 10 Geofencing Solution Companies
Apple
ESRI
GPSWox
BlueDot
Mapcite
Thumbvista
Pulsate
LocationSmart
Maven Systems
SuccorfishM2M
Top Geofencing Features
Geofencing software helps businesses by creating and monitoring virtual fences. These solutions leverage GPS, RFID, and Wi-Fi technology, along with the software to track assets and people. Some of the main features of the geofencing solutions include:
SDK
Battery Optimization
Location Triggers
Analytics
Security Compliance
Campaign Automation
Battery Life
Integration
Location Data Collection
Accuracy
Anti-spam Tools
Top 10 New Entrants
These new entrants are the firms that have a great understanding of the latest technologies and trends, right from their inception. These companies may not be so widespread geographically, but they have offerings. These vendors are generally the ones who are beginning to emerge in terms of product portfolio and geographical coverage, and will need some time to gain traction in the market. Some of the emerging new entrants are:
Simpli.fi
Raveon Technologies
Visioglobe
MobiOcean
Localytics
InVisage
Geomoby
Mobinius
Urban Airship
Nisos Technologies
Market Overview
The geofencing services market is segmented into deployment and integration services, support and maintenance services, consulting and advisory services, and API management and testing services. Geofencing services are provided by the service vendors during the pre, post, and installation phases of various industry applications. These services help in driving the productivity and efficiency of business processes to build a time-efficient geofencing system. These support services are essential and are required for the effective functioning of the business processes. There is an increase in the integration of the geofencing applications provided by third-party vendors across a multitude of verticals, influencing the overall growth of the geofencing market.

Deployment and integration services are used mainly for the implementation of geofencing in various industry verticals. Support and maintenance services provide 24/7 support to geofencing applications. Consulting and advisory services play a significant role in the geofencing software market, as enterprises find it suitable to consult professionals before implementing geofencing applications and solutions in their existing business processes. API management and testing services are instrumental in addressing the data retrieved from connected devices over the network and hosting applications, and in offering additional services, such as remote device management, and data storage, monitoring, sharing, and management.
COMPETITIVE LEADERSHIP MAPPING TERMINOLOGY
The MicroQuadrant matrix provides information about Best Geofencing Software. It outlines the findings and analysis on how well each market vendor performs within the predefined MicroQuadrant criteria. The vendor evaluations are based on 2 broad categories: strength of product portfolio and business strategy excellence. Each category carries various criteria, based on which the vendors have been evaluated. The evaluation criteria considered under the strength of product portfolio include breadth and depth of product offering (based on the industries that the vendors cater to and their solution and service offerings), product feature and functionality, focus on product innovation, and product quality, reliability, and support, focus on product innovation. The evaluation criteria considered under the business strategy excellence include the geographic footprint (based on geographic presence), vision alignment, breadth of application served and coverage, channel strategy and fit, and mergers and acquisitions strategy.
VISIONARY LEADERS
Apple, Esri, GPSWOX, Bluedot Innovation, Thumbvista, and MAPCITE have been recognized as the visionary leaders in the geofencing software market. They offer a strong portfolio of solutions and services to their commercial clients. The products and solutions of these companies are highly scalable and can be customized as per the requirements of the clients. These companies are said to be investing significantly in R&D to introduce innovations in location-based services and geofencing. Moreover, these companies have also undertaken various organic and inorganic strategies to achieve consistent and advanced growth in the geofencing software market.
DYNAMIC DIFFERENTIATORS
PlotProjects, GeoMoby, Mobinius, and Urban Airship have been recognized as the dynamic differentiators in the geofencing software market. These companies have a significant network of channel partners and resellers to increase the deployment of their solutions across a multitude of verticals. The dynamic vendors have been consistently generating positive revenue growth in the geofencing market and their market position has heightened by their organic and inorganic ventures.
INNOVATORS
LocationSmart, Pulsate, Swirl Networks, Maven Systems, SuccorfishM2M, DreamOrbit, Swirl Networks, Nisos Technologies, and Embitel have been recognized as the innovators in the geofencing software market. These companies offer innovative solutions for fixed and mobile geofencing. They also have strong breadth and depth of product offerings. The innovators have been at the forefront in deploying their solutions for niche and custom software requirements of the clients.
EMERGING COMPANIES
Simpli.fi, Raveon Technologies, Factual, InVisage, Visioglobe, MobiOcean, and Localytics have been recognized as the emerging companies in the geofencing market. The emerging players are specialized in offering highly niche and tailor-made solutions and services to their clients. These companies devise new ways of working to drive business results in the market.
Geofencing Software - By Services
DEPLOYMENT AND INTEGRATION SERVICES
Deployment and integration are important stages in the implementation of geofencing technology for various industry verticals. Installation and integration services are considered very important, as different industry applications have different requirements. Geofencing software are integrated with the existing systems, and the integration requires an exact level of system integrators and system enablers. It is necessary for the enterprises to create a safe environment for geofencing, as it is used for tracking users and sending push notifications. Professional service providers ensure the safe and secure integration of geofencing solutions into an enterprise's existing system. Service providers also safeguard and confirm the integration and installation of applications for quality assurance.
SUPPORT AND MAINTENANCE SERVICES
Support and maintenance services are instrumental in addressing and analyzing the data retrieved from geofencing solutions. The notifications for geofence breaches can be in the form of text alerts, or complex batch or real-time reports. It is very important to manage the applications and the data generated by geofencing software. Support and maintenance services provide end-to-end business services, including due diligence, portfolio analysis, competitive analysis, business intelligence, transition, and continuous improvement for packaged applications. Additionally, these services validate, transform, and synchronize the data between applications and devices. Furthermore, geofencing vendors provide training and development services after the implementation of geofencing solutions. It is important for the vendors to provide appropriate training to the geofencing users to help them manage the push notifications and the data generated through breaches. Geofencing service vendors provide the training required for managing geofencing tools and APIs.
CONSULTING AND ADVISORY SERVICES
Consulting and advisory services play a significant role in the digital transformation and evolution of business processes through geofencing. They provide strategic insights for the operational, organizational, and technological transformation of various industry applications. Moreover, these services offer an innovative service-layer framework to help establish a geofence. Consulting and advisory services are vital in planning, supporting, and identifying the different revenue streams; defining customer business objectives; executing business analysis; and creating roadmaps and plans. They also contribute in addressing new market segments, products, and business models to identify the capabilities and technologies needed for geofencing. These service providers also take care of various geofencing connectivity technologies, such as Wi-Fi, RFID, GPS, and cellular data. Consulting services provide end-to-end system integration of geofencing solutions with Customer Relationship Management (CRM), Enterprise Resource Planning (ERP), Product Lifecycle Management (PLM), data warehouse systems, and advertising and marketing platforms to drive improved process efficiency and productivity.
API MANAGEMENT AND TESTING SERVICES
API management services offer application access management, device data communication, and interaction and security services. Additionally, application operation, production support, release and change support, and middleware product support are also carried out by API management services. API management geofencing services can integrate with the existing business processes, users, and systems to assist in real-time business decision making. Moreover, application integration platforms validate, transform, and sync data between applications and devices. API management services provide discovery and rationalization, application architecture design, software distribution, testing and packaging, and license management services.
Geofencing Software - By Type
There are 2 types of geofencing in the market, namely, fixed geofencing and mobile geofencing. According to the requirements of an organization, the geofencing type is chosen. Furthermore, businesses can select between an app-based and a network-based geofencing solution based on their business needs. App-based geofencing solutions are mobile applications that access mobile users' locational data via GPS. Network-based geofencing solutions use data from the local cell phone towers to send targeted messages to the mobile users connected to the network
FIXED GEOFENCING
Fixed geofencing refers to a virtual boundary around a thing, site, building, or fixed object. When the geofence is breached, the user gets an alert about the violator and a report about the entry or exit of any intruder from a location and the time spent by them in the same position or area. Additionally, a person who enters the fence receives push notifications initiated by the geofencing user. The notification for geofence breaches can be in the form of text alerts, or complex batch or real-time reports.
Fixed geofencing is used in various industry verticals, such as logistics and transportation, healthcare, and retail. In the retail industry, geofencing is used to drive foot traffic and sales numbers by bridging the gap between physical and digital channels. It connects the physical and digital commerce by engaging customers directly on their mobile devices at any location. It helps retailers reach customers near the location and attract them to the physical store. In hospitality management, geofencing is used to increase the sales at restaurants and bars through automated offers, pre-ordering, payments, and loyalty programs. It increases the purchases, consumption, and upselling through hardware-free pre-ordering and payments from any location. It also automates the pickup process to notify the staff as the customer approaches the store.
MOBILE GEOFENCING
Mobile geofencing is dynamic and it moves along with the user's mobile device. It is built into the mobile devices and uses cellular data and GPS. For instance, if a user is passing by a parking space, they will receive push notifications about the paid parking space. Similarly, if the same user is traveling and a landslide occurs, they will receive push notifications about the landslide before entering the danger zone.
Best Geofencing Software
Comparing 30 vendors in Geofencing Solutions across 94 criteria.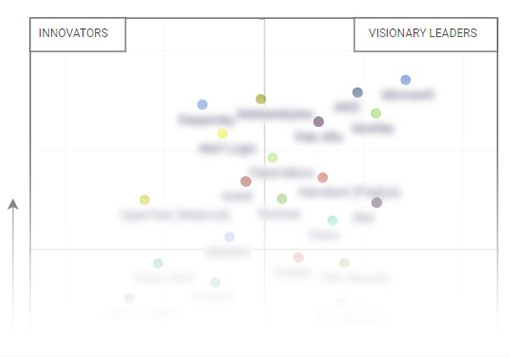 360Quadrant For Geofencing Solutions, Q2 2022
The 20 Companies That Matter Most And How They Stack Up
599,864 professionals have used our research sine 2010
All vendors(30)
Geofencing Solutions Related Articles
VIEW ALL ARTICLES
Frequently Asked Questions (FAQs)
The geofencing market is projected to grow at a Compound Annual Growth Rate (CAGR) of 27.5% during 2017-2022.
The major factors driving the growth of the geofencing market are the penetration of new technologies, rise in the use of spatial data and analytical tools, higher adoption of location-based applications among consumers, and the growth of competitive intelligence. Furthermore, the rise in Business Intelligence (BI) and the need to track the competitors' marketing activities are some of the other factors supporting the overall growth of the market.
One of the best applications for geofencing comes in the form of social networking. Geofencing facilitates the usage of location-based filters, stickers and other shareable content. Geofencing also helps marketers to plan their in-store promotions and make ads targeted to a specific audience. It is also used to engage audience at organized events. Geofencing also facilitates telematics, where it enables businesses to draw virtual boundaries around their sites, which whenever trespassed send out alerts to the operators.
WiFi is a built-in feature in almost all the smartphones devices. RFID is another technology, that provides better precision in tracking. GPS offers enhanced precision when used outdoors and it is very cost efficient. Beacons help in identifying locations of all devices within their range. Beacons have the ability to deliver very high accuracy at optimal battery usage.