 (6 Reviews)
Paris, France
2014
$101MN to $500MN
PARROT DRONE SAS in Unmanned Aerial Vehicles
PARROT DRONE SAS Overview
Parrot manufactures drones for both the purposes, hobbyists and professionals. The company's products include:
Drones
Anafi FPV
Anafi Thermal
Anafi
Anafi Extended
Parrot's professional drones include:
Anafi Thermal
Anafi Work
Bluegrass Fields
Sequoia
The company also provides accessories and support services for all its drones.
Parrot Sequoia+ Camera

Multispectral sensors dataset- Parrot Sequoia+ is for agricultural use and the area it covers is 0.2302 km2 / 23.0239 ha/ 0.0889 sq.mi./ 59.9227 acres.
Integration Sequoia- It fits on a standard GoPro mount and use of default GoPro frame and clamp to about 1/3rd of the sensor to attach cables, and integration of eBee and 3DR solo and DJI phantom is done.
Parrot Sequoia+ can fly without irradiance sensor, to produce radiometrically accurate and absolute reflectance maps.
Parrot is one of the major players in the commercial Unmanned Aerial Vehicle market that designs, develops, and markets unmanned technology products for hobbyists and professionals across the globe. Its UAV offerings include drones, accessories, and support services. The company offers products for applications such as surveying and mapping, mining and quarrying, engineering and construction, agriculture, environment, and humanitarian applications. Parrot Sequoia+ is the first multispectral camera that offers complete and actual reflectance measurement for a more consistent evaluation of collected data for improving the experience of the user and removing needs for a reflectance target. Parrot Sequoia+ captures all the information from both the light invisible & visible and provides effective data to monitor. The camera also captures RDB images, which can be processed later in photogrammetry software to create high solution maps with several rich data.
PARROT DRONE SAS Popular Comparisons
Evaluated against 102 key buying criteria
PARROT DRONE SAS strengths and weaknesses
Weaknesses
Turbulence

Parrot drones respond in a sluggish manner, which causes it be a little slower as compared to its competitors.

Show More

Obstacle Avoidance

Parrot drones'' obstacle avoidance sensors have a bit of an issue which makes all of Parrot''s pre-programmed flight routines way more dangerous to use.

Show More
See More
Buyer, Education, SME
Vice President,
Company Name Classified
"180 Degree Gimbal"
Parrot drone''s camera gimbal is magical. It has the ability to tilt up and down to a whole 180 degrees. We were able to shoot all up and down and get some really great angles as well. Superb!
Buyer, Media, SME
Vice President - Product Management,
Company Name Classified
"Automated Flight Modes"
Impressed with the flight modes it provides, Follow Me, Boomerang, SmartDronie, etc. It also includes one smart feature that uses the camera's zoom facility to superb effect.
Buyer, Software, SME
General Manager,
Company Name Classified
"Clear Vision"
We bought it for a fact that, Anafi keeps the rotors out of the shot, while flying forward with the camera pointed straight ahead. Clean pictures assured.
Buyer, Software, SME
General Manager,
Company Name Classified
"No Obstacle Avoidance"
Well, no obstacle avoidance sensors. How are the users supposed to know whats in the way up there in the air?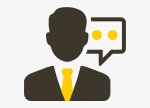 Industry Expert
Other,
Company Name Classified
"Slow in Response"
I got a Parrot drone that responds really slow. I found a lag in between passing a command and getting a response from the drone. Make me a bit unhappy about it.
PARROT DRONE SAS Questions And Answers
Have a Question? Ask here.
No Questions
Create an account or sign in to view this content
No Photos / Videos
Top PARROT DRONE SAS Features
#2
Solutions Offered / Aerial Imaging
#3
Functionalites / Security
#4
Features and Functionality / Hardware
#5
Features Offered / High Definition Camera
PARROT DRONE SAS QUADRANTS
PARROT DRONE SAS has chosen it's strengths in these 3 territories