Comparing 17 vendors in Adhesives and Sealants across 109 criteria.
POWERED BY
MARKETSANDMARKETS
Jun 01, 2023
360 Quadrants releases list of "Top 17 Adhesives and Sealants Companies, worldwide 2023" in partnership with MarketsandMarkets. The report recognizes standouts in the adhesives and sealants market, ranging from mid-sized enterprises to Fortune 500 companies. The vendor evaluation was conducted on over two hundred companies of which the top 17 were categorized and recognized as the new economic quadrant leaders.
Key trends highlighted in 360 Quadrants:
The adhesives and sealants market are witnessing moderate competition due to the presence of experienced market players that have a strong brand image and a wide customer base. Also, the threat of new entrants is low as the market is capital-intensive.
The water-based segment accounted for the largest share (~40%) in terms of volume in 2022. Reactive & others segment and solvent-based segment accounted for ~21.9% and 15.2%, respectively. The hot melt adhesives segment is still in a nascent stage. These adhesives are gaining prominence due to their fast-setting speed, low cost, and lower environmental impact.
The high demand for silicone-based sealants is playing a vital role in market growth. Silicone has been replacing sealants like butyl, neoprene, bitumen, and polyurethane in highly demanding applications such as filling expansion joints in concrete roads. In 2022, silicone resins accounted for ~40.2%, the largest share of the sealants market in terms of volume. It can be touted that silicone products will continue replacing low-performance sealants between 2022 and 2026.
Due to the contraction and saturation observed in the European and North American markets, demand has shifted to the Asia Pacific region. Asia Pacific is increasingly becoming a global commerce and trade center and is currently the fastest growing and largest market for adhesives and sealants. It accounted for nearly 34.4% in terms of volume in 2022. Further, with high investments in end-use industries from countries like China and India, adhesives and sealants will prosper in the region.
Companies such as Henkel AG(Germany), H.B. Fuller (USA), Sika AG(Switzerland), Arkema (Bostik)(France), and 3M (USA) dominate the market; together, they account for nearly one-third of the entire market. Of this, Henkel accounts for 16%-18%, while the remaining is secured by companies like Dymax Corporation (USA), Mapei Corporation (USA), and Pidilite Industries Ltd., (India) along with other medium-sized enterprises
The product launch was the major strategy adopted by key market entities. H.B. Fuller launched innovative new products as a part of its growth strategy. In January 2023, the company launched Swiftmelt 1515-I, its first bio-compatible product in India, the Middle East, and Africa. In 2022, 3M developed "3M Medical Tape 4576," an acrylate-based adhesive. Dow also introduced DOWSIL Silicone Hot-Melt Adhesive Cartridge, designed to provide excellent adhesion.
In recent years, leading companies have either partnered with or acquired their competitors. For example, Arkema increased its footprint in regions where its presence is negligible. In July 2022, it finalized the acquisition of Permoseal, located in South Africa. The acquisition complemented Bostik's offerings in the region while strengthening its position in the South African market, indicating Arkema's strategy to expand its business segments by acquiring well-performing companies. During the same period, Dymax partnered with Krayden as a new distribution partner. Through this partnership, Dymax aimed to expand its reach to critical OEM manufacturers in the aerospace, defense, and EV industries for its light-curing technology.
Companies are also expanding their geographic reach to offer their adhesive expertise and deep industry knowledge, along with strengthening their global footprint. Henkel (Germany) and other international players are now expanding in the Asia Pacific region by setting up new plants and expanding their adhesives and sealants portfolio in this region to serve the emerging market. It was observed that around 40% of the company's revenue in 2022 was from emerging markets.
The Full List
| Logo | Company | Headquarters | Year Founded | Holding Type |
| --- | --- | --- | --- | --- |
| | 3M | Minnesota, USA | 1902 | Public |
| | Adhesives Research | Glen Rock, USA | 1961 | Private |
| | AkzoNobel | Amsterdam, Netherlands | 1969 | Public |
| | Arkema | Colombes, France | 2004 | Public |
| | Avery Dennison | Mentor, USA | 1935 | Public |
| | Delo | Windach, Germany | 1961 | Private |
| | Dow | Midland, USA | 1897 | Public |
| | Dymax | Torrington, USA | 1980 | Private |
| | H.B. Fuller | Saint Paul, USA | 1887 | Public |
| | Henkel | Düsseldorf, Germany | 1876 | Public |
| | Huntsman | The Woodlands, USA | 1970 | Public |
| | MAPEI | Milan, Italy | 1937 | Private |
| | Parker LORD | Cary, USA | 1924 | Public |
| | Pidilite | Mumbai, India | 1959 | Public |
| | RPM | Medina, USA | 1947 | Public |
| | Sika | Baar, Switzerland | 1910 | Public |
| | Wacker Chemie | Munich, Germany | 1914 | Public |
Frequently Asked Questions (FAQs)
There are many different kinds of glues and sealants, and each one has its own properties and uses. Here are a few examples: 1. Epoxy adhesives: These are two-part glues that are known for how well they stick things together, how long they last, and how resistant they are to damage from chemicals and the environment. They are often used in the building, car, and space industries. Adhesives made of cyanoacrylate: Glues made from cyanoacrylates, which are also called "superglue," dry quickly and stick quickly to a wide range of materials. They are often used to fix things around the house and in the medical field. 2. Polyurethane adhesives: These are flexible and can be used to stick together a wide range of materials, such as plastics, metals, and wood. They can also stand up to water and heat, which makes them good for use outside. 3. Silicone sealants: Silicone sealants are very resistant to heat and water, so they can be used to seal cracks and joints in plumbing, roofing, and cars. Acrylic adhesives are strong and work well with a wide range of materials, including plastics and metals. They are used a lot in the construction, automotive, and aerospace industries. 4. Butyl rubber sealants: Butyl rubber sealants are very resistant to water, heat, and chemicals, which makes them good for sealing roofs, gutters, and other outdoor applications.
Sealants are used to make a barrier or protective coating on a surface, usually to stop water, air, dust, or other things from getting in or out through gaps or cracks. They can be used in a lot of different ways, both in the workplace and at home. Some of the most common ways to use sealants are: 1. Sealing joints: Sealants are often used to seal joints between two surfaces, like in construction or cars. They can be used to stop leaks or draughts and make the joint stronger and last longer overall. 2. Waterproofing: Sealants can be used on roofs, walls, and foundations to make a barrier that keeps water out. This keeps water from getting inside and damaging the building or structure. 3. Adhesion: Sealants can be used as glue to connect two surfaces. This is often used to join parts together in the auto and space industries. 4. Insulation: Sealants can be used to fill in holes or cracks in walls or windows. This helps keep warm air inside during the winter and cool air inside during the summer. 5. Protection: Sealants can keep surfaces from getting damaged by water, UV rays, and other things in the environment.
There are many different kinds of adhesives, and they can be put into different groups in different ways. Here are six common types of glue based on what they are made of chemically: Epoxy: Epoxy glues have two parts: a resin and a hardener. Before using, the two parts are mixed together. They are known for how well they stick together, how well they resist water and chemicals, and how well they fill gaps. Cyanoacrylate: Adhesives made with cyanoacrylate, which are also called "superglue," dry quickly and stick well to a wide range of materials. They are great for sticking together small pieces or surfaces that are close to each other. Polyurethane: Adhesives made of polyurethane are known for being strong, flexible, and resistant to water and changes in temperature. They are often used for building and working with wood. Acrylic: Acrylic glues are flexible and can be used to stick together a wide range of materials, such as plastics, metals, and glass. They can also stand up to UV light and changes in temperature. Silicone: Silicone adhesives are often used in situations where they need to be flexible and able to handle high temperatures. They are used a lot in the auto and space industries. Hot melt: Hot melt adhesives are solid at room temperature but melt when heated, making them easy to put on surfaces. Most of the time, they are used in packaging and woodworking.
Adhesives are chemicals used to bind or glue together two or more surfaces. They are applied to surfaces in the form of liquids, pastes, or films to generate a strong bond when they dry or cure. These are examples of adhesives: 1. Super glue is a fast-drying adhesive that makes a strong bond between surfaces and is frequently used to adhere small parts together. 2. Epoxy is a two-component glue consisting of a resin and a hardener. When the two components are combined, they produce a bond that is resistant to heat, water, and chemicals. 3. Rubber cement is an adhesive composed of either natural or synthetic rubber. Latex is frequently used for arts and crafts projects and to temporarily adhere paper or cardboard. 4. Hot Melt Glue: A form of adhesive that is applied in a liquid condition using a glue gun. It forms a strong adhesive between surfaces and dries quickly. 5. Cyanoacrylate, popularly known as "crazy glue," is a fast-acting adhesive that bonds surfaces virtually instantaneously. 6. Acrylic adhesives are commonly utilised in construction and manufacturing industries, including the automotive, aerospace, and electronics sectors. There are numerous different types of adhesives, each with its own qualities and applications.
The most common adhesive is determined by the application and industry. However, the following are some of the most commonly used adhesives: 1. Water-based adhesive is commonly used in paper, cardboard, and packaging. 2. Hot melt adhesive is a type of adhesive that is used in packaging, woodworking, and textiles. 3. Epoxy adhesive is a type of adhesive that is used in metal bonding, automotive, and construction. 4. Plastics, electronics, and automotive use cyanoacrylate adhesive. 5. Pressure-sensitive adhesive is commonly found in labels, tapes, and decals.
The application and the materials being sealed will determine the strongest sealant. There are numerous varieties of sealants that each have various strengths and special qualities. The following sealants are among the strongest: 1. Polyurethane sealants - these sealants are noted for their excellent strength and flexibility. They are frequently used to fill gaps and seams in buildings during construction. 2. Silicone sealants: These sealants have great adherence to a range of surfaces, including metal, glass, and plastic, and are noted for withstanding high temperatures. 3. Epoxy sealants have great adherence to a range of surfaces, including metal, concrete, and wood. They are frequently utilised in industrial settings where a robust, long-lasting seal is needed. 3. Butyl rubber sealants are renowned for their exceptional flexibility and weather resilience. They are frequently employed in waterproofing and roofing applications. 4. Acrylic sealants are frequently used to fill cracks and gaps in building and remodelling projects. They are renowned for their quick drying times and simplicity of use. In order to create a seal that is strong and long-lasting, it is crucial to select the appropriate sealant for the application. When selecting a sealant, factors to take into account include the materials being sealed, the environment the seal will be exposed to, and the application technique.
Silicone and sealant are not exactly the same thing, but silicone is often used as a sealant.
Yes, adhesives can be made from 100% silicone. Silicone can be used as an adhesive to bind things together as well as a sealer to close up cracks and joints.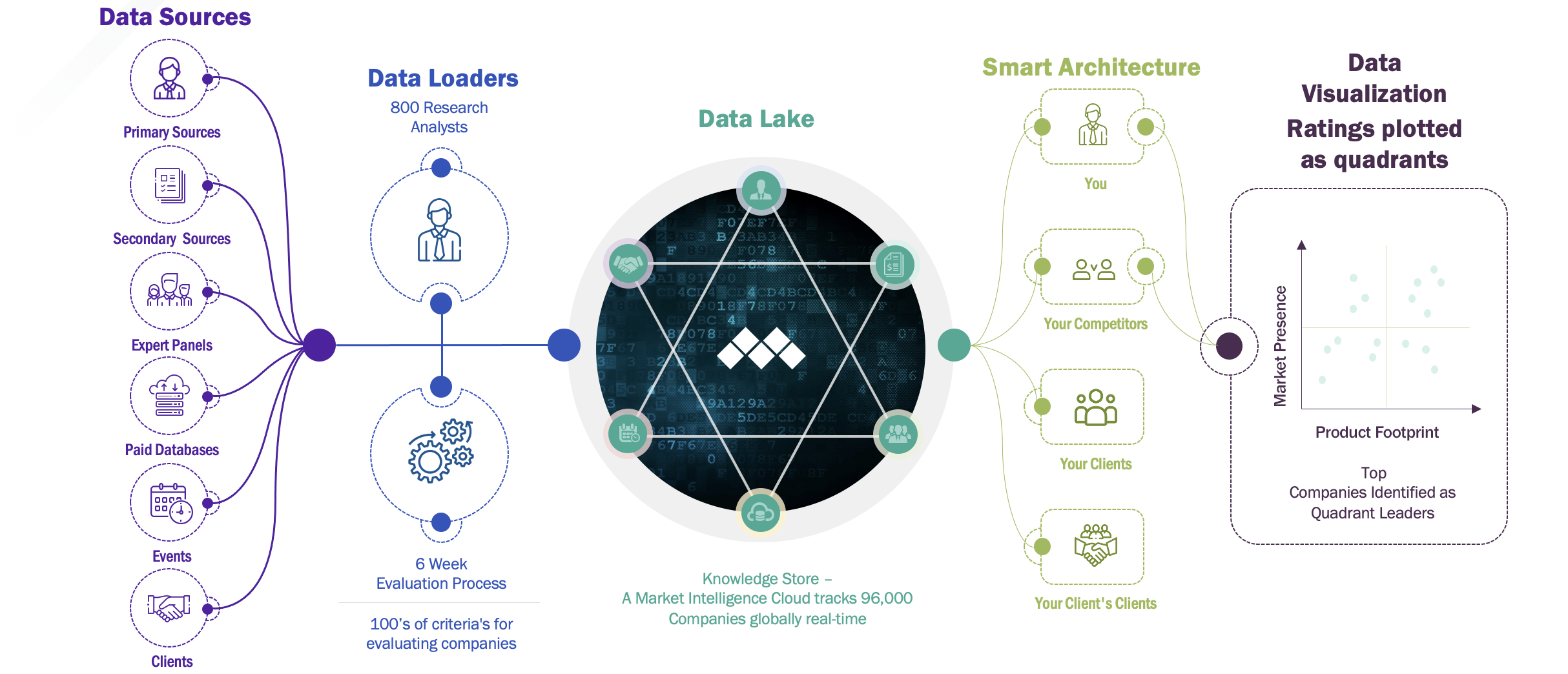 If your company is recognised in this Quadrant, Leverage this ranking using our Marketing Kit.
If your company is recognised in this Quadrant, Leverage this ranking using our Marketing Kit.