Comparing 25 vendors in Lubricants across 101 criteria.
POWERED BY
MARKETSANDMARKETS
Apr 02, 2023
360 Quadrants releases its list of "Top 25 Lubricant Companies, Worldwide 2023" in partnership with MarketsandMarkets. The report recognizes standouts in the lubricants market, ranging from mid-sized enterprises to Fortune 500 companies. The vendor evaluation was conducted on over 200 companies, of which the top 25 were categorized and recognized as the new economic quadrant leaders.
Key trends highlighted in 360 Quadrants:
The synthetic lubricants segment is projected to witness the highest CAGR of 2.85% in terms of value from 2022 to 2027, owing to its excellent properties such as high performance in extreme conditions, better viscosity index, higher shear stability, and chemical resistance compared to mineral oil lubricants.

Rising population, rapid urbanization, rising trade, and changing lifestyles in developing nations are spurring the demand for automobiles, thereby driving the demand for lubricants in the transportation sector. It can be expected that passenger vehicles will be a dominant consumer of lubricants in the transportation segment due to these reasons. Within the industrial segment, the construction segment will dominate the market in terms of value in 2023.

The lubricants market is witnessing high demand from end-use industries such as construction and mining in Asia Pacific and the Middle East & Africa. Additionally, industrial growth in these regions is expected to drive the demand for Group II and Group III base oil lubricants.

The mineral oil lubricants segment is expected to dominate in 2023, in terms of value, owing to the growing demand for mineral oil in developing countries of Asia Pacific, the Middle East & Africa, and South America in the automotive sector.

Asia Pacific was the largest market for lubricants, accounting for 37% of the overall market in terms of value, followed by Europe and North America in 2022, and it is expected to be the fastest-growing during 2022 and 2027. The primary reason for this is the large-scale industrialization and the large number of on-road vehicles in the region.

There are a significant number of global players in this market, with top players like Shell plc, ExxonMobil Corp., BP plc, Chevron Corp., and PetroChina Company Ltd. accounting for 30%-40% of it.

Companies are adopting various strategies such as geographic expansions, new product launches, partnerships, and acquisitions to accelerate their position in the market. Some market players are focusing on launching new products and expanding their manufacturing units in the emerging economies of Asia Pacific and the Middle East & Africa to meet the growing demand.

Shell, along with its subsidiaries, acquired several companies such as Solenergi Power Private Limited and, with it, the Sprng Energy group of companies from Actis Solenergi Limited (Actis), the acquisition of Powershop Australia, an online energy retailer, and others. Another company Motul

, In the Asia Pacific region, planned to propel its growth by tapping into new market areas with specialized chemicals (manufacturing, mining, marine, and military/defense). It also plans on introducing a new range of chemicals to complement its existing product range. In line with the strategy, the company inaugurated its new factory in Vietnam. Motul further aims to develop chemicals and lubricants for battery coolants and transmission fluids for electric vehicles of the future.
The Full List
| Logo | Rank & Company | Headquarters | Year Founded | Holding Type |
| --- | --- | --- | --- | --- |
| | 1. Shell | London, UK | 1907 | Private |
| | 2. Exxon Mobil | Irving, USA | 1882 | Public |
| | 3. Valvoline | Lexington, USA | 1866 | Public |
| | 4. Chevron | San Ramon, USA | 1879 | Public |
| | 5. TotalEnergies | Courbevoie, France | 1924 | Public |
| | 6. Sinopec | Beijing, China | 1998 | Public |
| | 7. Eneos | Tokyo, Japan | 2010 | Public |
| | 8. BP | London, UK | 1909 | Public |
| | 9. Fuchs Petrolub | Mannheim, Germany | 1931 | Public |
| | 10. Klueber Lubrication | Weinheim, Germany | 1929 | Private |
| | 11. Gazprom | Saint Petersburg, Russia | 1989 | Public |
| | 12. Petronas | Kuala Lumpur, Malaysia | 1974 | Private |
| | 13. PetroChina | Beijing, China | 1999 | Public |
| | 14. Lukoil | Moscow, Russia | 1991 | Public |
| | 15. Phillips 66 | Houston, USA | 1927 | Public |
| | 16. Eni | Rome, Italy | 1953 | Private |
| | 17. Idemitsu Kosan | Tokyo, Japan | 1911 | Public |
| | 18. Rosneft | Moscow, Russia | 1993 | Public |
| | 19. Gulf Oil Int. | Pittsburgh, USA | 1901 | Public |
| | 20. Morris Lubricants | Shrewsbury, England | 1869 | Private |
| | 21. Petrobras | Rio de Janerio, Brazil | 1953 | Public |
| | 22. Cosmo Oil | Shibaura, Japan | 1939 | Private |
| | 23. Motul | Aubervilliers, France | 1853 | Private |
| | 24. Amsoil | Superior, USA | 1969 | Private |
| | 25. Fulgoil | Genova, Italy | 1964 | Private |
Frequently Asked Questions (FAQs)
Lubricants are substances that are used to reduce friction between two surfaces that come into contact with each other, such as mechanical parts or machinery. They reduce friction and wear by forming a thin film between the surfaces in contact. Mineral oils, synthetic oils, biodegradable oils, and grease are all types of lubricants. They are used in a variety of industries, including automotive, industrial machinery, marine, aerospace, and energy. Lubricants are made through the refining and blending of base oils and additives. The choice of lubricant is determined by the operating conditions of the machinery, the type of machinery, and the lubricant's performance requirements.
Lubricants come in a variety of forms, each with its own set of properties and characteristics. Some of the lubricant types include: 1. Mineral oil-based lubricants: The most common type of lubricant, derived from crude oil. They are used in a variety of industries and applications, including automotive, industrial, and marine. 2. Synthetic lubricants: These are made from chemical compounds, can outperform mineral oil-based lubricants. They are frequently used in high-performance applications because they can withstand high temperatures and pressures. 3. Bio-based lubricants: These are environmentally friendly and made from renewable sources such as vegetable oils. They are frequently used in industries concerned with sustainability and lowering their carbon footprint. 4. Greases: They are thick lubricants with a base oil and a thickener that help them stay in place and provide long-lasting lubrication. They are frequently used in applications where a liquid lubricant would be ineffective.
Lubricants are utilised in a variety of industries and applications. Lubricants are used in the automotive industry to reduce friction and wear in engines, transmissions, and differentials, as well as to dissipate heat. In the industrial sector, they are used to reduce friction and wear and to improve efficiency in heavy machinery such as turbines, compressors, and hydraulic systems. Lubricants are used in aerospace to ensure the safe and reliable operation of aircraft engines, landing gears, and other critical systems. Lubricants are used in ship engines, propulsion systems, and other critical equipment in marine applications. Lubricants are also required for construction machinery to operate safely and efficiently. Lubricants are also used in food processing, pharmaceuticals, and a variety of other applications where cleanliness, safety, and efficiency are critical.
Lubricants reduce friction and wear by forming a thin film between two surfaces in contact. This film keeps the metal surfaces from directly contacting each other, reducing heat and wear. Lubricants can also dissipate heat and protect metal surfaces from corrosion and other forms of damage. Different lubricants have different properties and are designed for specific applications. Some are made to withstand high temperatures, pressures, and loads, while others are made to operate at low temperatures or in clean environments. Finally, the choice of lubricant is determined by the specific application and operating conditions.
Lubricant manufacturing typically involves the combination of base oils and additives that are blended together to produce the final product. Base oils can be made from crude oil or from other sources, such as synthetic or bio-based oils. Additives are used to improve the lubricant's performance and properties, such as viscosity, wear resistance, corrosion inhibition, and extreme pressure resistance. To ensure that the final product meets the desired specifications, the blending process involves carefully controlling the ratios of base oils and additives. Before being distributed for use in various industries and applications, the lubricant is packaged and tested to ensure that it meets the required quality standards.
The lubricants market faces several key challenges, including: 1. Sustainability: There is a growing demand for environmentally friendly and sustainable lubricants, which is increasing pressure to develop and implement bio-based lubricants and reduce the environmental impact of traditional petroleum-based lubricants. 2. Regulation: Emissions and environmental impact regulations are becoming increasingly stringent, posing additional challenges for lubricant manufacturers to meet. 3. Competition: The lubricants market is extremely competitive, with numerous players offering a diverse range of products. Smaller players find it difficult to compete effectively and maintain market share as a result. 4. Cost pressures: The price of raw materials such as base oils and additives can vary significantly, affecting production costs and profitability. 5. Technological advances: Technological advancements in machinery and equipment are driving the demand for lubricants with new and improved properties such as increased temperature resistance and longer service life, which can be difficult to develop and manufacture.
Synthetic lubricants have several advantages over traditional mineral-based lubricants. To begin with, synthetic lubricants have superior lubricating properties due to their molecular structure, providing better wear protection and reducing friction. They also have better viscosity-temperature performance, allowing them to maintain their lubricating properties over a wider temperature range. Second, synthetic lubricants have a longer service life than mineral-based lubricants, reducing the need for frequent oil changes and increasing the interval between maintenance intervals. Third, synthetic lubricants have better oxidation and thermal stability, reducing the formation of deposits and sludge and extending lubricant life. Finally, synthetic lubricants can improve fuel efficiency by reducing friction and wear, resulting in lower operating costs and environmental impact.
Lubricants can have an impact on the environment throughout their lifecycle, from production to disposal. The extraction and processing of raw materials used in lubricants, such as crude oil, can cause environmental damage and contribute to greenhouse gas emissions during production. Lubricant use can also result in the release of pollutants into the environment, such as heavy metals. Lubricants that are improperly disposed of can contaminate soil and water, and their components can take a long time to degrade, potentially causing long-term environmental damage.  Furthermore, lubricants can have indirect environmental effects, such as increasing energy consumption and emissions when used in machinery and equipment.
Several trends are expected to shape the future outlook for the lubricants market, including a growing focus on sustainability, rising demand for high-performance lubricants, and the ongoing shift towards digitalization and automation. Demand for sustainable lubricants is expected to rise as regulations tighten and customers become more environmentally conscious. This will result in a greater use of bio-based and renewable lubricants. There will also be a continued emphasis on developing high-performance lubricants that can meet the needs of modern machinery and equipment, which are becoming increasingly complex and demanding. Finally, digitalization and automation are expected to create new opportunities for lubricant manufacturers to improve efficiency and reduce costs. This includes the use of sensors and data analytics to optimise lubricant performance and lower maintenance costs.
Some of the new trends in the market for lubricants are: 1. Bio-based lubricants: There is a growing need for lubricants that are more sustainable and better for the environment. This is driving the development of lubricants made from renewable resources, called bio-based lubricants. 2. High-performance lubricants: The increasing complexity and demands of modern machinery and equipment are driving the need for lubricants with higher levels of performance, such as higher resistance to temperature and pressure and longer service life. 3. Digitalization and automation: The use of sensors, data analytics, and other digital technologies is changing the lubricants market, allowing manufacturers to improve lubricant performance, lower maintenance costs, and increase efficiency. 3. Shift towards electric vehicles: As the auto industry moves towards electric cars, there is a growing need for lubricants that work best in electric powertrains, such as ones that are better at conducting electricity and don't react badly with electric parts. 4. Circular economy: The lubricants market is paying more attention to circular economy principles, such as creating closed-loop systems for lubricant use, recycling and re-refining used lubricants, and reducing waste and emissions throughout the lifecycle of a product.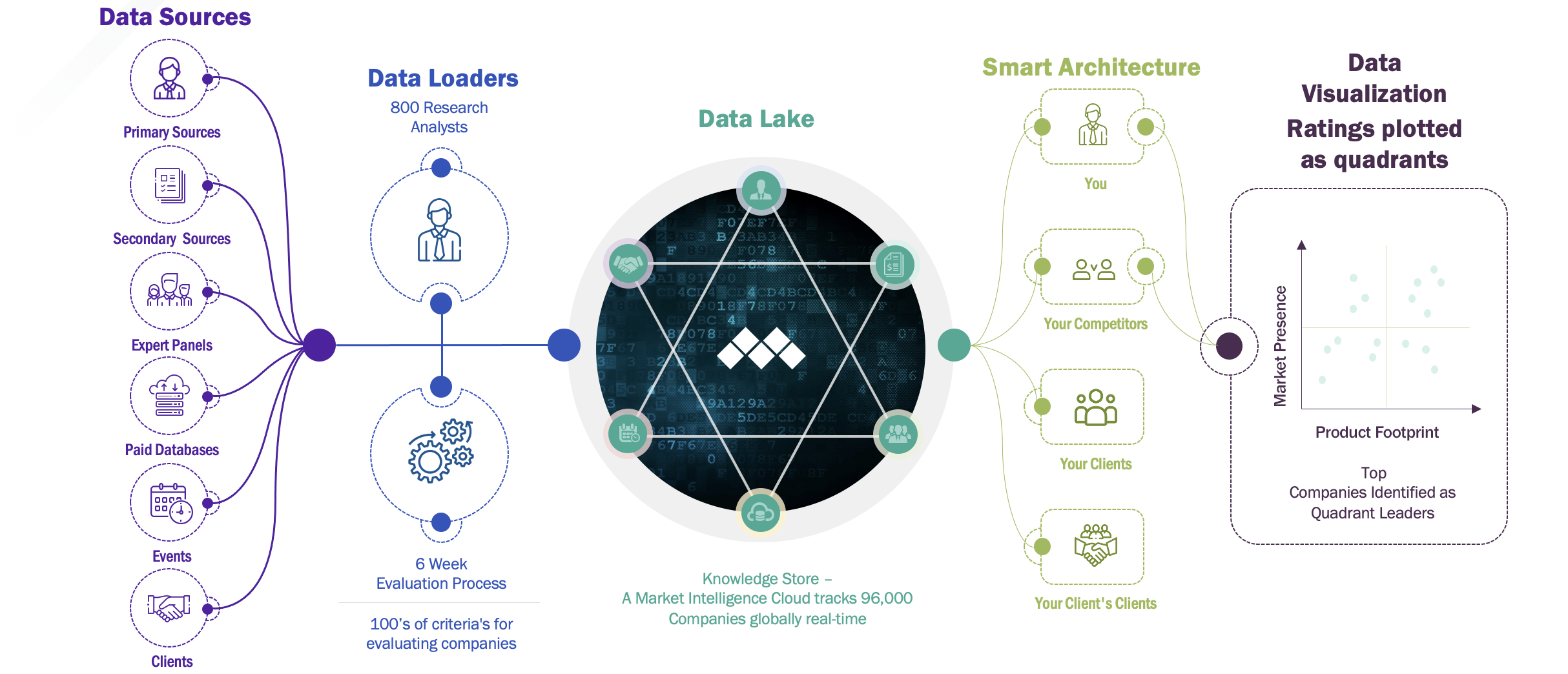 If your company is recognised in this Quadrant, Leverage this ranking using our Marketing Kit.
If your company is recognised in this Quadrant, Leverage this ranking using our Marketing Kit.