Comparing 14 vendors in Methanol Market across 89 criteria.
POWERED BY
MARKETSANDMARKETS
Jun 04, 2023
360 Quadrants produces a list of "Top 14 Methanol Companies, Worldwide 2023", in partnership with MarketsandMarkets. The report recognizes the standouts in the Methanol market ranging from mid-sized enterprises to fortune 500 companies existing in the market. The methanol vendors evaluation was conducted over 200 companies which were categorized, and top 14 companies were recognized as the new economic quadrant leaders.
Key Highlights included in 360 Quadrants:
Strong economic development in emerging nations like China, India, Mexico, Brazil, Saudi Arabia, and Indonesia, as well as rising demand from the construction, solvent, and automotive end-use industries, are the main forces driving the global methanol market. The introduction of methanol as a marine and industrial fuel as well as the expansion of MTO/MTP plant production capacity are other drivers driving the methanol market.
In the global methanol market, natural gas dominates the feedstock. By 2026, methanol is anticipated to have a 42.0% value market share in the coal feedstock sector.
Asia Pacific is anticipated to experience the quickest growth by 2026, with a CAGR of 3.5% in terms of value. The huge supply of cheap feedstock, primarily coal, in China makes it the largest methanol market in the world.
The top players in the methanol market are Methanex (Canada), Zagros Petrochemical Company (Iran), Petronas (Kuala Lumpur), BASF SE (Germany), and Others.
The main tactic used by the important market players was the launch of new products. In recent years, the top manufacturers have acquired or associated with competing companies to boost their market position, and this tendency has continued to expand. In addition to developing their global footprint, businesses are extending their regional reach to offer their experience in methanol and extensive industry knowledge. In August 2022, PETRONAS constructed a gas delivery plant in Tanjung Kidurong, Bintulu, which provides natural gas to Sarawak Energy Berhad and Sarawak Petchem Sdn Bhd. The creation of BAGSF-2 was a crucial turning point in the partnership with the Sarawak State Government for the long-term development of its oil and gas sector.
As part of the shipping industry's move toward decarbonization, Methanex Corporation, Stena Line, and the Port of Gothenburg celebrated a new milestone in January 2023 by pushing methanol as a cleaner burning marine fuel. The Stena Germanica, the first methanol ferry in the world, worked with Methanex to successfully execute ship-to-ship methanol bunkering at the Port of Gothenburg. This relationship served in boosting the market for methanol as a marine fuel and in assisting the sector's energy transition.
The global methanol market is competitive, with three players— Methanex Corporation, HELM Proman Methanol AG, and SABIC, and occupies a leadership position in this market. These companies hold approximately 22-24% of the market share.
Methanex Corporation, HELM Proman Methanol AG, and SABIC are industry majors and have benefitted mainly from their well-recognized brands and strong distribution capabilities in the expanding market.
The Full List
| Logo | Company | Headquarters | Year Founded | Holding Type |
| --- | --- | --- | --- | --- |
| | BASF | Ludwigshafen, Germany | 1865 | Public |
| | Celanese | Irving, USA | 1918 | Public |
| | HELM Proman | Wollerau, Switzerland | 2018 | Public |
| | Lyondellbasell | Houston, USA | 2007 | Public |
| | Metafrax | Gubakha, Russia | 1955 | Public |
| | Methanex | Vancouver, Canada | 1968 | Public |
| | Mitsubishi Gas Chemical | Tokyo, Japan | 1918 | Public |
| | Mitsui | Tokyo, Japan | 1947 | Public |
| | OCI NV | Amsterdam, Netherlands | 2013 | Public |
| | Petronas | Kuala Lumpur, Malaysia | 1974 | Public |
| | SABIC | Riyadh, Saudi Arabia | 1976 | Public |
| | Sipchem | Khobar, Saudi Arabia | 1999 | Public |
| | Yanzhou Coal | Jining, China | 1997 | Public |
| | Zagros | Asalooyeh, Iran | 2000 | Private |
Frequently Asked Questions (FAQs)
Methanol is a colorless, toxic, flammable liquid that is used as a solvent, antifreeze, and fuel. It is also known as methyl alcohol, wood alcohol, or carbinol and has the chemical formula CH3OH. Methanol is a simple organic compound that consists of one carbon atom, three hydrogen atoms, and one hydroxyl (-OH) group. Steam methane reforming or destructive distillation is a process that is commonly used to produce it from natural gas or biomass. Methanol is widely used as a solvent for paints, resins, and adhesives, as well as in the production of formaldehyde, acetic acid, and other chemicals in industrial and laboratory settings. Methanol, on the other hand, is extremely toxic and can cause serious health problems if ingested, inhaled, or absorbed through the skin. 
The main applications for the chemical methanol are as a fuel, solvent, and antifreeze. It is utilized in the manufacture of formaldehyde, acetic acid, and other compounds as well as an alternative fuel for automobiles, a fuel additive, and a solvent. In addition, methanol is employed in the manufacture of various medications, as a deicer for airplanes and airport runways, as a cleaning agent for precision parts and electronic components, and as an antifreeze in cooling systems. However, because methanol is extremely toxic and can be harmful if consumed or inhaled, it must be handled with great caution.
When handled and utilised correctly, methanol can be used without risk. It is frequently utilised as a fuel, antifreeze, and solvent in industrial and laboratory settings. But it's important to remember that methanol is toxic and can be harmful if consumed, inhaled, or absorbed through the skin. Methanol exposure can result in blindness, lung issues, liver and kidney damage, and in extreme situations, even death. Methanol should be handled carefully and according to the correct safety procedures, which include donning the required safety gear and keeping it away from heat sources and flames.
Methanol exposure, whether via ingesting, inhalation, or skin contact, can have detrimental impacts on one's health. Depending on the intensity and length of exposure, methanol is toxic and can result in a number of symptoms and health issues. Methanol consumption can cause blindness or even death. The body converts methanol to formic acid, which can result in metabolic acidosis, a condition in which there is an excess of acid in the body and harm to organs like the liver, kidneys, and brain. Headache, lightheadedness, nausea, vomiting, abdominal pain, and breathing difficulties are all potential signs of methanol intake. Similar symptoms, as well as irritation of the eyes, nose, and throat, can also be brought on by exposure to methanol by inhalation or skin contact. Methanol must be handled carefully and in accordance with established safety procedures to reduce any potential health concerns.
Methanol can be made from a number of different feedstocks, including natural gas, coal, and biomass. The catalytic conversion of natural gas is the most common method for producing methanol. At high temperatures and pressures, methane is reacted with steam and a catalyst, typically a mixture of nickel and aluminium oxide, in a process known as steam methane reforming. After cooling, the synthesis gas is passed through additional catalysts to produce methanol. Other methods of producing methanol include gasification of coal or biomass and partial oxidation of methane. Methanol can also be produced by destructive distillation, which is the decomposition of wood or other organic materials in the absence of air.
Methanol is a colorless, flammable liquid that has a mildly sweet odor. It has a melting point of -97.6°C and a boiling point of 64.7°C. Methanol has a lower viscosity and surface tension than water and is highly soluble in water, alcohol, and ether. It is a polar solvent, which means it can dissolve polar as well as nonpolar compounds. Methanol is a type of alcohol with the chemical formula CH3OH. It is composed of one carbon atom, three hydrogen atoms, and one hydroxyl (-OH) group. Methanol is a simple organic compound that is flammable and produces a nearly colorless flame when burned. Methanol is a precursor to other chemicals like formaldehyde and acetic acid, and it is used to make a variety of industrial and consumer products like solvents, antifreeze, fuels, and plastics.
Methanol is typically stored and transported in specially designed containers due to its flammability and toxicity. Methanol is typically transported in large quantities via tank trucks or railcars. To prevent corrosion and leakage, these vehicles have specialised tanks made of stainless steel or aluminium. Methanol is typically transported at low temperatures in order to reduce vapour pressure and avoid the risk of explosion. Methanol is also frequently stored in bulk storage tanks at manufacturing or terminal facilities. To ensure the safe and secure transport and handling of methanol, proper labelling, documentation, and handling procedures are required during storage and transportation.
Methanol is a fuel that is used in a variety of applications, such as racing cars, fuel cells, and as a gasoline additive. It is also regarded as a renewable fuel because it can be produced using renewable resources such as biomass. Methanol is commonly used as a fuel in methanol fuel cells, which generate electricity by converting methanol into electricity and water. Methanol can also be used as a fuel additive in gasoline, increasing the octane rating and lowering harmful emissions. Methanol is frequently used as a racing fuel in racing cars because it has a higher octane rating than gasoline, allowing for increased performance. Because of its high energy density and lower combustion temperature, methanol is also commonly used as a racing fuel, which can reduce engine wear and improve engine longevity. Because methanol has different properties than gasoline and other traditional fuels, it may necessitate the use of specialised engines and fuel systems. When working with methanol as a fuel, proper handling and safety protocols are also essential.
Methanol as a fuel has both beneficial and detrimental effects on the environment. Because it can be made from biomass, methanol is regarded as a renewable fuel because it burns cleanly and emits fewer greenhouse gases and air pollutants than conventional fossil fuels like gasoline and diesel. Moreover, methanol can be mixed with gasoline to further cut emissions and the need for fossil fuels. Methanol must be transported and stored using specific infrastructure, and its manufacturing from natural gas or coal can also release air pollutants and greenhouse gases. Also, the widespread use of methanol as a fuel can raise the demand for biomass resources, which might have an adverse effect on the environment due to deforestation or other factors.
Depending on the nation and jurisdiction, different rules and safety precautions apply to the handling of methanol. Nonetheless, the following are some typical laws and instructions for managing methanol: Correct labelling: Information regarding the contents, risks, and recommended handling procedures must be printed on all equipment and containers that contain methanol. Proper storage: Methanol should be stored properly in a cold, dry place that is well-ventilated and away from heat sources and items that are incompatible with it. Personal protective equipment (PPE): Workers handling methanol should use the proper personal protective equipment (PPE), such as gloves, goggles, and respirators. Emergency response: In the case of a spill, fire, or other disaster containing methanol, adequate emergency response methods and tools should be in place. Training: Methanol handlers should obtain the proper instruction on the substance's dangers, safe handling practises, and emergency response. Transportation: Proper labelling and documentation, as well as adherence to all applicable rules and regulations, should be used when transporting methanol. Disposal: Methanol must be disposed of appropriately in compliance with all applicable laws and instructions. The Occupational Safety and Health Administration (OSHA) in the United States has issued rules and recommendations for the safe handling of methanol in the workplace. Similar regulatory structures and policies for the safe handling of methanol may exist in other nations.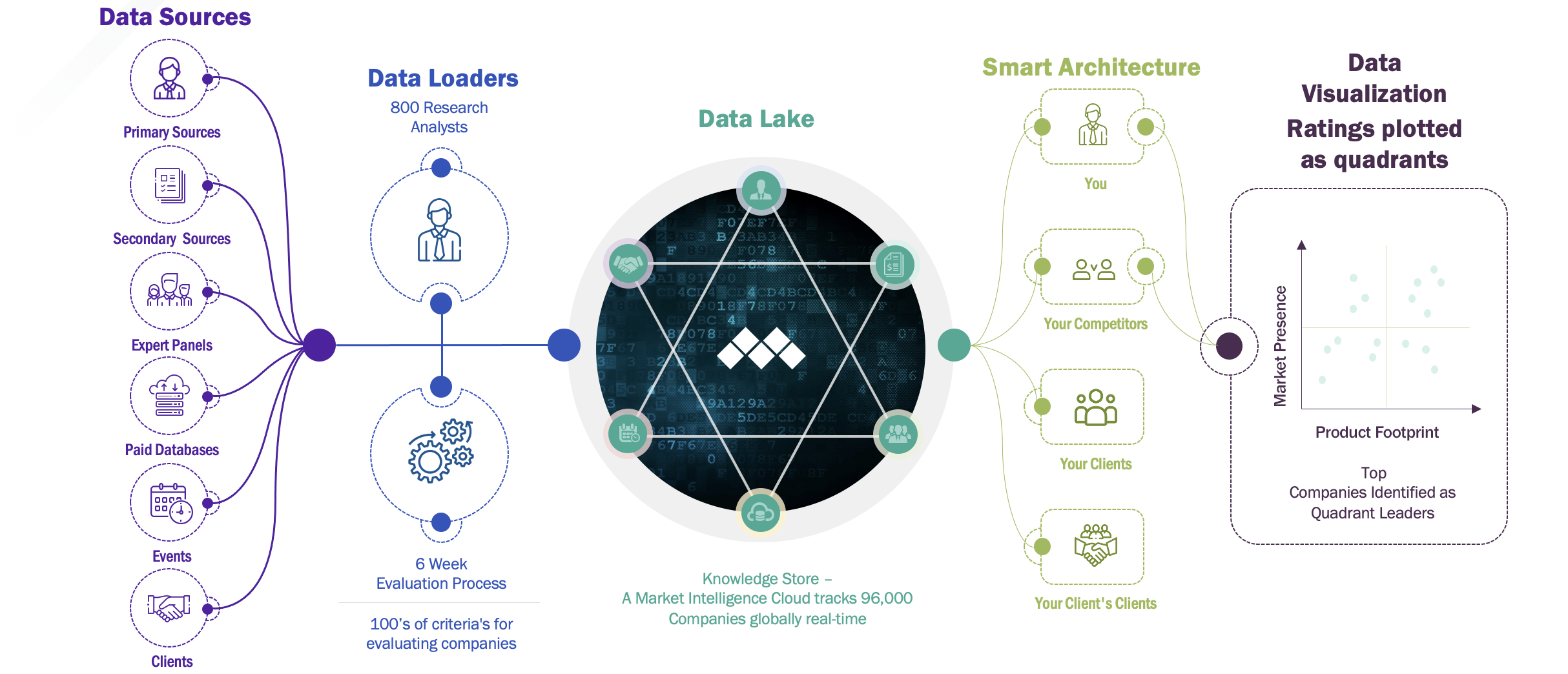 If your company is recognised in this Quadrant, Leverage this ranking using our Marketing Kit.
If your company is recognised in this Quadrant, Leverage this ranking using our Marketing Kit.