Comparing 21 vendors in Sustainable Packaging Market across 119 criteria.
POWERED BY
MARKETSANDMARKETS
Jun 04, 2023
360 Quadrants releases its list of "Top 21 Sustainable Packaging Companies, Worldwide 2023" in partnership with MarketsandMarkets. The report recognizes the standouts in the sustainable packaging market ranging from mid-sized enterprises to Fortune 500 companies. The vendor evaluation was conducted on over 200 companies, of which the top 21 were categorized and recognized as the new economic quadrant leaders.
Key trends highlighted in 360 Quadrants:
The sustainable packaging market by layer is segmented into primary, secondary, and tertiary. Among these, the primary packaging market dominated the overall sustainable packaging market with a share of about 45%. This dominance is mainly due to the rising application of glass and plastic packaging in the food & beverage and industrial sectors.
Due to rising concerns over single-use plastics, FMCG companies and retailers are switching to more sustainable options and are rethinking their overall packaging systems. This will create a huge impact on the overall sustainable packaging industry. With this new landscape, there will be many opportunities for partnerships and new product research.
Among the different packaging materials such as paper & paperboard, plastic, metal, and glass, the paper & paperboard segment accounted for the largest share (40%), followed by plastics in the overall sustainable packaging market in 2022.
The processes for sustainable packaging were segmented into recycled content packaging, degradable packaging, and reusable packaging. The demand for such types of packaging will be boosted by the acceleration in global activities. It was observed that recycled content packaging dominated the sustainable packaging market; however, the demand and growth of reusable and degradable packaging are expected to rise soon.
Developing markets such as China, Brazil, and India are emerging as growth frontiers for sustainable packaging. In 2022, the Asia Pacific region dominated the global sustainable packaging market, accounting for nearly 42% of it. The market for sustainable packaging is observed to be mature in developed regions such as North America and Europe.
It is also due to the fact that governments worldwide are taking steps to encourage the use of green packaging. Several countries are incentivizing businesses with tax exemptions for compostable packaging. In the UK, packaging containing less than 30% recycled materials will be subject to higher taxation. Such initiatives are set to boost the growth of the sustainable packaging market. Additionally, companies are making efforts to increase their sustainability goals.
The leading market players adopted mergers and acquisitions as the key strategies due to intense competition in the market. Some of the top key players in the market are Amcor Ltd. (Switzerland), Tetra Laval International (Switzerland), Sealed Air Corp. (USA), Mondi Group (UK), and WestRock Company (USA).
Companies in the sustainable packaging domain are adopting various other strategies as well to strengthen their footprint in the market. For instance, in November 2022, Amcor announced an investment of USD 3 million in PulPac, a Swedish company providing disruptive manufacturing technology for low-cost, high-performance fiber-based packaging.
The Full List
| Logo | Company | Headquarters | Year Founded | Holding Type |
| --- | --- | --- | --- | --- |
| | Amcor | Southbank, Australia | 1896 | Public |
| | Aptar Group | Crystal Lake, USA | 1992 | Public |
| | Ardagh | Luxembourg, Luxembourg | 1932 | Private |
| | Ball Corporation | Broomfield, USA | 1880 | Public |
| | Constantia Flexibles | Vienna, Austria | 2004 | Private |
| | Cosmo First | New Delhi, India | 1976 | Public |
| | Crown Holdings | Yardley, USA | 1892 | Public |
| | DS Smith | London, UK | 1940 | Public |
| | Huhtamaki | Espoo, Finland | 1920 | Public |
| | Klöckner Pentaplast | London, UK | 1965 | Private |
| | Mondi | Weybridge, UK | 1967 | Public |
| | NatureWorks | Plymouth, USA | 1989 | Private |
| | Pactiv | Lake Forest, USA | 2020 | Public |
| | Plastipak | Plymouth, USA | 1967 | Public |
| | Sappi | Rosebank, South Africa | 1936 | Public |
| | Sealed Air | Charlotte, USA | 1960 | Public |
| | Silgan | Stamford, USA | 1987 | Public |
| | Smurfit Kappa | Dublin, Ireland | 2005 | Public |
| | Stora Enso | Helsinki, Finland | 1998 | Public |
| | Tetra Laval | Pully, Switzerland | 1952 | Private |
| | WestRock | Atlanta, USA | 2015 | Public |
Frequently Asked Questions (FAQs)
Sustainable packaging is a packaging design and manufacturing approach that seeks to reduce the environmental impact of packaging materials and processes throughout their entire life cycle. It entails using renewable, recyclable, and/or biodegradable materials and manufacturing methods, as well as designing packaging with a focus on reducing waste and improving energy efficiency. Sustainable packaging aims to reduce the environmental impact of packaging while still providing the product with the necessary protection and functionality. This is significant because packaging waste contributes significantly to environmental degradation and climate change. Sustainable packaging seeks to strike a balance between the needs of businesses, consumers, and the environment.
Sustainable packaging incorporates a variety of eco-friendly materials and designs that reduce packaging's environmental impact. Recycled paper and cardboard, bioplastics made from renewable resources, compostable plastics, plant-based materials such as bamboo and mushroom, and reusable packaging are all examples of sustainable packaging materials. Minimalist packaging, which uses less material, and pulp packaging made from natural fibers are also considered environmentally friendly. Sustainable packaging is important because it reduces waste, conserves resources, and reduces the environmental impact of packaging. As consumers and businesses become more concerned about sustainability, there is a growing trend toward the use of sustainable packaging in a variety of industries.
Some of the characteristics of sustainable packaging are: Made from renewable materials: Sustainable packaging is made from materials that can be replenished or renewed, such as paper, cardboard, bamboo, and other plant-based materials. Recyclable: The packaging should be easily recyclable, such as glass, aluminum, and certain types of plastics. This reduces the amount of waste that ends up in landfills. Biodegradable: Packaging that is biodegradable can break down naturally and safely in the environment without causing harm. Low carbon footprint: Sustainable packaging is designed to minimize its environmental impact, including greenhouse gas emissions, during the production, transportation, and disposal phases. Reusable: Packaging that can be reused, such as glass jars or metal tins, reduces waste and extends the product's lifecycle. Non-toxic: Sustainable packaging should be free from toxic chemicals that can harm human health or the environment. Lightweight: Lighter packaging requires less energy to transport, which reduces the carbon footprint and transportation costs. Compostable: Compostable packaging can be broken down into organic matter and used as a fertilizer, which reduces waste and supports the circular economy.
Sustainable packaging has numerous environmental and business benefits. Sustainable packaging helps to protect natural resources, reduce pollution, and conserve energy by reducing waste and greenhouse gas emissions. Sustainable packaging also fosters innovation and the development of new, environmentally friendly technologies. Customers are becoming more aware of the environmental impact of the products they purchase, and companies that invest in sustainable packaging can benefit from increased customer loyalty and a positive brand image. Furthermore, sustainable packaging can lower transportation, disposal, and regulatory compliance costs. Overall, sustainable packaging benefits businesses, consumers, and the environment.
Consumers want sustainable packaging for a variety of reasons. For starters, they are becoming more conscious of the environmental impact of their consumption habits and wish to reduce their carbon footprint. Sustainable packaging contributes to this goal by reducing waste and the use of nonrenewable resources. Second, because it does not contain harmful chemicals that can leach into products, sustainable packaging is often safer and healthier for consumers. Third, consumers want to support businesses that share their values, and many people place a high value on sustainability. Finally, sustainable packaging frequently appears and feels more premium, which can improve the overall experience of the consumer with the product.
There is no one-size-fits-all answer to this question because the most sustainable product packaging will depend on the specific product, its requirements, and the materials and technologies available. However, some packaging options are generally regarded as more environmentally friendly than others. a. Biodegradable and compostable packaging: It is made of materials that degrade naturally without harming the environment, like plant-based plastics, paper, and cardboard. b. Recyclable packaging: It can be easily recycled and reused, such as glass, aluminum, and certain types of plastics, is a more sustainable option. c. Refillable packaging: Refillable packaging, such as glass bottles or metal tins, can reduce waste and conserve resources. d. Minimalist packaging: Packaging that uses fewer materials and has a minimalist design can reduce waste and have a lower environmental impact. e. Plant-based packaging: Packaging made from a renewable plant.
Sustainable packaging is frequently designed to be recyclable or made of easily recyclable materials. Recycling packaging allows for the creation of new products while reducing waste and conserving resources. It should be noted, however, that not all sustainable packaging is recyclable, and not all recyclable packaging is sustainable. The recyclability of packaging materials is determined by factors such as the type of material, the recycling infrastructure available in a given area, and the material's contamination level. Consumers should check their local recycling guidelines and dispose of sustainable packaging properly to ensure that it is recycled properly. Furthermore, businesses can design recyclable packaging and provide recycling information to their customers.
As more businesses and consumers recognize the importance of reducing waste and conserving resources, the future of sustainable packaging appears bright. Material and design innovations are creating new options for environmentally friendly and functional sustainable packaging. Renewable and biodegradable materials, such as plant-based plastics and paper, are becoming more common. Technology advancements are also making it easier to recycle and compost packaging materials. Furthermore, governments are enacting regulations and incentives to encourage businesses to use sustainable packaging. As the demand for environmentally friendly products grows, the future of sustainable packaging is likely to include even more innovative and eco-friendly solutions.
In the long run, sustainable packaging can be profitable for businesses. While sustainable packaging may necessitate an initial investment, it can ultimately save money on waste management, transportation, and regulatory compliance. Sustainable packaging can also improve a company's brand image and reputation, resulting in higher customer loyalty and sales. Businesses that invest in sustainable packaging may benefit from increased market share and higher demand for their products as consumers become more environmentally conscious. Furthermore, sustainable packaging can assist businesses in complying with sustainability regulations, such as Extended Producer Responsibility (EPR) laws, and avoiding fines or penalties. Overall, sustainable packaging can provide businesses with both environmental and economic benefits, making it a wise and profitable long-term decision.
While there are numerous advantages of sustainable packaging, there are also some disadvantages to consider. a. Higher cost: Sustainable packaging materials and production processes can be more expensive than traditional packaging methods, increasing business production costs. b. Limited availability: Some sustainable packaging materials, such as plant-based plastics, are not yet widely available, making it difficult for businesses to access them. c. Limited functionality: Sustainable packaging materials may not have the same functional properties as traditional materials, such as durability or resistance to moisture or heat. d. Limited recycling infrastructure: Recycling infrastructure for certain types of sustainable packaging, such as biodegradable or compostable materials, may not yet be widely available, leading to challenges in proper disposal. e. Consumer confusion: Consumers may be confused about how to properly dispose of certain types of sustainable packaging, leading to contamination and reduced recyclability. Overall, while sustainable packaging has many benefits, businesses should carefully consider the potential disadvantages before deciding.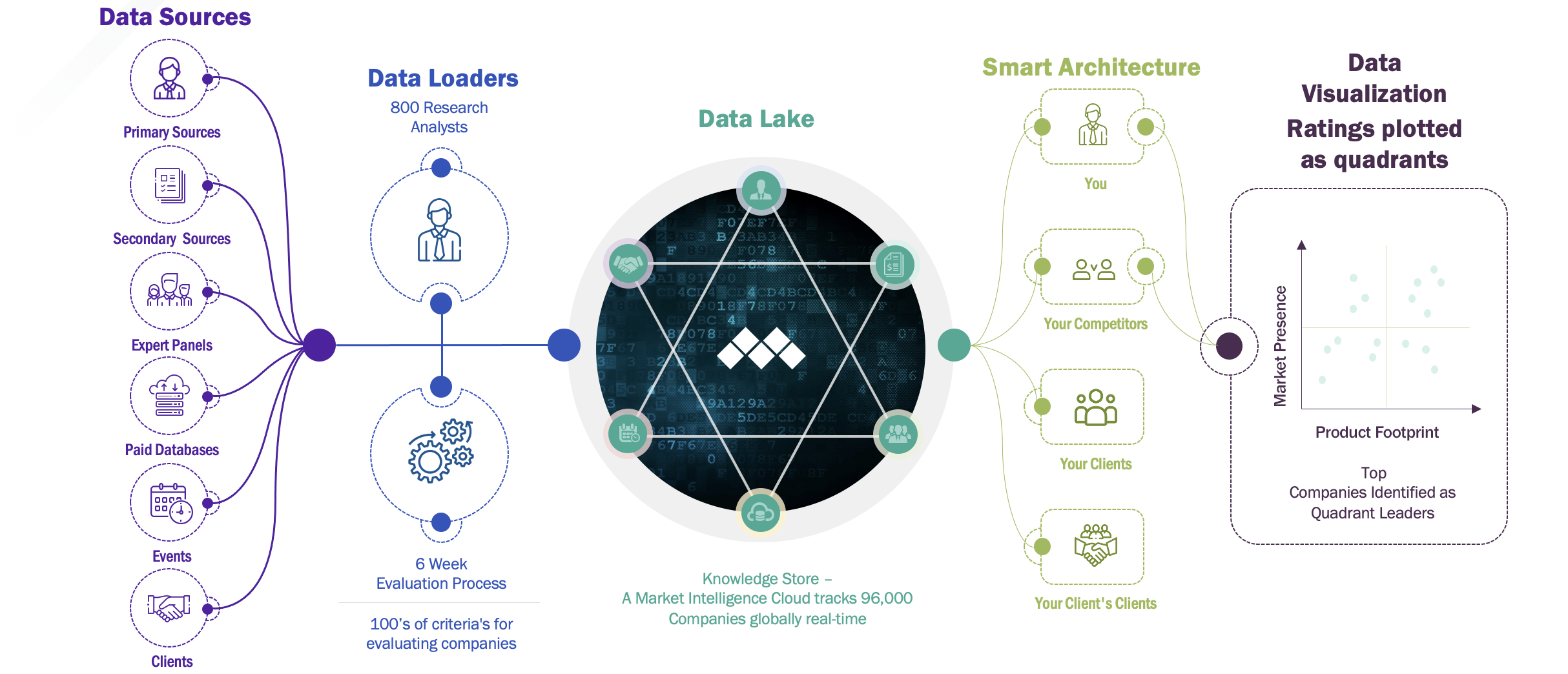 If your company is recognised in this Quadrant, Leverage this ranking using our Marketing Kit.
If your company is recognised in this Quadrant, Leverage this ranking using our Marketing Kit.