Learn more about Vibration Monitoring Solutions
Vibration monitoring plays a critical role in plant operations because of its diverse applications on different types of critical machinery. The technology is capable of detecting problems caused by misalignments and improper functioning of various sources such as bearings and gears. Vibration monitoring is widely implemented in most of the conventional rotating machinery such as pumps, motors, and turbines. "
VISIONARY LEADERS
Visionary leaders are the leading market players in terms of product portfolio, geographic reach, innovative technologies, and adoption of growth strategies. The SWIR market is moderately dominated by the players covering a major share of the market. These players have a broad product portfolio that caters to most of the regions globally. Visionary leaders primarily focus on acquiring the leading market position through their strong financial capabilities and well-established brand equity.
DYNAMIC DIFFERENTIATORS
Most of the dynamic players are classified as companies which focus on specifically one or two technologies, however, hold a fair position in the market along with a presence in various regions globally. These players have low product offerings with stronger business strategies. The vibration monitoring market has many companies operating since the past decade, which are largely dependent on their competitive R&D activities.
INNOVATORS
The players involved in the development and innovation of new products in the vibration monitoring market have been included in the quadrant. Owing to the high demand for vibration monitoring solutions, new players can make an impact with the latest product launches and new innovations.
EMERGING COMPANIES
Emerging quadrant includes the players which have a relatively moderate position in the market, along with comparatively weaker business strategies and geographic presence. However, these players are expected to hold a significant position in the near future. As the market poses a moderate threat to new entrants in establishing their footprint, there are several players providing vibration monitoring solutions to diverse business groups globally.
Vibration Monitoring Solutions
Comparing 25 vendors in Vibration Monitoring Solutions across 16 criteria.
Send your Business Requirement to Multiple Vendors in one go.
Requirements from other buyers
Start sharing your business requirements
Get Vendors & Expert responses to each requirement within hours.
500+ Vibration Monitoring Solutions buyers negotiating "Group Buying Deal" through 360Quadrants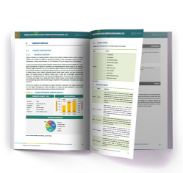 Vibration monitoring is an essential part of any predictive maintenance program. It is the process of systematic data collection and evaluation to identify the variation in the performance of machines. It pertains to providing information about the condition of the machines that are used in manufacturing plants so that they can be maintained properly. The information provided by these systems helps in determining probable failures well in advance and taking corrective steps in a planned manner to minimize the impact of these failures on the production. The data collected by vibration monitoring systems can be used to perform the root-cause analysis of the fault so that it does not occur again.
The vibration monitoring market is a spin-off of the machine condition monitoring market, which is witnessing significant growth. The global vibration monitoring market is expected to reach USD 2 billion by 2025, at a CAGR of 7.4% during 2020-2025.
Rising adoption of wireless systems in machine condition monitoring to be the major driver of the market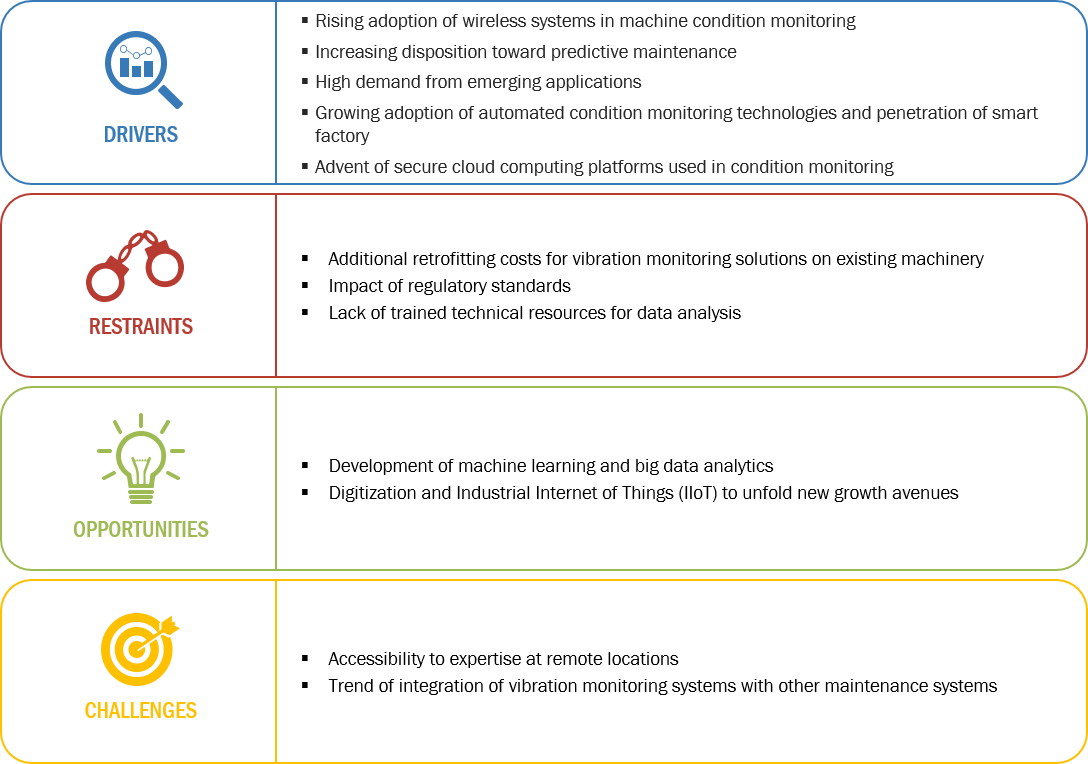 Best Vibration Monitoring firms in the market are General Electric, Emerson Electric, SKF, Honeywell International, and National Instruments. Top Market players are rated and positioned on a 2x2 matrix, called 'Company Evaluation Quadrant,' and identified as: Visionary Leaders, Dynamic Differentiators, Innovators, and Emerging companies.
The report includes market-specific company profiles of 20 best vibration monitoring firms and assesses the recent developments that shape the competitive landscape of this highly fragmented market.
This report identifies and benchmarks best vibration monitoring firms such as General Electric, Emerson Electric, SKF, Honeywell International, and National Instruments, and evaluates them on the basis of business strategy excellence and strength of product portfolio within the vibration monitoring ecosystem, combining inputs from various industry experts, buyers, and vendors, and extensive secondary research including annual reports, company press releases, investor presentations, free and paid company databases. They are rated and positioned on a 2x2 matrix, called as 'Company Evaluation Quadrant,' and identified as Visionary Leaders, Dynamic Differentiators, Innovators, or Emerging companies.
SAMPLES: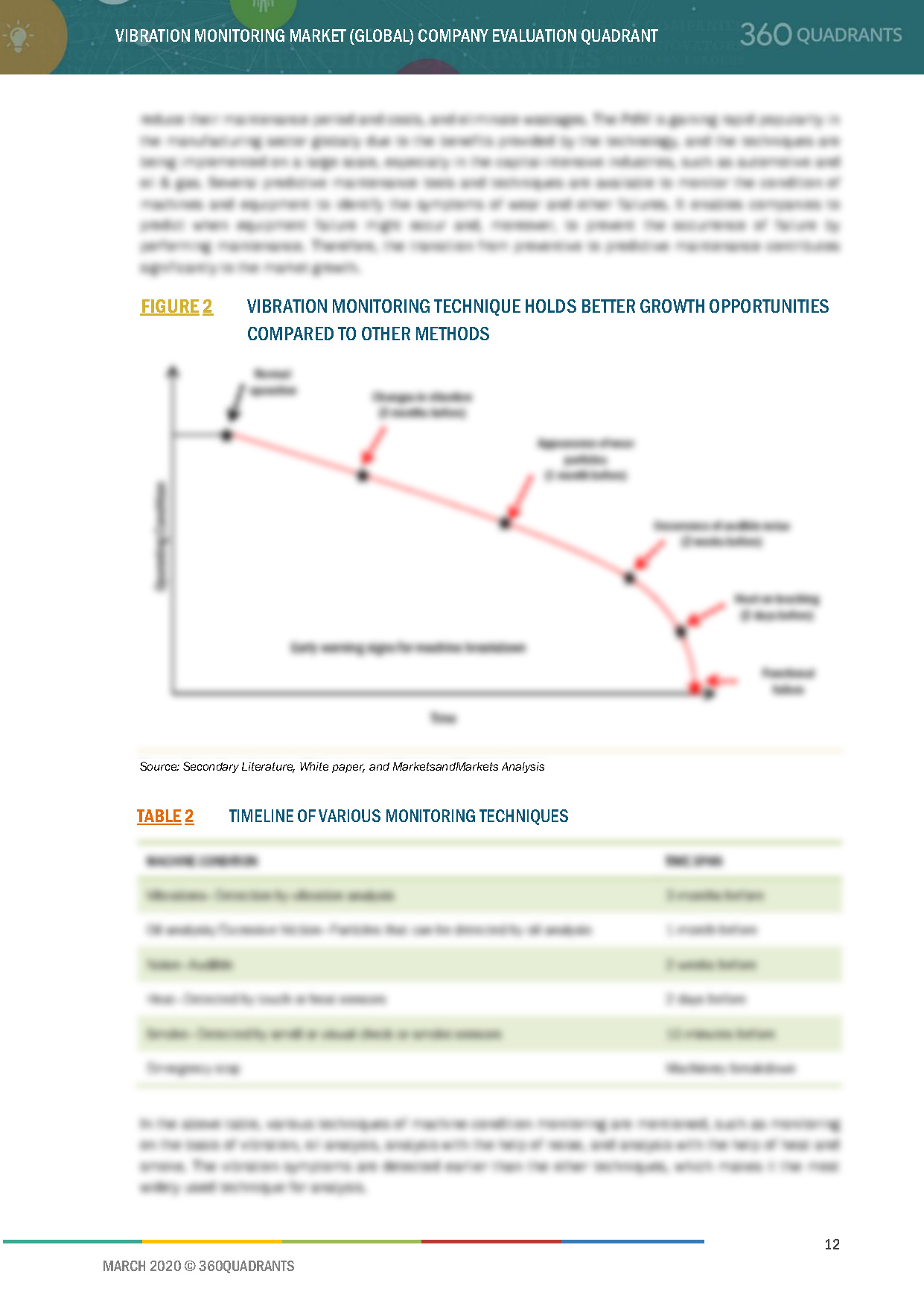 ---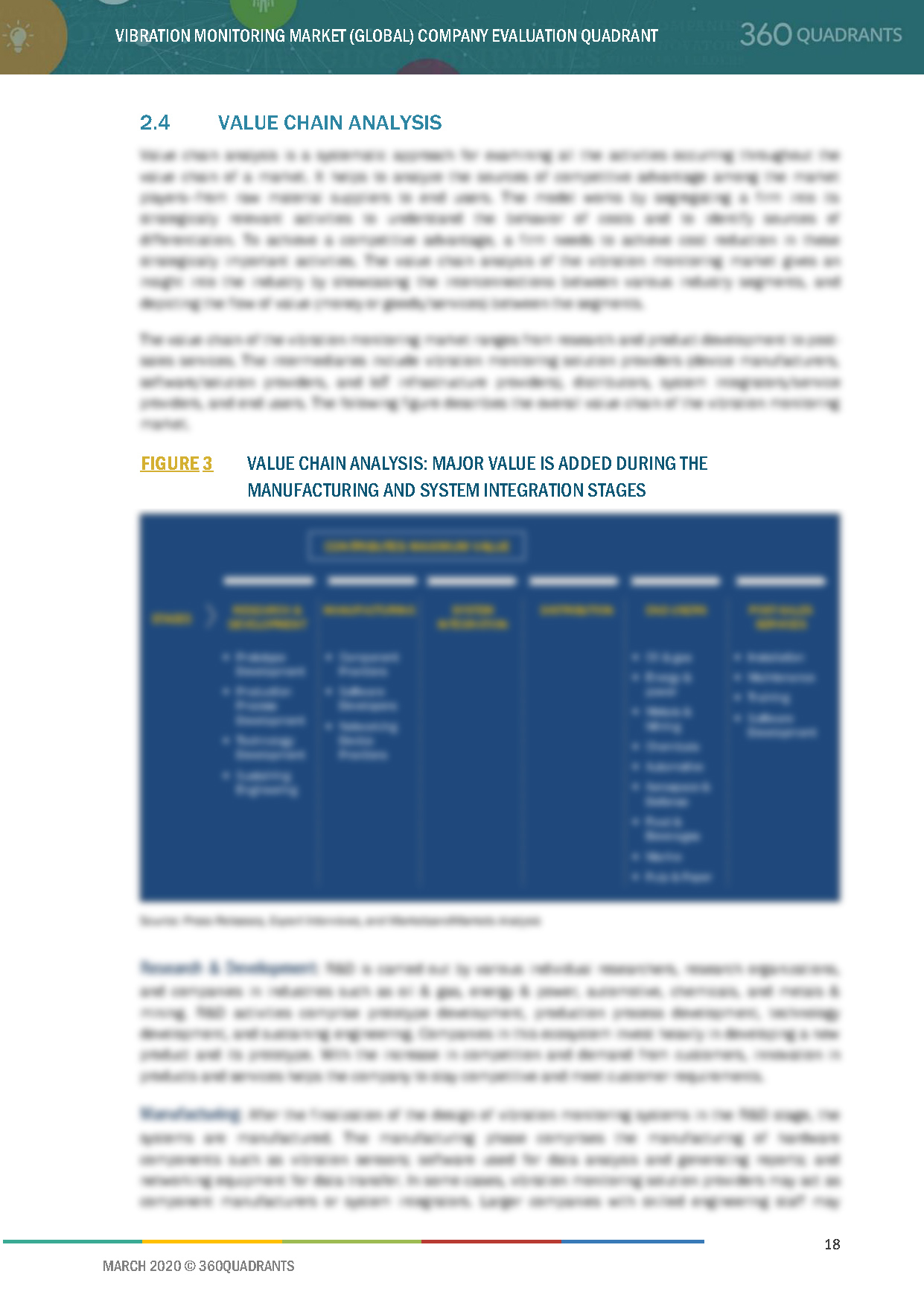 ---
---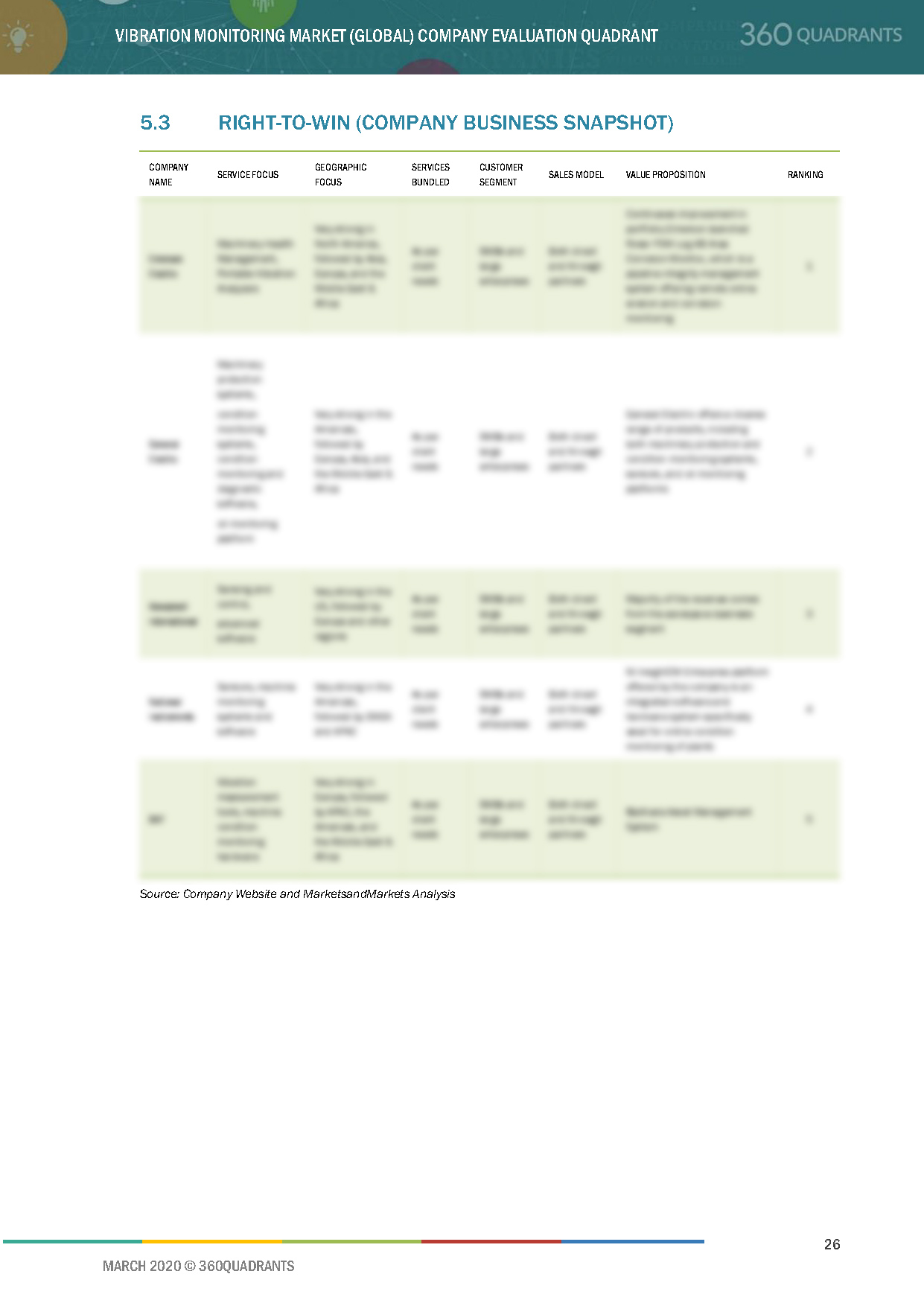 ---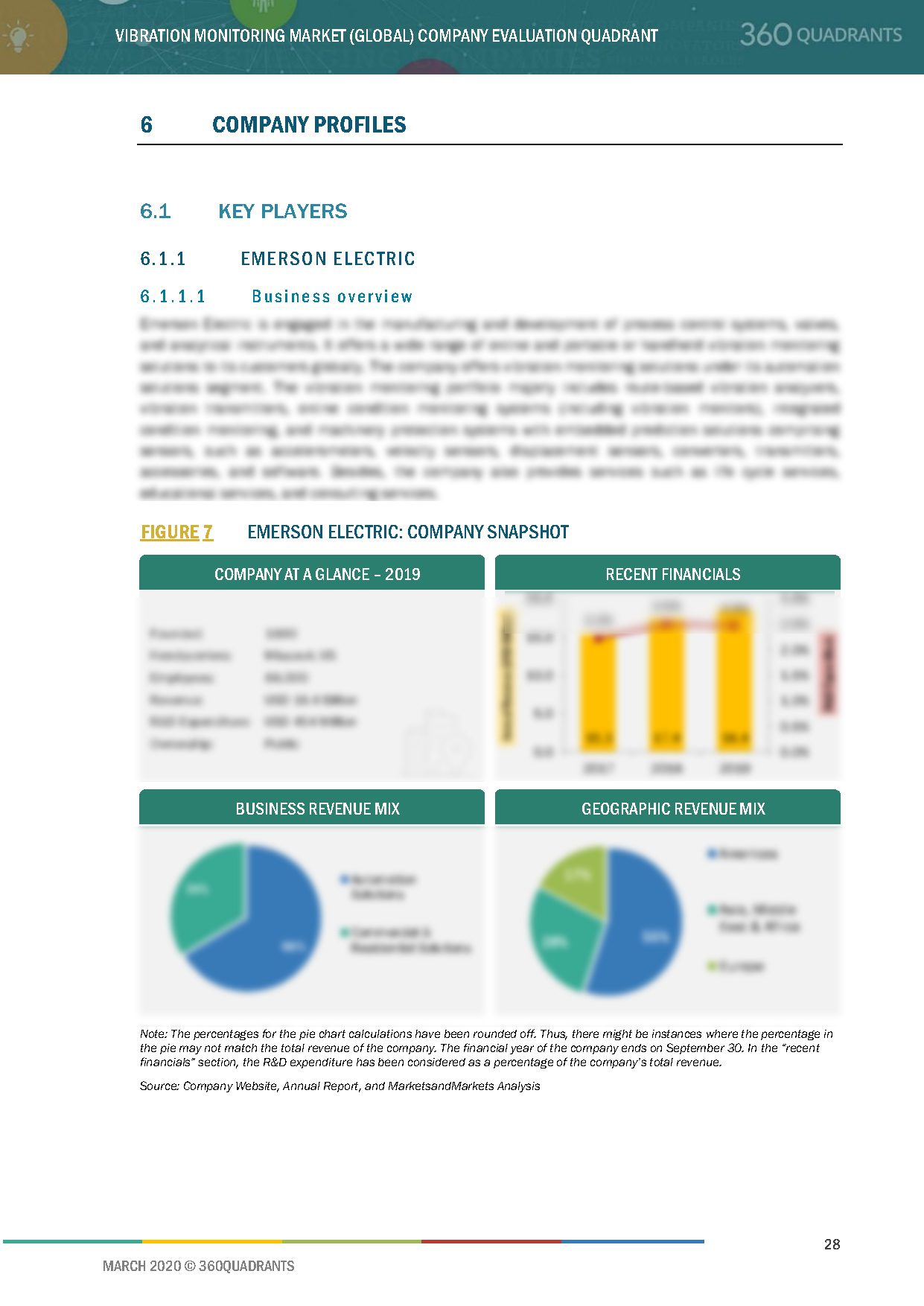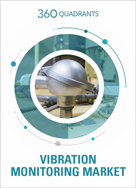 Request Free Sample Report
Personalize Your Research Requirement
Updated version of this Quadrant
Different Company Evaluation Quadrant
'Startup Only' Company Evaluation Quadrant
Region or Country specific evaluation
Application or Industry specific evaluation

..Read More
Analyst Briefing & Inquiry
Submit a Briefing Request
Question about our published research
Request for evaluation of your organization for specific market
Request for re-evaluation of Company Evaluation Quadrant

..Read More