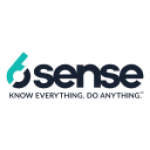 California, USA
2013
$11MN to $50MN
6SENSE in Artificial Intelligence in Retail
6SENSE Overview
6sense Predictive Intelligence for Account-Based Marketing and Sales and helps companies find accounts in active buying cycles for their products and services. It focuses on media spend towards the right accounts actively researching on products and solutions to increase engagement and inbound conversions from advertising. The company increases the efficiency of sales efforts by removing false positives from pipelines and routing inbound leads.
6SENSE USP
6sense's mission is to strengthen marketing and sales teams with 100 percent visibility into buyers end; who they are, needs and timing. 6sense offers marketers with omnichannel connectivity and visibility from brand to demand to revenue. 6sense forecasts power all downstream sales and marketing systems with intelligence on who is in the market to buy, what products, when they will buy and where they are in the buyer's journey. 6sense allows intelligent growth resulting in new pipeline, higher marketing to sales conversions, larger opportunity size and increased sales productivity and effectiveness with teams focusing on the right "in-market" buyers with a need now.
No Frequent Comparisons
No Strengths or Weaknesses
No Reviews
Questions And Answers
Have a Question? Ask here.
No Questions
Create an account or sign in to view this content
No Photos / Videos