Mining software helps open pit or cut and underground mining companies right from planning and designing to the effective handling of operations for all the phases involved in a mining operation. Mining firms constantly require software solutions which would help them in handling exploration and manufacturing of minerals, enhance the usage of human resources and all the equipment, and also look after the compliance with respect to the conservational and health and safety guidelines. Best mining software is generally used by mining forms to assess the financial potential of mineral deposits, manage all the set-up that is essential for ore recovery, or monitor the logistics of ore during the entire mining cycle. A few mining software in the market also provide features for land rehabilitation for mines that have shut down. Because mining ventures need large investments, businesses can use the best mining software to reduce costs of maintenance and production. This type of a software can also help mining businesses in increasing the productivity of their employees through better arrangement. A few mining software only focus on exploration and production, while others only deliver features for asset maintenance.
Best Mining Software in 2020
Surfer

GEOVIA Surpac

Datamine Discover Suite

Groundwater Modeling System 8.0

XLMiner

AMT

BIMS

Carlson Basic Mining

Coal Software & Systems

CXL Pit to Port
Surfer - Surfer is a comprehensive 2D and 3D mapping, displaying, and exploration software solution that has been created to help scientists and engineers. The software offers an outstanding interpolation engine that instantly converts data into high-quality maps. Almost every facet of the map is modifiable. Users can improve maps with profiles, legends, headings and tags, errors and break lines, or exterior maps from literally any web mapping service. Surfer is used widely by geologists, archaeologists, mining firms and many others across the globe….Read more
GEOVIA Surpac - GEOVIA Surpac helps in geology and mine planning and also supports open pit and underground processes and exploration activities. It helps mining firms in managing and improving efficiency and precision with the help of 3D graphics and workflow automation….Read more
Datamine Discover Suite - Datamine Discover Suite has been designed and developed specially for the mining and exploration businesses. It delivers a unified suite of tools for accumulating, visualizing, evaluating, and plotting 2D as well as 3D spatial geoscience data….Read more
Groundwater Modeling System 8.0 - GMS offers tools for all the stages of a groundwater simulation that include site classification, model creation, calibration, post-processing, and visualization. The software has a modular design that allows the users to choose modules in preferred mixtures, letting the users to opt for only those groundwater modelling functionalities that are necessary for them. Supplementary GMS modules can be bought and added at any time. The software flawlessly links to these following modules at run time - mechanically adding additional modelling competence to the software suite….Read more
XLMiner - XLMiner provides data mining software solutions for business analytics, predictive model formation and testing. The software collects data from Excel workbooks, SQL databases or PowerPivot. It allows users to leverage manifold processor cores with the help of XLMiner SDK's default parallelized algorithms, without requiring users to write the code themselves….Read more
AMT - AMT is an asset management solution that helps users in handling fixed assets, rolling stock or any capital asset, by providing them with organized workflow management, decision support and more….Read more
BIMS - Blast Information Management System (BIMS) offers information that helps in fulfilling the strategic and operational needs for scheduling, governing and decision making for improving mining operations. BIMS offers methods to store, manage, and recover drill and blast associated information. The system has the ability to blast particulars, actual blast factors, blast outline, and face profile, explosive usage and more….Read more
Carlson Basic Mining - Carlson Software provides comprehensive solutions for the whole project cycle for civil engineering, land plotting, GIS, building, and mining services. The software is accessible worldwide and it specializes in CAD design software, field data gathering, laser assessment, GNSS, and machine control products. Carlson Software's prominent range of software and machine control offerings for the mining businesses has extended to comprise high-performing laser assessment devices….Read more
Coal Software & Systems - Coal Software & Systems provides mining companies with surface mining, underground mining as well as wall mining software that can be customized to meet their specific business needs….Read more
CXL Pit to Port - CXL Pit to Port helps mining companies to plan, record, monitor, enhance, account, reconcile and report the weight, quality and worth of whole materials right from mine to point of transfer or usage….Read more
Market Overview

Mining software provides a safe controlled environment that protects operators and maintenance personnel in the surface and underground operations. This technology not only increases productivity and safety but also lowers the total cost of ownership/maintenance costs. The software facilitates automation in mining operations by using automated mining equipment such as autonomous haulage trucks and drilling rigs; communications systems; hardware components including sensors, cameras, GPS receivers, and LiDAR sensors; and dedicated software such as autonomous haulage systems and collision detection and avoidance systems. The usage of best mining software is slowly gaining traction among mining companies owing to several benefits associated with it. Due to fluctuations in demand for mineral resources and decrease in gross profit margin, advantages of mining equipment automation technologies such as high efficiency and productivity, safety, and cost-effectiveness perform a crucial role in the growth of the mining automation market.
What are the factors driving the mining software market?

Growing concerns of worker safety
The extraction of minerals from the earth is threatening to human health and can have adverse effects on the environment. Harmful factors such as dust, smoke, noise, UV exposure, stress, and fatigue have deteriorated the efficiency of mining workers over a period of time. The challenging work environment in mining presents a high risk of traumatic injury, which may result in reduced productivity. The most common causes of fatal injury include rock collapse, explosion, and release of poisonous gases, among many others. Stringent mine safety regulations are required to be implemented to eliminate accidents during mining operations. The remote location of mining sites also makes it difficult for authorities to make aid available at the right time. Therefore, Mining software provides a logical option to mining companies to tackle the challenges pertaining to safety and productivity by replacing humans with automated machines. Mining software facilitate the use of driverless trucks, automated drilling and blasting, and automated exploration techniques, companies can minimize the risks associated with worker safety and deploy them to a safer location. Hence, the mining industry is witnessing an increasing adoption of mining automation technologies by global mining companies to increase productivity and efficiency.
Need to improve productivity
Best mining software offers a significant rise in productivity. Operating mines in which human workers have been employed witness reduced productivity in the event of changing shifts and accidents due to physical factors such as fatigue or mental/emotional illness. However, implementing mining automation equipment such as autonomous haulage system (AHS), automated drilling system (ADS), and automated loading help companies to carry out around-the-clock production and to halt only during refuelling and maintenance of machines. Best mining software is playing a key role in increasing the productivity by enabling consistent operations and minimizing unnecessary delays. Moreover, driverless trucks operated by the automated haulage system (AHS) deliver loads efficiently, thereby reducing overhead costs. Thus, mine operators are highly adopting mining equipment automation technologies due to their benefits such as improved safety, better fuel efficiency, increased productivity, reduced driver fatigue, and attrition, among many others.
Reducing operating costs
Constantly fluctuating commodity prices in recent years have put additional pressure on the profit margins of mining companies. Increasing expenses on exploration activities and the need to carry out non-stop production to meet the global energy demands have made mining operators to embrace innovative technologies. To maximize productivity gains, companies are diverting their investment into advanced automation technologies, namely AHS for driverless trucks, automated drilling system (ADS), and real-time monitoring of assets. By using advanced automation technologies for mining, companies are witnessing a significant fall in their operating costs. For instance, since 2008, Rio Tinto (UK), a global mining and exploration company, has been operating its iron ore mines in Pilbara, Australia, with the help of AHS and ADS technologies. In the past years, the company witnessed 13% reduction in load and hauling operating costs due to the autonomous system. The capital saving has helped Rio Tinto to keep itself immune from fluctuating commodity prices and losses. The financial benefits that mining automation technologies offer are one of the key factors for companies opting for automation in their mining operations.
What are the future opportunities for mining software providers in the mining software market?

Growing digitization in mining
The increasing trend of mining companies adopting digital technologies and data analytics, which have the potential to open new ways of managing variability and enhancing productivity, is likely to fuel the demand for automation in mining operations. Mining operations are generating a large amount of data owing to the increased use of automated equipment, advanced sensors, and increased spending in building IT infrastructure. Safety and environmental regulations are making companies more determined in developing efficient operations with the help of high-end technologies and processes. Furthermore, the increasing adoption of Internet of Things (IoT) and aerial drones is helping mining companies to survey and monitor remotely and operate in harsh environments and dangerous conditions (unstable terrain, falling debris), predict weather conditions, and discover new deposits. Leading mining companies such as Rio Tinto (UK), Fortescue Metals Group (Australia), and BHP Billiton (Australia) have already started using advanced automation technologies and data analytics to streamline their operations and minimize overhead costs.
Smart connected mines
Connected mining refers to the application of technology to achieve better productivity and safety as well as reduce operational costs for a mine site. Thus, connected mining, a combination of IT, automation, and instrumentation technologies, is a result of the advancements in the existing technologies present in the mining industry. This integrated operations technology makes the process of mine surveying, planning, exploration, extraction, and analysis faster and easier with software providing real-time information, thereby providing a realistic image of the mine environment and the availability of resources. In a typical connected mine, sensors and detectors constantly read data from air, temperature, and ventilation monitoring equipment. This information is evaluated by computers that transmit analytics to real-time operation centers wherein this information is fine-tuned to optimize the production and to reduce downtimes and operating costs while achieving better productivity at the same time. To enable successful transmission of this data and information, communication vendors have developed advanced offshore communication technologies that are highly robust and efficient. A connected mine also helps to optimize the process required for production and renders much safer operations with the inclusion of remote surveillance and collaborated environments. Due to all these benefits of connected mine solutions, mining companies are investing a substantial amount of their revenue in deploying connected mine solutions, which is expected to continue to boost the connected mining market in the coming years.
What are some of the most common challenges faced by companies in mining software market?

Integration of IT with mining operations
The operational technology consists of devices, sensors, and software solutions necessary to control and monitor the mining plant processes. Moreover, a variety of software systems including autonomous haulage systems (AHS), autonomous drilling systems (ADS), fleet management systems, and production monitoring systems are also deployed for efficient mining operations. Information technology consists of all technologies for processing information. Until the emergence of disruptive technologies, such as IoT, AI, robotics, autonomous vehicles, operational and information technologies were considered by mining companies as separate domains, thereby requiring separate standards, models, interfaces, and protocols for each of them. The convergence of IT and OT brings productivity efficiency and cost-effectiveness in mining processes. However, the convergence of these two technologies is a difficult process due to the differences in standards, models, interfaces, and protocols. Mining companies face problems while balancing between the hardware components and software platforms in order to make mining automation technology functional and perform to its full potential.
A common standardization in connected mining technology would make it easy and convenient for every solution provider to cater a majority of solutions in one package. Once the development of global standards is successful, it would definitely lead to IoT ubiquity all over the world. Connected solutions also require an integrated infrastructure composed of a few components such as smart meters, communication interfaces, and data management systems, which work in unison for the effective functioning of the mining plant. The communication interfaces rely on different media and follow a variety of protocols. Although many vendors are required to comply with the standards established by the American National Standards Institute (ANSI), a disparity still exists among the available standards since these standards are left for each region to define. A wide area network (WAN) and neighbourhood area network (NAN) are the 2 networks used for the communication between components and devices in the rigid mining environment. Interoperability issues between these often result in failure in communication, which hampers the functioning of the overall mine plant.
Skill gap in managing mining automation
The increasing use of automation in the mining industry is creating a skill gap in the present labour pool. Since automation is expected to replace the job of mine workers with automated equipment in the coming years, it is also creating new job opportunities aspiring a particular set of skills. The skill set required to work in an automated mining environment includes managing tasks, namely remotely operating the autonomous haul trucks and drill rigs, constantly monitoring the mine site from the control room, and analysing the reports generated from software systems installed on the mining equipment. Companies, with the help of technology experts and simulation techniques, provide formal training to mine operators and autonomous vehicle drivers for remotely monitoring the mining operations. The additional requirement of capital in restructuring the job responsibilities to compensate the effects of automation is acting as a challenging factor for the growth of the mining automation market.
VISIONARY LEADERS
The companies identified as Visionary Leaders in the best mining software market are Surfer, GEOVIA Surpac, and Datamine Discover Suite.
DYNAMIC DIFFERENTIATORS
The companies identified as Dynamic Differentiators in the best mining software market are AMT and BIMS Carlson Basic Mining.
INNOVATORS
The companies identified as Innovators in the mining software market are Groundwater Modelling System 8.0 and XL Miner.
EMERGING COMPANIES
The companies identified as Emerging in the mining software market are Coal Software & Systems and CXL Pit to Port.
What are the most essential features that a mining software must have?
Professional Maps
Best mining software allows users to effortlessly communicate both simple as well as difficult spatial data. It provides users with the tools that help build superior maps in order to be able to deliver their messages clearly to their co-workers, clients, and stakeholders.
Multi-Dimensional Data Modelling
Best mining software enables users to gain profound insights into their data when observed in 3D space. The software also simplifies the process of creating models, analyse, and understand all facets of their data.
LiDAR Point Clouds
LiDAR is a very popular data collection technique that is used in several areas including archaeology, surveying, GIS, and many more. Best mining software provides LiDAR processing and visualization capabilities.
Optimize Maps and Models
Best mining software provides users with the tools to visualize and model all kinds of data. Some software also offer wide-ranging customization choices that allow users to convey difficult ideas in an easy to comprehend manner. It also allows users to improve their maps and models with an assortment of customization options.
Full Grid Control
Mining software provides users with broad control over grid files. With this software, users can create isopach maps for structural geology, compute capacities for inventory management or derivatives for terrain analysis. The software helps users in completely understanding their underlying data.
Edit Contours
Best mining software allows users to edit contour lines down and make them accurate. The grid editor enables users to instantly alter contour lines by modifying the fundamental grid file.
Grid Data with Confidence
Best mining software allows users to have total confidence in the correctness of their model. The software provides users with several interpolation techniques to grid frequently or intermittently spaced data onto a grid or a raster, and every interpolation technique offers total control over gridding parameters. Also, no time of users is wasted with multithreaded gridding.
Instant Access to Online Data
Users normally have plenty of data that is waiting to be visualized. Best mining software provides users with instant access to global aerial images, Open Street Map images, global vector data, and terrain data.
Collaboration with all Coordinate Systems
Users' task is to convert data into valued visualizations. The software's task is to simplify this process for the users. The software smoothly handles unreferenced data and data proposed in dissimilar or numerous coordinate systems.
Compatibility
The software allows users to flawlessly visualize and assess data from several sources. It natively recognizes many file formats including SHP, DXF, and XLSX. The software also supports all the prevalent export formats. Best mining software also provides a wide-ranging collection of data management tools for better compatibility.
Smooth Collaboration
Best mining software allows users to instantly share their work with coworkers, investors, and clients. It provides models that are prepared for printed publication with the excellent quality export formats including. Also, users can share their work online with web attuned formats like JPG or PNG.
What are the major benefits of digitalising mines?
Decrease operational costs
Wireless monitoring helps in creating "smart mines" with much lesser operational expenditures as compared to the analog monitoring. Smart mines are fundamentally those whose main properties are digitized with the help of embedded sensors that transmit data to a central system through a wireless network. With this, mining operators can actually save money not only on human resources but also because there is no necessity of expensive cable upkeep. Mines not reduce expenses by reducing these needless costs: operators who leverage Operational Intelligence (OI) solutions as part of their wireless network are better able to predict incidents and more consistently maintain their sites, saving them a lot of money by avoiding incidents which can entirely halt operations for weeks or months on end. Smart mines thus have higher ROI and are more competitive than traditional mines.
Automated operations
Smart mines that leverage modern technologies can more effortlessly automate their operations as compared to the mines that fail on implementing latest technologies. Mining operators can develop further on their current wireless system of embedded sensors. Automated trucks are a great example of this. They depend on both the physical network of sensors as well as the remotely regulated software to independently perform mining operations that earlier required a fleet of truck drivers. Digitizing a mine in one way can actually enable additional digitization, such as the automatization of important mining processes.
Workforce safety
Workforce wellbeing is one of the major concerns for mines, which are normally considered unsafe places to work for individuals. Miners who perform manual readings in remote, hard-to-reach places are at higher probability of risk of injury. By automating mobile resources, like trucks, in mines, and allowing wireless, remote readings eliminates the necessity for humans to physically be onsite, which also increases workforce safety. Predictive analytics, aided via OI solutions, also help mining operators to better predict and stop any unsafe incidents, such as breaking of dams, from happening. Workforce monitoring, aided via wireless wearable devices, also helps mine operators to organize their workers more efficiently. Smart mines therefore massively decrease the odds for human injury in mining processes, thereby lessening the rate of mining events with the help of new technologies as a main predictive-maintenance solution.
Operational assets tracking
Wireless tracking and predictive maintenance, aided via OI solutions, help mining operators to consistently keep a track of operational assets, such as dams, to validate if they are not damaged. Real-time, digital data collection is slowly substituting expensive manual readings of important operational data like pore water compression, the level of which can have a vast effect on resources in no time.
Guarantees long-term upkeep of important assets
Several constituents of smart mines, like the wireless fixed sensors and GPS trackers, are both simple to install as well as simple to preserve. Recording units that are used for wireless monitoring of mines, for instance, are usually categorized as ultra-low power, which means that their batteries are equal to a single car battery but has the potential to deliver adequate power that can be used for over fifty days of constant operation. The extended battery lifetime of smart mining set-up means that they hardly need to checked for any issues. These digital mining constituents, particularly geophysical sensors, are also created to endure the regularly dangerous physical working circumstances of mines. They should be able to bear with extreme environmental settings, changing pit geometries, and satellite formations, without being spoiled or tainted. This makes them both very enduring as well as resilient, and tend to save mining operators' both time as well as money on technology systems conservation.
Guarantees data security
Mining businesses are usually very protective when it comes to their data. These companies need to be in total control of their data in situation of an event or accident. Digitization of their mining methods involves a lot risk, such as the hackers breaching into the system and hacking the mine's overall operations. Dependable, skilled, smart mining businesses always make sure, that their mine's data is safe and protected. One of the most common ways of shielding data is by employing on premise data acquisition solutions, which help in preventing a breach since their wireless system of geophysical sensors is focused in a region on the site being tracked.
What mining techniques are supported by mining software?
Mining techniques are different kinds of extraction methods used based on the geological location of mineral deposits. There are mainly 2 types of mining techniques used for ore extraction by mining companies: underground mining technique and surface mining technique. If the ore deposit is situated closer to the earth's surface, then surface mining techniques are used while underground mining techniques are used for the extraction of metals and minerals located deep within the surface or any mountainous location. The type of mining equipment also varies depending on the mining techniques being used by the companies.
Surface Mining Technique
Surface mining is a form of mining technique that is used to extract minerals and ores occurring closer to the surface of the earth. In surface mining, the extraction of ore deposits is done through the systematic removal of outer rock layers from the ground. Most of the mining projects start with surface mining since it is more cost-effective, easier to operate, and less life-threatening. There are various forms of surface mining including open-pit mining, strip mining, mountaintop removal (MTR), dredging, and highwall mining. Open-pit mining is the most common form of mining techniques used mostly for digging near-surface ores. Strip mining is predominantly used in the extraction of coal. Strip mining is ideal in extracting resources that are present in a flat and horizontal layer close to the earth's surface. Dredging is performed in the mining of ore materials from water sources, such as river, lake, and ocean. Mountaintop removal mining is involved in the mining of ores from steep mountainous terrains. Highwall mining is a form of open-pit mining, which is a combination of surface and subsurface mining. Equipment used in the surface mining technique includes off-highway hauling trucks, shovels, blast hole drill rigs, graders, dozers, wheeled loaders, and excavators.
Underground Mining Technique
An underground mining technique is used to extract the mineral and ore deposits, which are buried deep under the earth's crust. The main objective of running an underground mine is to extract the most quantity of ore with a minimum tailing. However, underground mining is considered more dangerous than surface mining due to potential dangers such as the adverse health effects, collapse, the release of toxic gases and the lack of proper ventilation, which results in suffocation. Some of the most common kinds of underground mining menthods include room and pillar mining, cut-and-fill stoping, longwall mining, and slope mining. In room and pillar mining, the roof of the mine is supported by rock pillars spaced out at regular intervals from where the ore is mined. Cut-and-fill stoping is used in vertical stopes and in mining high-grade irregular ore bodies. Equipment used in the underground mining technique include underground load-haul-dump (LHD) loaders, articulated trucks, tunnel boring machines, roadheaders, tunneling jumbos, and underground drills.
What are the different areas of mining operations that are supported by mining software?
Workforce Management
Mining is a very crucial sector, and it demands a highly skilled workforce, specialized in various functionalities that are specific to the industry. The mining industry faces major workforce management challenges such as industry deregulation, mergers and acquisitions, round the clock operations, and dealing with highly complex processes, along with issues such as strict government regulations, need for cost saving, need for managing workforce diversity, and increasing demand for skilled workforce. Best mining software simplifies workforce management which helps mining companies to overcome these challenges by reducing expenses, increasing operational agility and productivity, reducing financial and non-compliance risks, and improving staff retention.
Proximity Detection and Collision Avoidance
Incidents of fatal accidents and collision between moving mining equipment at mine sites have been the major concerns for mining companies. Any accident occurring at the site results in halting mining operations, which adversely impacts the productivity and profitability of companies. To ensure the safety of mine workers, government establishments are coming up with strict safety regulations. Mining companies are adopting advanced technologies, such as the collision detection and avoidance system, autonomous haulage system, and autonomous drilling system to comply with the safety regulations set by government authorities. Companies are retrofitting their mobile machines with the collision detection and avoidance system for both surface and underground mining operations. Modern collision detection and avoidance systems consist of advanced proximity sensing radars, or LiDAR sensors, to detect any obstacle or machine in the path of the vehicle. The system activates the proximity alarm that informs the driver of an imminent collision, to avoid any accident or injury.
Air Quality and Temperature Monitoring
The air quality and temperature monitoring system plays a vital role in ensuring the health and safety of mine workers. In underground mines, miners constantly come in contact with harmful gases, such as carbon monoxide, hydrogen, sulfur dioxide, and methane. Surface miners also face similar harmful effects of coal dust and other metal dust. Air monitoring systems detect and monitor a variety of gases, chemicals, and dust particles in ambient air. Monitoring instruments such as single-gas meters, multi-gas meters, and photoionization detectors can either be handheld or can be equipped with sensors that immediately detect and notify if the gas level in air increases. These sensors monitor air quality and provide real-time information to a computer system that sets off an alarm if there is any deviation from normal air-flow parameters.
Exploration is one of the important components of mining as minerals are depleting, thereby forcing mining companies to dig deep underground in search of precious mineral resources. Underground mining locations are at a significant depth below the earth's surface, requiring higher ventilation and cooling support systems. Temperature and ventilation control plays a critical role when it comes to underground mining as excess heat levels can damage miners' health and well-being. Along with this, even minute deviation in temperature and air quality can damage mine equipment, posing a serious threat to underground miners leaving them susceptible to harmful contaminants.
Fleet Management
Mining companies have to monitor information related to key operational parameters such as machine cycle time, material hauled, and machine monitoring. The fleet management system provides real-time visibility to mining operators and enables them to track and monitor a large fleet of machines and vehicles from a remote location. Additionally, the fleet management system also assists mining operators in collecting crucial data pertaining to engine performance, fuel consumption, vehicle idle time, exhaust analysis, and driver performance. Best mining software helps mining companies in improving their effectiveness and safety of both mine workers and equipment.
Remote Operating and Monitoring
Today's mining operations, being in remote locations, pose a challenge to mining companies, operating and monitoring their equipment efficiently. Moreover, the shortage of skilled workers, poor weather conditions, and insufficient infrastructure further amplify the challenging situation. To increase the efficiency and productivity of remote mining operations, along with reducing operating costs, mining companies are using remote automation and monitoring technologies. The remote operating and monitoring systems rely on the use of wireless sensors. These sensors transmit the useful information to mine workers, to efficiently manage and operate mining processes from a safe distance. Advanced technologies such as GPS, radar, and laser systems help workers to predict safe situations and carry out their work with greater precision. Remote operating and monitoring systems remove miners from hostile and dangerous working conditions and provide improved safety and productivity in mining operations.
Data Management
Best mining software simplifies data management that helps in validation, sorting, analysis, reporting, and classification of the data collected from connected mining equipment such as accelerometers, gyroscopes, proximity and pressure sensors, RFID tags, radar sensors, and LiDAR sensors. The data collected is processed, analysed, and transformed into actionable insights to help mining companies detect anomalies or any unpredicted behaviour in the normal mining process. Highly specialized data processing solutions have modified the conventional management into fact-based decision-driven management. Operational data processing and analytics make use of highly specific, complex, and accurate algorithms for managing a huge amount of data generated from varied mining devices. Mining companies gain a competitive advantage over others by having a real-time knowledge about operations.
Best Mining Software
Comparing 31 vendors in Mining Software across 89 criteria.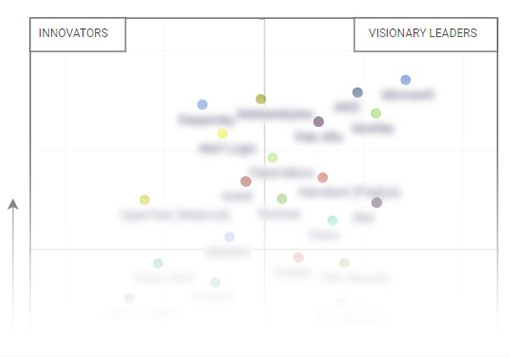 360Quadrant For Mining Software, Q2 2022
The 20 Companies That Matter Most And How They Stack Up
599,864 professionals have used our research since 2010