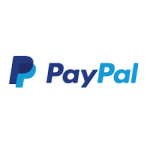 (2 Reviews)
PayPal Overview
PayPal Payment Gateways Software is considered as one of the most renowned online money transfer services and eCommerce business sites that makes it possible for users to make payments, transfer and receive money online with their PayPal account. With PayPal Payment Gateways Software credit card processing (Payments Standard, Payments Pro, or Pay Flow) you will be able to accept all major payment types from your customers directly on your site. Moreover, Fully customized online checkouts or simple checkout buttons enable scalable solutions for each or every size or type of business.

PayPal Pricing
PayPal Pricing information is generally gathered from the software provider or can be retrieved from publicly accessible pricing materials. Quick Overview of PayPal Pricing information last updated
Custom: $30per month

Basic: $0per month

On Phone and In-Store: $0per month
PayPal Demo
PayPal offers a free demo on its official website. The demo undertakes the entire payment process from entering details to receiving notifications. Unacquainted users can quickly understand the entire process within a few minutes.
PayPal Features
Payment Options:
Ability to simply accept coupons, discounts, promotions, and gift cards.
Ability to accept various types of credit and debit cards

Platform:
Allows users to finish tasks quickly because they are not watching for the gateway to respond to an action they took.
Supports multiple currencies and languages.
Complies with payment card industry (PCI) regulations

Development:
Allows developers to customize payment forms to accommodate their unique processes.
Provides standard integration with merchant's accounting software

Security:
Ensures that the service is building and maintaining a secure network.
Support cardholder verification methods for POS transactions.
An additional layer of security to stop fraudulent activity

Administration:
Allow access to select data, features, objects, etc. as per the user requirement.
Manual Payment Entry.
Process payments from multiple channels such as ACH, mobile, or e-commerce
PayPal USP
PayPal Payment Gateways Software is the most-used digital wallet. Shoppers complete their checkout 88% of the time on the average, helping you close more sales. A payment partner that may support your growing business and help you sell across multiple markets and platforms. PayPal allows quick and usual transfers in real-time, as PayPal is the most famous Payment Gateways for online transfers, people trust it; therefore persuade towards the online slots where it is accessible.
No Frequent Comparisons
No Strengths or Weaknesses
Buyer, Manufacturing, SME
Chief Product Officer,
Company Name Classified
"Convenient"
For enhancement of business using PayPal can be very convenient. It can lead to a lot of convenience and freedom of the buyers who can now make a large amount of transactions.
Buyer, Healthcare, SME
Head - Product Management,
Buyer Healthcare
"Online purchases"
This is the best option one has at the time of making online purchases. With PayPal, shop freely on different online shopping sites.
Questions And Answers
Have a Question? Ask here.
No Questions
Create an account or sign in to view this content
No Photos / Videos